This rub is ideal for smoking a brisket and has a peppery blend of spices to create an awesome crust on the meat. Perfect for your next BBQ!
I remember the first time I decided to try and smoke a beef brisket. Years ago, we were at a local county fair and there was a guy set up selling some great BBQ. I bought a plate of smoked brisket and wow, it was amazing. I know that brisket is a huge part of Texas BBQ and in other parts of the U.S., but up here in Canada, it is not as common.
After tasting the brisket, I knew that I needed to learn how to make it myself. Over the years, I have fine tuned the brisket rub and this is the seasoning I like best when smoking a brisket.
It seems that each time I have some brisket I really love, the seasoning rub has a more pronounced pepper flavour. So, when trying to develop a rub for beef brisket, I wanted it to be on the peppery side.
What Makes A Great Rub For Brisket
Along with the black pepper, there is a decent amount of salt, which I find really draws out the beefy flavour of the brisket. The garlic powder, onion powder and chili powder add a deeper complexity to the rub. The cayenne powder gives some heat and the sugar provides a little hint of sweet.
Obviously, this is a combination that I like and everyone's taste buds are different. Feel free to make adjustments to the amounts of each of these spices. If you like things a little spicier, add a bit more cayenne. If you prefer a bit of a sweeter crust around the brisket, you can add a bit more sugar. Be careful with how much sugar you add because I have found that as the sugar caramelizes, if you add too much, it can almost give a burned flavour to the rub.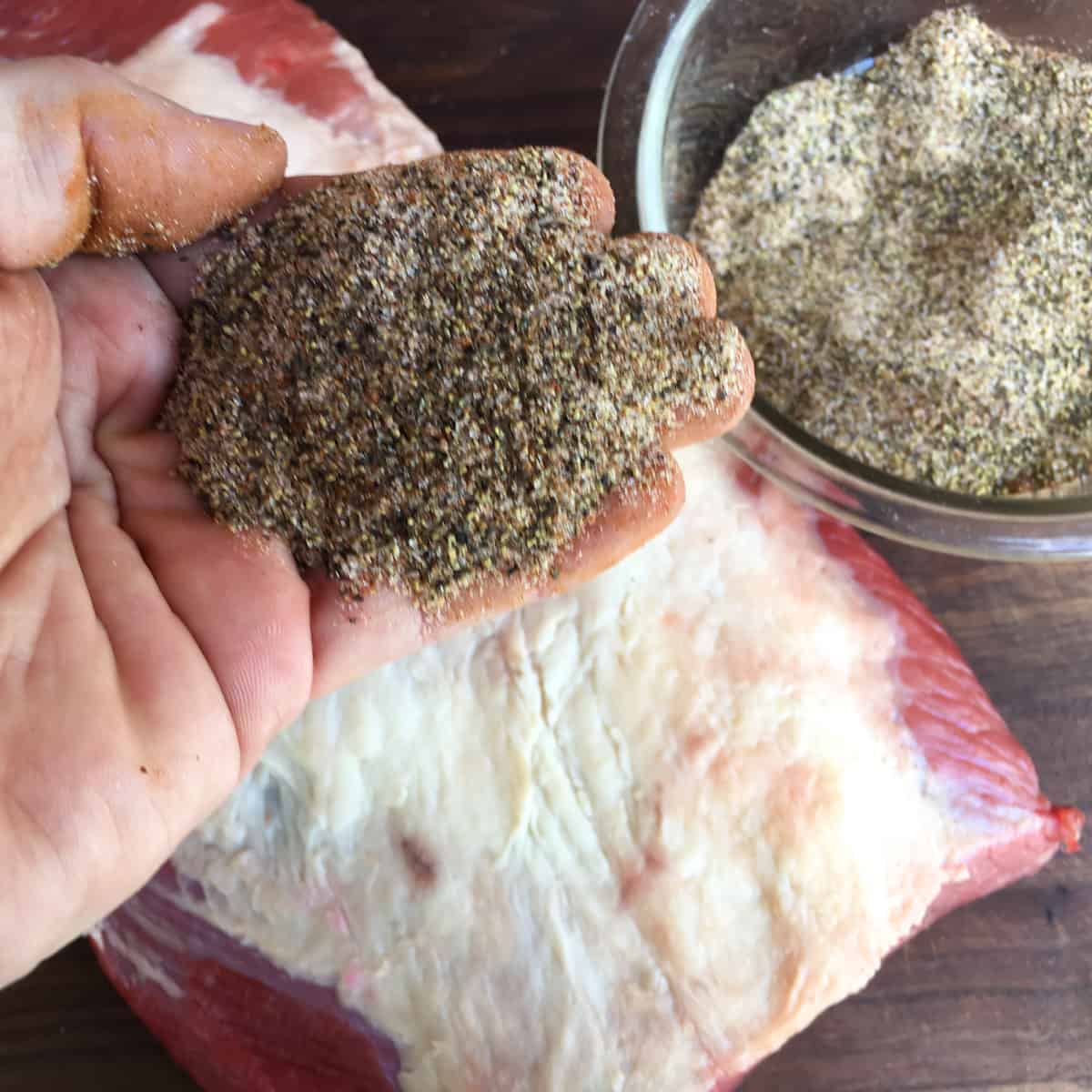 Once mixed, the rub can be applied to the brisket. If you want, you can also make this in batches and store in your spice cupboard.
At the start of BBQ season, I make multiple batches of a few of my 'go-to' rubs. I keep them in mason jars and they stay fresh all season long. It makes it super easy when you are wanting to grill or smoke something – just sprinkle the rub on the meat and you are ready to go!
More Spice Rubs!
Here are the rubs I always try to have on hand: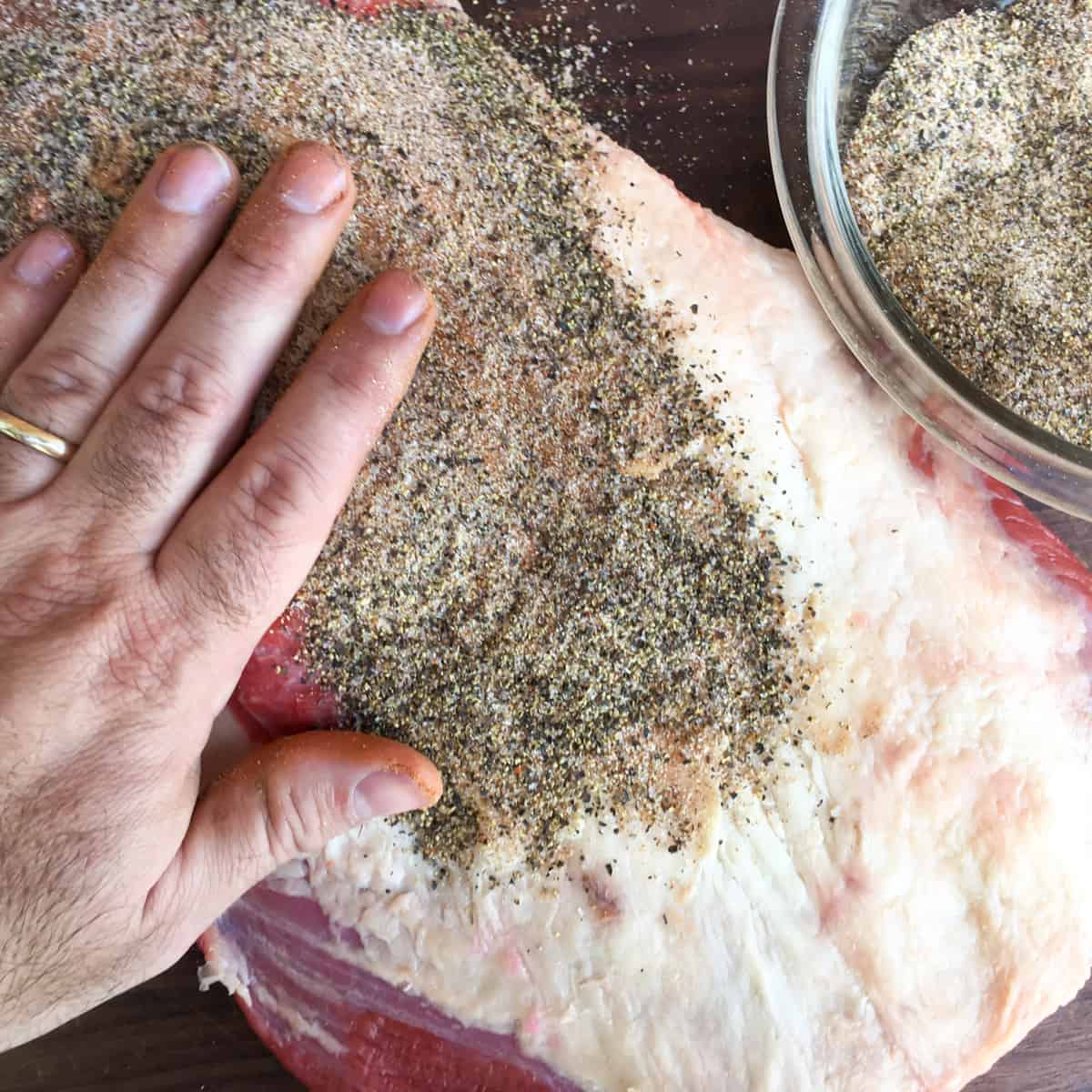 Use Lots Of Rub On The Meat
I like to use lots of rub on my brisket. It creates a crust around the meat and gives each bite so much flavour. When rubbing the seasoning onto the meat, be a little on the rough side, making sure to really work the rub into the meat. That will help the rub adhere to the brisket and get the flavour into the meat.
Rub all sides of the brisket, getting the seasoning on every inch of the meat and into every single crack. Now it is ready to be smoked!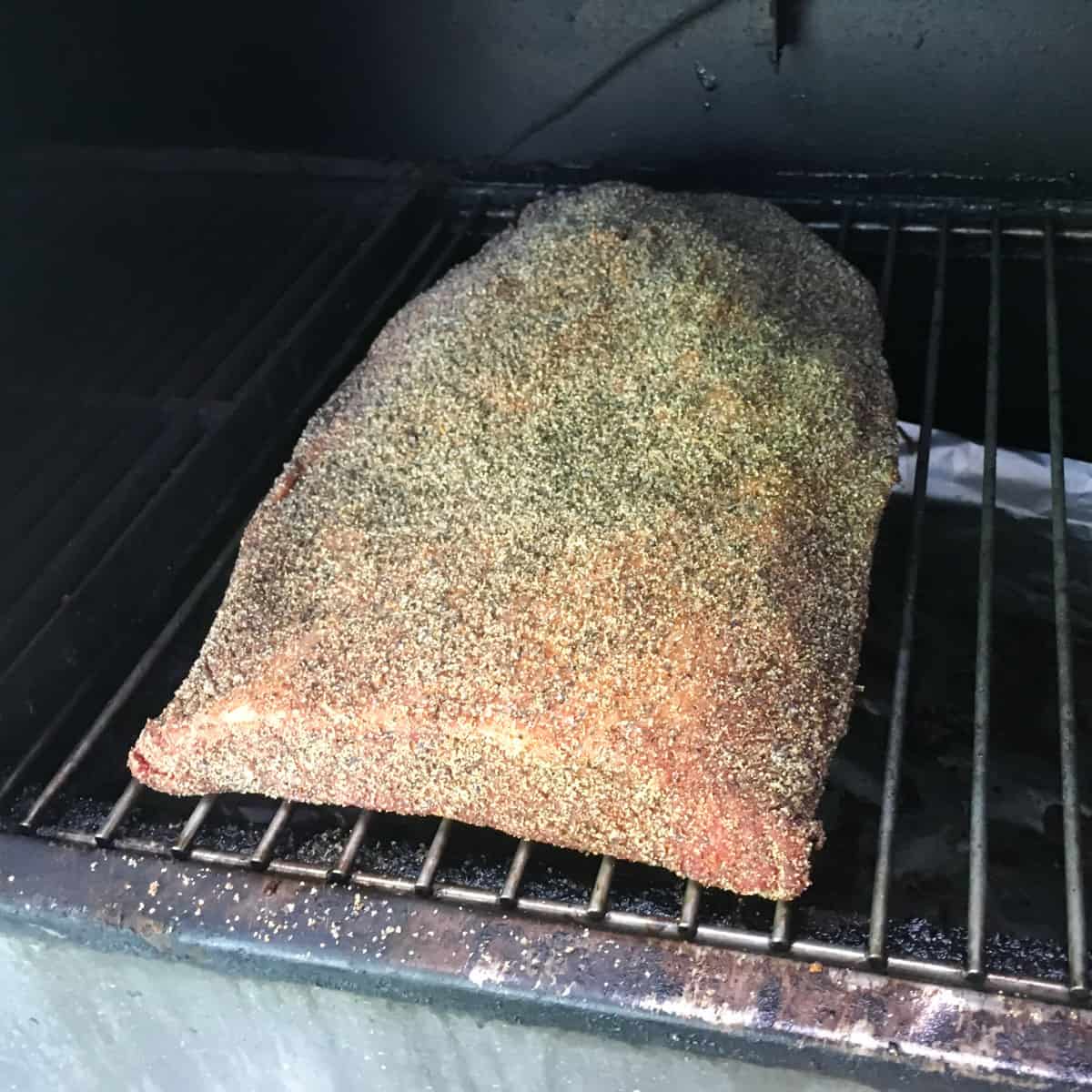 How Long To Smoke Brisket?
Mesquite wood is my wood of choice anytime I smoke a brisket. I smoke brisket at 225F until it reaches an internal temperature of 195F.
For more instructions on smoking a brisket, you can check out this recipe here: Mesquite Smoked Beef Brisket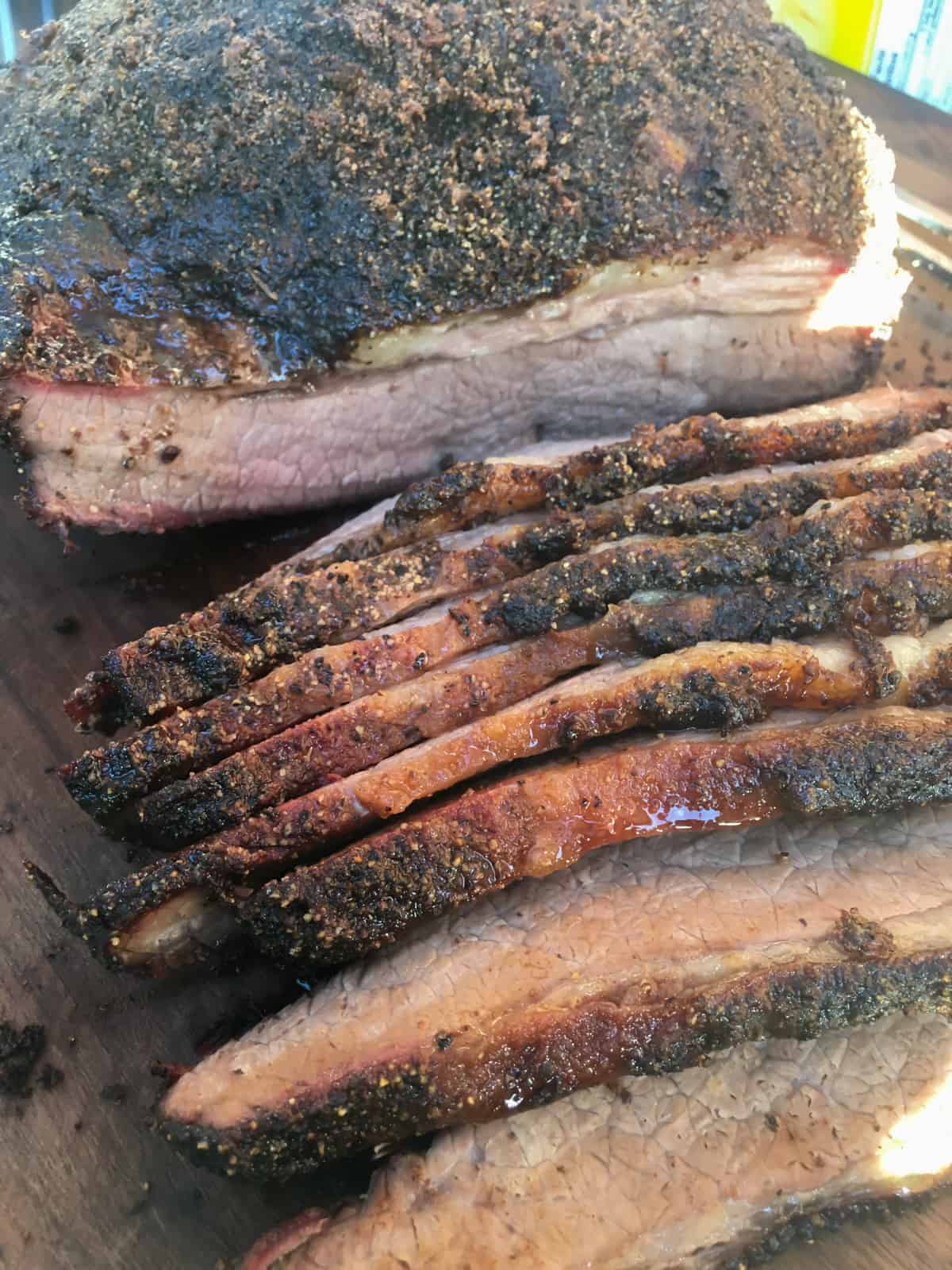 What Happens If The Brisket Is Tough?
One of the things I have learned over the years is that smoking a brisket is one of the tougher cuts of meat to smoke. Smoking ribs, whole chickens and pork butts are far more forgiving than a brisket.
Over the years there has been more than one occasion that I started to slice up the brisket and discovered that it was not as tender as I would have hoped. If that happens to you, here is a great recipe to that can turn a tough brisket into something incredible – How to Save a Tough Brisket – Leftover Brisket on a Bun
Smoked Brisket Rub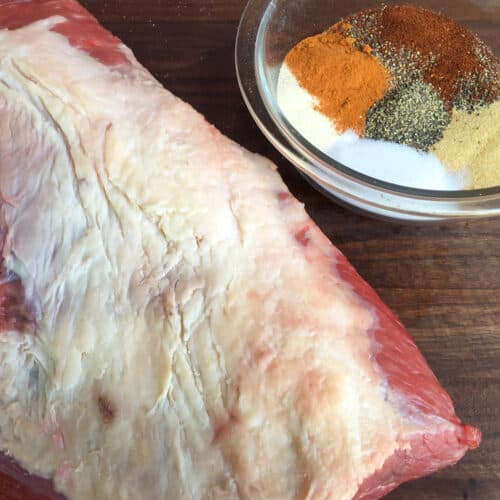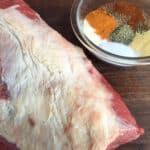 Print
Great recipe for a classic peppery rub for smoked BBQ beef brisket.
Servings: 13 tablespoons
Ingredients
3 tbsp salt
4 1/2 tbsp coarse ground black pepper
1 1/2 tbsp chili powder
1 tbsp garlic powder
3 tsp onion powder
3 tsp cayenne pepper
3 tsp white sugar
Instructions
Mix all ingredients in a large bowl. Use as a rub when smoking a beef brisket.
Notes
This recipe can be made in batches and stored in a mason jar.
Nutrition
Per serving:
Calories: 17kcalCarbohydrates: 3gSodium: 1626mgFiber: 1gSugar: 1g