How to Save a Tough Brisket – Leftover Brisket on a Bun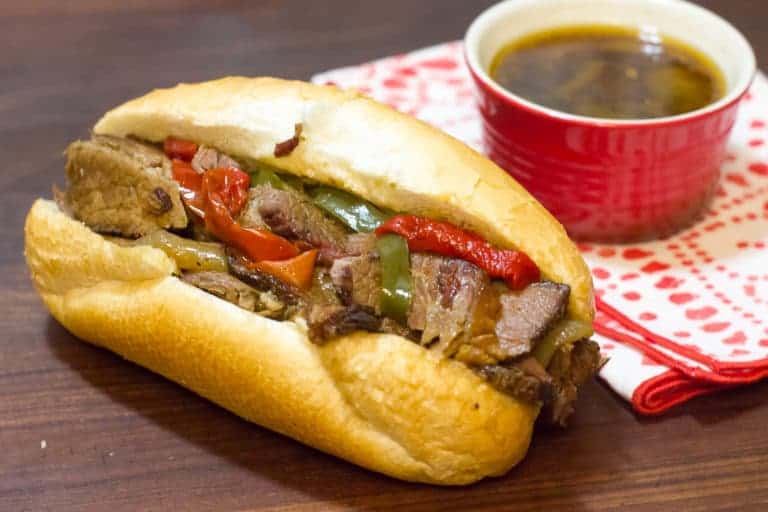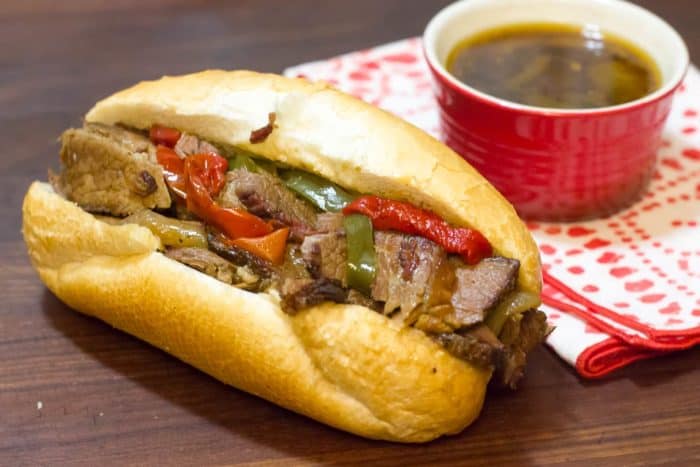 How to save a tough brisket is a question I get asked quite a bit. There is not much more frustrating to a smoking enthusiast, than carving into a brisket that has been in the smoker for hours, only to discover that it is tough. A properly smoked brisket should be super tender and can even pull apart with your fingers and break apart during carving. A brisket that is tender like that is pure gold for a smoker.
The problem is that a brisket is one of the more challenging cuts of meat to smoke. Pork butt, chicken and even ribs are far simpler than a brisket and it took me a while to learn how to get that perfect tender result. Even now, I occasionally end up with a brisket that is tougher than I would like.
So, if you end up with a tough brisket, is there anything you can do to save it? Unfortunately, right at that time – not really. If the brisket is tough, it is because it needs more time to cook to tenderize and break down the connective tissues.
But, all is not lost.
Do not think that your brisket is wasted. The following recipe and instructions turned my once very tough brisket into some of the most tender fall apart meat. It resulted in a meal, so crazy delicious, people were raving about it.
Just follow these instructions and you too can save and recover your tough brisket!!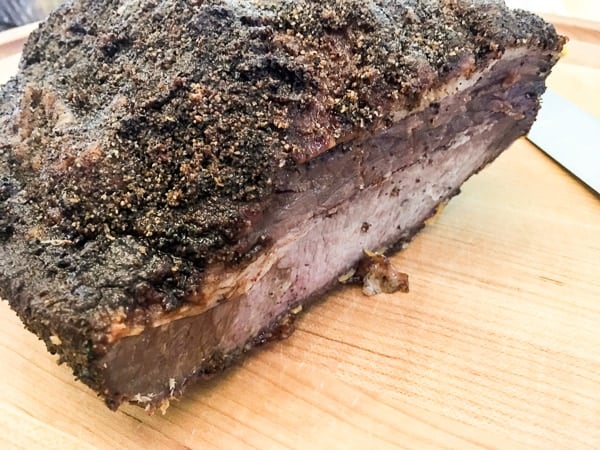 A couple weeks ago, I was smoking a full brisket. It had been the smoker a long time and seemed to stall for a long time. For anyone who smokes briskets or pork butts often, they all know about the stall. There seems to be a point when the temperature stops rising but instead plateaus and barely seems to rise at all. This is caused from the moisture in the meat evaporating which causes a cooling of the meat, preventing it from continuing to rise in temperature. The length time that the meat stalls varies greatly.
Anyway, my brisket seemed to hang at a steady temperature for a couple hours, and this impacted our dinner schedule. We were having a party and a bunch of people were over. The rest of the food was ready, but the brisket was only at 185-190F. I could not wait forever and decided to take it off the smoker and slice.
The brisket tasted amazing – the rub was outstanding and there was a deep smokey flavour to the meat. Problem was, that the meat was tough. It did not surprise me that it was tough, because it hadn't reached a high enough internal temperature.
I was so frustrated.
I know there are many others who have experienced this as well. I probably should have used the Texas Crutch method to speed up the rising of the temperature, but as dinner was approaching, I ran out of time.
Half of the brisket was not sliced and still whole. I wrapped it up and placed it in the fridge. I wanted to figure a way to recover and save this brisket. I figured that braising it in the oven for a few hours should tenderize the meat.
Above you can see half of the brisket after taking it out of the fridge. Look at all the rub on that brisket. I love a peppery rub on my brisket!
If you are interested in both instructions for smoking a brisket and the recipe for my brisket rub check out this link.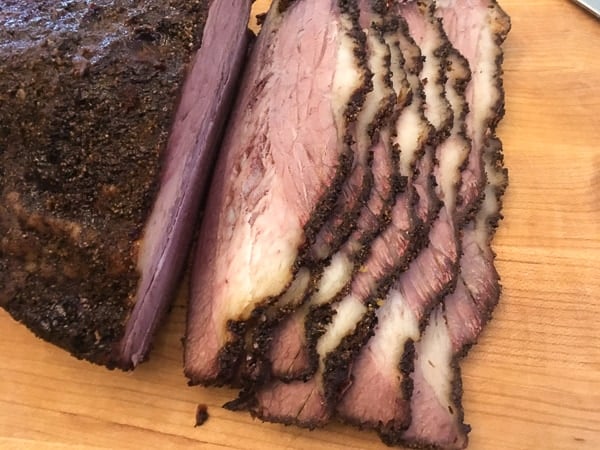 After taking the brisket out of the fridge I sliced it all up.
Carve the brisket into long slices. I tried to keep the thickness consistent and somewhere between 1/4-1/2 inches thick.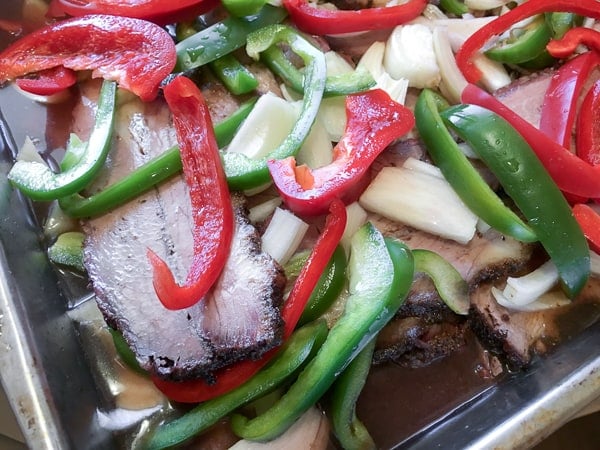 Place all the brisket slices into a baking tray. The tray needs to have fairly high sides of a couple inches.
In the tray, add the sliced onions and peppers. Mix them all up.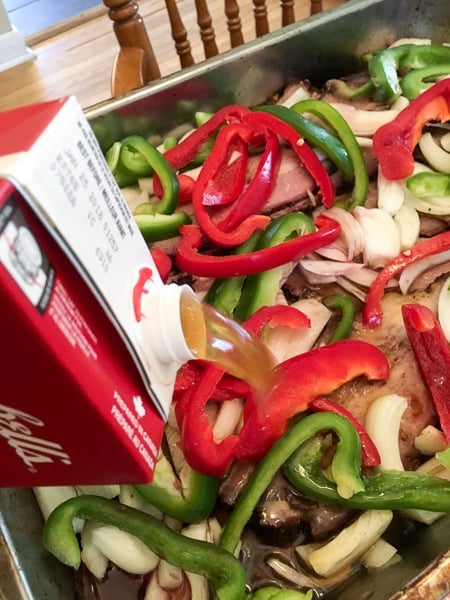 Pour in the beef broth and red wine.
I did not add any seasoning to the broth because the brisket has a lot of rub on it. I figured that the smoke flavour and seasoning on the brisket would give the broth a deep and rich flavour.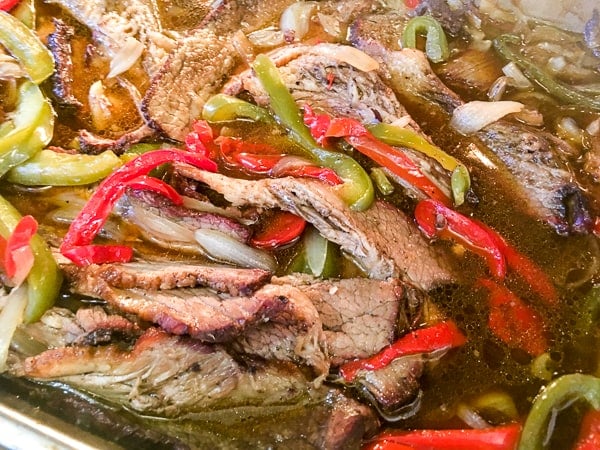 Cover the tray with foil and place it in a 325F oven for 3-4 hours.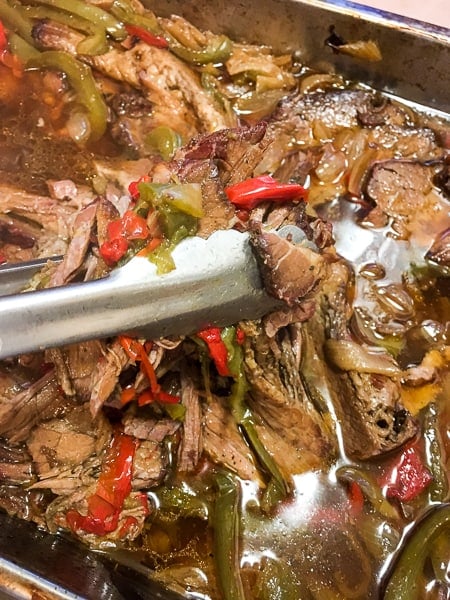 The brisket needs to be super tender. If you grab some of the meat with tongs, the brisket should be falling apart as you lift it up. If it is not, put it back in the oven for a bit longer.
This will work, but it just needs time. When the brisket is done, it will be so tender that it will melt in your mouth.
Any frustration that you had from that tough and undercooked brisket will be gone as you taste how flavourful and tender this meat is!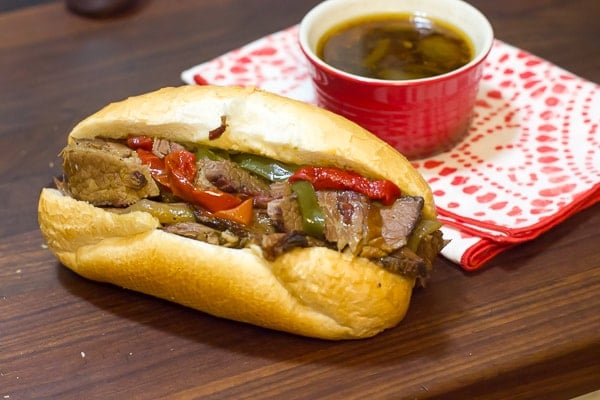 Now, this brisket is great just as it is. You could pile some on a plate and eat it with a fork.
But, I piled a bunch of brisket, peppers and onions on a sliced crusty bun and WOW – what an amazing sandwich. Spoon a little of the broth over the meat and as you bite in you will experience brisket that is so tender and packed with flavour!
I love beef dip sandwiches and order them often at restaurants. I enjoyed my brisket on a bun with a small bowl of the broth for dipping. Seriously incredible!
Leftover Brisket on a Bun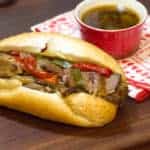 Print
How to save tough brisket by braising in the oven. Recover smoked brisket that was tough will be tender. Serve on a bun with onions and peppers.
Servings: 8
Ingredients
2 pounds leftover brisket
2 onions , peeled and sliced
1 green pepper , cored and sliced
1 red pepper , cored and sliced
4 cups beef broth
2/3 cup red wine
8 crusty rolls
Instructions
Preheat oven to 325F.

Carve the brisket into long 1/4-1/2 inch slices.

Lay out the brisket in a large baking dish with fairly high sides. Top with the sliced onions and peppers.

Pour the beef broth and wine all over the brisket.

Cover with foil and bake in the oven for 3-4 hours. The vegetables should be soft and the brisket almost falling apart when lifted with tongs. If they are not, put back in the oven for a bit longer.

Using tongs, grab a bunch of brisket, peppers and onions and place in a slices crusty roll. If desired, spoon a little of the broth on the bun.

Serve with a small bowl of the broth for dipping.
Nutrition
Per serving:
Calories: 339kcalCarbohydrates: 26gProtein: 29gFat: 11gSaturated Fat: 4gCholesterol: 70mgSodium: 786mgFiber: 2gSugar: 2g