BBQ Brisket and Provolone Nachos
These nachos are sure to surprise with its smoky BBQ flavour. Perfect for game day or a party and this is a great way to use leftover BBQ brisket!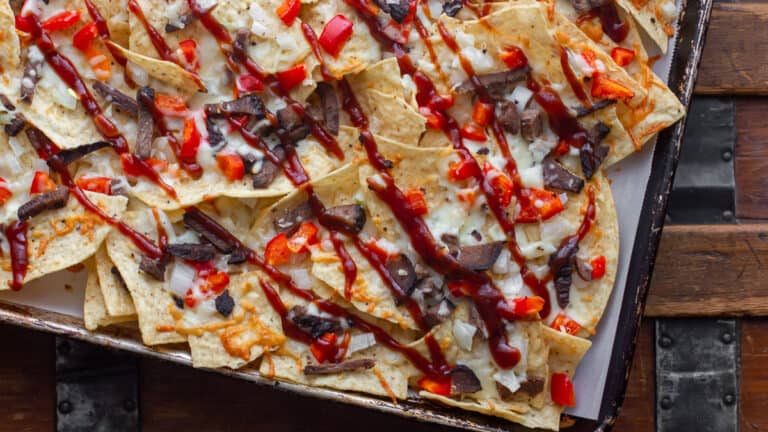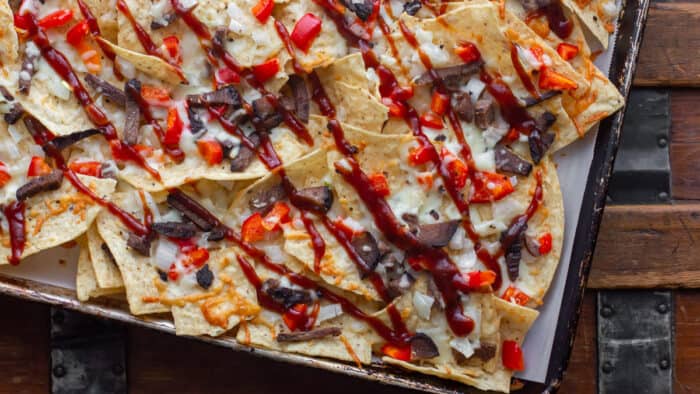 Anytime I use my smoker, I load it up with meat. Inevitably, there are always leftovers. Some I package up and throw in the freezer, while others we eat throughout the week. I had some brisket in the fridge from my last smoking session (for the Super Bowl), and decided to make some nachos with it.
Nachos are always a massive hit at our house and I like to try different toppings. Usually our nachos have more of a Mexican flavour with salsa, guacamole or cilantro, but this time with the brisket I felt going full on BBQ was best.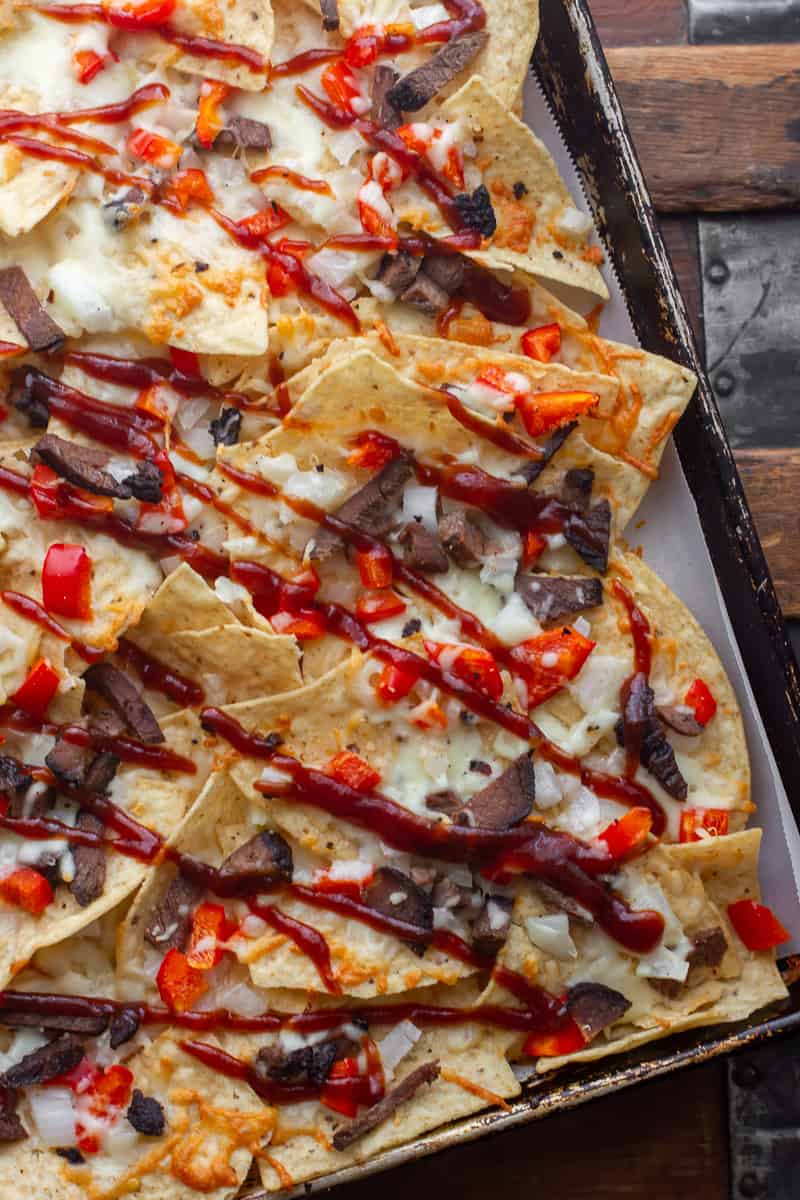 After the nachos came out of the oven, I drizzled them with some Sweet Baby Rays BBQ sauce and it tasted awesome! For cheese, I went with provolone cause I always love that cheese anytime we make Philly cheese steaks.
If you don't have any brisket on hand, this works great with leftover steak or even roast beef. Also, while provolone works extremely well with the beef, other cheese options that work well would be cheddar, monterey jack and even swiss.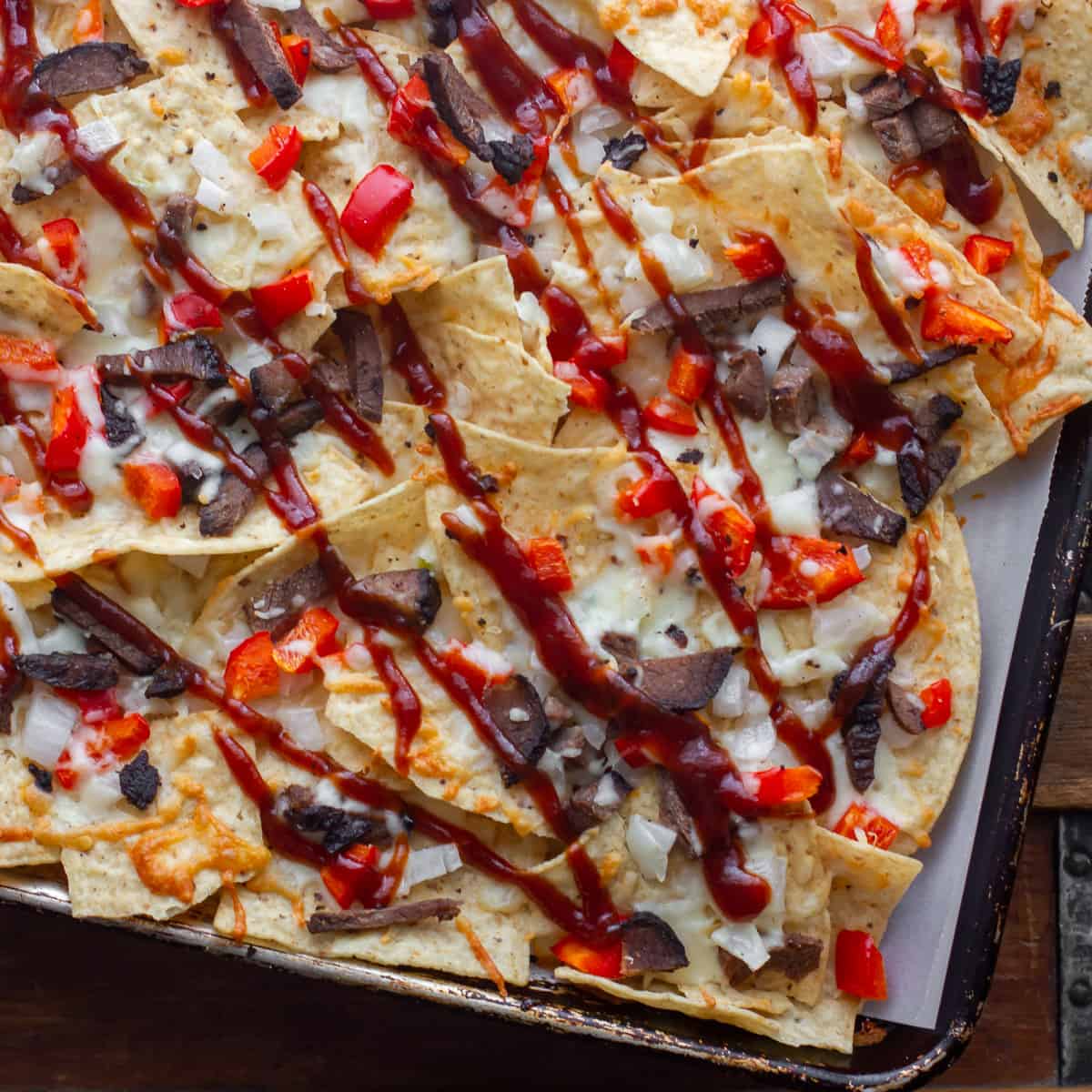 If you have never smoked a beef brisket, then here are a collection of posts highlighting all you need to smoke your first brisket, including a tasty rub, step by step instructions for how to make BBQ brisket, plus a delicious recipe for some leftovers.
BBQ Brisket and Provolone Nachos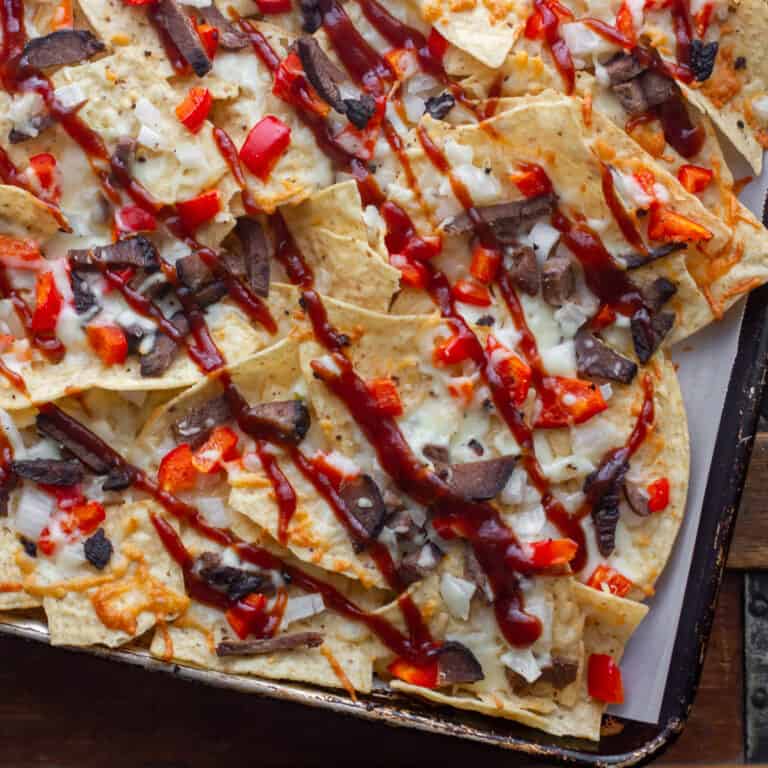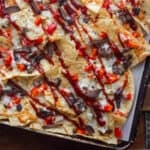 Print
Smoked Brisket, provolone cheese, onions, peppers baked on tortilla chips with BBQ sauce. This simple party food is smokey and delicious!
Servings: 4
Ingredients
1 large bag tortilla chips , 13oz / 370g
1/2 pound sliced BBQ smoked brisket
1 onion , diced
1 red pepper , diced
2 cups grated provolone cheese
1/2 cup BBQ sauce
Instructions
Preheat grill or oven to 400F.

Spread tortilla chips on a baking sheet or pizza stone.

Sprinkle diced onion, pepper, sliced brisket and grated cheese on the tortilla chips.

Place in the oven or on the grill for about 15-20 minutes or until the cheese is melted and the onions and peppers soften.

Drizzle with BBQ sauce and serve.
Notes
You can easily substitute the BBQ smoked brisket with grilled steak and chicken.
Nutrition
Per serving:
Calories: 781kcalCarbohydrates: 71gProtein: 36gFat: 40gSaturated Fat: 15gCholesterol: 81mgSodium: 1320mgFiber: 6gSugar: 15g