Mesquite Smoked Beef Brisket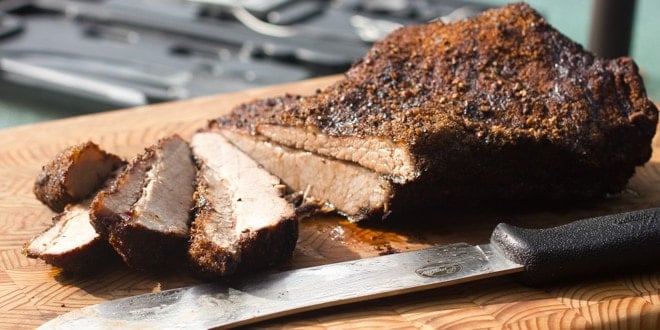 With the Super Bowl in Houston this year, I figured that it would be best to show off some classic Texas food. A smoked beef brisket is an important part of Texas BBQ and is every bite is an experience you will remember. Of all the meats that I smoke, brisket is up at the top. It is tender, juicy, smoky with a deep beef flavour.
I like a fairly simple rub that has lots of fresh cracked black pepper. I also include salt, garlic powder, onion powder and cayenne pepper, but the main spice that I want elevated is the fresh pepper. Mesquite wood is ideal for smoking beef, as the pronounced flavour from its smoke works well with beef.
The length of time it takes to smoke depends on many factors including the size and shape of the brisket, type of smoker, outside temperature and more. I smoked this brisket in my Bradley Digital Electric Smoker. I like to give around 1 hour and 15 minutes per pound, but due to so many different factors, it can be more or less than that. Make sure you use an instant read digital thermometer so you know the temperature of the brisket.
Once the brisket reaches 195F, take it out of the smoker. While you can serve it right away, to get a super tender brisket wrap it in foil, then wrap it in a towel. Place it in a cooler and let it rest for 60-90 minutes before slicing it.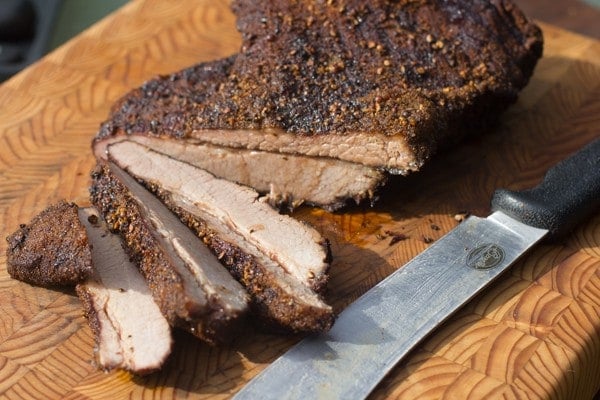 Smoked Brisket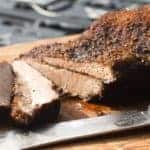 Print
Ingredients
1 beef brisket
2 tbsp salt
3 tbsp freshly cracked black pepper
1 tbsp chili powder
1 tbsp garlic powder
2 tsp onion powder
2 tsp cayenne pepper
2 tsp white sugar
Instructions
Rub the salt all over the brisket. Cover with plastic wrap and place in the fridge for 30 minutes.

Make the rub by mixing together the sugar and all the remaining spices. Generously rub the spice mixture all over the brisket.

Set the smoker to 225F using mesquite wood. If you do not have mesquite, other wood will work fine as well.

Smoke the brisket, with the fat cap facing up, until it reaches an internal temperature of 195F.

Optional, but recommended step for a more tender brisket: Remove from the smoker, wrap with foil and then wrap with a towel. Place in a cooler and let rest for 60-90 minutes.

Slice and serve.