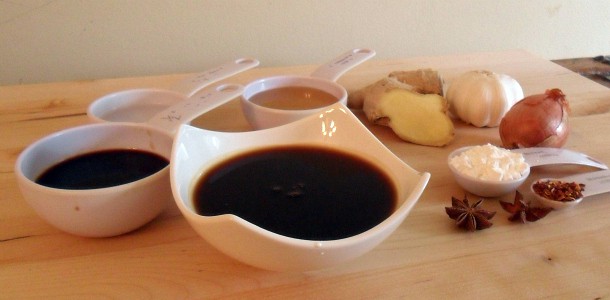 Teriyaki is a Japanese technique for cooking foods. It is a sauce that meat is marinated in for a period of time. Then the meat is cooked, usually grilled, broiled or fried. The marinade is typically made of soy sauce with a rice wine, like sake or mirin, a honey or sugar and some other ingredients like ginger and garlic.
Usually the sauce is reduced down so that it thickens. In today's kitchens cornstarch is often used as a thickening agent. This is a simple recipe and is excellent in a stir fry or as a sauce for any grilled meat or seafood.
Teriyaki Sauce - Easy recipe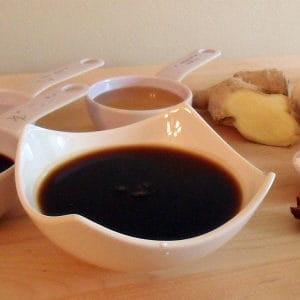 Print
A simple recipe for classic Japanese teriyaki sauce. Great with a stir fry, as a marinade for meat or as a glaze for salmon or grilled chicken or shrimp.
Servings: 2 cups
Ingredients
1/2 cup soy sauce
1/2 cup water or broth
1/2 cup honey
1/4 cup rice wine
2 cloves garlic , minced
2 tbsp ginger , minced
1 tbsp water
1 tbsp cornstarch
1/4 tsp dried chilies (optional)
2 star anise (optional)
Instructions
Bring all the ingredients, except the 1 tbsp of water and cornstarch, to a boil. Allow the sauce to cook at a low rolling boil for 20 minutes. The sauce should reduce down.

Strain the sauce, removing, ginger, garlic, etc.

Bring the sauce back to a boil. In a small bowl or cup mix the 1 tbsp of water and cornstarch until it is a smooth paste. Pour it into the sauce slowly mixing it in well.

Continue to cook for another couple minutes. The sauce should thicken.

Remove from heat.