Chicken Teriyaki Stir Fry with a Giant Rice Tower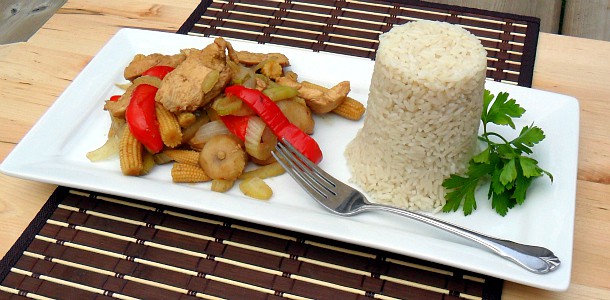 We have not had stir fry with rice in quite a while so today we got our fix. I made the teriyaki sauce with the recipe on a separate post found here. Once I began plating the stir fry, I was looking for a mold for the rice. Elijah came in the kitchen, saw what I was doing, and wanted it to be a big mold. I used a mug and rubbed the inside with oil to ensure the rice did not stick. Elijah was all giddy with excitement when he saw how large the rice tower was. It reminded me of the Tower of Isengard in the Lord of the Rings. In this stir fry I used chicken, onions, peppers, fennel, baby corn (the kid's favourite) and water chestnuts (oh how I love water chestnuts). You can substitute the meat and veggies with almost countless variations!
Chicken Teriyaki Stir Fry with a Giant Rice Tower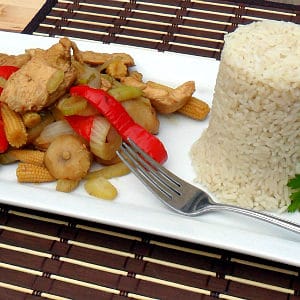 Print
Servings: 4
Ingredients
2 tbsp oil
3-4 chicken breasts , sliced
2 onions , sliced
2 peppers , sliced
1 fennel bulb , sliced
1 can of baby corn
1 can of sliced water chestnuts
teriyaki sauce
cooked rice
Instructions
Make the teiyaki sauce before you start frying the chicken and vegetables. The post for the teriyaki sauce is found here.

Add the oil to the a large wok or skillet and saute the chicken until it is mostly cooked, about 5 minutes.

Stir in the onions, peppers and fennel and saute for another 5-8 minutes.

Mix in the baby corn and water chestnuts and cook for another few minutes.

Stir in the teriyaki sauce, lower the heat to a simmer and cook for a final 2 or 3 minutes.

Serve on rice.