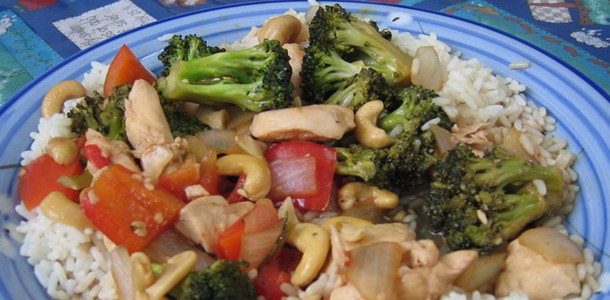 Cashew Chicken Stir Fry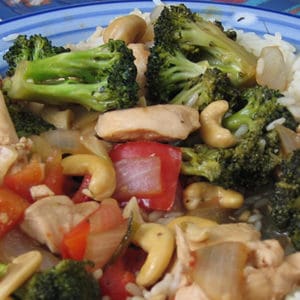 Print
Servings: 4
Ingredients
2 pounds boneless chicken breast , cubed
2 broccoli bunches , cut into large pieces
2 red peppers , cut large pieces
1 large sweet onion , cut into large pieces
2 cloves garlic , minced
2/3 cup unsalted cashews
1/2 cup hoisin sauce
1/2 cup orange juice
2 tbsp olive oil
a little water
Instructions
In a large and deep frying pan fry the cubed chicken breast in 1 tbsp of oil.

Cook at medium heat for about 10 minutes.

When fully cooked remove from pan.

Add the other tbsp of oil and add broccoli, peppers, onion and garlic.

While cooking the vegetables you may need to add a little water to the pan to help 'steam' the vegetable and prevent them from burning on the bottom of the pan.

Mix the orange juice and hoisin sauce together in a separate bowl.

Once the vegetables have cooked about 5-7 minutes, add the chicken, cashews and sauce.

Cook until the vegetables are cooked through.

Serve with rice.