Slow Cooker Beef Ribeye Roast with Asian Marinade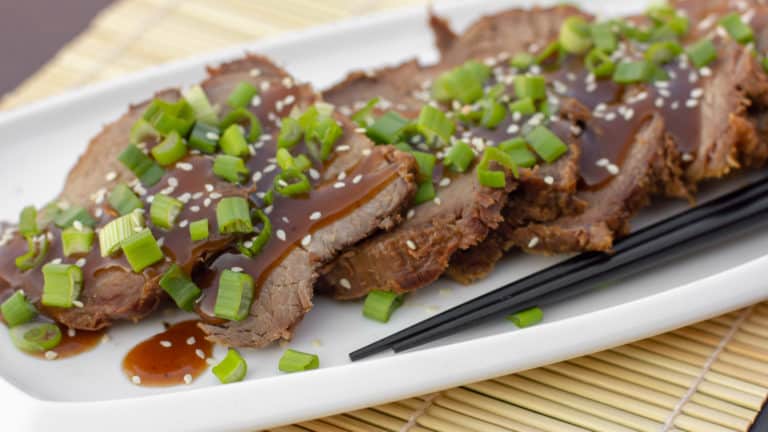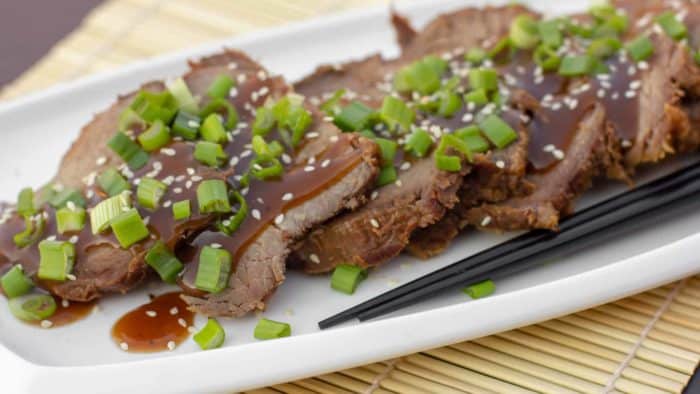 My wife loves to cook with the crock pot, but I have not used it much. I was trying to think why I have not cooked with crock pots that much and it is probably because I am not the most organized person in the kitchen. Also, I am not a morning person. My wife loves to get the stuff all prepared first thing in the morning and then set it and forget it.
So, I was really excited when I was contacted by Crock Pot Canada to review one of their products. This is the perfect time for me to learn how great and convenient cooking in a Crock Pot can be! Our crock pot is crazy old and I could not wait to try the new one they sent me. I love it when packages come in the mail, especially parcels.
I received this just before Christmas, so it was like an early Christmas present! The first thing I noticed when I opened up the box was that this crock pot is oval. Our previous model was round and deep and it would be awkward when stirring or getting at stuff. The oval shape seems to be a far better design. It also looked nicer and I loved the stainless steel look!
This crock pot is 6 quarts and could easily feed my whole family, and probably another family if this black ceramic bowl was filled.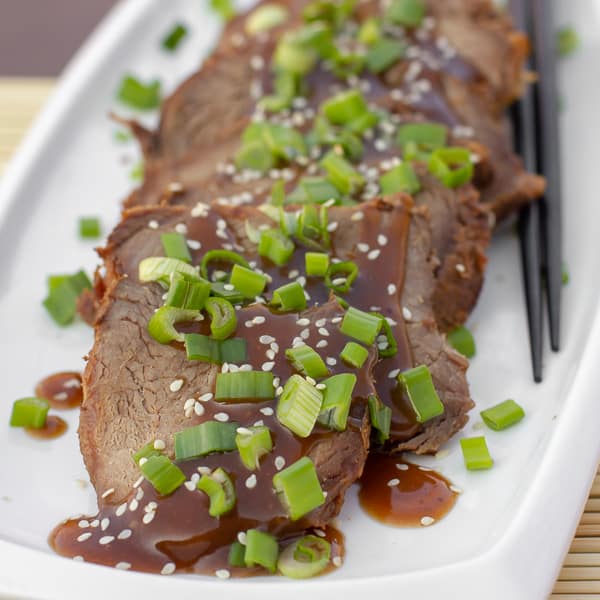 Our old crock pot was not programmable. Instead it had a dial: high, low or off. That was ok, but this new crock pot has a programmable function. You could set it to high for 4 or 6 hours or set it to low for 8 or 10 hours.
Once the time was done it would switch to a warm mode. This would no longer cause the food to cook, but instead keep it warm until you are ready to eat. I LOVE this function as the crock pot is ideal for people who are working.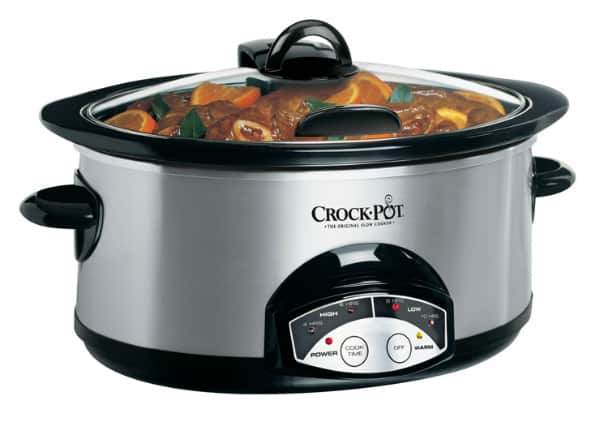 You can get the food in the crock pot before work and then when you get home, it will be ready and switched to warm if you arrive home a little later than the cooking time. Awesome option and the crock pot is still super simple to use.
After using this Crock Pot, I really wondered why it has taken me so long to try cooking in a slow cooker. I loved it and the meal tasted amazing. I have also tried this Crock Pot with a couple other dishes that I will post throughout the next week.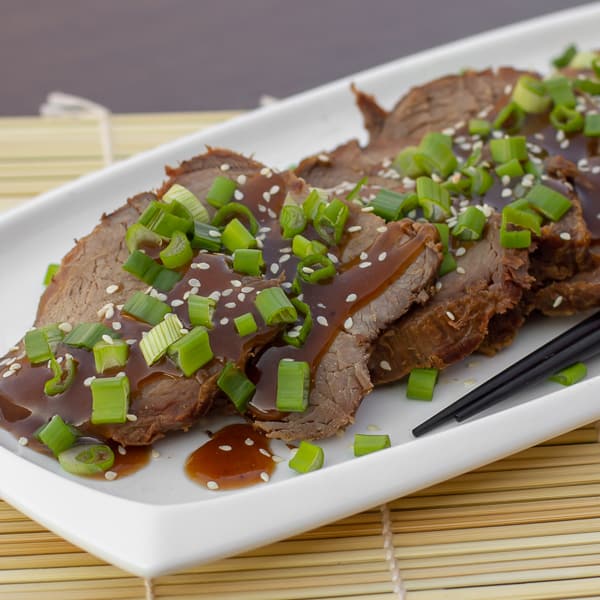 A nice marbled beef roast is perfect for the crock pot as the long cooking time results in a tender piece of meat. This recipe has the beef marinate overnight in an Asian marinade and then cooked in the marinade to create a wonderful roast with amazing flavour!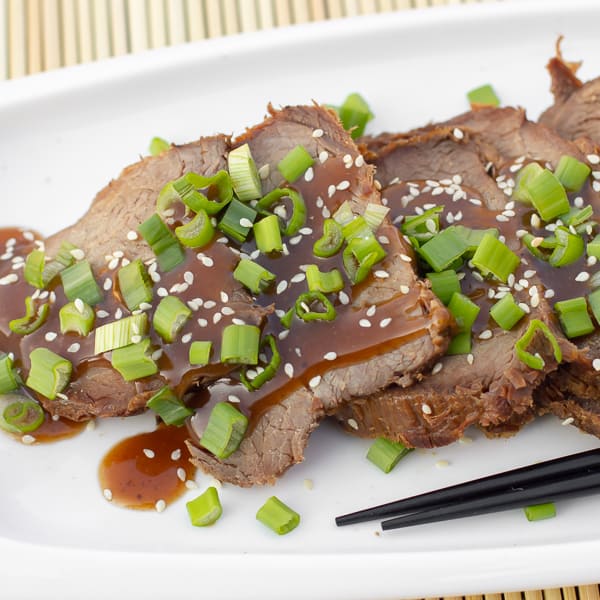 Since the crock pot stays covered, there is a lot of broth at the end of the cooking time which can be used to make an awesome gravy to pour on the roast. I served this with rice and stir fried vegetables and the Asian gravy was the perfect sauce to pour over all of it.
Crockpot Beef Ribeye Roast with Asian Marinade Recipe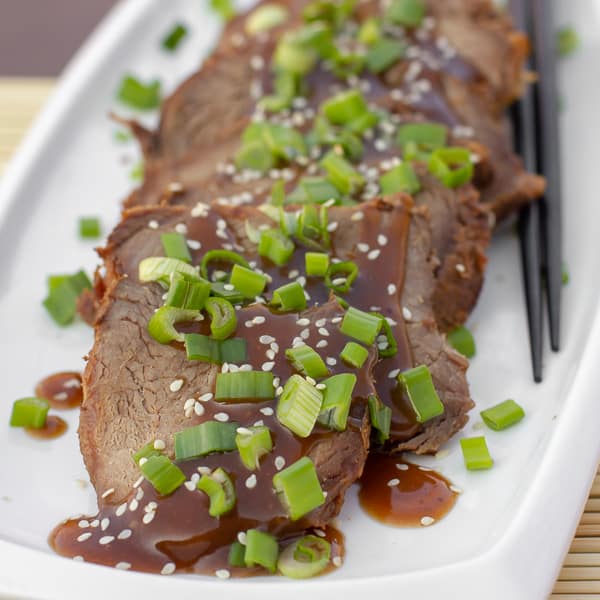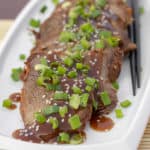 Print
Simple slow cooker recipe for tender beef roast. Boneless ribeye roast with a sweet Asian marinade. Serve on rice with stir fried vegetables.
Servings: 6 people
Ingredients
4-5 pound boneless beef ribeye roast
¼ cup soy sauce
¼ cup oyster sauce
¼ cup hoisin sauce
¼ cup rice vinegar
⅓ cup brown sugar
2 tbsp rice wine
2 tbsp sesame oil
2 tbsp srirachi sauce
2 inch piece of ginger , peeled and minced
5 garlic cloves , minced
5-8 green onions , sliced
2 tbsp sesame seeds
2 tbsp corn starch
3 tbsp water
Instructions
Trim the roast of any excess fat. Discard the fat. Place the roast in a large bowl or tray with high sides.

Mix the soy sauce, oyster sauce, hoisin sauce, rice vinegar, rice wine, brown sugar, sesame oil, sriracha sauce, minced ginger and minced garlic together. Pour the marinade over the roast and make sure the meat is totally coated. Cover the bowl or tray with plastic wrap and place in the fridge overnight.

In the morning, place the roast in the crock pot. Pour any of the marinade still in the bowl over the roast. Place the cover on the crock pot and cook on low for 8-10 hours or on high for 4-6 hours.

When the cooking time is done, strain 3 cups of the broth into a medium saucepan. Bring to a low boil. In a separate cup, mix together the water and corn starch until dissolved. Slowly whisk the water and cornstarch into the broth. The broth should thicken to a nice gravy that has a medium consistency that should still pour easily. Add a little more broth if the gravy is too thick,

Slice the roast across the grain and place on a serving platter. Pour on some of the Asian gravy and sprinkle on the sliced green onions and sesame seeds.

Serve with rice and stir fried vegetables.
Nutrition
Per serving:
Calories: 799kcalCarbohydrates: 24gProtein: 63gFat: 49gSaturated Fat: 20gCholesterol: 185mgSodium: 1268mgFiber: 1gSugar: 16g
Disclaimer: Crock Pot Canada provided me with the slow cooker. They did not pay me for this review and the views expressed above are my honest reactions after trying the Crock Pot product.