Crock Pot Chicken Cacciatore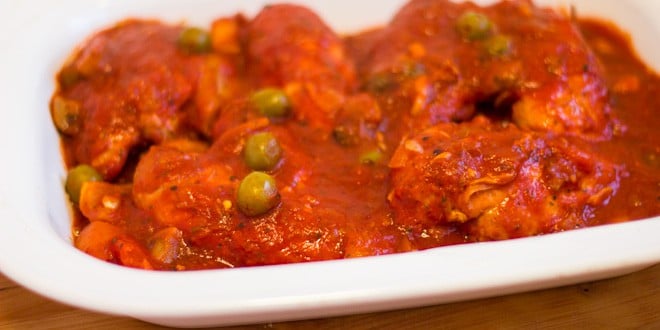 During the fall, I find that I use my slow cooker all the time. It is such an easy way to cook and is perfect for making comfort food dishes that are ideal for the cooler autumn weather. Many recipes that are made on the stovetop or the oven can be converted for the slow cooker and this crock pot chicken cacciatore recipe is one example.
I love chicken cacciatore. It is hearty, tasty and a nice variation from standard beef Italian meat sauces. Normally, I cook it in the oven, but the slow cooker works really well for this dish. Start it up in the morning before work and, when you come home, it is ready to eat. The smell in the house is amazing!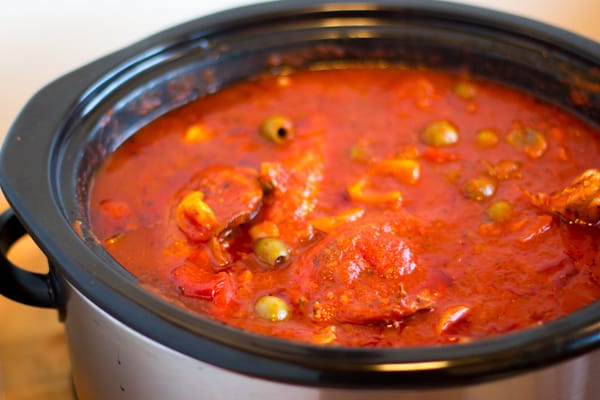 Chicken cacciatore is great served on various shapes of pasta like penne, rigatoni, etc. It is also excellent served on mashed potatoes or even rice as well. The chicken comes out moist and tender and the sauce it packed with flavour.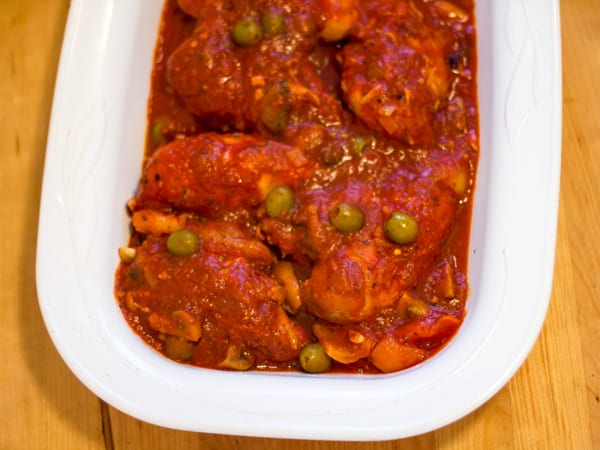 I love this Crock Pot chicken cacciatore recipe. It is simple to make and has so much wonderful flavour. I also make this in the oven and here is my instruction for Oven Baked Chicken Cacciatore.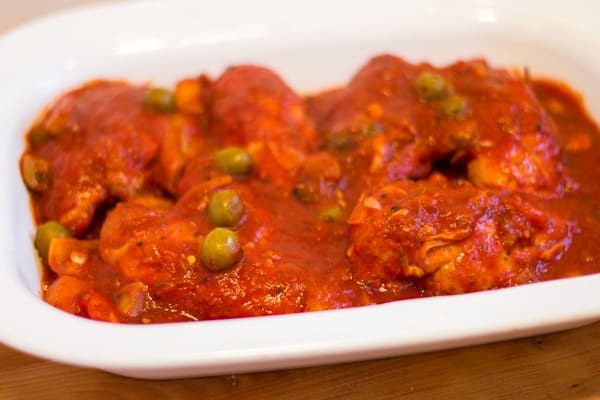 Crock Pot Chicken Cacciatore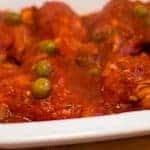 Print
Simple recipe for a delicious classic Italian dish. Chicken breasts, tomato, olives, onions and peppers slow cooked in a crock pot. Serve on pasta, rice or potatoes.
Servings: 4 servings
Ingredients
3 tbsp oil
5-6 chicken breasts , bone-in and skinless
2 onion , diced
1 red sweet pepper , diced
1 orange sweet pepper , diced
1 8 oz package of mushrooms , quartered
1 jar green olives , drained
2 28 oz cans of crushed tomatoes (3 cans if you like lots of sauce)
2 tbsp sugar
1 tbsp dried basil
2 tsp dried oregano
1 tsp salt
1/2 tsp ground black pepper
1/2 tsp dried chili flakes
Instructions
In a skillet, heat oil on medium heat. Brown chicken for a few minutes on each side. Move them to the slow cooker.

Saute the onions, peppers, mushrooms in the skillet for a 5-8 minutes, stirring often. Dump into the slow cooker.

Mix remaining ingredients into the slow cooker.

Set the slow cooker to low and cook for 6-8 hours. The chicken should be cooked through.

Serve on pasta, mashed potatoes or rice.