Grilled Flank Steak, Watercress and Blackberry Flatbread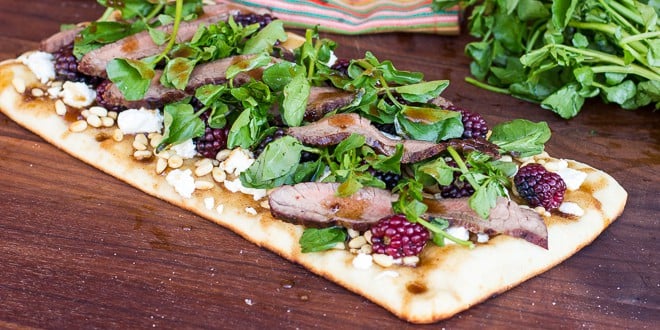 During the spring, I love to create meals that have a bright vibrant flavour. Fresh greens are perfect for the spring and summer. So, I am excited for the opportunity to partner with B&W Quality Growers and share a recipe featuring their watercress! B&W Quality Growers is the worlds largest grower of distinctive baby leaves. They grow and ship green watercress, red watercress and wild roquette arugula. They ship these greens to retail, wholesale and foodservice customers across Europe and North America.
It was a beautiful day today and I love being able to sit out on my deck and enjoy a meal like this Grilled Flank Steak, Watercress and Blackberry Flatbread. This grilled pizza is super healthy, full of bold ingredients and ideal for a warm day like today. The flank steak compliments the watercress really well. The blackberries give this flatbread a fruity sweetness and the goat cheese is creamy which draws together all the flavours. The pine nuts are a great addition as well. They are like little nuggets of delight and the nutty crunch is wonderful.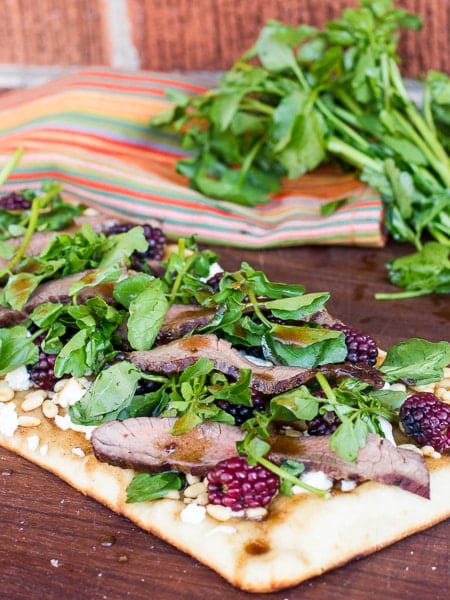 It is amazing how all these bold flavours do not overwhelm the watercress. That is the great thing about watercress and its sharp spicy taste. It works perfectly on this flatbread, as each ingredient is well balanced with the others to create an explosion of flavours in your mouth!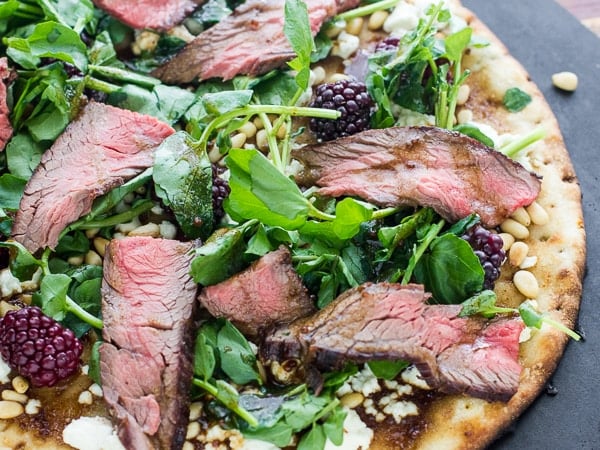 This pizza is almost like a fusion of salad and pizza! I don't know the first time that I tasted salad on a pizza, but I do know that it tastes amazing. Bright fresh flavours on top of a crispy pizza crust. I have also used flatbread and naan bread as well and they work great.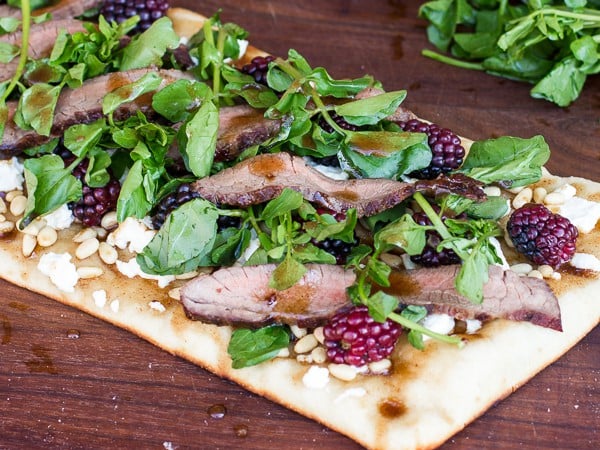 The great thing about this flatbread is that you can easily double or triple this recipe. It is possible to easily make lots of this for a party. Your guests will surely love it.
My kids, while they do eat very well, are typical kids. They can be quite picky and when they first saw the flatbread, they were unsure what to think. They all tried it and absolutely loved it. They told me that they would eat salad like this anytime! Ha!!
For the recipe, check out the B&W Growers website: Grilled Flank Steak, Watercress and Blackberry Flatbread
You will be glad you did. It is just amazing!
This post is sponsored by B&W Quality Growers. All opinions are my own.