Grilled Steak with Serrano Chile Chimichurri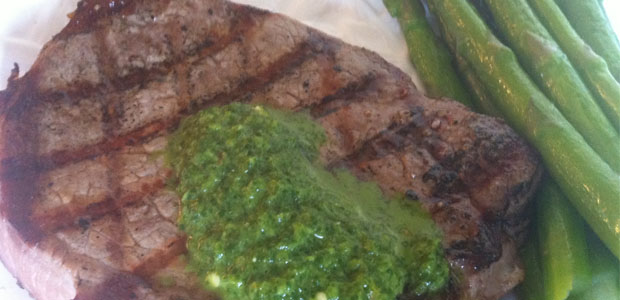 There are some things in life that get overlooked. The TV shows that are on during the Super Bowl. What are they? Who knows. Restaurants can get overlooked. Here in Toronto there are so many restaurants, sometimes I wonder how they can all stay in business. So many independent restaurants can get overlooked when they are next to the big franchise restaurants. It doesn't mean they are bad; in fact there are some incredible little restaurants throughout the city that many people don't know about. Some food can get overlooked as well.
Take the chile pepper; there are so many different types of chilies. Some are all the rage in cuisine. The jalapeno and cayenne pepper have been popular for decades and the habanero is all the rage the last number of years. There are other peppers that can get overlooked. Take the serrano pepper. I am sure that we have all heard but may have never cooked with it. We may not even know where it ranks on the heat scale or know how many scoville units (the measure for heat) is has. The serrano pepper is just a little bit hotter than a jalapeno pepper and registers between 10,000 and 20,000 scoville units. Today I have decided to try a common Argentinian dish with serrano peppers.
Chimichurri is an Argentinian variant of a green sauce or salsa verde. It is used as a marinade for meat or can be used as a sauce to eat the meat with. It is simple to make and goes great with grilled steak. For this recipe, I make the sauce ahead and then keep it fridge.
Grilled Steak with Serrano Chile Chimichurri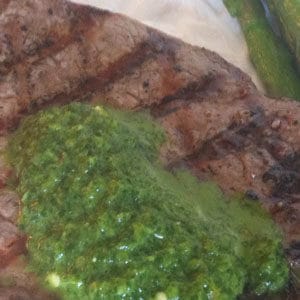 Print
Servings: 2 -4
Ingredients
Steak of your choice
Salt
Black Pepper
1 bunch of fresh cilantro
6 serrano peppers
Juice of 3 limes
1/4 cup olive oil
Instructions
To make the chimichurri you need to first cut the root and stems off the cilantro and wash it thoroughly to ensure that it is clean and all dirt has been washed off. Next seed the serrano peppers (you may want to use gloves so you do not get pepper juice on your hands). Place cilantro, peppers, lime juice and oil in a food processor. Blend it unitl it is a nice consistency for a sauce. Place in the fridge.

Let the steak get to room temperature. sprinkle with coarse salt and cracked pepper. Grill the steak to your preference. Serve with chimichurri.