Argentine Chimichurri Sauce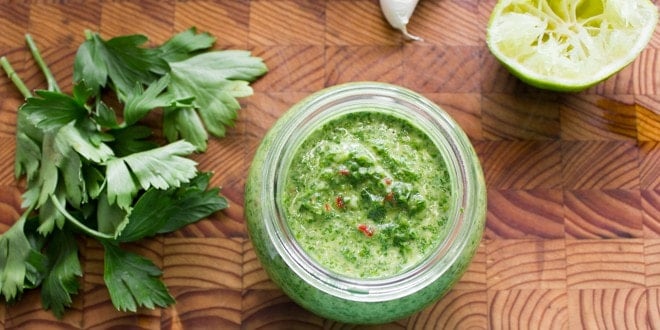 Over the years I have tried many different things to season my steaks. Everything from different rubs, marinades, BBQ sauces, chutneys and more. There are many that I like, but I don't think that there is any sauce I prefer with my steak more than this chimichurri sauce. While this sauce may look like pesto, the taste is very different. It has a bold flavour full of freshness from the herbs with tart sour aftertaste coming from the lime juice and vinegar. Depending on the amount of chili flakes, chimichurri can also have some heat as well.
This sauce originated in Argentina, but is popular throughout South America. This, like other popular sauces, has many variations from region to region and from family to family. But, there are some common ingredients included in most variations including parsley, oregano, oil, vinegar and garlic. Other popular ingredients include cilantro, lime juice and chili flakes.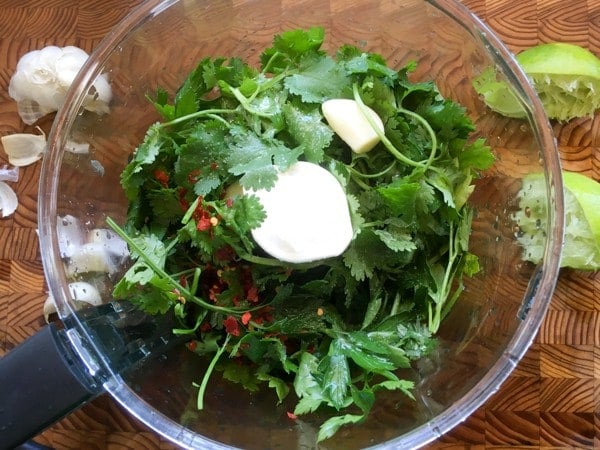 Chimichurri is super simple to make. Throw all the ingredients in a food processor and then pulse until the sauce has an even consistency.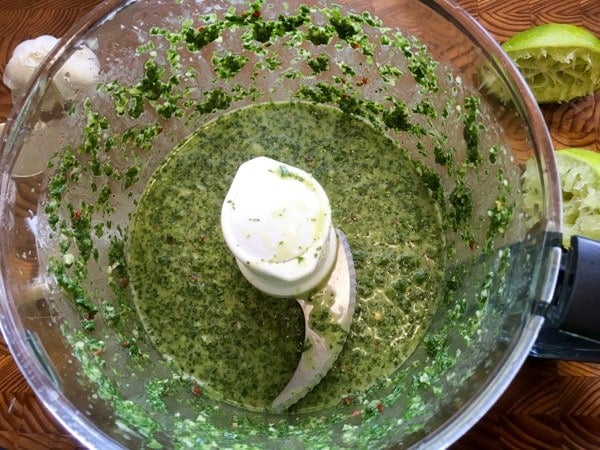 I like my chimichurri sauce to have a consistency of finely minced herbs. To do this, I press and hold the pulse button for one second and then release it. Continue to do this (pressing and releasing), until the sauce has an even consistency.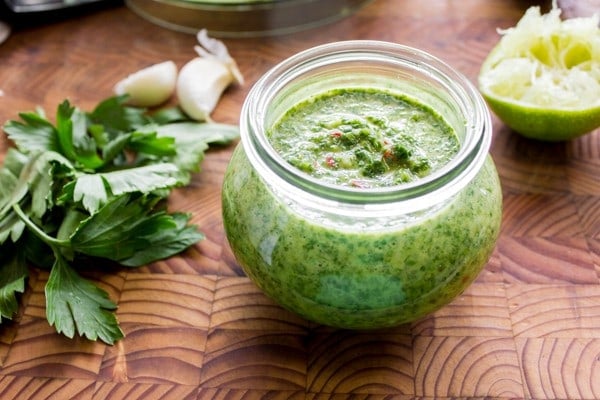 The sauce stays fresh for a few days if stored in a sealed container and kept in the fridge.
This sauce is great as a condiment for more than just steak. While chimichurri sauce really heightens the flavour of steak, it is also great with grilled chicken breast. Another idea is to toss a handful of shrimp in some chimichurri or top some fish with a spoonful of the sauce.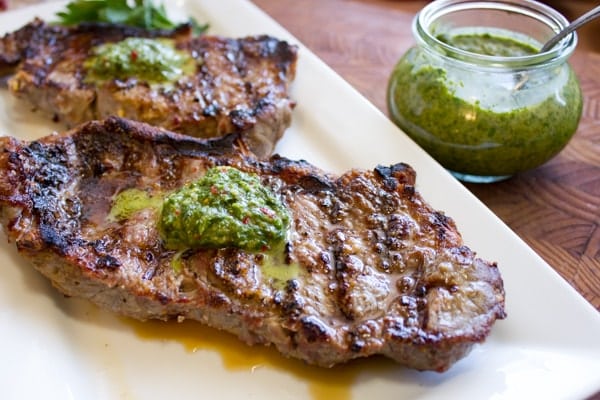 Argentine Chimichurri Sauce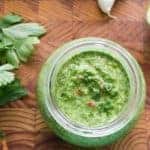 Print
Ingredients
1 cup fresh cilantro , packed
1 cup , fresh flat leaf parsley, packed
3 garlic cloves
1 lime , juiced
1 tbsp red wine vinegar
3 tbsp olive oil
1 1/2 tsp dried oregano
1 tsp dried chili flakes
1/2 tsp ground cumin
Instructions
Place all ingredients in a food processor.

Press the pulse button for one second and release it. Continue to do this until the chimichurri sauce is an even, yet still somewhat rough consistency.

Serve on steak, chicken, shrimp, fish and more!