Grilled Sicilian Swordfish with Smoker Box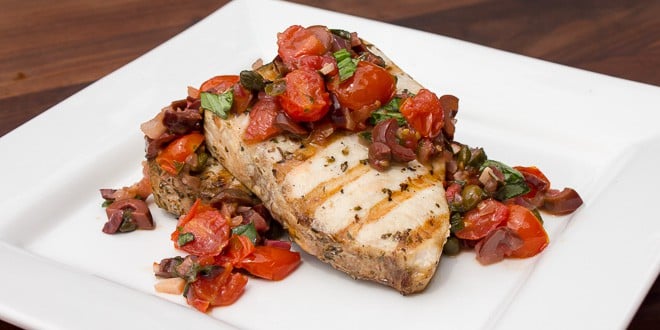 I love to grill and get excited for any opportunity to fire up the grill. So, when I was contacted by the World's Largest BBQ Store, Ontario Gas BBQ to participate in the Ontario Gas BBQ (OGB) Challenge, I was quick to respond with a big YES!
I, along with four other foodies, are participating in this challenge, and I am sure that there will be some outstanding dishes shared. To help with my grilling, I was sent five different grilling accessories and I have been asked to develop one recipe for each accessory. Along with that, I was also given some guidelines, including the type of meat to use, and the specific cuisine style to use with the dish.
Each day this week, I am going to share one of my five recipes. Along with me, my competitors will also be revealing the recipes they made on their blogs as well. This is going to be an exciting week for sure!
If you want to read up on the competition you can find it here.
After all the recipes have been revealed one recipe from each of us will be chosen by the Ontario Gas BBQ judging Panel. Then, throughout the month of July, anyone can vote on which recipe they think is best. I will be calling on my family, friends and readers to head over to the website and vote for my dish. That includes you! Along with supporting me with your vote, there are also prizes available to you. Each week during the month of July, a $100 gift card will be awarded to one lucky voter.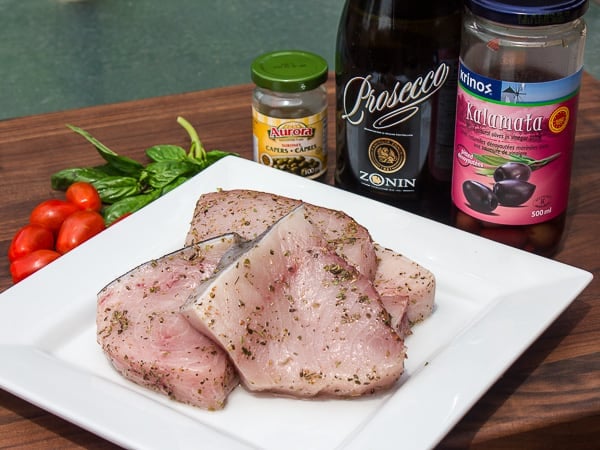 So….. let me share with you my first dish!
My first recipe is Grilled Sicilian Swordfish with a Smoker Box. I love swordfish and since it is dense like a steak, it is one of the best fish to prepare on the grill. I marinated the swordfish in a mild herb oil before placing it on the grill. To go along with the fish, I made up a chunky Sicilian style sauce with grape tomatoes, kalamata olives, capers and fresh basil. I also simmered the sauce with some white wine. I used Zonin Prosecco. Loved it!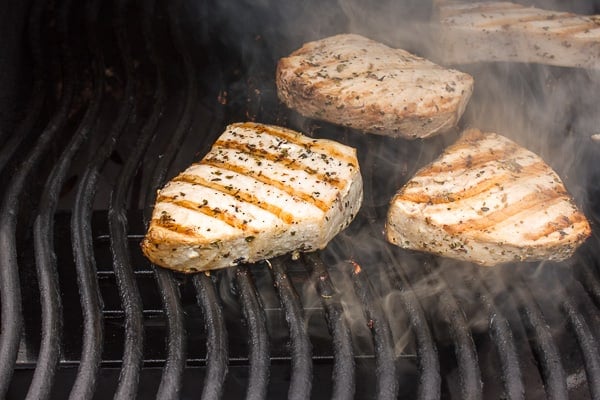 The grilling accessory I used for this recipe is a smoker box with wood chips. Smoker boxes are a great way to add a smoky flavor while using a gas grill. They are simple to use, but can have a wonderful impact on the food. I had the swordfish on the grill grates, just above the smoker box, as you can see in the above picture. The Jim Beam wood chips gave off a nice and steady smoke and the fish picked up the smoky flavour very well.
The finished dish was incredible. Both the swordfish and the tomato olive topping were delicious, but together they worked especially well, complimenting each other.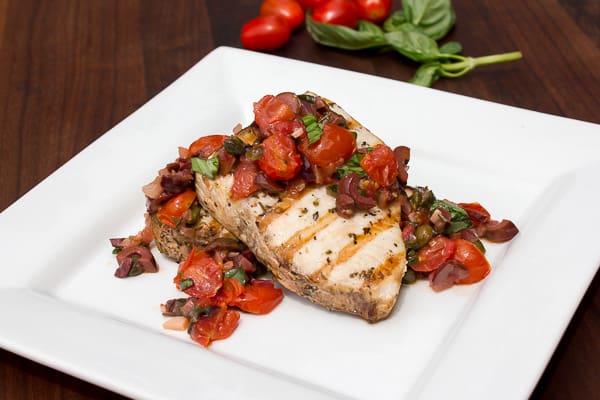 Grilled Sicilian Swordfish with Smoker Box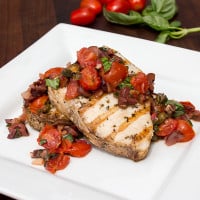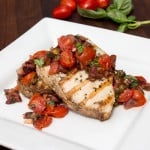 Print
Wonderfully light in taste, swordfish is perfect to cook on the grill. Using the smoker box adds a mild but welcome smoky taste to the fish. Topped with sautéed grape tomatoes, olives, capers and fresh basil, this is a truly delicious Italian coastal dish.
Servings: 2
Ingredients
2 swordfish steaks (1 inch / 2.5 cm thick)
4 tbsp olive oil , divided
1 tbsp oregano
1 1/2 tsp salt , divided
1 1/2 tsp pepper , divided
1 cup grape tomatoes , quartered
1/2 cup diced kalamata olives
1/3 cup minced shallots
1 1/2 tbsp capers
2 garlic cloves , minced
1/4 cup white wine
1/3 cup fresh basil , torn
Smoker box and wood chips
Instructions
Toss the swordfish in a marinade of 2 tbsp oil, oregano, 1 tsp salt and 1 tsp pepper. Make sure they are evenly coated. Cover with plastic wrap and place in the fridge until ready to grill.

Heat a skillet on the stove (or on a grill!) to medium heat. Add remaining 2 tbsp oil, tomatoes, olives, shallots, capers and garlic. Sauté for 3-5 minutes, stirring often. Stir in the white wine, ½ tsp salt, and ½ tsp pepper and cook for another 3-4 minutes.

Remove from the heat and stir in the fresh basil. Set aside for later.

Take enough wood chips to fill the smoker box and soak in water for at least 30 minutes.

Preheat grill to 450-500F.

Drain the wood chips and fill the smoker box. Place the smoker box in the grill, above the burner, but under the grill grates. Close the lid. After 5-10 minutes, the wood chips should start smoking.

Place the swordfish on the grill and close the lid. Cook for about 5 minutes. Using a spatula, carefully flip the swordfish. Close the lid and cook for another 4 minutes.

Remove the swordfish from the grill and place on a plate. Top the fish with the tomato and olive mixture.

Serve immediately.