Beer Braised Beef and Swiss Melt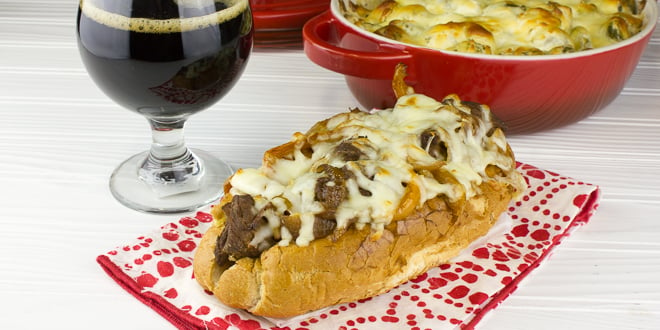 I am always in for a good quality sandwich. One of my favourites is the classic Philly cheesesteak. Tender steak with sautéed onions, peppers with melted cheese. Oh ya! Sign me up!!
The other day, stewing beef was on sale and I decided to pick some up and make my own version of the cheesesteak. Stewing beef requires some long braising to get to the point of being super tender. This braising is done in the oven and I used some beer to give the beef and even richer flavour. A nice stout beer is ideal for beef. I used Joe Sent Me which is an awesome beer from a small brewery in Sarnia Ontario called Refined Fool. Now this beer may be difficult to find, so any stout beer will work just fine.
Along with the beef, there are also onions, peppers and mushrooms thrown in the dutch oven for braising. The result is packed with flavour. Spoon some of this goodness onto an open crusty bun, sprinkle with swiss cheese and place under the broiler until the cheese is melted. Amazing!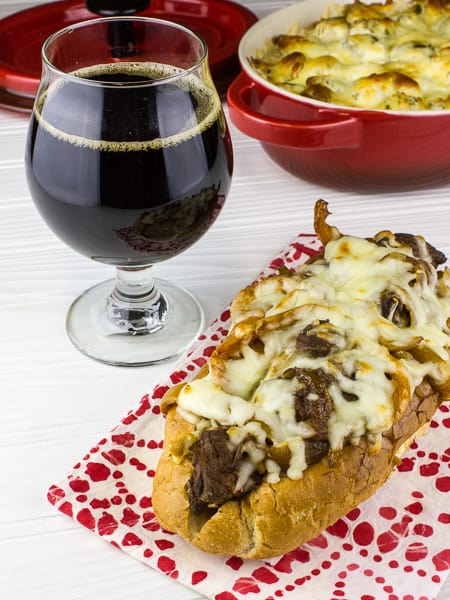 Beer Braised Beef and Swiss Melt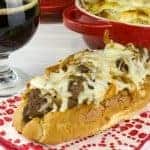 Print
Servings: 6 -8 servings
Ingredients
3 tablespoons oil
2 pounds stewing beef , cut into 1 inch cubes
3 tablespoons butter
2 sweet onions , thinly sliced
1 green pepper cored and sliced
1 red pepper , cored and sliced
2 cups fresh button mushrooms , sliced
4 garlic cloves , minced
1 1/2 cups (750 ml) beer (preferably a stout beer)
4 teaspoons tomato paste
1 teaspoon paprika
1 1/2 teaspoon salt
1 teaspoon ground pepper
6-8 fresh crusty buns
3 cups grated swiss cheese
Instructions
Preheat oven to 300F

In a large dutch oven, heat oil over medium heat. Add some of the stewing beef to the skillet and brown all sides. Place just enough beef cubes to cover the bottom of the dutch oven. Once browned, remove the beef and add some more. Continue to brown the beef in batches until they are all browned. Remove beef and set aside in a large bowl.

Melt butter in the dutch oven. Add the onions, green and red pepper, mushrooms and minced garlic. Saute, stirring often, until the vegetables are tender, about 6-8 minutes. Stir in the beer, tomato paste, paprika, salt and pepper. Bring to a boil, lower heat and let simmer for 3-5 minutes. Remove from the heat and mix in the brown stewing beef.

Put a lid on the dutch oven and bake in the oven for about 3 hours. Remove from the oven and increase the oven temperature to broil.

Slice a crusty bun lengthwise, making sure to not slice all the way through. Open it up and place on a large baking sheet lined with aluminum foil. Spoon some of the beef and vegetable mixture in the opening of the crusty bun. Spoon a little extra sauce on the bun. Sprinkle some grated cheese on top of the beef mixture. Do this with the remaining crusty buns.

Place in the oven and broil until the cheese melts, about 3-5 minutes.