Pressure Cooker Philly Cheesesteak Sandwiches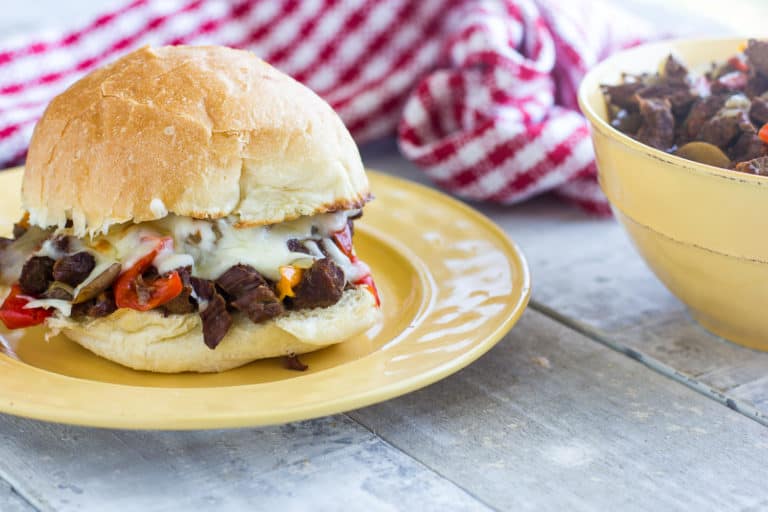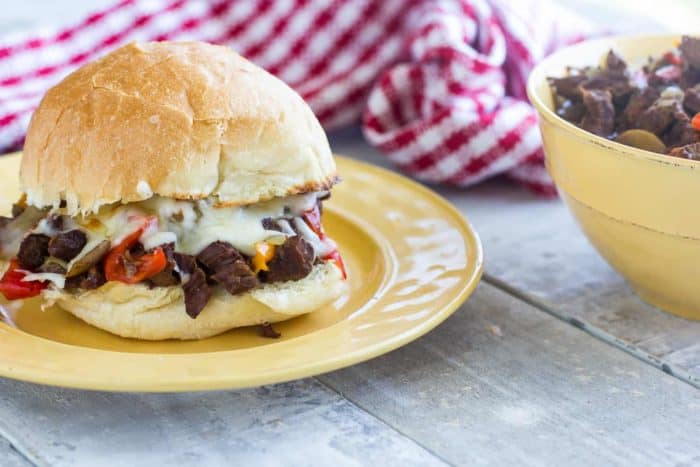 I remember when I went to Philadelphia, one of my 'must do' things while we were there was to have a Philly cheesesteak. Sure, it wasn't my first cheesesteak, but I wanted to try it right in the city where it became famous. I love cheesesteak sandwiches – tender steak that just falls apart, sautéed peppers and onions on a fresh bun with lots of cheese. What is not to like about that!?!?
There is a cheesesteak restaurant near my house and I love going there. They have all sorts of options with different toppings, cheeses and sauces. I find that I always tend to stick with a classic cheesesteak and the last time I was there I thought about making my own using my pressure cooker.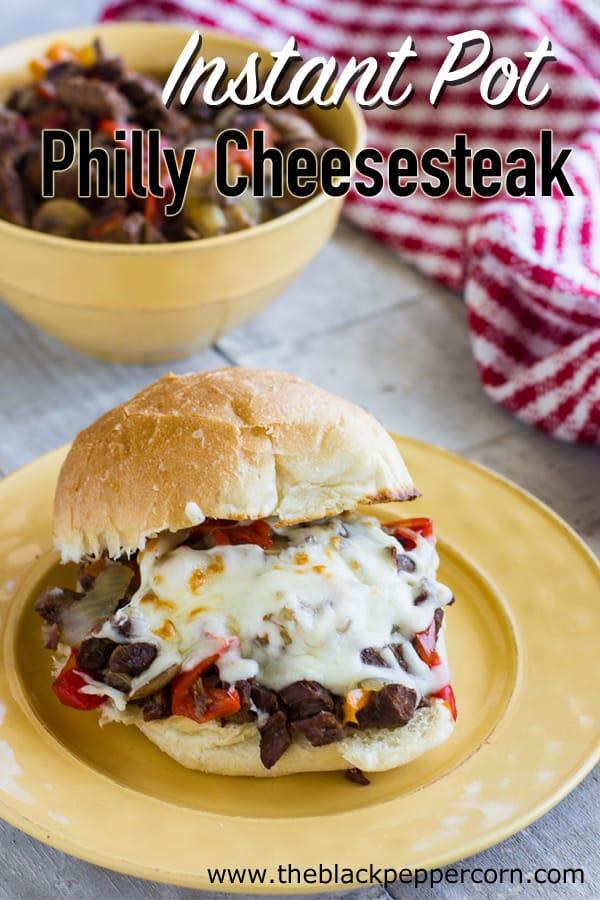 Electric pressure cookers, like the Instant Pot and others are a great way to quickly cook meat so that it is super tender and full of flavour. I figured this would be an ideal way to prepare the filling for a cheesesteak. Wow, was I right – these cheesesteaks are so delicious!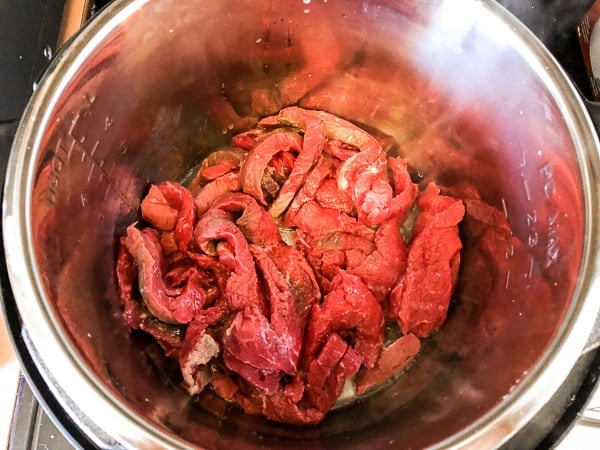 For the beef, I use inside round. You can either buy a small roast or use steaks. Slice the beef into small thin strips. Some supermarkets sell this already pre-sliced and they call it 'stir fry ready beef strips'. I find that this beef cooks up perfectly and is ideal for cheesesteaks. It is tender yet still holds its form and doesn't crumble once cooked.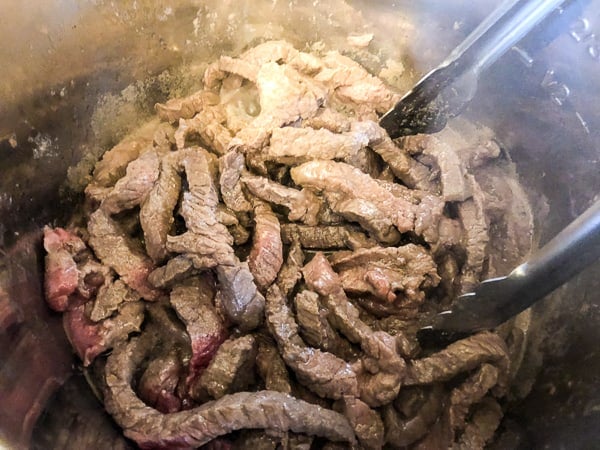 Brown the beef strips first before adding everything else. This adds a deeper flavour to the dish.
To brown the beef in a pressure cooker, set it to sauté and then heat the oil in the pressure cooker pot. Add the beef strips and stir until they are fairly well browned on all sides.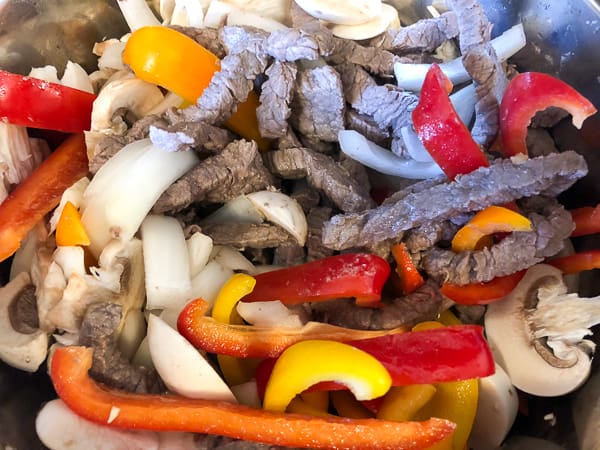 Once the beef is browned, add the onions, peppers, mushrooms, broth, Worcestershire sauce and spices. Put on the lid and close it. Make sure the valve is set to seal/closed. Cook at high pressure for 30 minutes.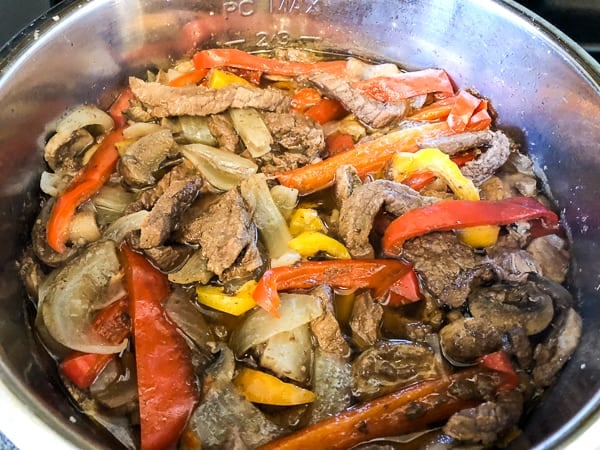 Once the pressure cooker has finished cooking for the 30 minutes and beeped, you can flip the valve to vent to release the pressure.
Remove the lid and look at all the goodness! There is so much flavour in the pot. While I use this to make philly cheesesteaks, you could do many other things with this.
Thicken the broth with some corn starch to turn it into a gravy and then ladle some of the meat, veggies and gravy on mashed potatoes, rice or cooked egg noodles.
Spread some of the beef and veggies on a pizza crust and make a cheesesteak pizza.
If you add some Mexican spices, you could even use the beef and veggies for some delicious fajitas!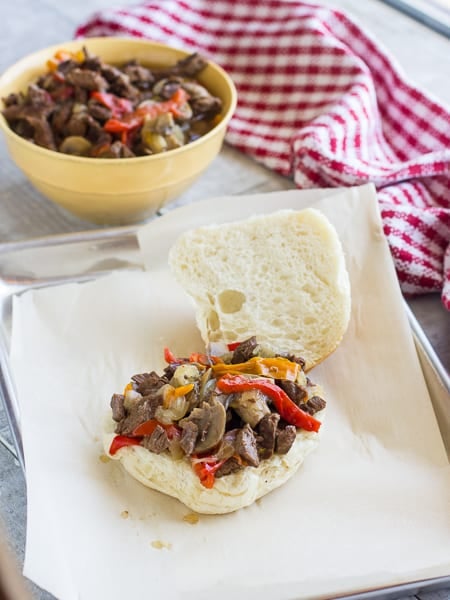 To make cheesesteaks, I spread some of the beef and veggies on a bun. While I used a burger type bun, you could use kaisers, panini, sub or pretty much any bun.
Make sure to drain the meat and veggies before piling it on the bun. Use either a slotted spoon or tongs and lift it out of the broth to drain as much as possible. Otherwise, the bottom of the bun will be quite soggy.
Top with some grated cheese and it is ready to go in the oven. Preheat the oven and set to broil. You only need to have the cheesesteaks under the broiler for a couple minutes. Basically, you just need to melt the cheese and let it start to bubble. Take them out of the oven and place the top of the bun on top.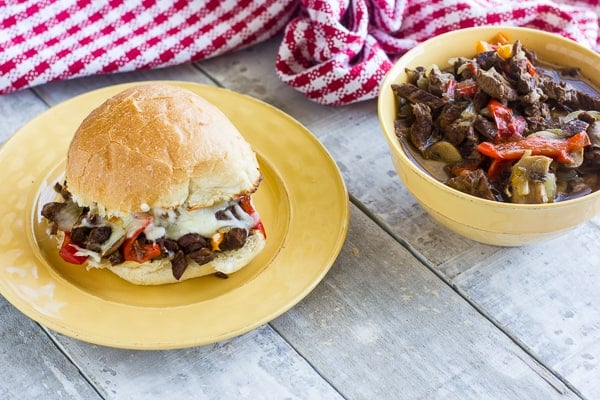 These cheesesteaks are so good and the meat is super tender. There is so much flavour in every bite and my kids even gobbled theirs up really quick!
This is great served with some sides like fries, chips, cole slaw, pickles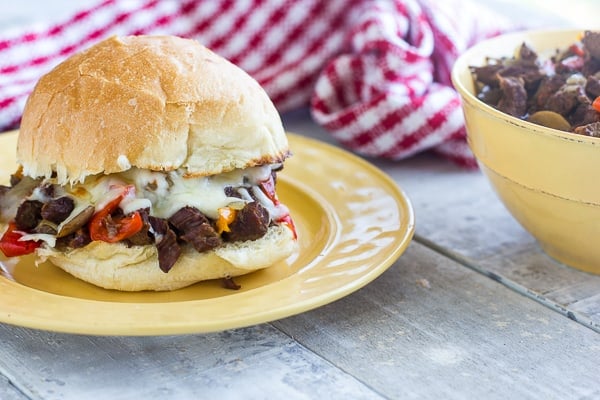 This is perfect game day food. Start this up before the game starts and it is ready in the pressure cooker, staying warm for whenever you want them. All you need to do is assemble the buns and broil them and you have the perfect snack ready in a matter of minutes.
This recipe makes enough filling for about 8 round buns. If you are using long sub type buns, you might only be able to make 4-6 of them.
Pressure Cooker Philly Cheesesteak Sandwich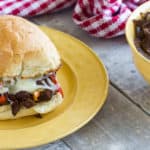 Print
How to make classic philly cheesesteak sandwiches in a pressure cooker like an Instant Pot. Inside round roast or steak with peppers, onions, mushrooms with lots of grated provolone cheese.

Servings: 8
Ingredients
3 tbsp oil
2 pounds Inside round beef (roast or steak) cut into thin strips
2 sweet peppers (red, orange or yellow) cored and thinly sliced
2 medium onions peeled and thinly sliced
3 cups sliced mushrooms
2 cups beef broth
2 tbsp Worcestershire sauce
1 tsp salt
1 tsp freshly ground black pepper
2 cups grated provolone cheese
8 buns
Instructions
Set pressure cooker to the sauté function and heat the oil. Add the beef strips and brown for a few minutes. Turn off the sauté function.

Add remaining ingredients, except the cheese and buns, to the pressure cooker pot and stir. Close the pressure cooker lid and make sure that the vent valve is set to closed/sealed.

Set the pressure cooker to cook on high pressure for 30 minutes.

Once the pressure cooker has finished cooking and beeped, manually release the pressure by turning the valve to vent. Once the air pressure is released, remove the lid.

Slice buns and place both top and bottom of each bun on a baking sheet, cut side up. Using a slotted spoon, scoop out some of the meat and veggies, letting it drain, and then pile on the bottom of a sliced bun. Top with 1/4 cup of grated cheese. Do this with the remaining buns.

Preheat oven to broil and put cheesesteak sandwiches under the broiler for a couple of minutes or until the cheese melts and is bubbly. Place the bun tops on the bottoms and serve hot.