Cajun Spice Roasted Pumpkin Seeds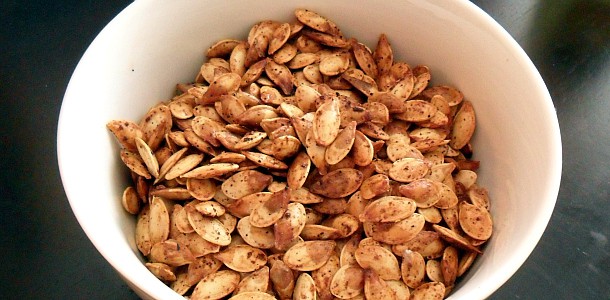 My family has started a tradition in the month of October. We always buy pumpkins, both the big ones to make jack-o-lanterns and small ones for pies. The kids love cleaning the inside of the pumpkins, getting the slime and seeds out. After washing and drying the pumpkin seeds, they are ready for roasting and the kids LOVE the taste of toasted pumpkin seeds. Our tradition includes roasting the pumpkin seeds and sitting around the tv watching a Halloween special. Usually we watch It's the Great Pumpkin, Charlie Brown, but lately we have also watched Monsters vs Aliens: Mutant Pumpkins from Outer Space. What I find so interesting is that this is such a basic little tradition but the kids get so excited! They remember clearly that we do it every year and it is special to them. Sometimes it is the little things in life that we remember years later.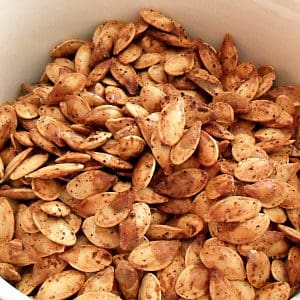 Print
Servings: 1 cup
Ingredients
1 cup pumpkin seeds
2 tbsp oil
2 tbsp cajun spice
Instructions
Wash the pumpkins seeds thoroughly, removing all the slime from them. Dry the seeds, with a paper towel or by letting them air dry. If you are not using fresh seeds, right from the pumpkin, you can bypass this step.

Toss the seeds with the oil and Cajun spice until evenly coated. Spread the seeds evenly on a baking sheet.

Roast the pumpkin seeds in an oven at 325 for 30 minutes.

Serve warm.