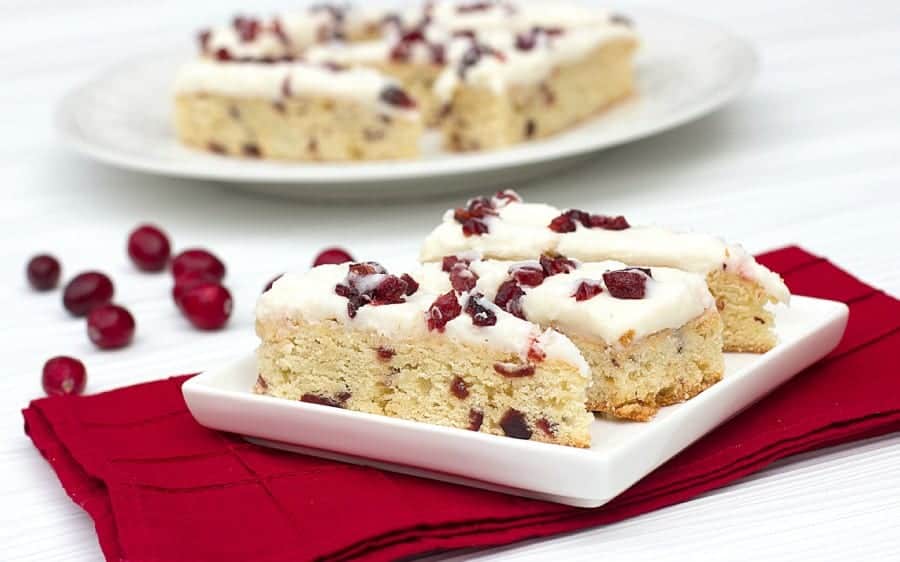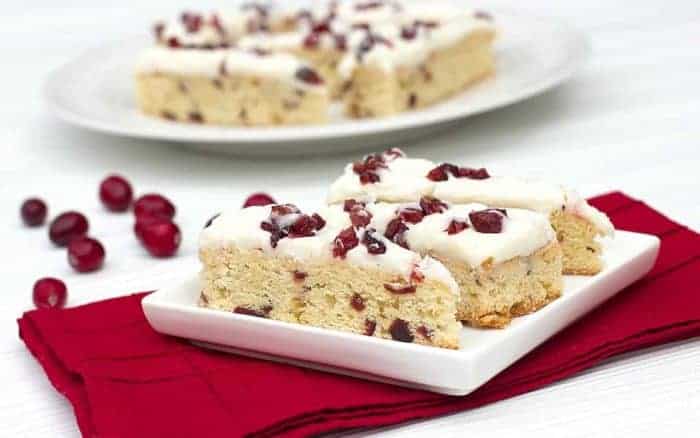 It is that time of year again.
Bright coloured lights shining on rooftops
Christmas trees up and decorated
Holiday specials on TV
Parties with family, friends and staff
On top of all those things that happen during the Christmas season, there is also plenty of baked goods that are made and also eaten. I love Christmas baking and I do more during November and December than any other time of year. Just look at my recipes on this site and you will quickly see that most of my baked goods happen in the last two months of the year.
I am thrilled to start the second year of 24 Days of Christmas Baking. This year, I am sharing a bunch of original recipes along with some classics. To start things off I want to share with you a copycat recipe of my favourite holiday treats from Starbucks.
Once Halloween is over and all the stores get their Christmas products up, I quickly head over to Starbucks for two things: Christmas Blend Coffee and Cranberry Bliss Bars. These bars are so amazing, and I am actually quite happy that they do not sell them all year long. If they did, I would buy way too many of them. This blondie with cream cheese frosting and lots of dried cranberries is totally delicious to me and it goes perfect with a mug of Christmas Blend.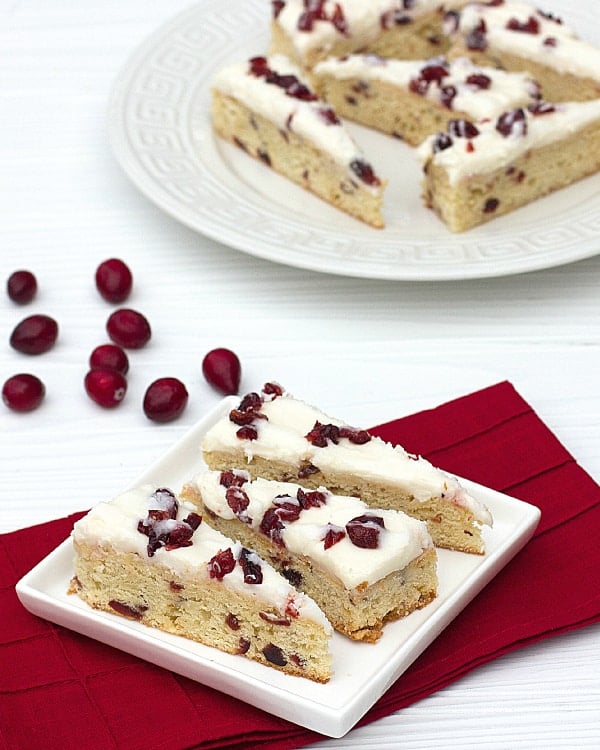 My brother-in-law works at Starbucks and he said that Cranberry Bliss Bars are so popular that some people buy a whole tray of them. Wow – I never thought of that. As with everything at Starbucks, these bars are pricey, and there must be a way to make this at home at a fraction of the cost. Making these bars, I slightly adapted the recipe from Top Secret Recipes.
After tasting them, it amazes me how similar they are to the original from Starbucks. Actually, this version does taste better. The cake in the blondie is lighter and there are far more flavours. The white chocolate and dried cranberries taste great in the bar, but it is the lemony flavour in the cream cheese frosting that I just loved! I will be making these again.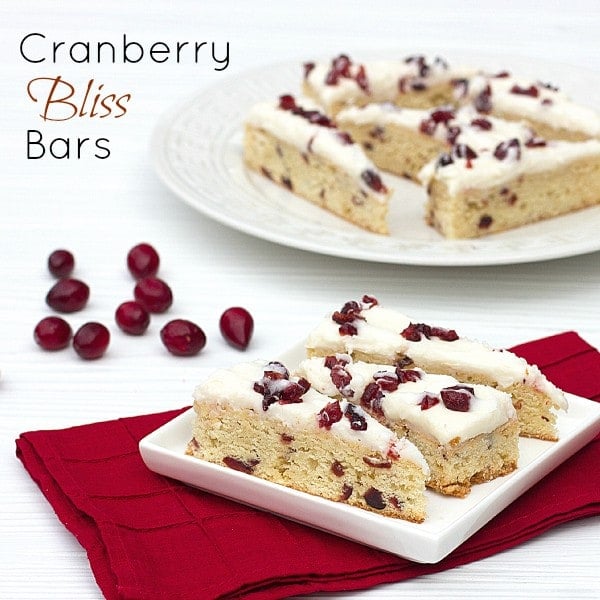 Cranberry Bliss Bars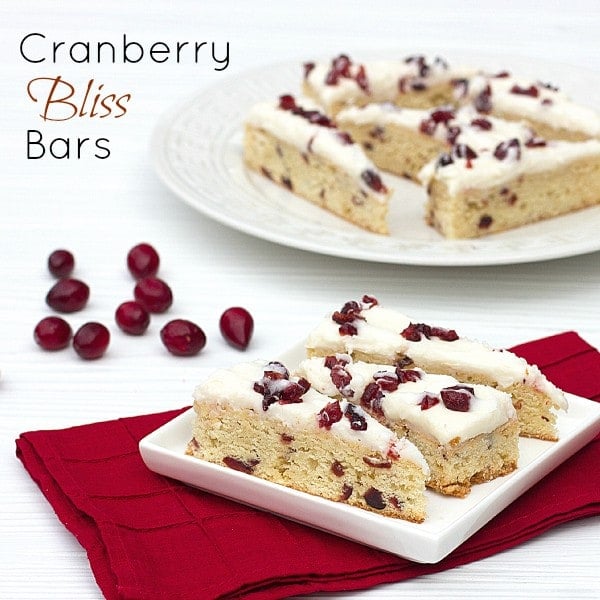 Print
This copycat recipe of the Starbucks classic is a blondie with white chocolate and dried cranberries. This top secret recipe has it topped with a lemony cream cheese frosting, more dried cranberries and a light drizzle.
Servings: 24 servings
Ingredients
3/4 cup butter , softened
1/2 cup packed brown sugar
3/4 cup white sugar
3 eggs
1 tsp vanilla extract
1 1/2 cup all purpose flour
1 tsp ground ginger
1/2 tsp salt
1/2 tsp baking powder
3/4 cup sweetened dried cranberries , chopped
3/4 cup white chocolate chips
1/2 brick of cream cheese (4 oz)
2 1/2 cups icing/powdered sugar
1/4 cup lemon juice
1/3 cup sweetened dried cranberries , chopped
1/2 cup icing/powdered sugar
1 tbsp milk
Instructions
Using an electric mixer, beat together the butter with the brown and white sugars until smooth and creamy. Beat in the eggs and vanilla until smooth.

In a separate bowl, whisk together the flour, ginger, salt and baking powder. Slowly pour the mixed dry ingredients into the butter and sugar mixture while beating. Stop beating once the mixture looks fairly smooth and there are no lumps. Stir in the 3/4 cup chopped cranberries and white chocolate chips.

Pour the batter in a greased 13x9 cake pan and bake in a 350F oven for 25 minutes. Remove from the oven and cool completely.

Make the frosting by beating together the cream cheese, icing sugar and lemon juice until smooth. Spread the frosting on top of the cooled cake. Sprinkle the 1/3 cup dried cranberries on top of the frosting.

Whisk together the icing sugar and milk until smooth. Drizzle the icing on top of the cake.

Cut into triangles or squares.

These bars can be kept in the fridge for a couple weeks in the freezer for up to 3 months.