Mini Egg Rice Krispies Squares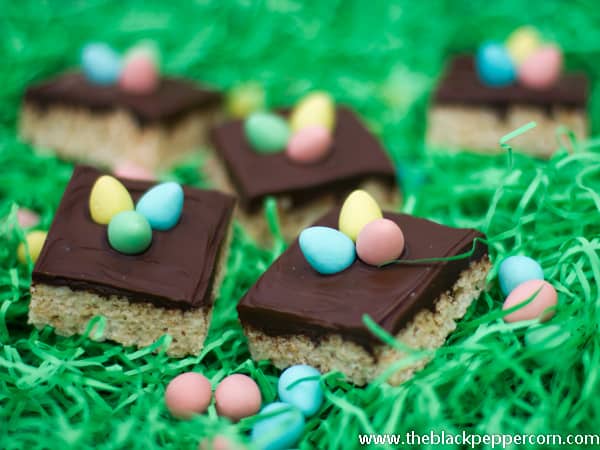 One of the best parts of the Easter season is Cadbury Mini Eggs. They are one of my favorite sweet treats and once they start popping up on grocery store shelves, I buy them like crazy. I am not the only one in the house who loves them, as some others are more addicted to them than even me. I need to keep a stock of them on hand as they get eaten really quick.
Lately, I have noticed that Mini Eggs seem to be available all year long. That is cool and all, but for me Mini Eggs are an Easter treat, kinda like egg nog and Christmas.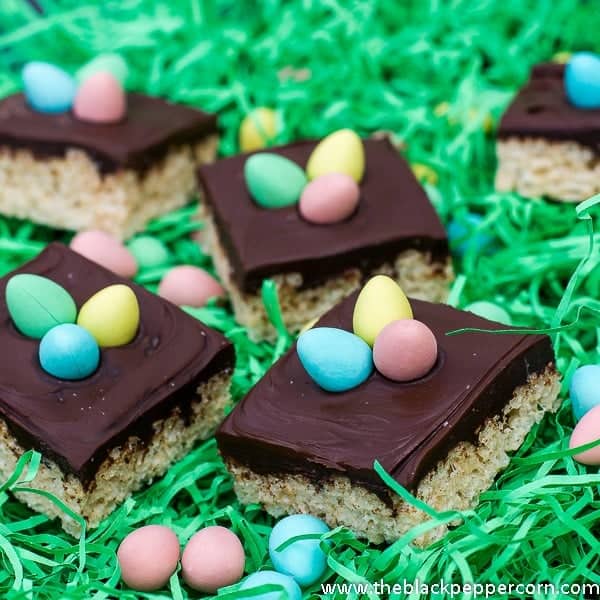 Most of the baked treats on The Black Peppercorn are Christmassy and I figured it was time to get a spring type, Easter themed treat. I had a bag of Mini Eggs on the counter, so they were ready to be used in the recipe.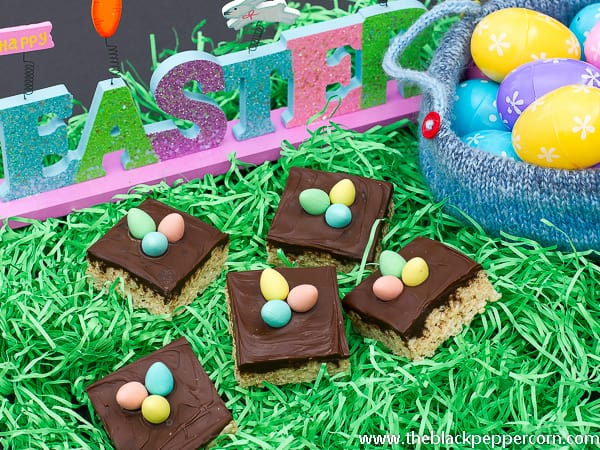 Rice Krispies treats are always popular in our house, especially if they are covered in chocolate. These turn a beloved children's treat into something much more decadent that the parents will want to eat as well. Make this for Easter so mom and dad can have these while the kids are looking for their hidden Easter egg candies!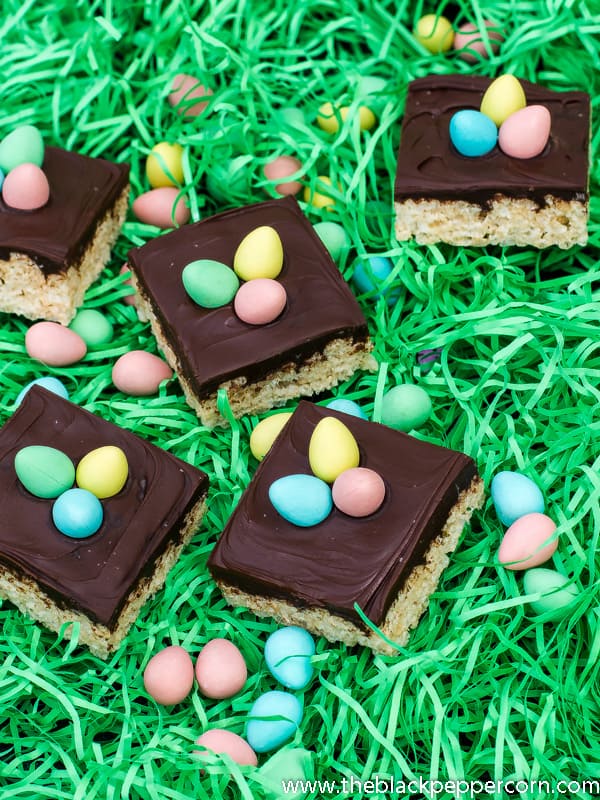 Mini Egg Rice Krispies Squares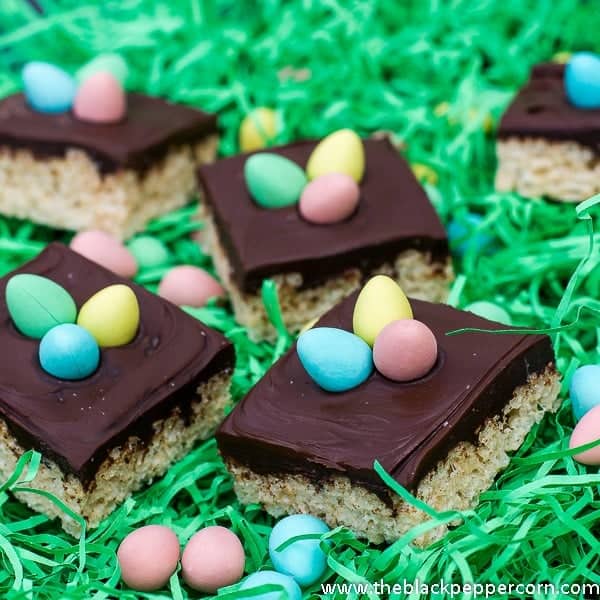 Print
Cadbury Mini Eggs or Hershey's Eggies topped Rice Krispies treats with a layer of semi sweet chocolate. The perfect Easter sweet dessert.
Servings: 24
Ingredients
1 tbsp butter
5 cups Rice Krispies cereal
3 tbsp butter
1 package (10 oz or around 255g) marshmallows
1 tsp milk
1/2 tsp vanilla
2 cups semi sweet chocolate chips
72 Mini Eggs
Instructions
Grease a 13x9 pan with 1 tbsp butter.

Melt 3 tbsp butter in a saucepan on medium-low heat. Add marshmallows and stir constantly until they are fully melted and smooth. Remove from the heat. Stir in the milk and vanilla.

In a large bowl mix the Rice Krispies with the melted marshmallow mixture until evenly coated. Press into the 13x9 pan.

Melt the chocolate in either a microwave or stovetop and spread with a spatula on top of the Rice Krispies base.

Using a butter knife, score lines on the melted chocolate to mark the 24 squares. Place clusters of 3 Mini Eggs in the center of each square.

Let cool so the melted chocolate hardens.

Cut into 24 squares.