Banana Chocolate Turnovers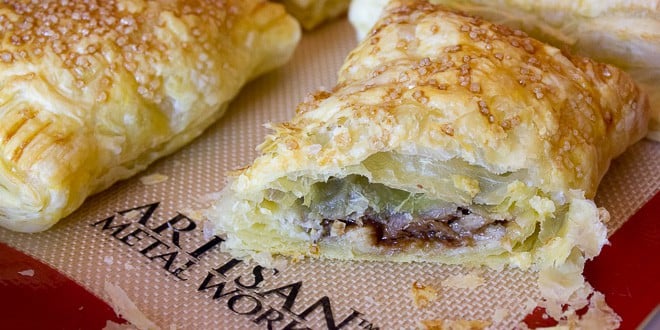 Turnovers are a quick and easy treat to make, especially with some frozen puff pastry. Just thaw it, unroll it and cut it into 5 inch square sections. There are so many filling possibilities from fruit, caramel to chocolate and more. We had a bunch of mini chocolate bars leftover from Halloween and I figured they would make a great filling for these turnovers. Adding some sliced bananas worked really well also – I love the combination of banana and chocolate. YUM!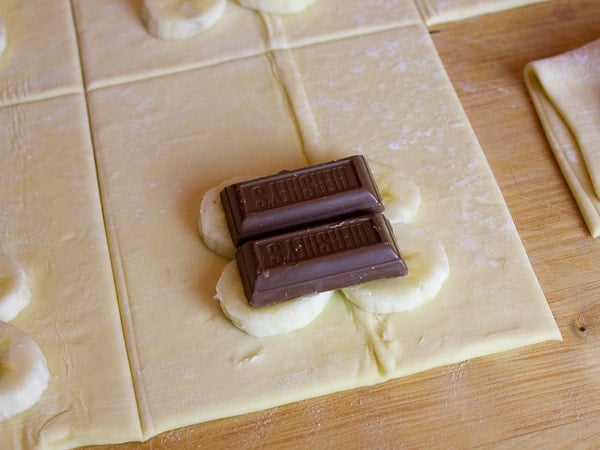 Cut the puffed pastry into 5×5 inch squares. Place some banana slices and mini chocolate bars onto the middle of each square of pastry square.
Fold over the pastry and make sure you crimp the edges with a fork. Do not press down too much, but make sure that there is a good seal so the filling does not leak out. That would be TRAGIC!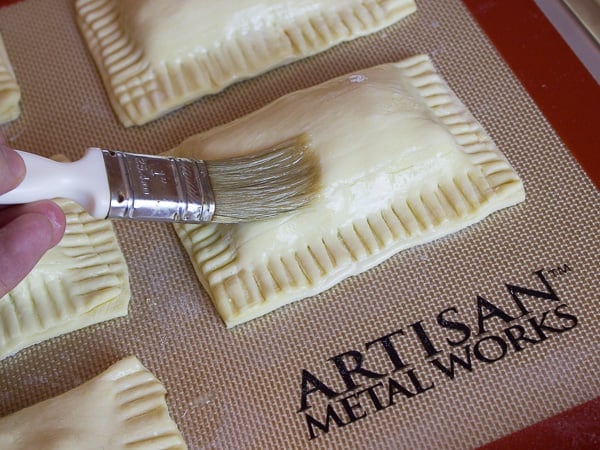 Brush the top of the turnovers with egg wash. This gives the pastry a nice glossy finish. Sprinkle the turnovers with coarse sugar. I used turbinado, but any coarse sugar would work fine.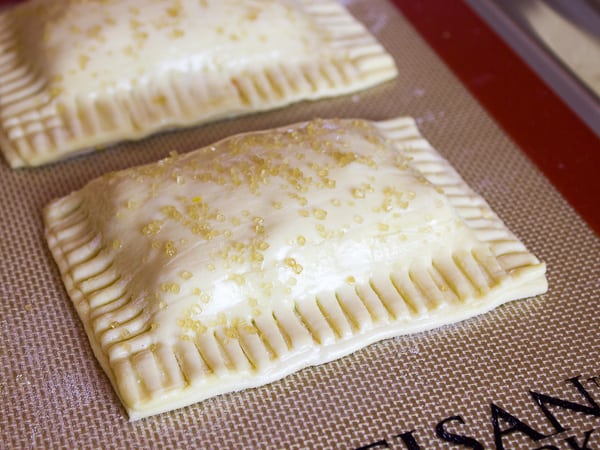 Bake them in a 400F for 20 minutes. You can bake them on a baking sheet with parchment paper or a silicone baking mat. I used a baking sheet and silicone set from Artisan Metal Works. They have a great set including a cookie sheet and silicone mat that fits the baking sheet perfectly. The turnovers came off very well with no sign of sticking. You can check out the silicone sheets at Amazon here – Artisan Metal Works Half Size Baking Sheet, Cover, and Non-Stick Mat
.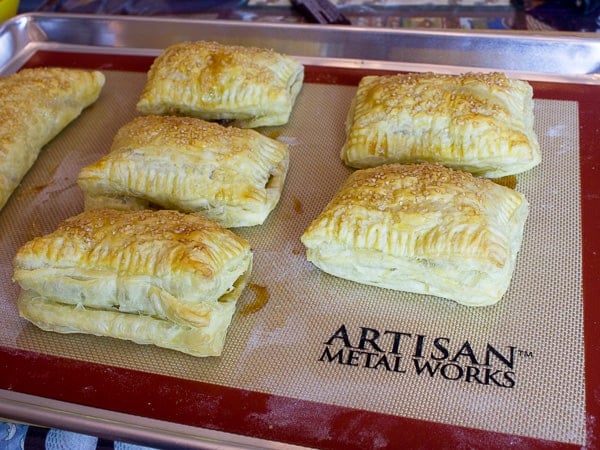 The turnovers came out of the oven, light and fluffy. The inside was gooey and had the perfect blend of banana and chocolate.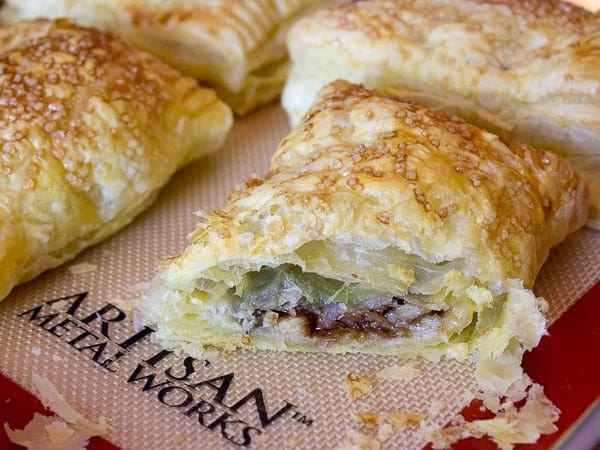 Banana Chocolate Turnovers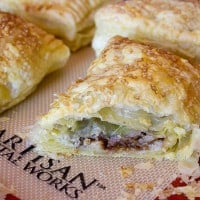 Print
Servings: 8
Ingredients
1 pound (450g) puffed pastry
1 banana , cut into slices
16 mini chocolate bars (or 1 cup chocolate chips)
1 egg white
1 tbsp water
2 tbsp coarse sugar
Instructions
Preheat the oven to 400F.

Thaw the puff pastry and if it does not come pre-rolled, roll it out on a lightly floured surface. Cut it into eight 5x5 inch squares.

Place 4 banana slices in the middle portion of each pastry square. Place 2 mini chocolate bars on top of the banana.

Whisk together the egg white and the water.

Brush some of the egg wash around the border of the square. Fold over the turnover and gently press down along the side with your fingers to make sure there is an even seal. Use a fork to crimp all the edges so the filling will not leak out.

Brush some egg wash on top of each turnover. Sprinkle some sugar on top.

Place the turnovers on a baking sheet, leaving at least 1 inch space between them.

Bake for 20 minutes or until the pastry is lightly browned around the edges.