Nutella and Marshmallow Turnovers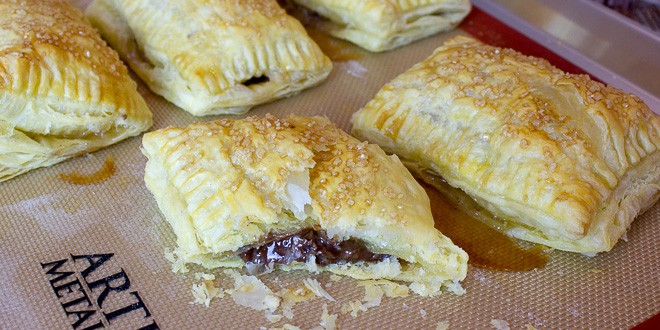 Nutella does not stay long in our house. It is used up very quickly, being spread on toast, eaten with apple wedges or banana slices, spooned on vanilla ice cream and more. I love to use Nutella in my baking, but often find that anytime I go to the jar, it is nearly empty. This weekend was the perfect time to bake something with Nutella as I had just purchased a new jar.
I had a package of puffed pastry in the freezer and have been dying to make some turnovers. I figured that Nutella should make a rock solid filling for these pastry pockets, and I might as well throw in some mini marshmallows too. This definitely had the makings of something wonderful!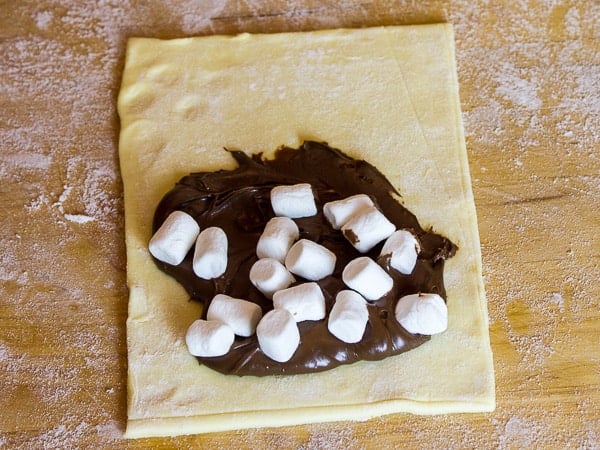 Cut the puffed pastry into 5×5 inch squares. Spread some Nutella in the middle of each pastry square. Then drop about a dozen mini marshmallows on top of the Nutella. Just by looking at the picture above, I just knew this turnover would taste incredible. That filling is just total goodness!!!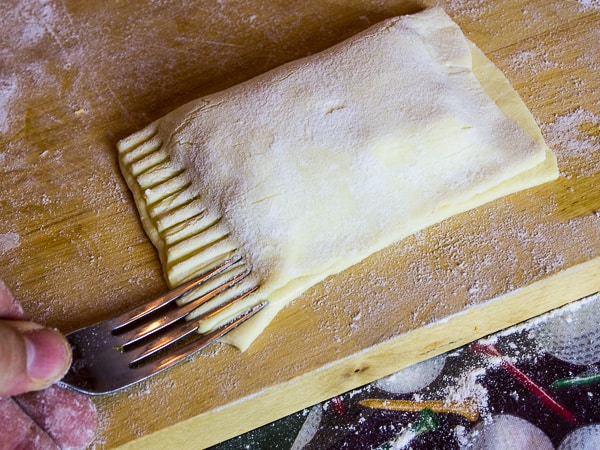 Fold over the pastry and make sure you crimp the edges with a fork. Do not press down too much, but make sure that there is a good seal so the filling does not leak out. That would be TRAGIC!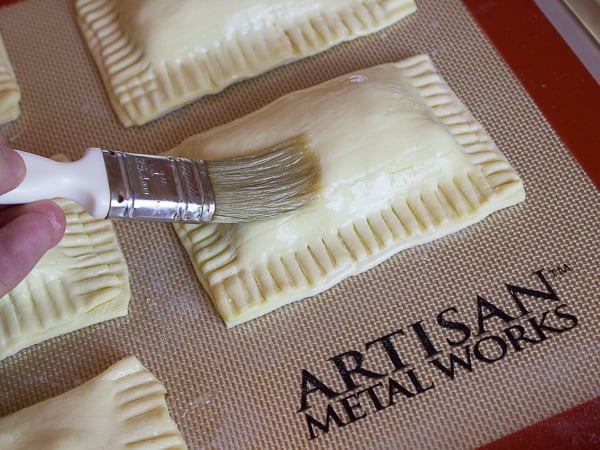 Brush the top of the turnovers with egg wash. This gives the pastry a nice glossy finish.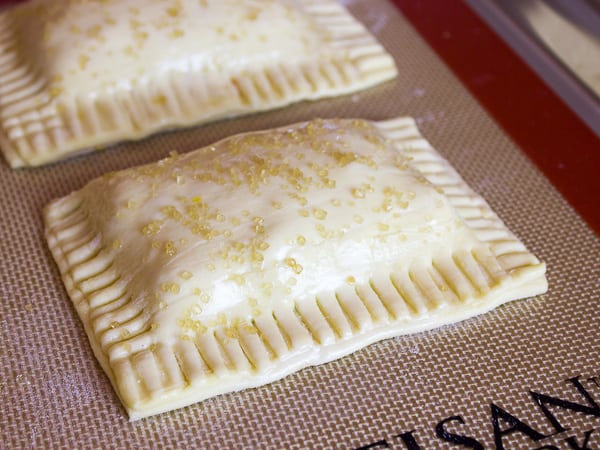 Sprinkle the turnovers with coarse sugar. I used turbinado, but any coarse sugar would work fine.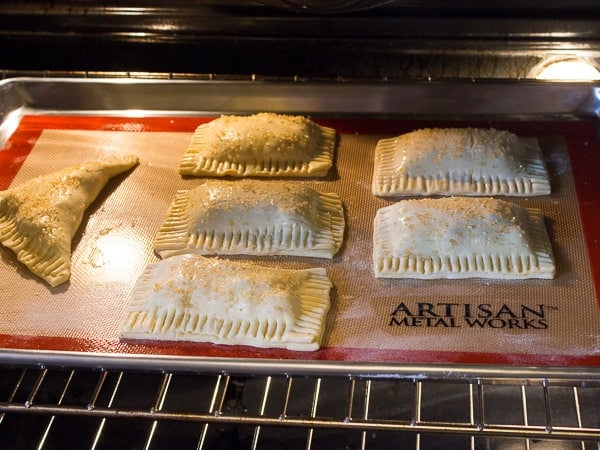 Bake them in a 400F for 20 minutes. You can bake them on a baking sheet with parchment paper or a silicone baking mat. I used a baking sheet and silicone set from Artisan Metal Works. They have a great set including a cookie sheet and silicone mat that fits the baking sheet perfectly. The turnovers came off very well with no sign of sticking. You can check out the silicone sheets at Amazon here – Artisan Metal Works Half Size Baking Sheet, Cover, and Non-Stick Mat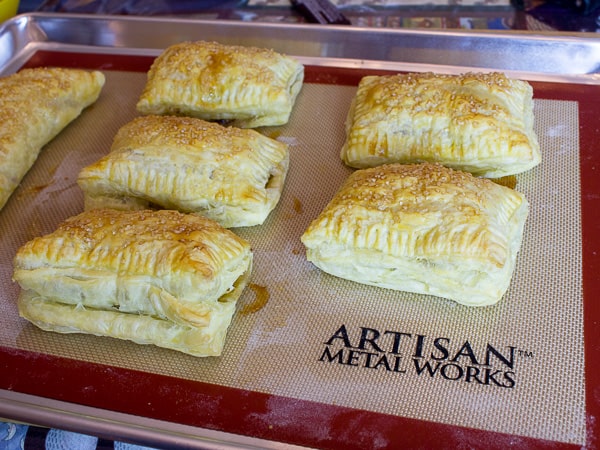 The turnovers came out of the oven, light and fluffy. The filling was chocolatey and totally decadent. It almost had a s'mores taste. Next time I might add some crumbled graham crackers to the filling and see how that works.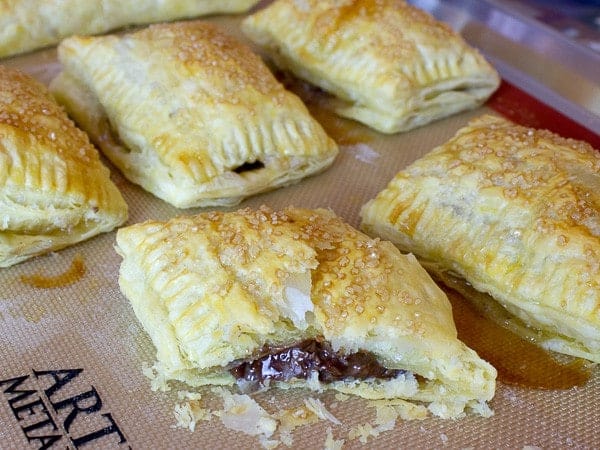 Nutella and Marshmallow Turnovers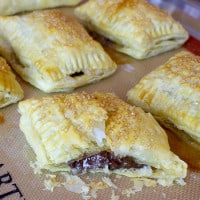 Print
Servings: 8
Ingredients
1 pound (450g) puffed pastry
1 cup Nutella
1 1/2 cups mini marshmallows
1 egg white
1 tbsp water
2 tbsp coarse sugar
Instructions
Preheat the oven to 400F.

Thaw the puff pastry and if it does not come pre-rolled, roll it out on a lightly floured surface. Cut it into eight 5x5 inch squares.

Spread 2 tbsp of Nutella in the middle portion of each pastry square. Drop about 12 mini marshmallows on top of the Nutella.

Whisk together the egg white and the water.

Brush some of the egg wash around the border of the square. Fold over the turnover and gently press down along the side with your fingers to make sure there is an even seal. Use a fork to crimp all the edges so the filling will not leak out.

Brush some egg wash on top of each turnover. Sprinkle some sugar on top.

Place the turnovers on a baking sheet, leaving at least 1 inch space between them.

Bake for 20 minutes or until the pastry is lightly browned around the edges.