Blueberry Turnovers – Kids in the Kitchen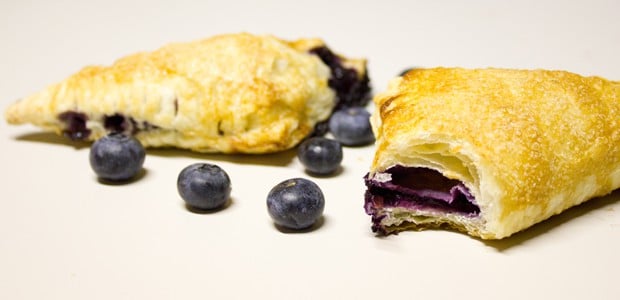 The last couple days of kilometre club at the school have been far more bearable. No longer did it feel like winter with wet snow. Even though the weather was still cool, it was much nicer. This caused more families to turn out and the school ended up running out of Popsicle sticks (they give out a popsicle stick to each kid for every lap they do and then turn them in and count them at the end of the session).
It was so nice to see such a great turnout and many of the parents walked or ran around the field with the kids as well. These type of events help to draw a community together. I love our neighborhood and have made many friends through these type of gatherings.
Today I want to share another Kids in the Kitchen post with you. Turnovers are a great recipe to make with your kids and are a snap with frozen puff pastry and a can of pie filling. I have made it with homemade pastry dough and fresh blueberries before but I find these store bought ingredients make it far easier to do with the kids.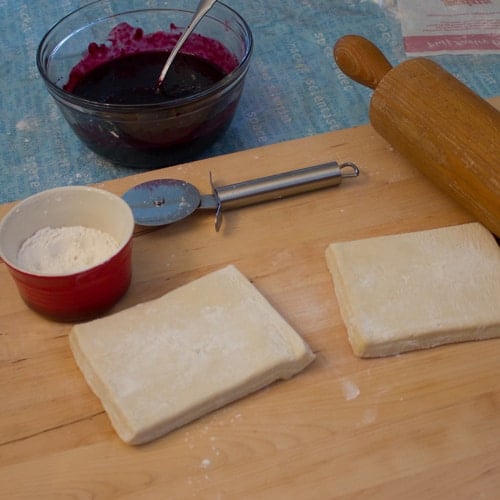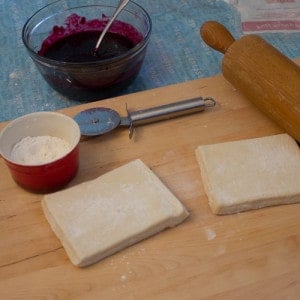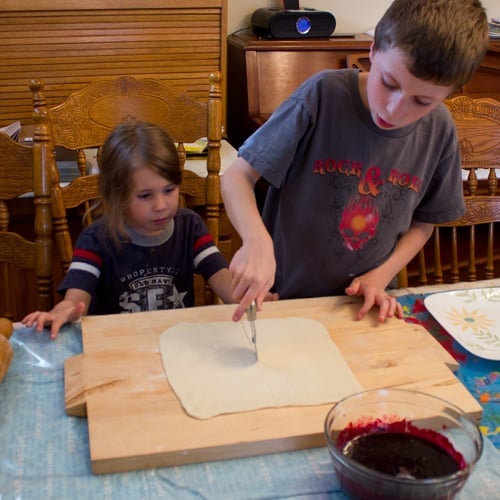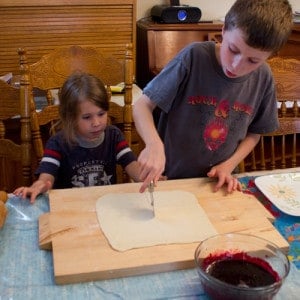 Frozen puff pastry comes in different shapes depending on the brand. One pound of puff pastry can be rolled into 8 squares that are 5×5 inches.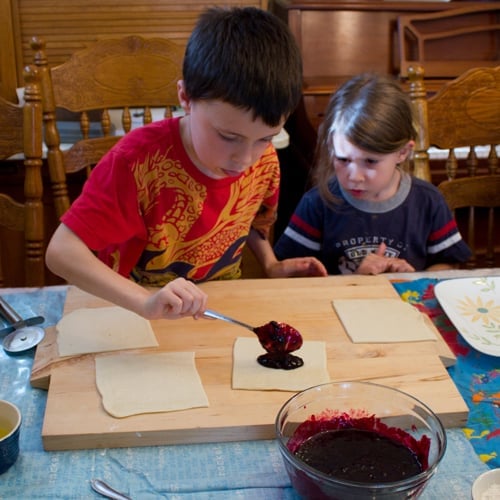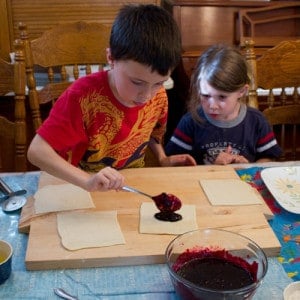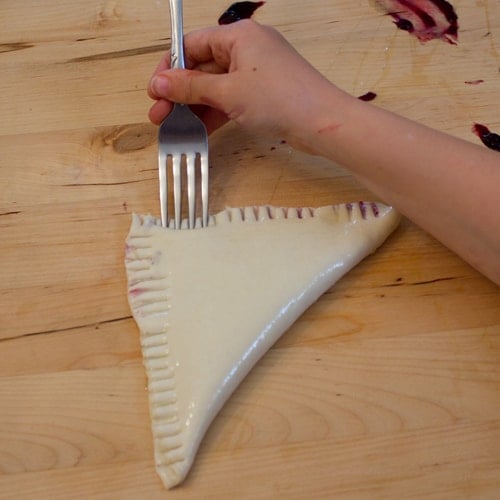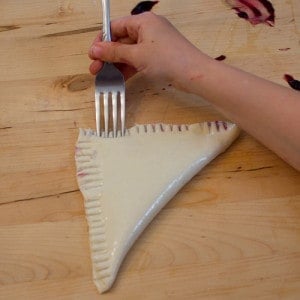 Chill the blueberry pie filling ahead of time as this makes it less runny and less likely to seep out when baking. Crimp the edges with a fork to seal the filling inside the turnovers. This was a test in patience for me, as I could tell that the way they were making the turnovers would cause some leakage. They really wanted to do it on their own, so I had to step back and not try to 'fix' what I felt needed fixing. Kudos to the kids though for wanting to make these!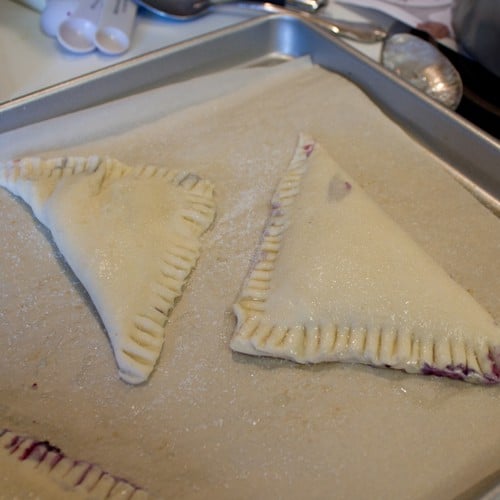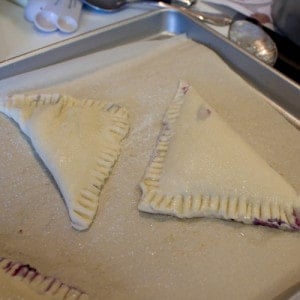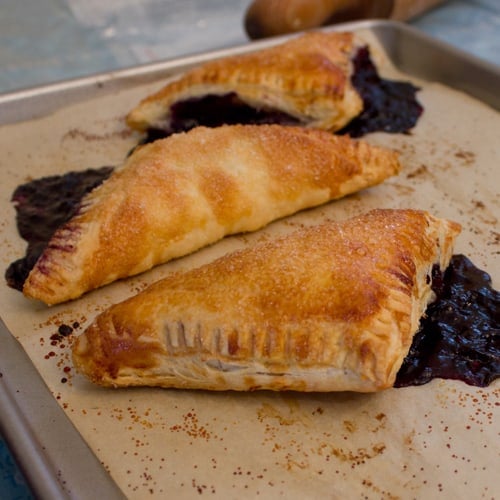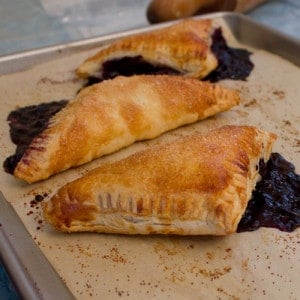 Brush with the egg wash and sprinkle with sugar (coarse sugar if you have it). Bake at 400F until lightly browned.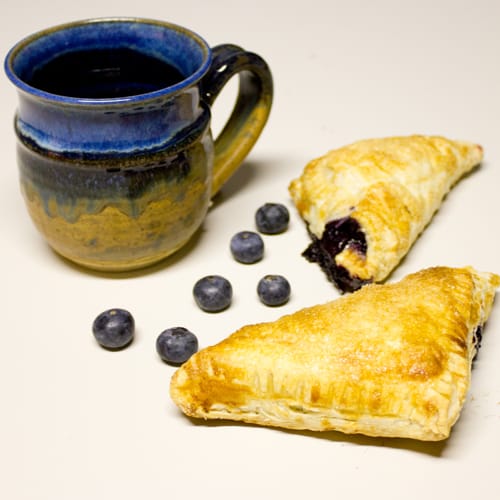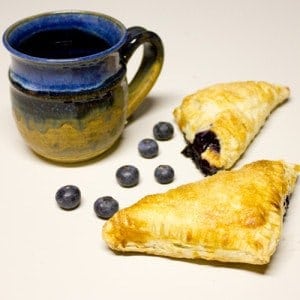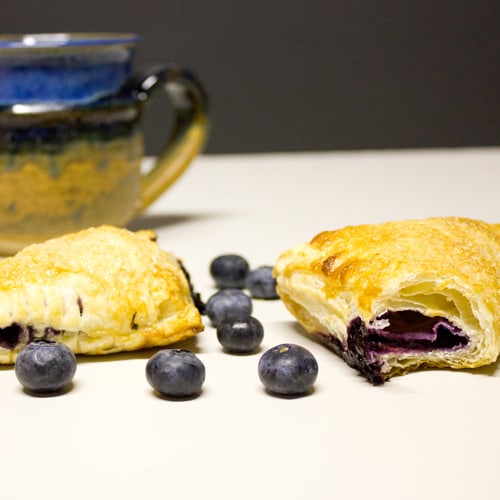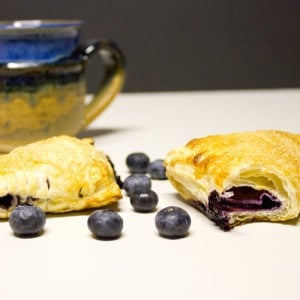 Blueberry Turnovers - Kids in the Kitchen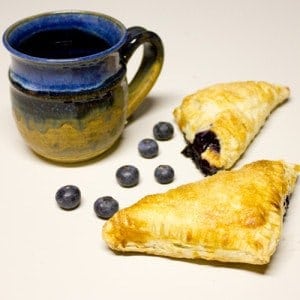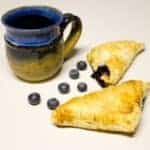 Print
Servings: 8
Ingredients
1 package frozen puff pastry (approx. 1 pound)
1 can blueberry pie filling , chilled
1 egg white , slightly beaten
3 tbsp sugar
Instructions
Chill the pie filling and let the puff pastry thaw completely (about 30 minutes).

Preheat the oven to 400F.

Roll pastry dough on a floured surface so that you can cut eight 5x5 inch squares.

Drop 2 tablespoons of blueberry pie filling in the middle of each square.

Brush some of the egg wash around the border of the square. Take one corner and fold it over to the opposite corner. Press down and, using a fork, crimp all the edges so the filling will not leak out.

Brush some egg wash on top of each turnover. Sprinkle some sugar on top.

Place turnovers on a baking sheet, leaving at least 1 inch space between them.

Bake for 20 minutes or until the pastry is lightly browned around the edges.