Cucumber Jalapeno Popsicle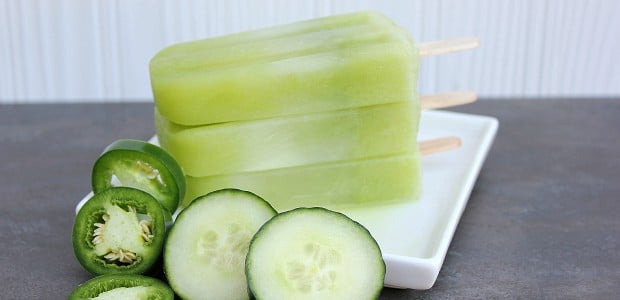 Ever since I got a new popsicle mold in June, I have been enjoying making popsicles. I love having fresh fruit popsicles in the freezer for the kids. It is so much better for them than Mr. Freeze. They have gotten excited to see what kind I would make each week.
Well, this week, I went a little crazy. I love hot food, so all summer long, I have been thinking about making a jalapeno type popsicle. I did not want it to be really hot but instead have some of the wonderful flavour of the jalapeno with a hint of heat. It is true, aside from the heat, the jalapeno pepper has a great flavour. So, I wanted to try to have a popsicle that was refreshing, had the jalapeno flavour notes, and a little kick of heat.
Here is the creation: a cucumber jalapeno popsicle.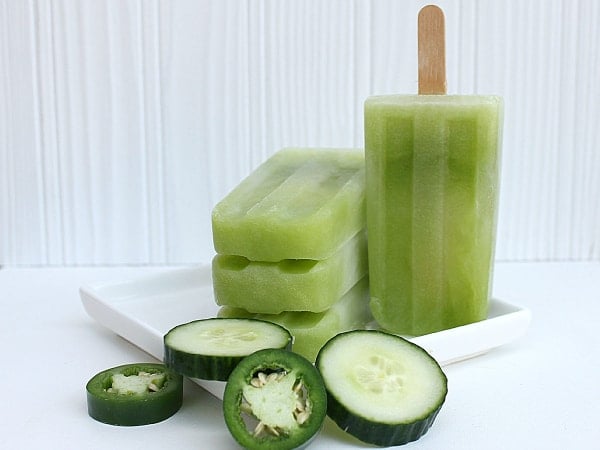 Using cucumber as the foundation and base of this popsicle was perfect. Cucumber has a bright and refreshing flavour and is amazing in popsicle form. There is the clear taste of jalapeno and a light kick of heat at the end. Along for the ride is the juice of a lime that gives the perfect zing and some sugar to sweeten it up.
The end result is a popsicle that is even better than I had imagined. For those who like some heat, you will love this frozen treat!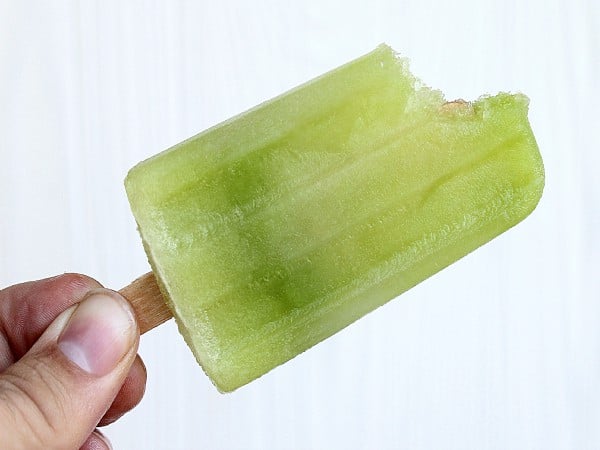 I am always on the lookout for a new popsicle flavour. Here are some other ones I have made over the years:
Cucumber Jalapeno Popsicle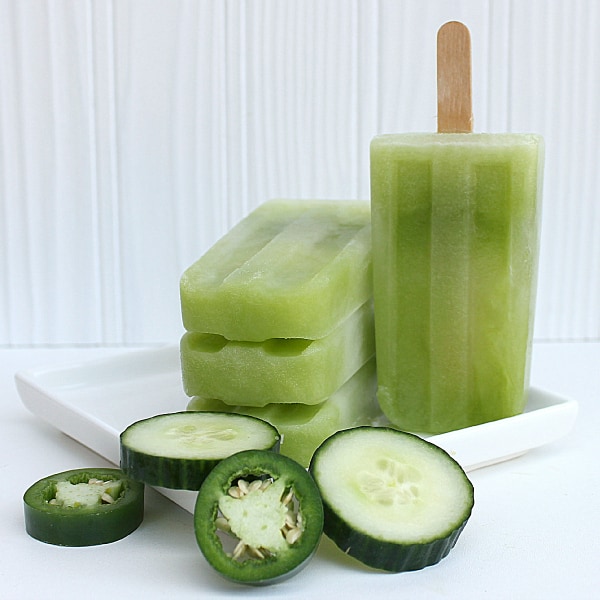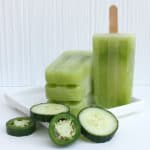 Print
Refreshing sweet cucumber popsicle with a zing of lime juice and some heat from a jalapeno. Easy how to recipe using a progressive international mold
Servings: 10 popsicles
Ingredients
4 English cucumbers
2 jalapeno peppers
1 lime
2/3 cup sugar
Instructions
Peel the English cucumbers.

Core the jalapenos removing all the seeds and the inner pith (the white part inside the peppers - they have a lot of the heat of a jalapeno)

Run the cucumbers and jalapeno peppers through a juicer. Pour the juice in another bowl.

Squeeze the juice out of the lime into the cucumber and jalapeno juice. Stire in the sugar until completely dissolved.

Pour the mixture into popsicle molds.

Freeze until solid (about 3 hours).
Notes
Alternate Method If you do not have a juicer, here is another way to make these popsicles. Add the cucumbers and jalapeno into a food processor or blender and pulse until extremely mushy. Place a strainer over a large bowl. Dump the cucumber/jalapeno mixture into the strainer and press on it with a spoon or rubber spatula to strain the juice. When no more juice is able to come out of pulpy mixture, remove the strainer and discard the pulp. Continue with the above instructions at #5.