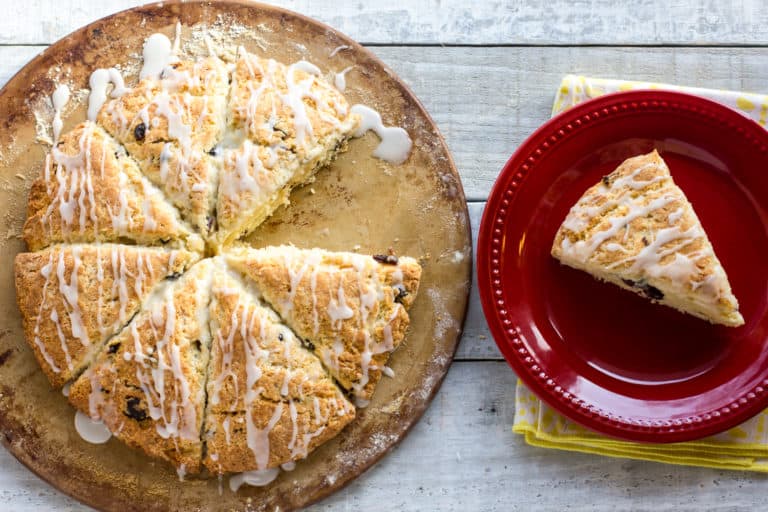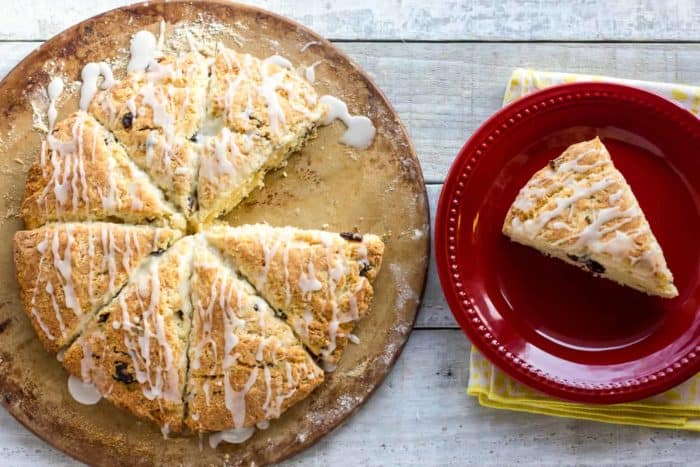 Lemon Cranberry Scones are are my treat of choice when I go to a Second Cup coffee shop. They are so tasty – buttery, flaky and go perfect with an espresso. I have bought these MANY times and decided that it was time to try and make them myself at home.
I make scones quite a bit and they are surprisingly simple to make and I can get a batch in the oven within a matter of minutes. They also use ingredients that I always have on hand. Any time the kids have friends over, or if we have guests or family sleeping over, everyone loves seeing a batch of fresh baked scones on the table first thing in the morning.
These lemon cranberry scones are quite possibly my favourite scones that I bake. The combination of flavours from the cranberries and lemon are just awesome. I struggle not eating every scone on the baking stone.
Here are a few tips when making scones/biscuits:
Some people are nervous baking scones, thinking that it is far too difficult, when nothing could be further from the truth.
Have all your tools and ingredients set out before you start.
Make sure that the butter is cold – take it out of the fridge right before making the scones.
A pastry cutter is an invaluable tool for making scones. They are not expensive and work great at working the butter into the flour. Two knives works as well, it just takes longer.
Do not overwork the dough when folding in the milk/egg mixture. Just fold it enough to get the flour wet and there is not much loose flour. This helps to ensure the scones are light and flakey.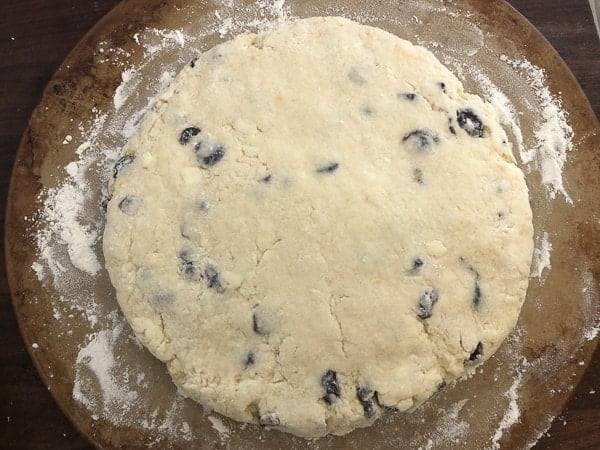 For these scones, I baked them on a baking stone – basically a pizza stone. Lightly dust it with flour. Once the scone batter has been mixed, dump it on the stone and gently pat it into an 8 inch circle.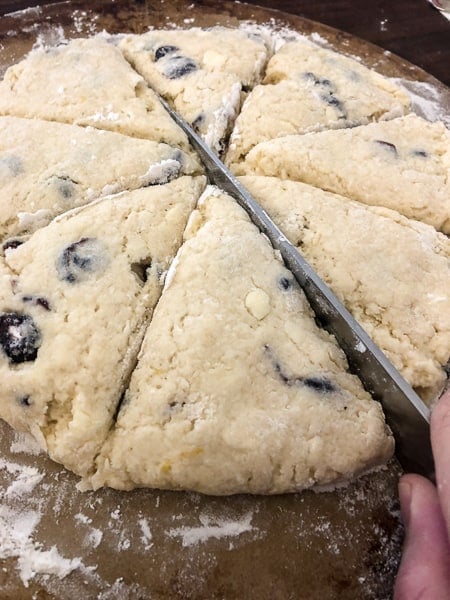 Cut into 8 equal sized wedges. Bake the scones in a 400F oven for 23-25 minutes. The scones should rise and be golden brown.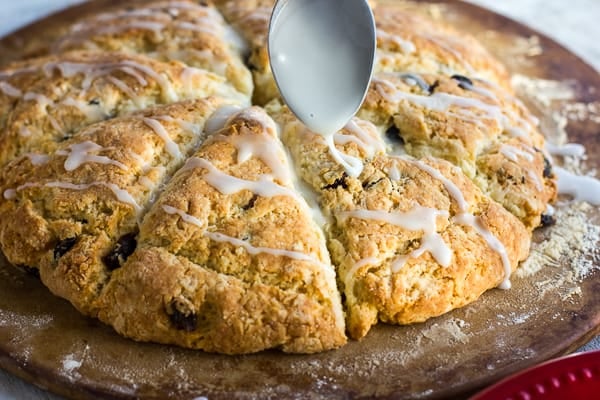 Once the scones have finished baking, take them out of the oven and let them cool. In a small bowl, mix together the icing sugar, tablespoon of milk and lemon juice to make the icing drizzle. Use a spoon to drizzle the icing all over the scones. It is important for the scones to be close to room temperature before you put on the drizzle to that dries and doesn't melt all over the scones.
Normally, once I cut the scone batter into wedges, I separate them to be baked individually. This time, I decided to keep the wedges together in the full round shape. Both ways work just fine. This way, as seen in the photo above, looks a little nicer from a display perspective. I definitely noticed that it required longer in the oven to finish baking the scones. If they are baked in individual wedges, they bake much more quickly.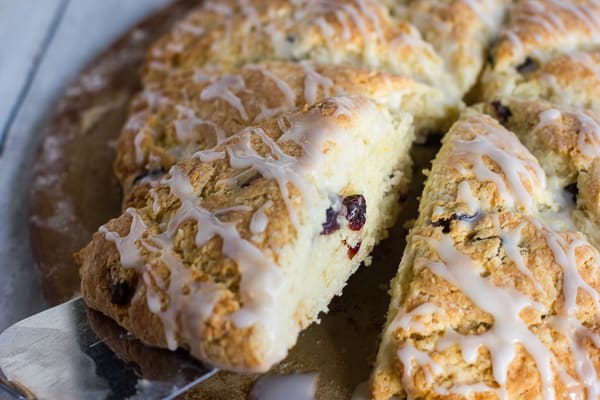 These scones are so light and buttery. I especially love the tartness from the cranberries. There is a nice lemon flavour from the zest and the drizzle. Make sure you do not skip out on the icing drizzle, because that totally moves these scones to another level!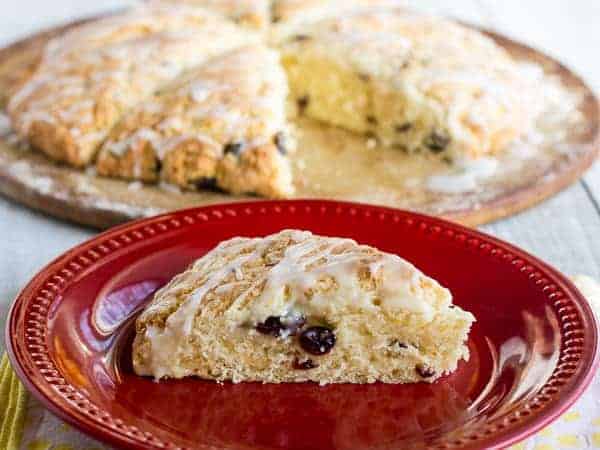 Making scones is not a difficult task. In fact, I find it one of the most simple things to bake. The ingredients are items that you usually have in your fridge and pantry and it does not take long for them to get thrown in the oven. There are also many ways to vary this recipe.
Here are a few other scone recipes: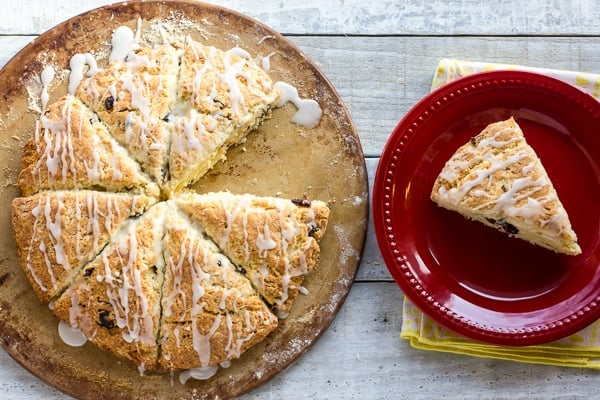 Lemon Cranberry Scones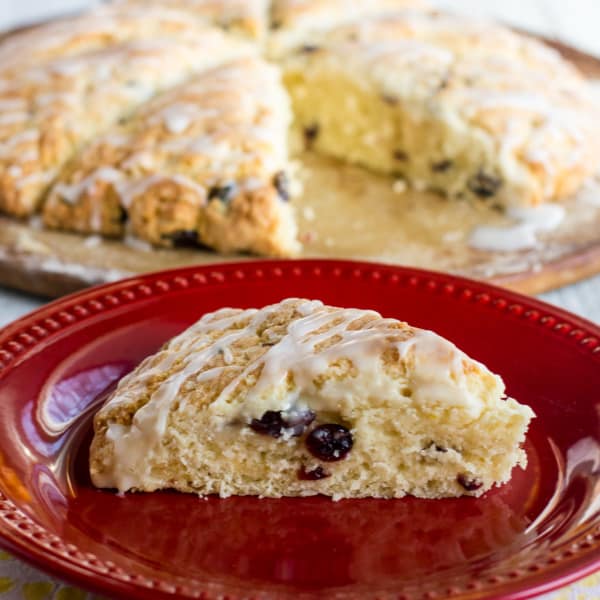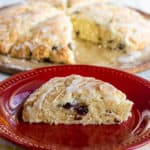 Print
Buttery and flakey scones that melt in you mouth. These biscuits have lemon zest and dried cranberries with a lemon icing drizzle.
Servings: 8 scones
Ingredients
2 1/4 cups all purpose flour
1/3 cup white sugar
3 tsp baking powder
1/3 tsp salt
1/2 cup cold butter
1 tbsp lemon zest
1/2 cups dried cranberries
3/4 cup milk
1 egg
1/2 cup icing sugar
1 tbsp milk
1 tbsp lemon juice
Instructions
Preheat oven to 400F.

In a bowl, whisk together the flour, sugar, baking powder and salt.

Add the cold butter to the bowl and using a pastry blender, cut the butter into the flour. Continue until a crumbly consistency is produced. Stir in the lemon zest and dried cranberries.

In a separate bowl, whisk the egg into the milk. Pour the milk mixture into the flour and stir together with your hands with a baking spatula until combined. Work gently and be careful to not over-mix the batter.

Spread a little flour on a baking stone. Dump the batter onto the baking stone and pat down to make a 8 inch disc. Cut into 8 equal wedges.

Bake for 23-25 minutes. The scones should be browned around the edges and on top.

Remove from the oven and let cool slightly.

Make the drizzle by mixing the icing sugar with the milk and lemon juice until dissolved. Drizzle over all the scones.

Enjoy!
Nutrition
Per serving:
Calories: 339kcalCarbohydrates: 51gProtein: 5gFat: 13gSaturated Fat: 7gCholesterol: 53mgSodium: 219mgFiber: 1gSugar: 22g