Cheddar Jalapeno Mini Scones
Buttery and flaky bite sized scones packed with lots of cheddar cheese and pickled jalapeño peppers. These are perfect alongside a bowl of soup, stew or chili.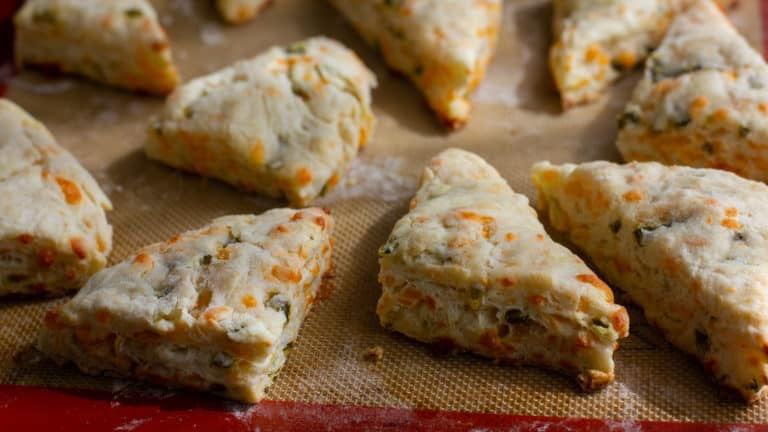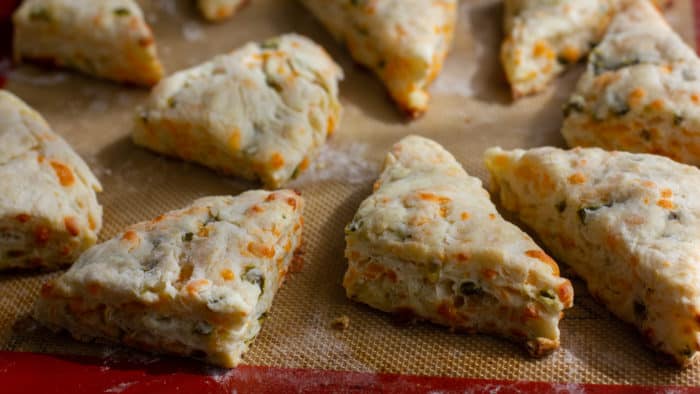 A quick scan through my website and you will discover that one of my favourite flavour combinations is jalapeño peppers and cheddar cheese. I have used them in many different dishes. They go so well together and I just love spicy food, so jalapeño peppers are a big WIN for me. These cheddar jalapeno scones are the perfect way to bring this combination together for a delicious buttery biscuit recipe!

Lately, I have discovered how amazing scones are and it seems that I am making a new batch of scones every week. They are ridiculously simple to make and they just taste incredible.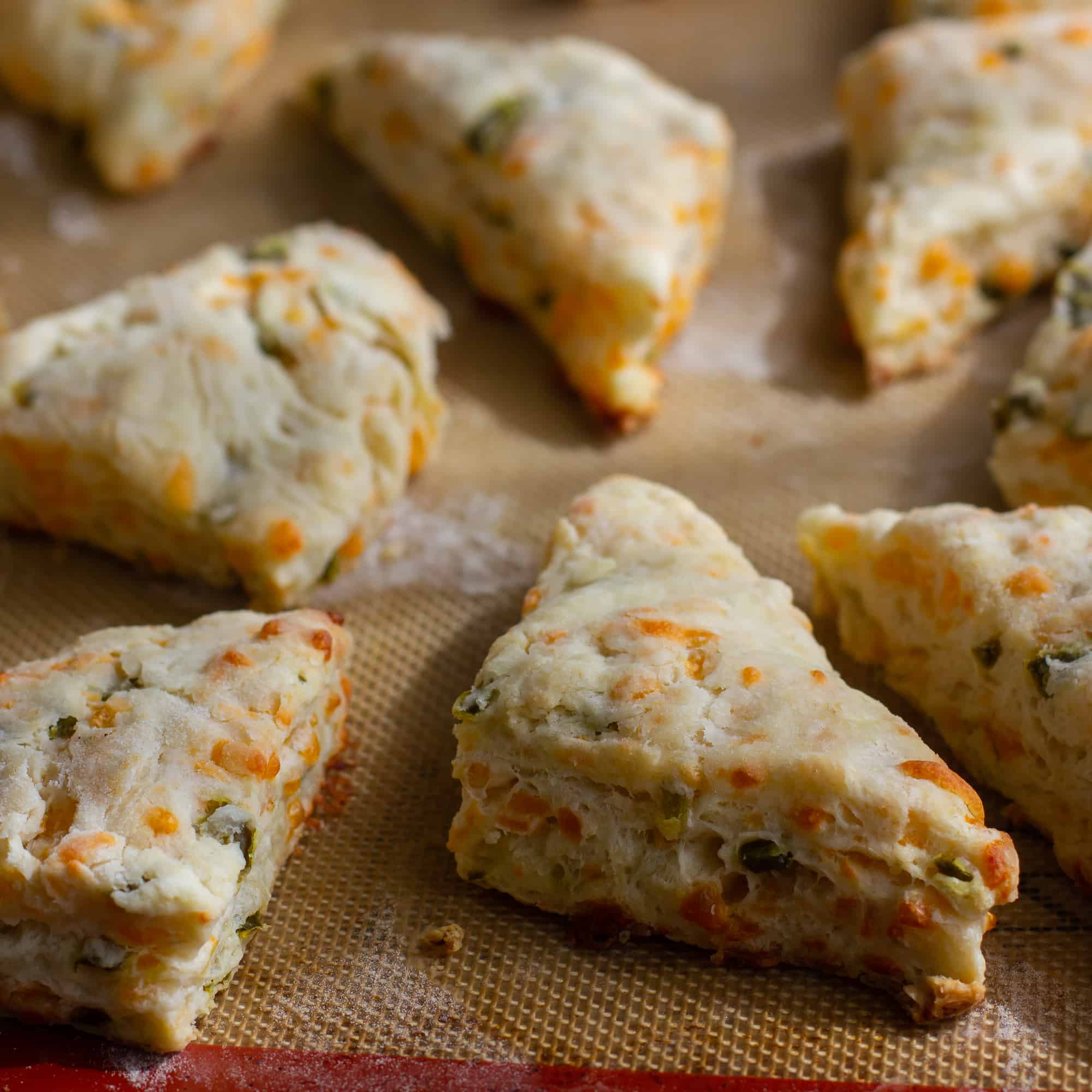 There is not much better than baked goods fresh out of the oven. The kids get super excited any time that I bake scones and I was surprised that all the kids enjoyed these cheddar jalapeño scones. While most scones that I make are on the sweeter side, these are definitely more savoury.
How to Make the Perfect Scones
Scones are very easy to make and there are a few steps that you need to take to ensure they come out light and fluffy.
Have all your tools and ingredients set out before you start.
Make sure that the butter is cold – take it out of the fridge right before making the scones.
A pastry cutter is an invaluable tool for making scones. They are not expensive and work great at working the butter into the flour. Two knives works as well, it just takes longer.
Do not overwork the dough when folding in the milk/egg mixture. Just fold it enough to get the flour wet and there is not much loose flour. This helps to ensure the scones are light and flakey.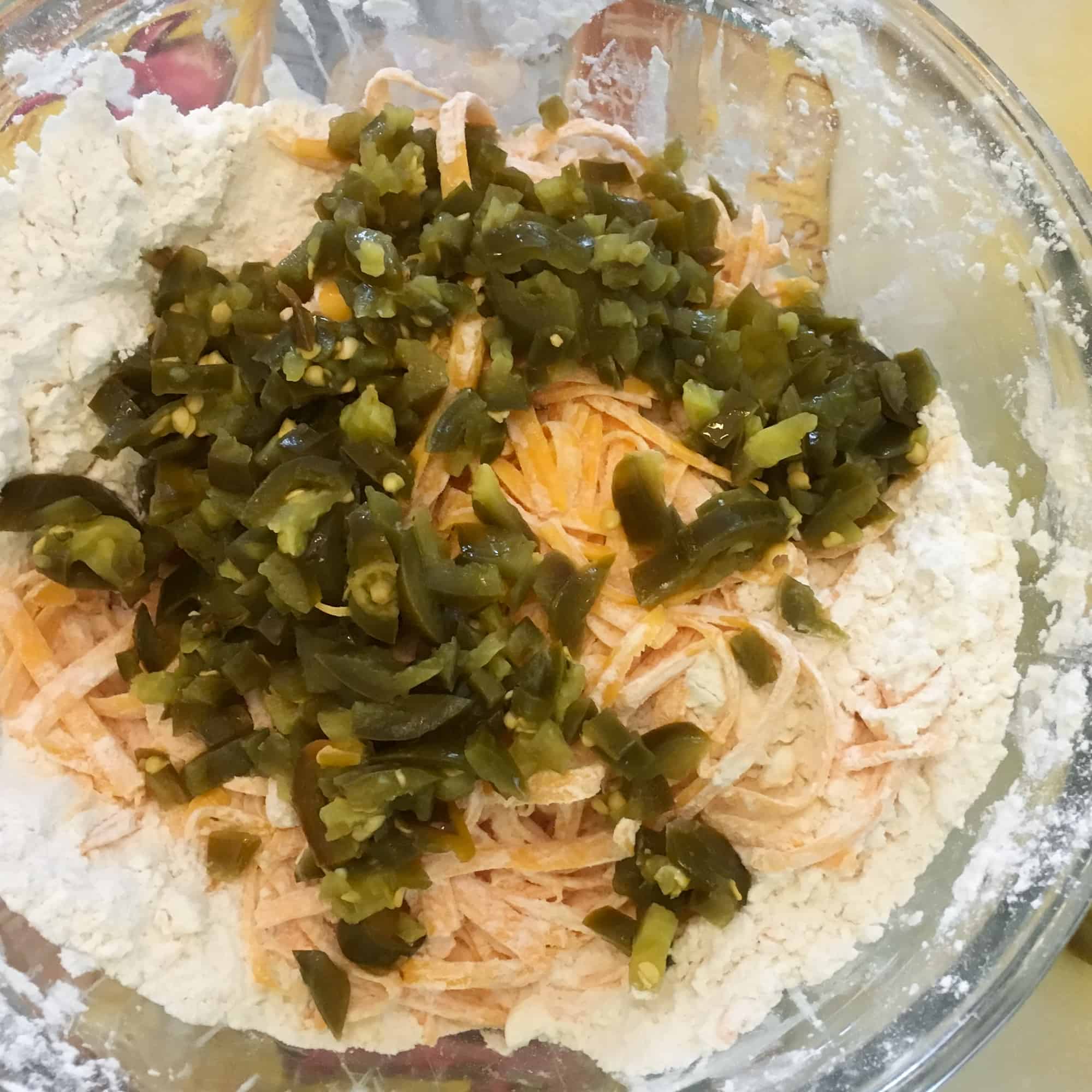 Ingredients you will need
cold butter
all purpose flour
salt
baking powder
grated cheddar cheese
sliced pickled jalapeno peppers
milk
I always have small cans of pickled jalapeño peppers in the pantry. Make sure you drain the peppers so there is no excess liquid which affects the texture of the scone dough. After draining the pickled jalapeño peppers, chop them up into small chunks.
I have also tried using fresh jalapeño peppers but I actually liked the taste of the pickled peppers. If preferred though, you can use fresh jalapeño peppers. But, make sure you core the peppers to remove the seeds before mincing.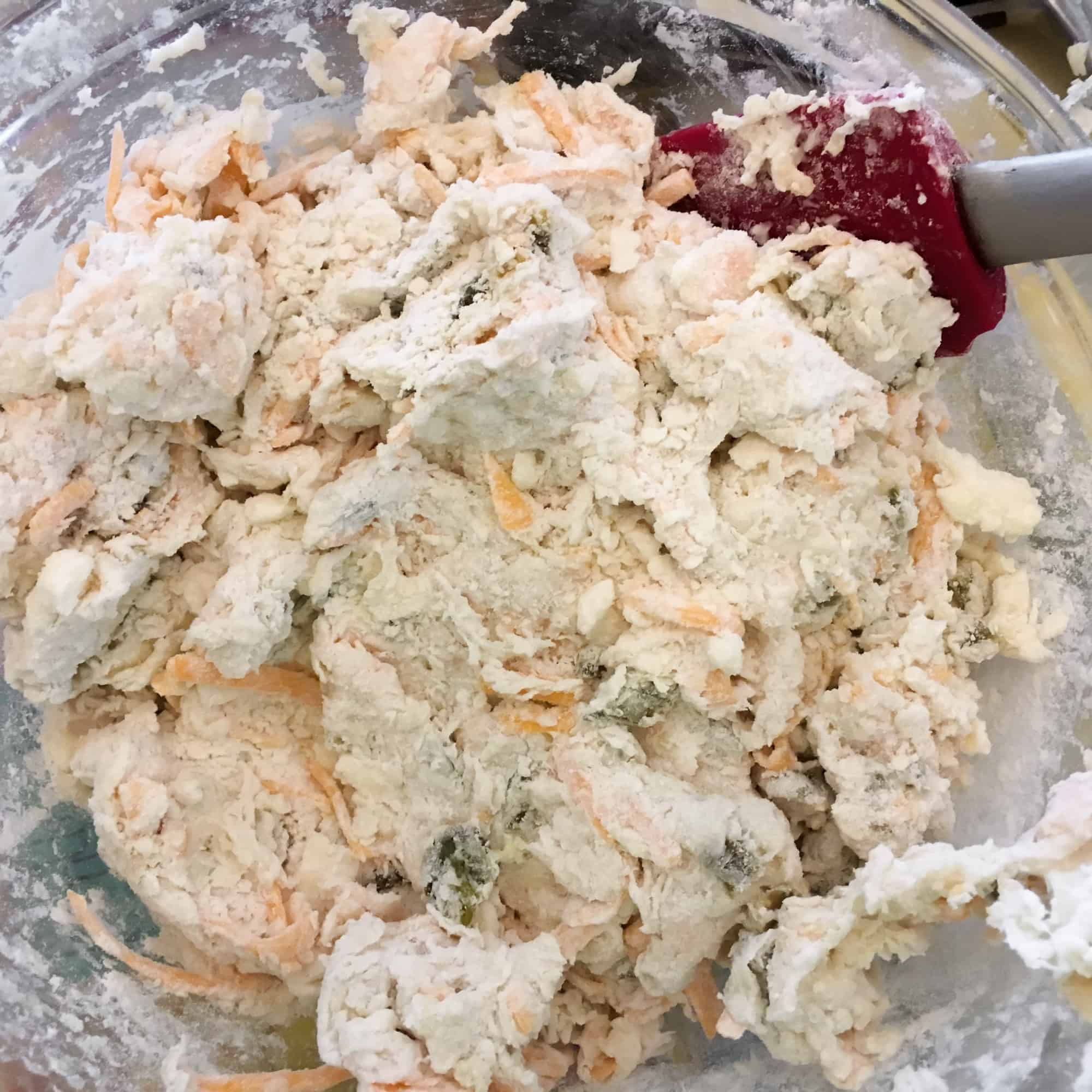 It is important to mix up the dough very gently. Use your hands or a rubber spatula to slowly fold the milk into the dry ingredients until combined. You want it to the point where there is no more dry loose flour, but just to the point where everything seems to have come together into one ball.
If it is still a little wet, add a little more flour. If it seems too dry, and not coming together, add a little more milk. Be careful how much of either you add. Start with a very little bit, less that a teaspoon, and see how it goes. Usually, if anything is needed, it is just a tiny bit.
Make sure to use a well floured surface to work the dough into a square, otherwise it will stick to the surface when you are trying to lift them off to put on a baking sheet.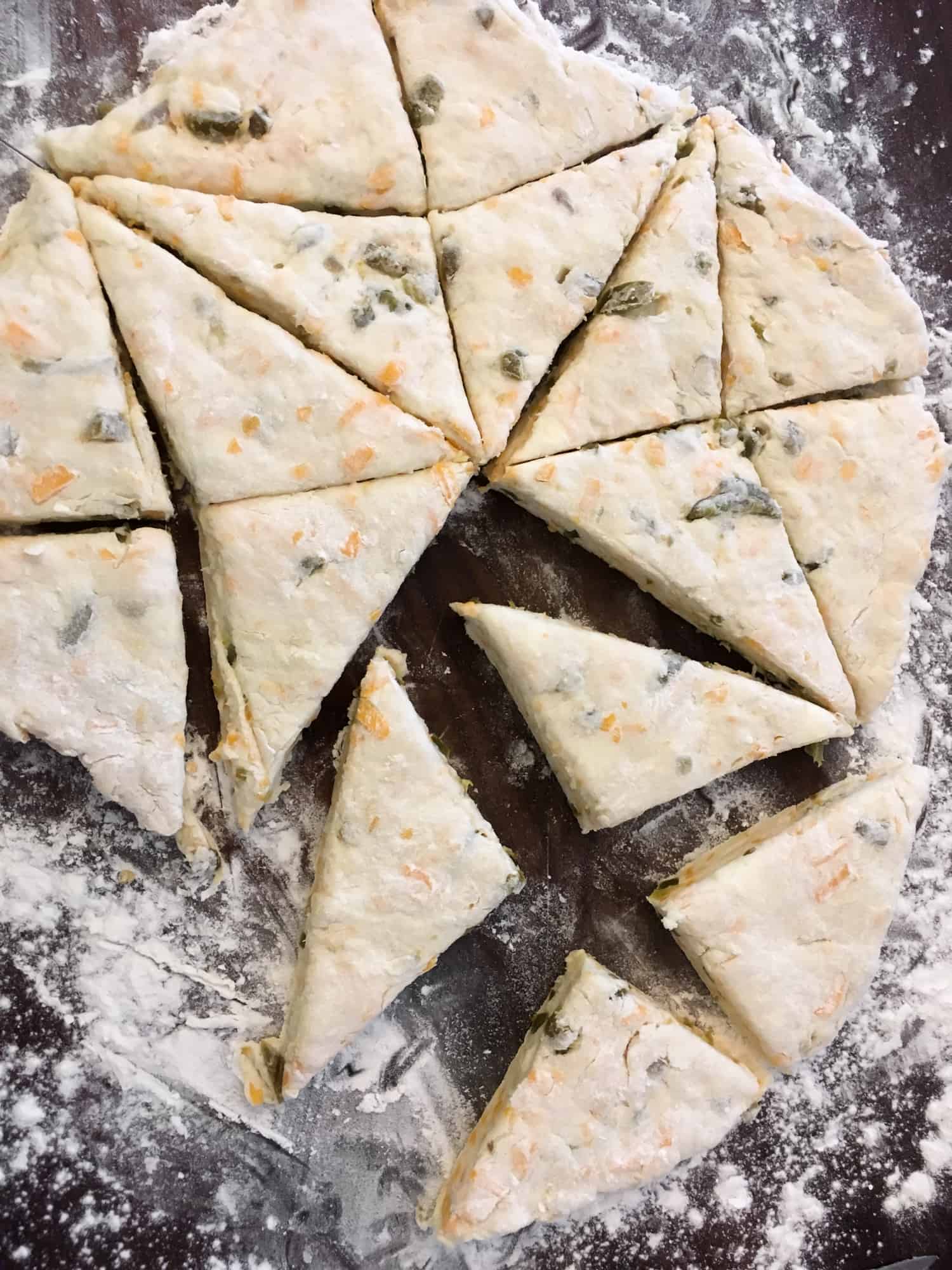 How to Cut the Scones
Normally I cut the scones into 8 wedges, but for these cheddar jalapeño ones, they would be just far too large. So, instead, I patted the dough into a flat 7 inch square. Then I cut it into 4 quarters and then cut each quarter into 4 more quarters.
This way, you will end up with 16 scones and they are more manageable bite size biscuits.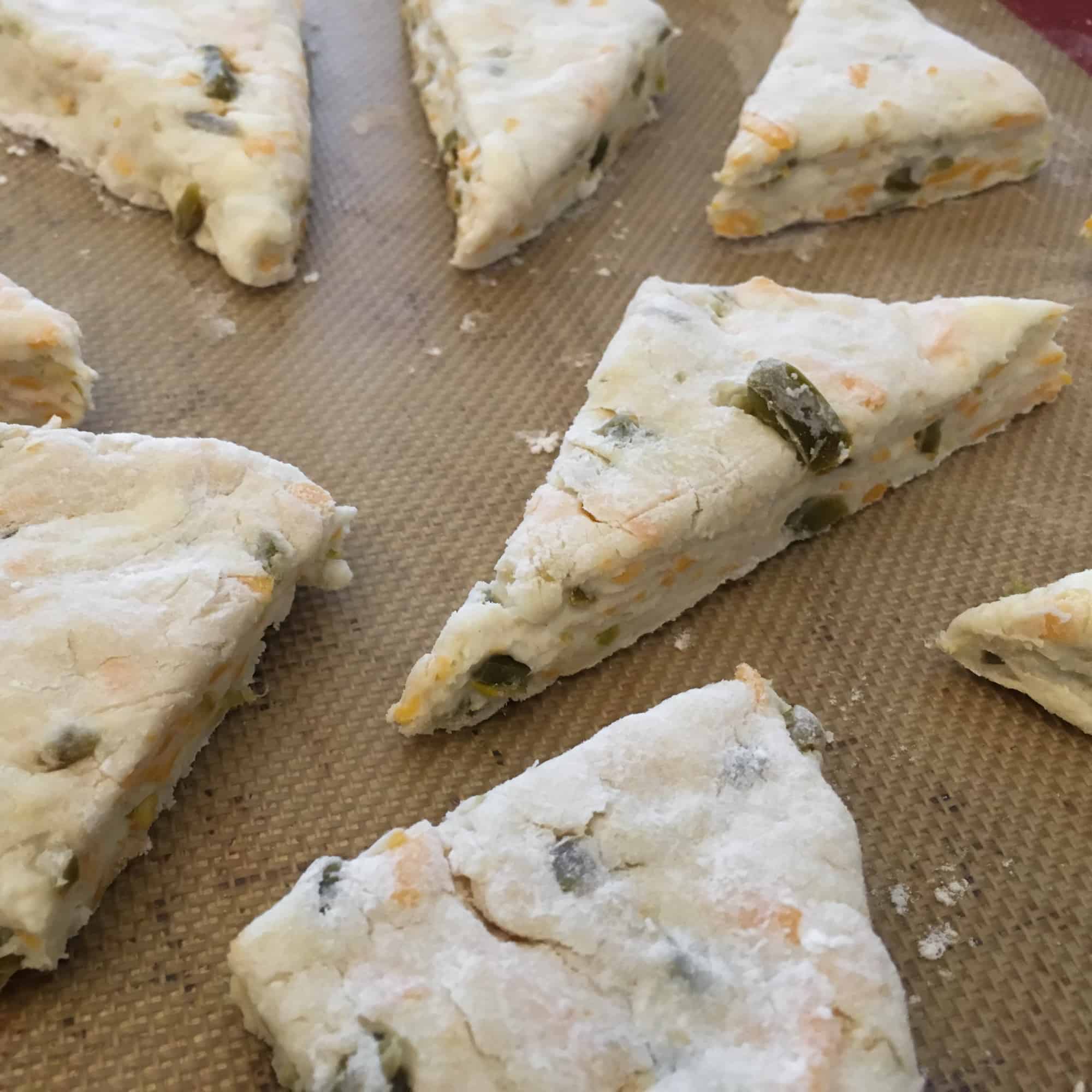 How Long to Bake Scones
Lay the cut scones onto a baking sheet lined with either a silicone sheet or parchment paper. That way they will not stick to the sheet during baking.
I bake the scones at 400F for 14-16 minutes. They will rise during baking and just start to brown on the tops and edges.
Once you take them out of the oven, let them rest on the baking sheet for a few minutes and then transfer them to a cooling rack leaving them there until they cool. These are excellent served warm, right out of the oven, or at room temperature.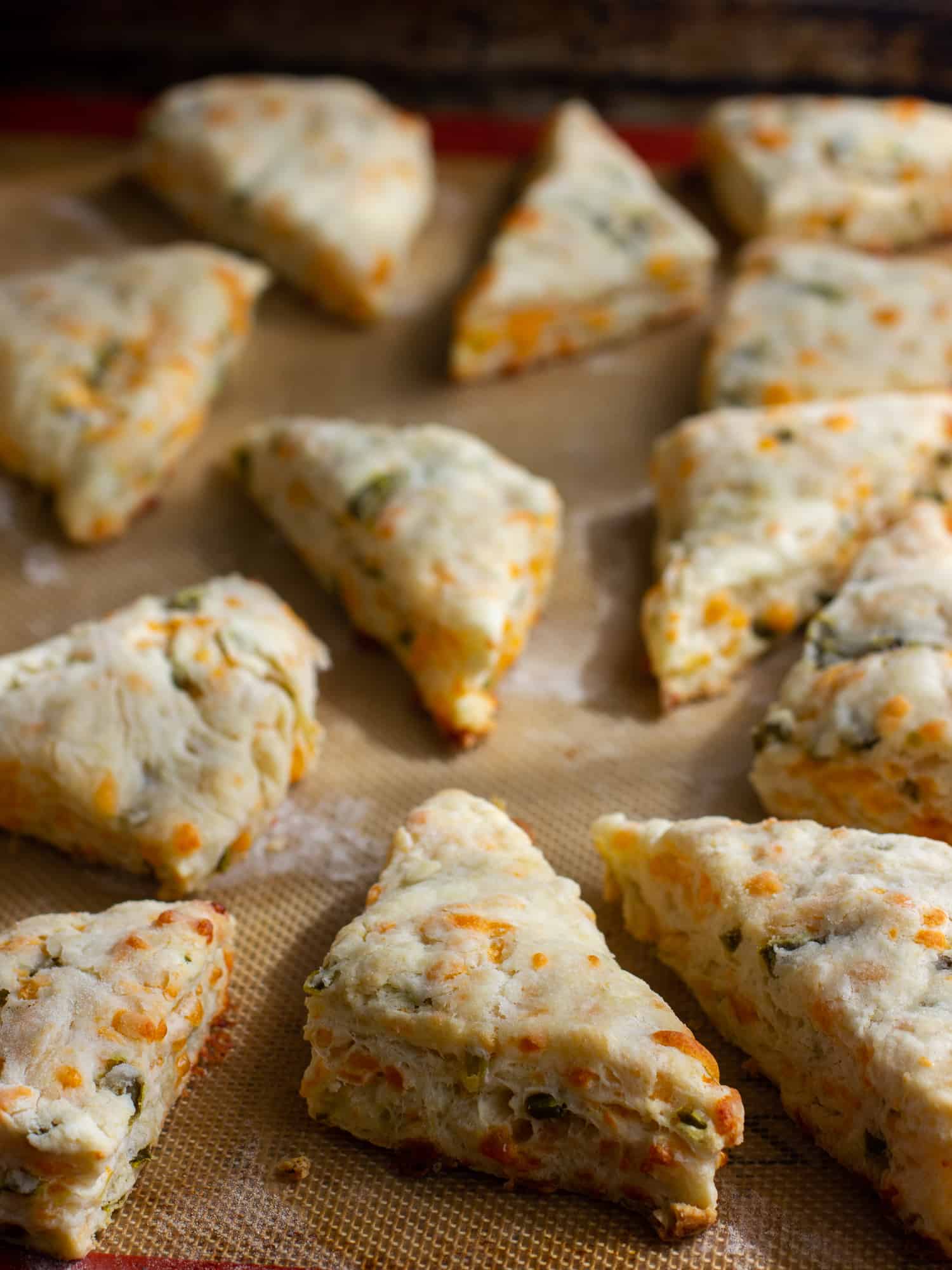 Be prepared that if you eat these scone warm, the jalapeño will be spicier than if they are completely cooled. I like hot food so I actually loved the scones being warm. The cheese was a melted and gooey and the peppers had some nice heat. They were still outstanding at room temperature.
These scones are very good alongside many different meals, but I absolutely loved them with a warm bowl of soup or chili. I dipped the scone in and wow was it delicious!
Other Scone and Biscuit Recipes
Cheddar Jalapeno Mini Scones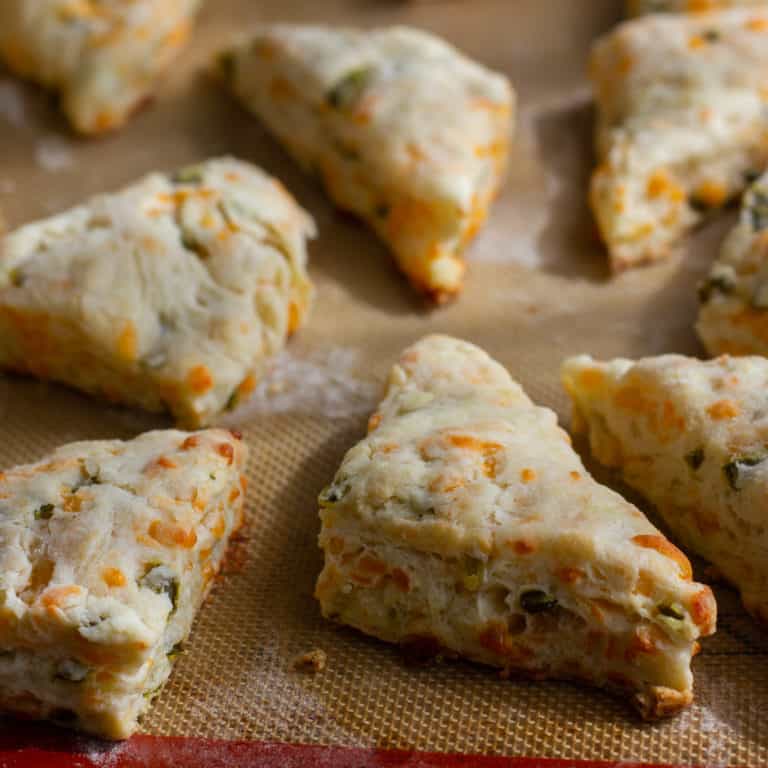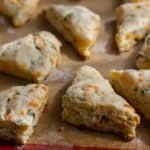 Print
Fresh baked mini scones that have lots of cheddar cheese and minced pickled jalapeño peppers. Best when served warm with soup or chili!
Servings: 16 scones
Ingredients
2 cups all purpose flour
3 tsp baking powder
1/2 tsp salt
1/2 cup cold butter cut into small cubes
1 cup cheddar cheese grated
1/2 cup pickled jalapeno slices minced
3/4 cup milk
Instructions
Preheat oven to 400F.

In a bowl, whisk together the flour, baking powder and salt.

Add the cold butter to the bowl and using a pastry blender, cut the butter into the flour. Continue until a crumbly consistency is produced. Stir in the grated cheddar and minced pickled jalapeno peppers.

Pour the milk into the flour and stir together with your hands with a baking spatula until combined. Work gently and be careful to not over-mix the dough.

Spread a little flour on a flat work surface. Dump the dough onto the floured work surface and pat down to make a 7 inch square. Cut into 4 quarters. Cut each quarter into 4 more quarters.

Place wedges on a baking sheet lined with parchment paper or a silicone baking mat.

Bake for 14-16 minutes. The scones should be just starting to brown on top.

They are the best served right away although they are very tasty served at room temperature.
Nutrition
Per serving:
Calories: 145kcalCarbohydrates: 13gProtein: 4gFat: 9gSaturated Fat: 5gCholesterol: 24mgSodium: 244mgFiber: 1gSugar: 1g