This pie uses fresh raspberries and a flaky crust made with lard. A classic recipe just like grandma used to make!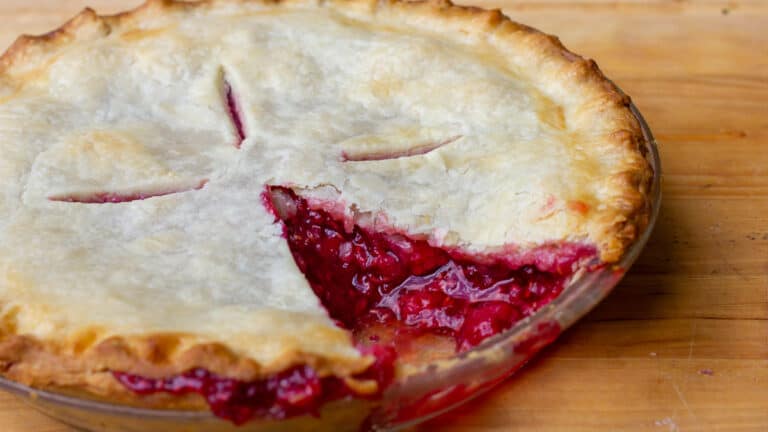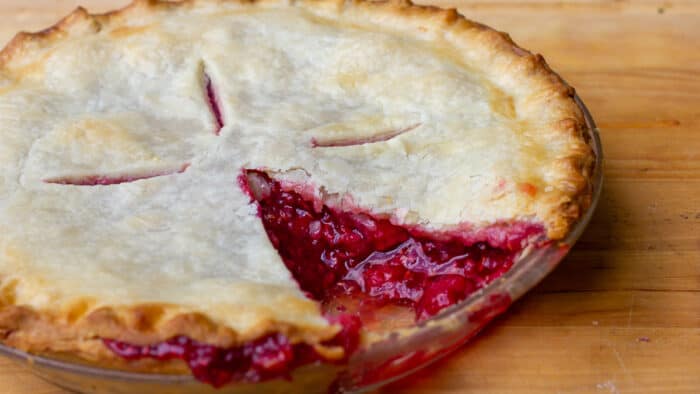 Anytime that berries are in season, I am quick to make a fruit pie. Raspberry pie has that wonderful combination of sweet and tart flavors.
This recipe is very similar to my blueberry pie recipe with the only difference being a little more sugar and a hint of cinnamon. Serve this warm with a scoop of vanilla ice cream for one amazing dessert.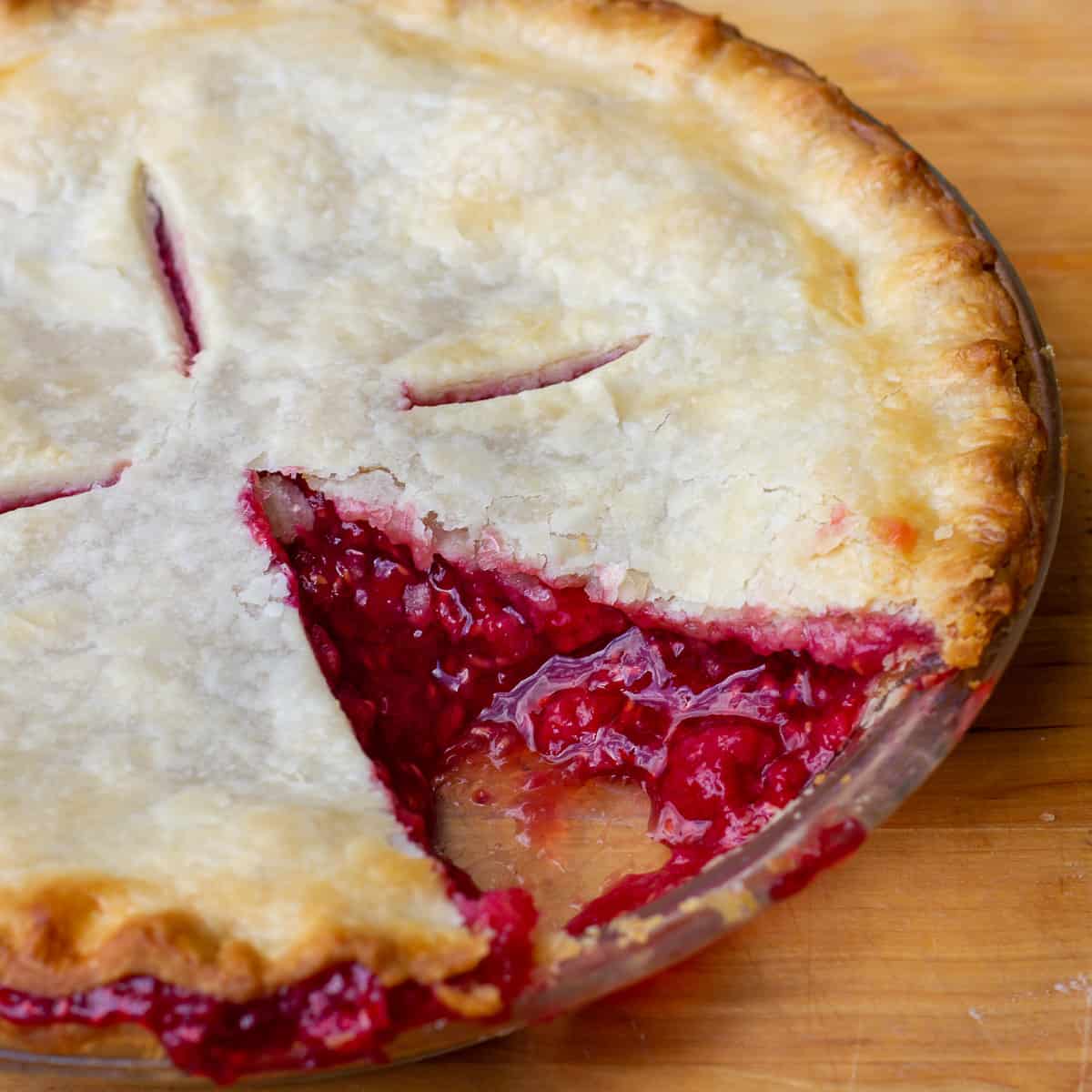 The photos may look like the filling is runnier than you might like. We like to have our fruit pie while it is still warm, and therefore it was still runny, as it had not set yet. If you leave this pie to fully cool, it will set perfectly and will not be runny at all!
I use tapioca as my thickener and setting agent, but I blitz it in a blender for a minute or so to grind it more like a powder or flour. I prefer this over corn starch.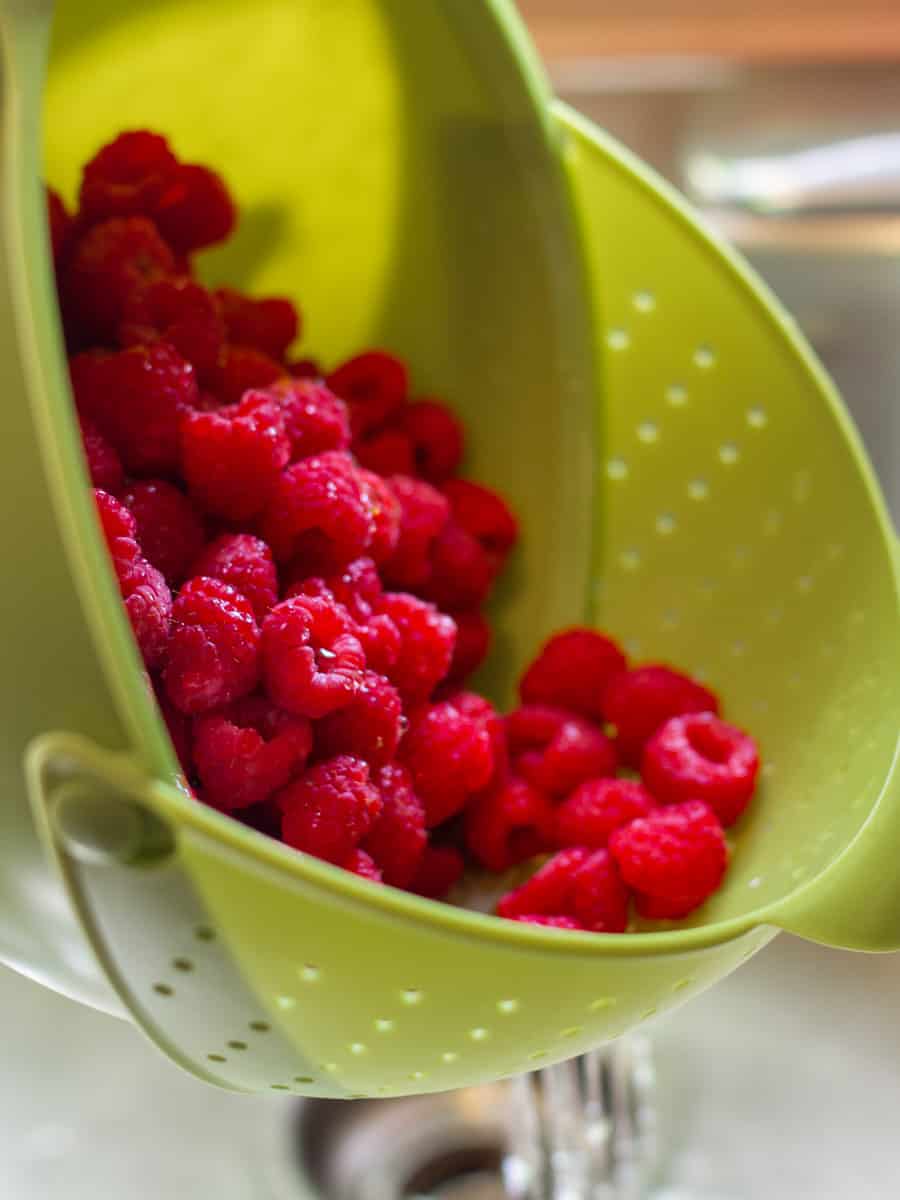 It is possible to use frozen raspberries in this recipe, but there is nothing like fresh berries. Give the raspberries a quick rinse before tossing with the sugar and tapioca. It worked great!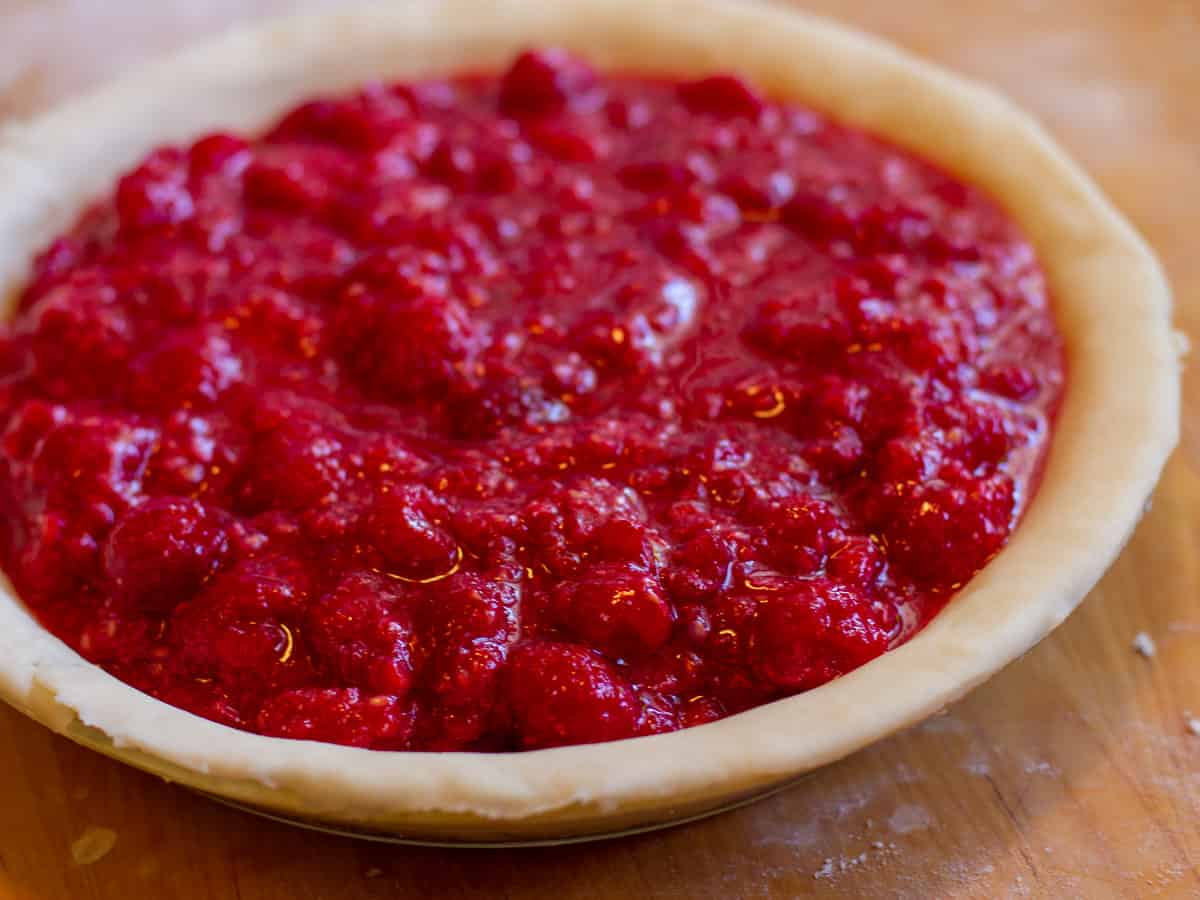 Toss the fresh raspberries with the sugar, tapioca and lemon juice. Be gentle so that the raspberries stay whole and do not get crushed. Pour them into the pie shell and dot with butter.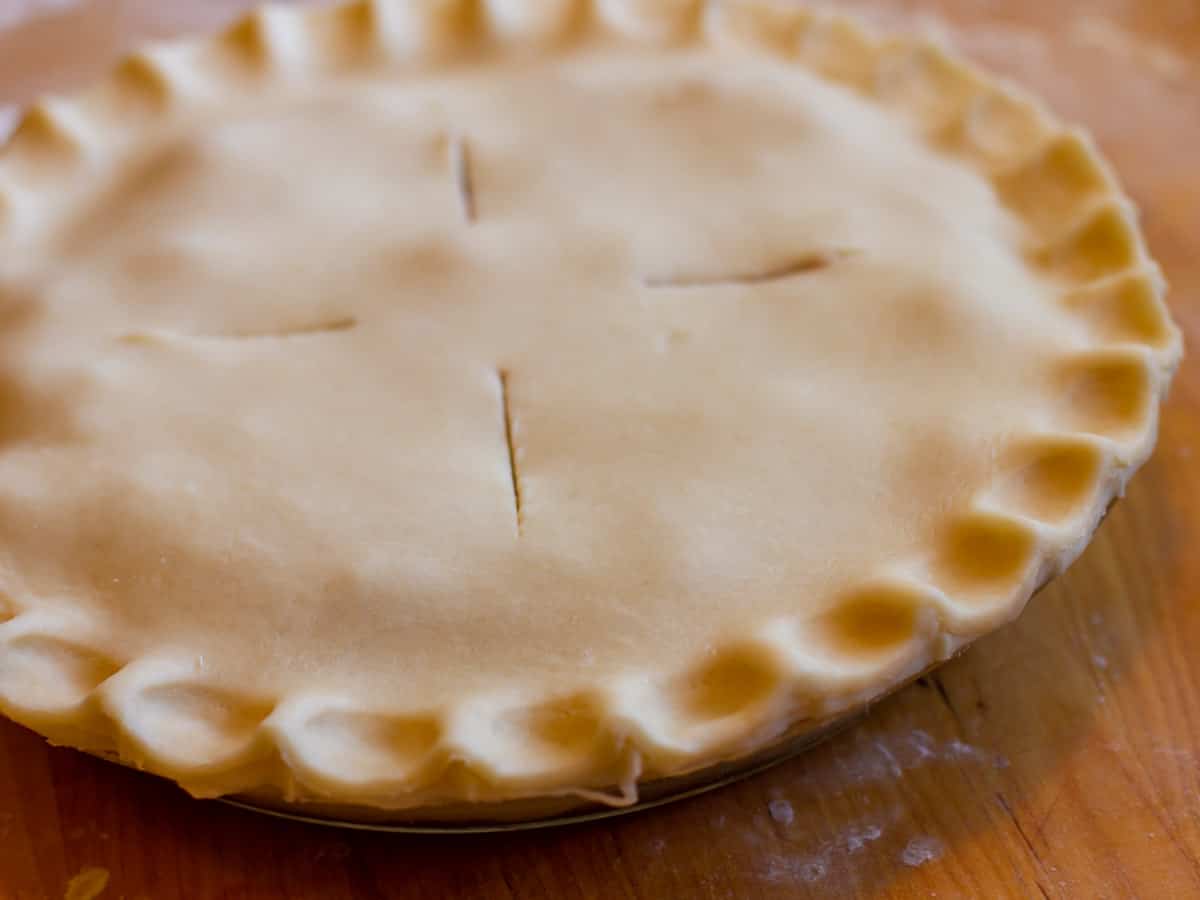 Make sure to run a wet finger along the rim of the bottom pie crust, as this helps it to seal to the top pie crust. Pressing down with two fingers to make a scalloped edge on the crust is great for the seal and it looks nice as well!
Cut a few slits in the top of the pie so that air can escape.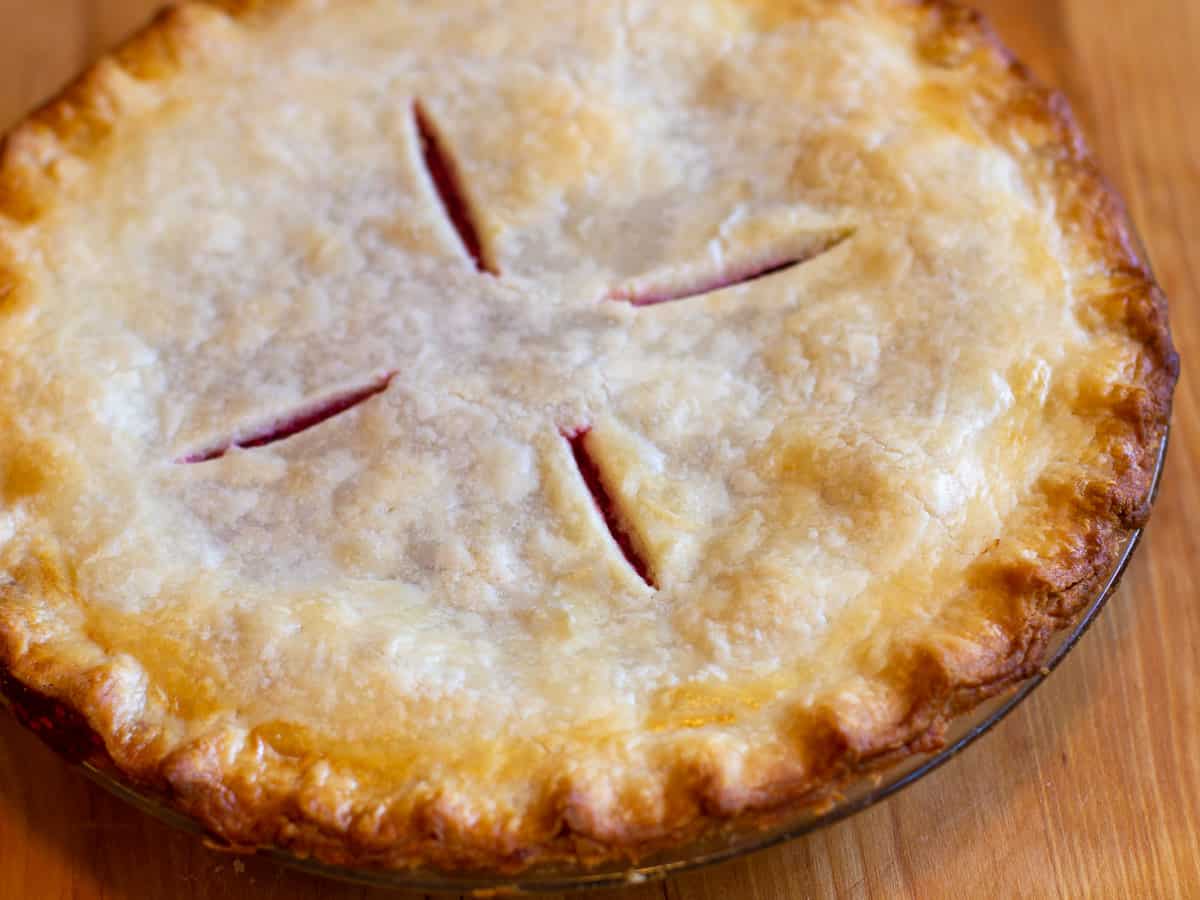 I love raspberries and have made many different recipes featuring these delicious tart berries. Here are some other great raspberry recipes.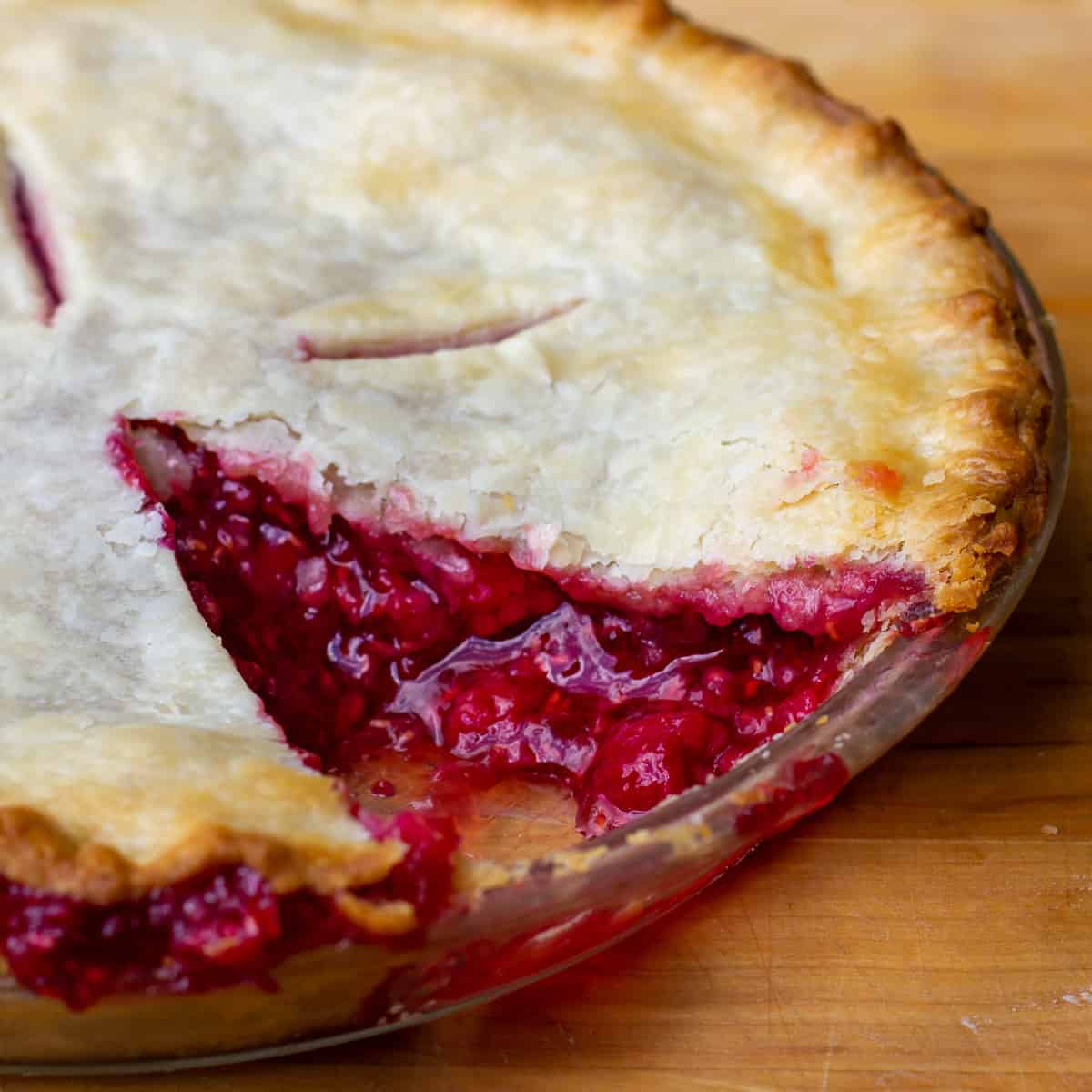 Classic Raspberry Pie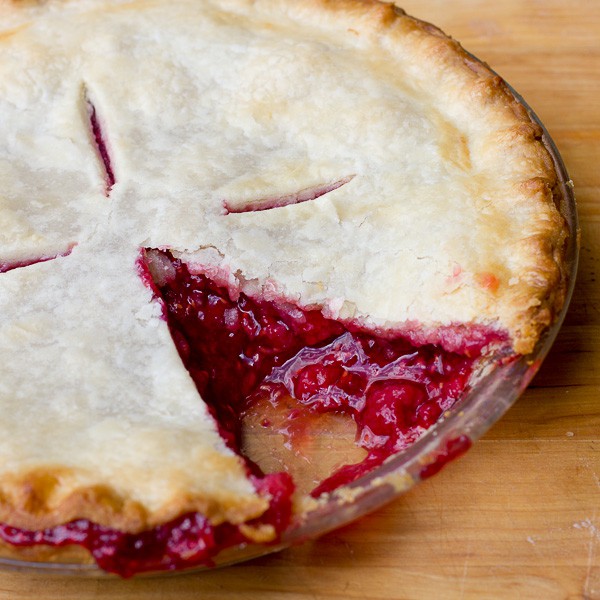 Print
Traditional country pie pastry made with lard and a filling made of fresh raspberries, sugar, tapioca and lemon juice. Flaky, tender and delicious.
Servings: 8
Ingredients
Pie Crust
2 cups flour
1 tsp salt
1 cup lard , or shortening
1 egg
2-4 tbsp water
Filling
4 cups raspberries
1 cup sugar
3 1/2 tbsp tapioca
1/2 tsp cinnamon
1 tbsp lemon juice
4 tbsp cold butter
Instructions
In a large bowl, whisk together the flour with the salt. Use a pastry blender to cut in the lard until it is a coarse meal consistency. In a small bowl, whisk the egg with 2 tbsp of water. Stir into the frour mixture. If needed, add an extra tablespoon or two to the pie dough. The dough should come together but not be too wet. Gather into a ball, cover with plastic wrap and place in a fridge to chill for at least half an hour.

Roll out half of the pie pastry and lay out in pie plate. Make sure there is enough pastry to have it hang over the edge of the pie plate rim. Press down on all the edges and corners to make sure there are no air pockets. Use a knife to trim any off the pastry that is hanging over the rim of the plate.

Blitz the tapioca in a blender to grind it fine, almost like flour.

Mix together the raspberries, sugar, tapioca, cinnamon and lemon juice so the raspberries are well coated.

Pour the raspberry mixture into the pie shell. Dot with butter.

Roll out the top pie shell. Dip a finger in a little water and run it along the rim of the bottom pie shell. This helps the top crust stick and seal to the bottom.

Lay the top shell on top of the pie. Use a knife to trim any overhanging pastry.

Use two fingers to press on the rim pf the pie. Press down with the two fingers and push them together. this creates the scallop design on the rim of the pastry.

Use a pastry brush to brush cream on the top of the pie.

Cut 3 or 4 slits into the top of the pie.

Preheat oven for 425F. Bake for 15 minutes. Lower heat to 375F and bake 25 minutes more.

Cool on a wire rack for 30-45 minutes before serving.
Nutrition
Per serving:
Calories: 560kcalCarbohydrates: 61gProtein: 5gFat: 34gSaturated Fat: 11gCholesterol: 41mgSodium: 353mgFiber: 5gSugar: 28g