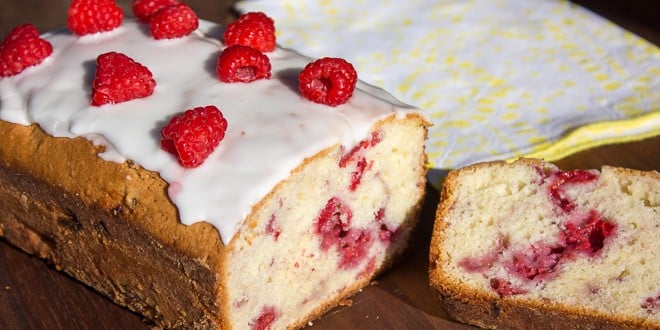 The other day, my family went berry picking. I have been strawberry picking plenty of times, but I had never gone raspberry picking. We went to a place called Millar Berry Farms, near London. Living in Toronto, it was nice to spend some time out on a farm. It was a beautiful day and the kids were very excited to pick the berries. The bushes had lots of ripe raspberries and picking them off the bush is super easy. The kids could not get over how simple the berries were to pick. Once ripe, a tiny tug and the berry is removed right away. It did not take long for us to get 9 pints.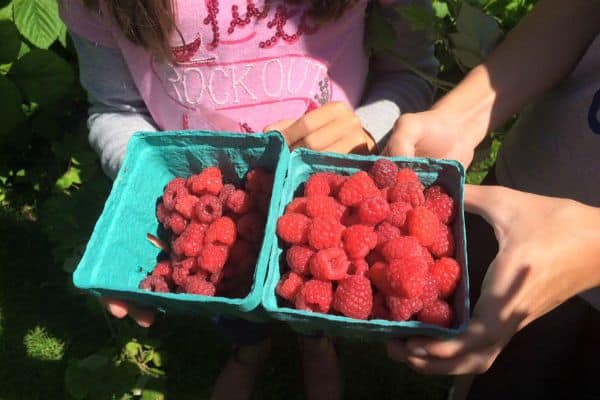 Millar Berry Farms has row upon row of raspberry bushes. There were lots of people there, but it seemed that each group had their own row.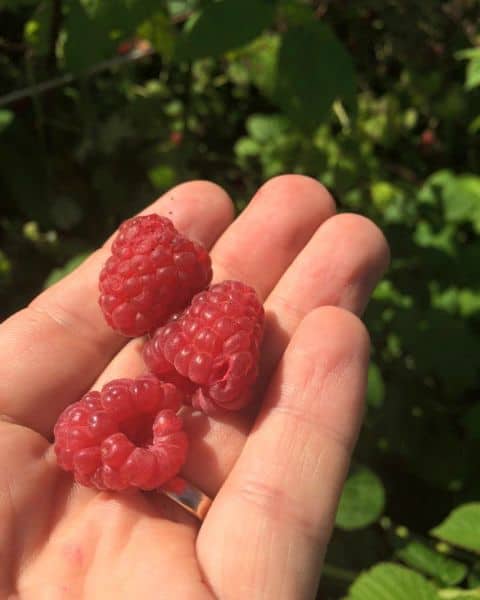 With so many pints of raspberries, I wanted to try out some different recipes. I love lemon loaf and thought that a lemon loaf with fresh raspberries would work very well. I adapted a recipe that I found on The Telegraph. The loaf is moist, fluffy and cake like in texture. There is a definite tang from the lemon and raspberries but it is also quite sweet. This loaf will not last long around the house. It is delicious!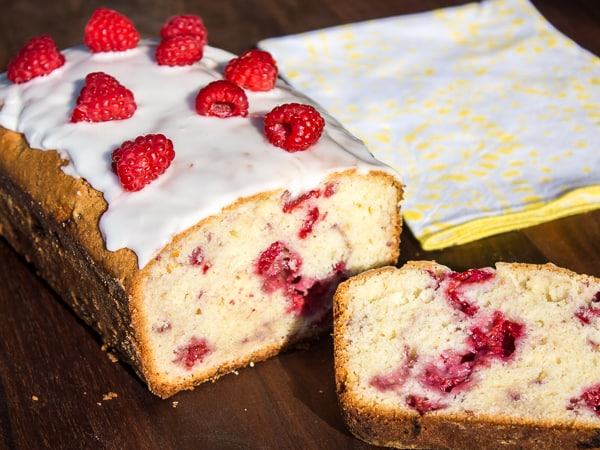 Raspberry Lemon Loaf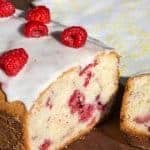 Print
Servings: 1 loaf
Ingredients
1/2 cup butter , softened
1 cup sugar
2 eggs
1/2 cup sour cream
1 tsp vanilla
zest of lemon
2 1/4 cups flour
3 tsp baking powder
1 tsp salt
1 pint (2 cups) raspberries
3 tbsp lemon juice
1 1/2 cup icing sugar
Instructions
Preheat oven to 350F.

In a bowl, beat together the butter and sugar until creamed and smooth. Beat in the eggs, sour cream, vanilla and lemon zest.

In a separate bowl whisk together the flour, baking powder and salt.

Slowly mix flour into the wet ingredients until well combined. Do not over mix.

Gently fold in 1 1/2 cups of the raspberries.

Pour the batter into a greased loaf pan.

Bake in the oven for about 1 hour, or until a tooth pick inserted into the centre comes out clean.

Cool on a wire rack.

Make the icing by whisking together the icing sugar and lemon juice.

Drizzle the icing on the loaf and top with remaining raspberries.