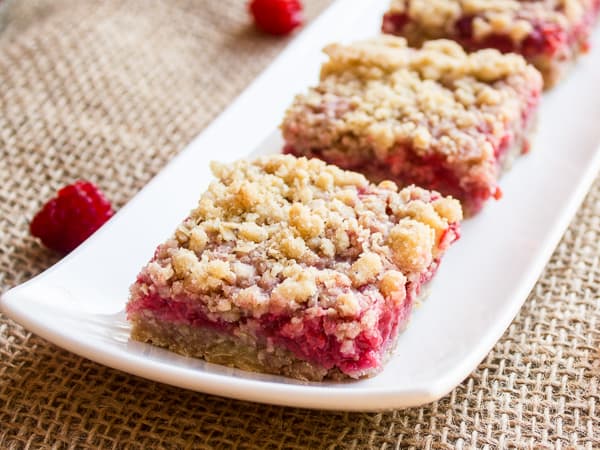 I need to make a confession. I look for any opportunity to make oat crumble. The combination of oats, brown sugar and butter – they all work together to make something sweet, crunchy, and totally delicious.
So, after I picked a bunch of raspberries at Millar Berry Farms, I knew that I was going to make some sort of raspberry crumble. These are quite similar to the way that I make apple crisp, but, the middle is with raspberries instead of apples.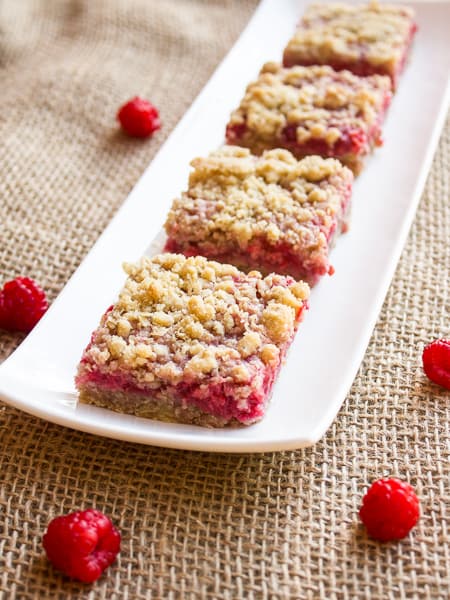 Mixing the fresh berries with a little flour and sugar turn the middle into something similar to a fruit pie filling.
These crumble bars have a wonderful combination of sweet and tang. Once made, they can be cut and then frozen for a couple months. That is a great way to store them if they do not all get eaten right away. They are that good!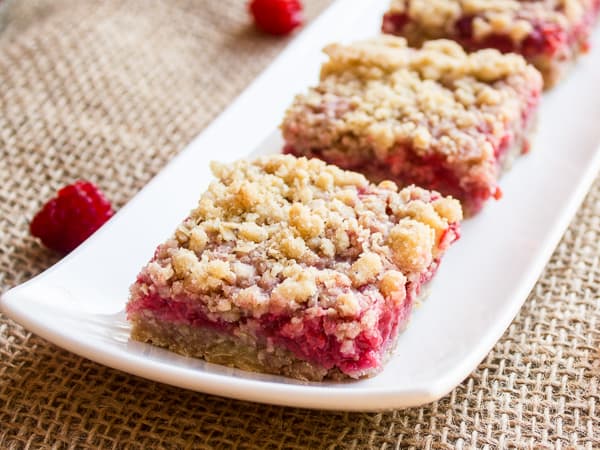 I love raspberries and have made many different recipes featuring these delicious tart berries. Here are some other great raspberry recipes.
Raspberry Crumble Bars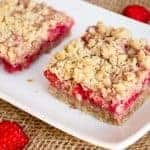 Print
These dessert squares with raspberries and oat crumble are sweet, tangy and totally delicious. Raspberries, oats, brown sugar, butter, flour and more
Servings: 24 squares
Ingredients
2 cups flour
2 cups oats
1½ cups brown sugar
1 tsp baking powder
1 cup melted butter
2 pints (4 cups) fresh raspberries
1/2 cup white sugar
2 tbsp flour
2 tbsp lemon juice
Instructions
Preheat oven to 350F.

Mix the flour, oats, brown sugar and baking powder in a bowl. Stir in the melted butter until it forms a wet crumbly consistency.

Take about two thirds of the crumble mixture and dump it into an ungreased 13x9 pan.

Mix together the raspberries, sugar, flour and lemon juice so the raspberries are well coated.

Spread the raspberry mixture evenly across the crumble base.

Sprinkle the remaining crumble mixture evenly on top.

Place in the oven and bake for 30-40 minutes.

Cool on a wire rack and then cut into squares.