Strawberry Rhubarb Crumble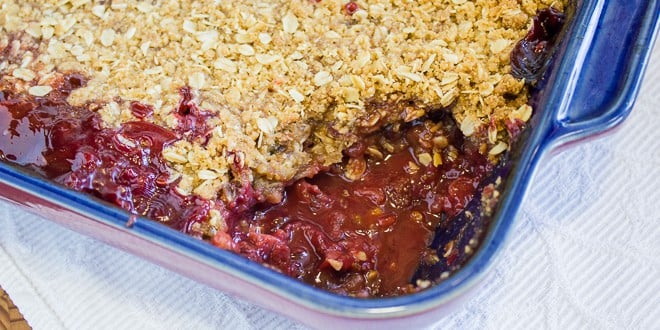 Apple crumble aka apple crisp is one of my absolute favourite desserts. I love the fruity bottom and the sweet granola style top. It is best still warm with a big scoop of vanilla ice cream on top. The warmth of the crumble causes the ice cream to melt and ooze all over the dessert. Yup, I am drooling right now.
Fruit crumbles are not only delicious, but very simple to make. If you are not comfortable making and rolling your own pie crust, then making a crumble might just be the perfect dessert for you to make!
I already have a few different crumble recipes on my website.
If you actually want to try making a pie with a traditional crust, here are a couple recipes: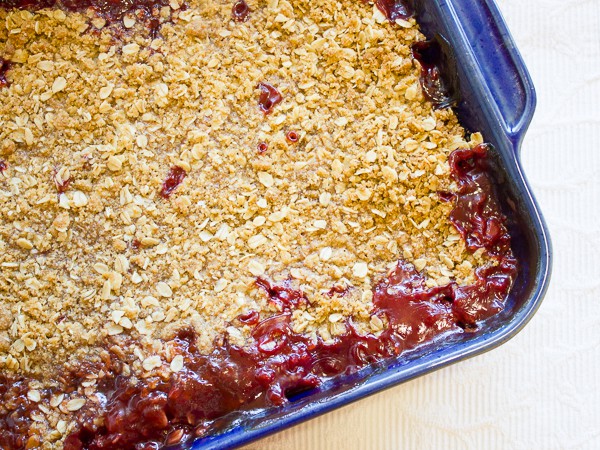 I used fresh Ontario strawberries and rhubarb from a friends garden. I always enjoy using fresh local produce. Not only do you know that it is more fresh stuff shipped from far away, but it is also nice to know that buying local keeps the carbon footprint low. As a result, I am always trying to cook using seasonal produce.
While this recipe uses both strawberries and rhubarb, you can easily switch it up based on what you have in the fridge, or what your preference is.
You could use apple slices in place of the rhubarb and blueberries instead of the strawberries. Or you could use a mixture of raspberries, blueberries and blackberries. The are many different possibilities. All you need to make sure of, is to use the same quantity of fruit as to what is in the recipe.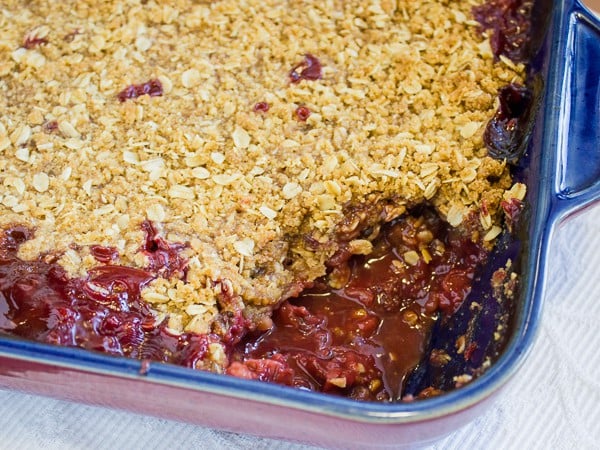 Frozen fruit is also a possibility for this recipe as well. We always have frozen fruit in the freezer as they are great for smoothies. If you decide to use frozen fruit, make sure the quantities are the same as the recipe.
I find though, that frozen berries result in more liquid and the fruit filling is thinner. To compensate, I mix in a couple tablespoons of flour along with the white sugar and fruit in step 2. That should keep the fruit thick enough.
I love the crumble topping and I sometimes find myself adding 50% more of each of the crumble ingredients. This gives me a thicker layer of the crumble and it is oh so good!!!
Strawberry Rhubarb Crumble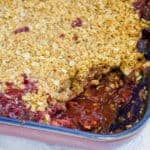 Print
Similar to apple crisp but with fresh strawberries and rhubarb. Very simple to make recipe and best served with a scoop of vanilla ice cream on top!
Servings: 8 people
Ingredients
2 1/2 cups strawberries, cleaned, hulled and sliced
2 1/2 cups rhubarb, sliced
1 cup sugar
1 cup butter, softened
1 cup brown sugar
1 1/4 cups flour
1 1/2 cups rolled oats
Instructions
Preheat oven to 350F.

Dump the strawberries and rhubarb into a 13x9 inch baking dish. Sprinkle the white sugar and use a spoon to stir the sugar evenly throughout the strawberry and rhubarb. Make sure that the fruit is an even layer on the bottom of the baking dish.


In a large bowl mix together the butter, sugar, flour and rolled oats until crumbly. Sprinkle crumb mixture evenly on top of the fruit and gently pat the crumble down.


Bake the crumble for 45 minutes. The fruit mixture should bubbly along the sides.

Cool slightly before serving. Spoon onto a dessert plate and, if desired, scoop some vanilla ice cream on top.