Apple Crumble with Splenda Stevia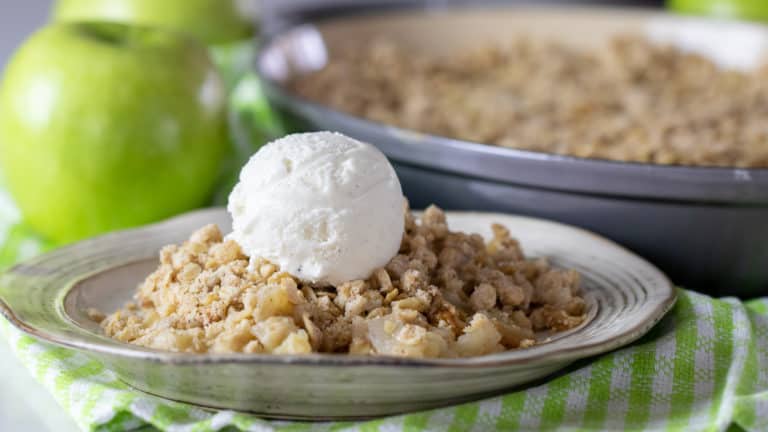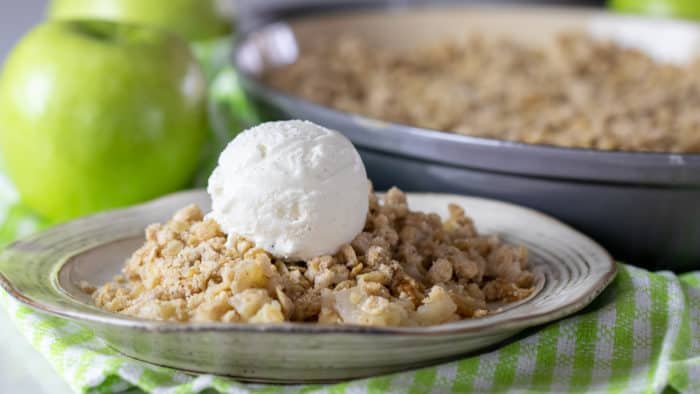 There is so much about the fall season that I love: the leaves changing colours, going to the farmers market and the cooler temperatures. Another aspect of the fall that I love is Thanksgiving. Canadian Thanksgiving is in October, much earlier than our American friends south of the border. I was asked by Carusele to participate in this campaign, sponsored by Splenda Stevia Canada. Although I have been compensated, all opinions are my own.
We love to get together with family over Thanksgiving weekend, and lately, we have been hosting the past couple years. We generally have my side of the family for a Thanksgiving meal one day and my wife's side of the family another day. Makes for a full but outstanding weekend! When I plan the meals, I love to highlight autumn produce. Squash, sweet potatoes, corn, pumpkin and apples are all amazing and buying this fresh local produce makes for an outstanding Thanksgiving meal.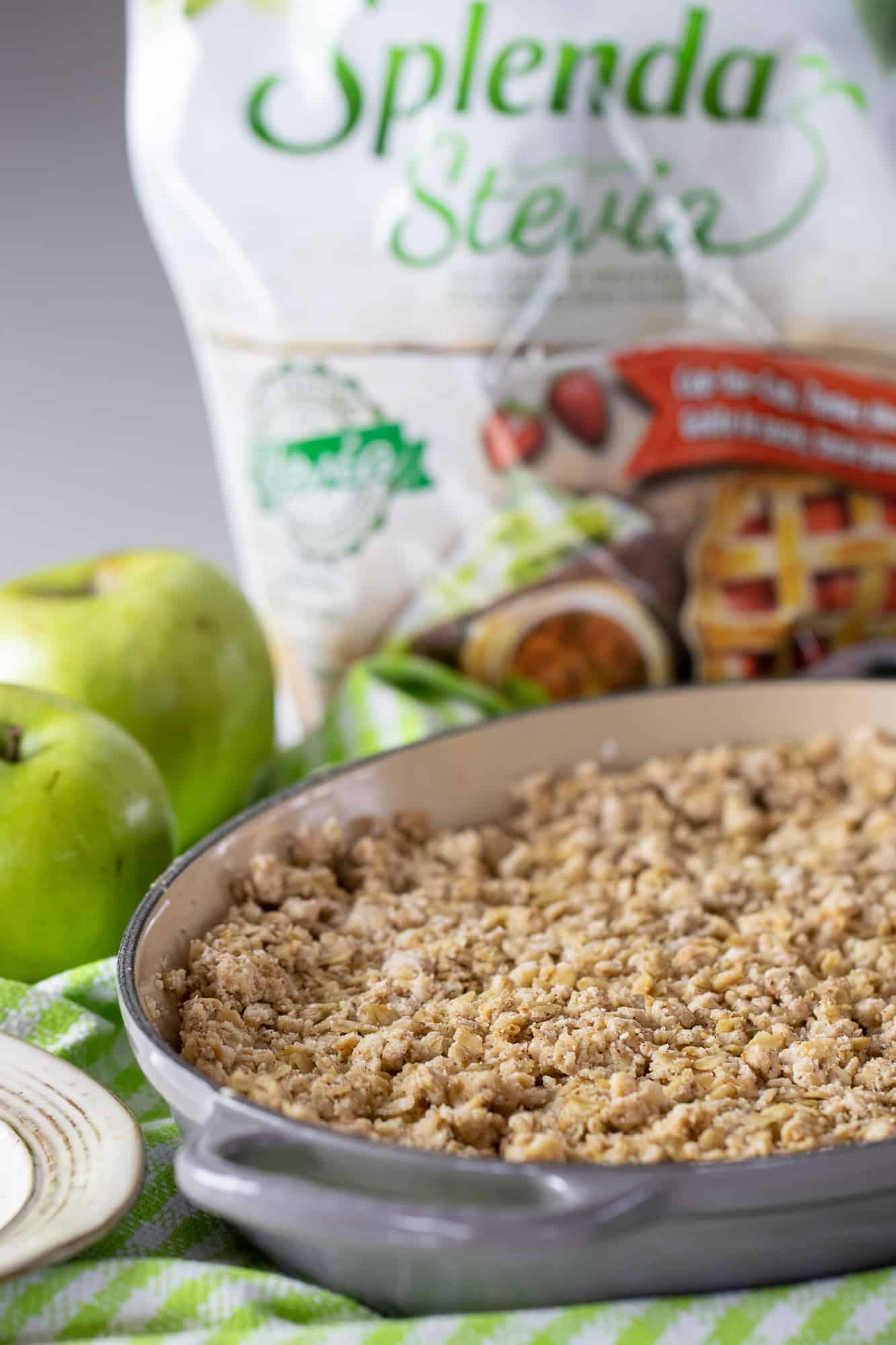 There is always lots of eating over Thanksgiving, so I like to try and make wise choices in my menu selection. I never want to sacrifice taste, but look for places to reduce calories. Splenda® Stevia No Calorie Sweetener is a great way to reduce sugar without sacrificing taste.
I am excited to be partnering with Splenda® Stevia for this post. It is a great stevia sweetener, that has no bitter aftertaste.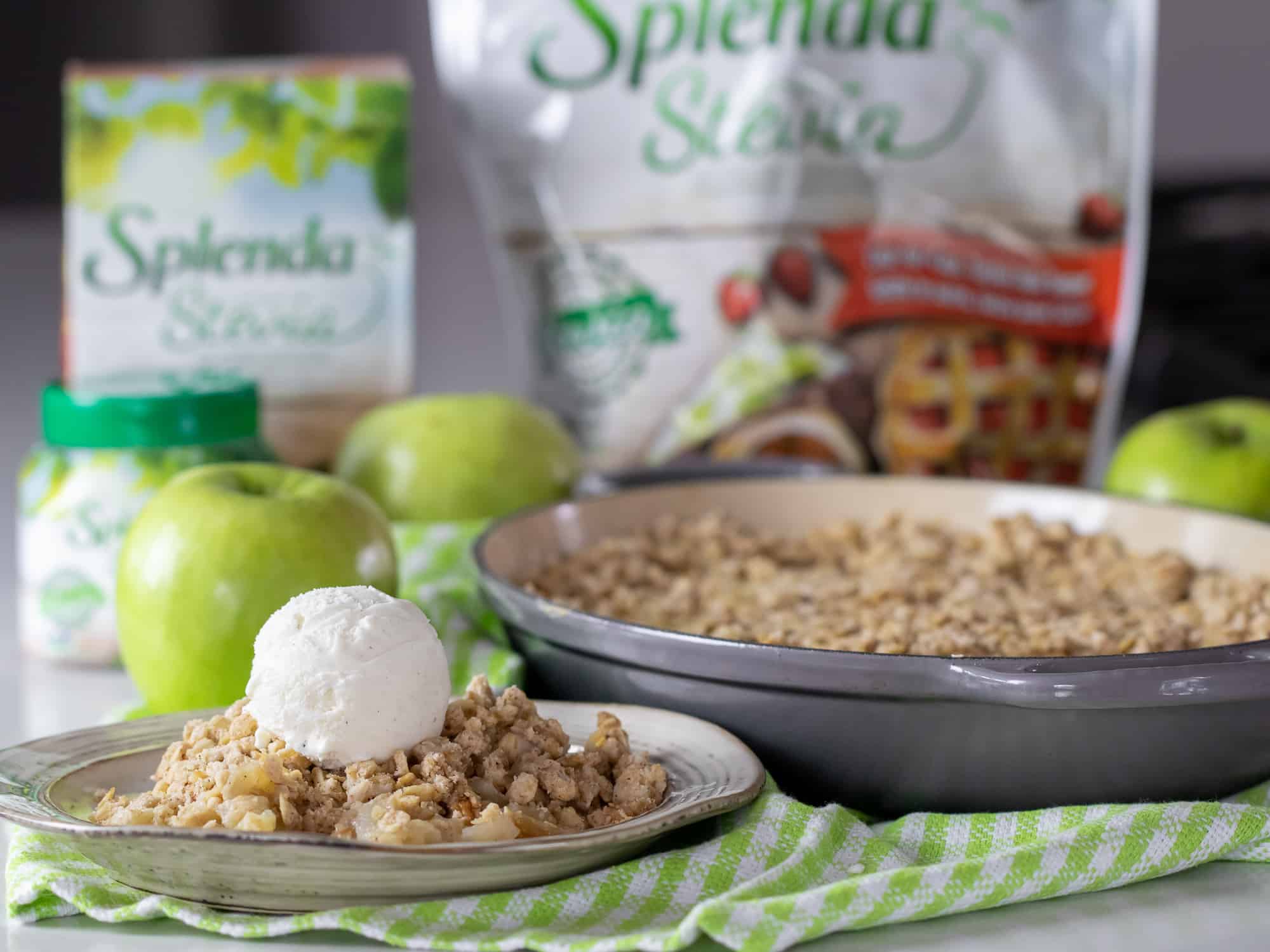 I love to go apple picking in the fall. We go as a family and it is always such a fun weekend event. Fresh picked local apples are great to use for baking and this apple crumble is the perfect recipe.
If you are looking for a great recipe for Canadian Thanksgiving, then look no further. Not only is this apple crumble delicious, but the use of Splenda® Stevia No Calorie Sweetener, makes this classic recipe healthier. It allows you to enjoy a delicious Thanksgiving dinner, without all the guilt!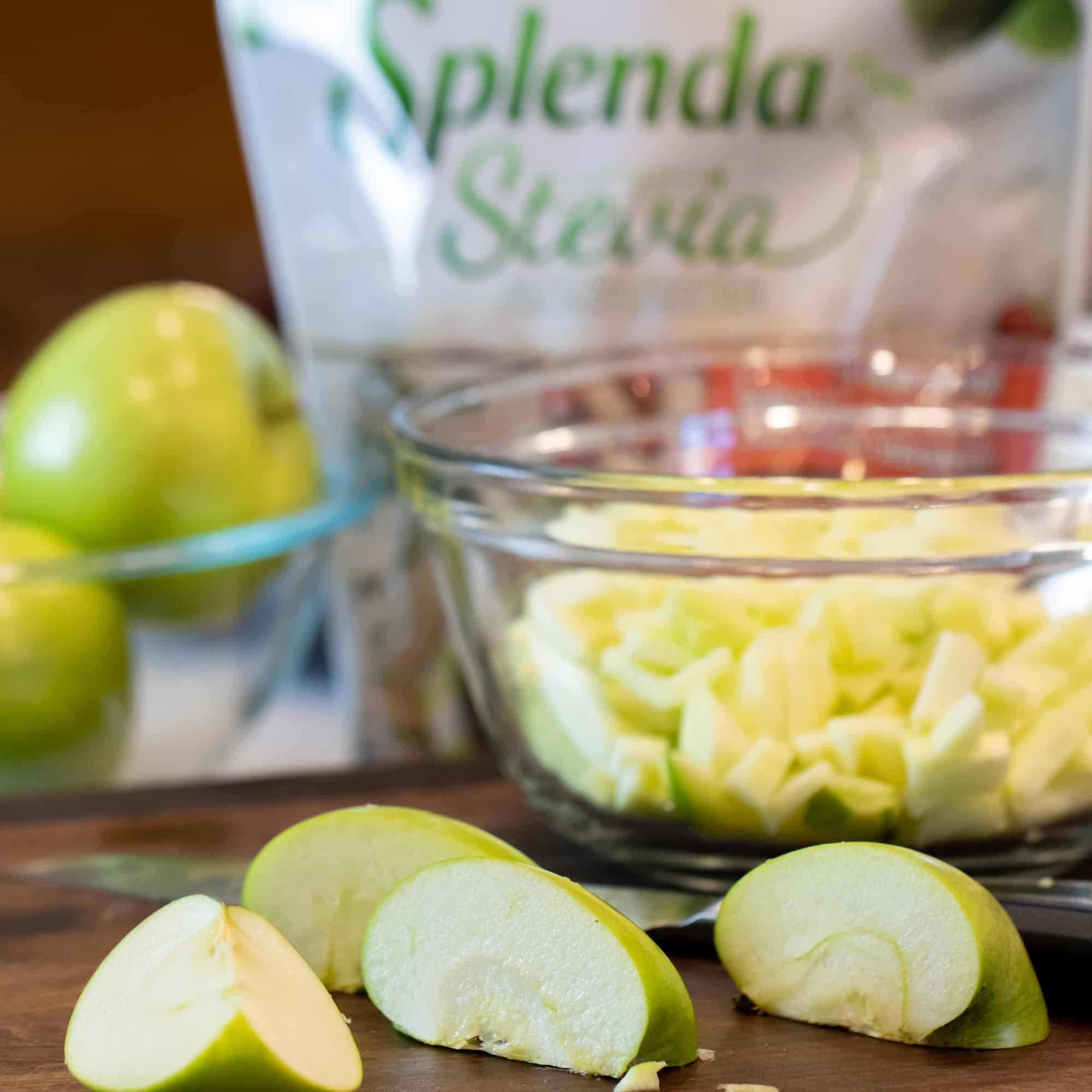 Granny smith apples are the perfect apple for a baked apple dish like this crumble. They are tart and hold their shape during baking. Some apples get all mushy during cooking, which does make them good for stuff like apple sauce.
But, for desserts like apple pie or crumble, it is best to choose an apple that is firm like the granny smith.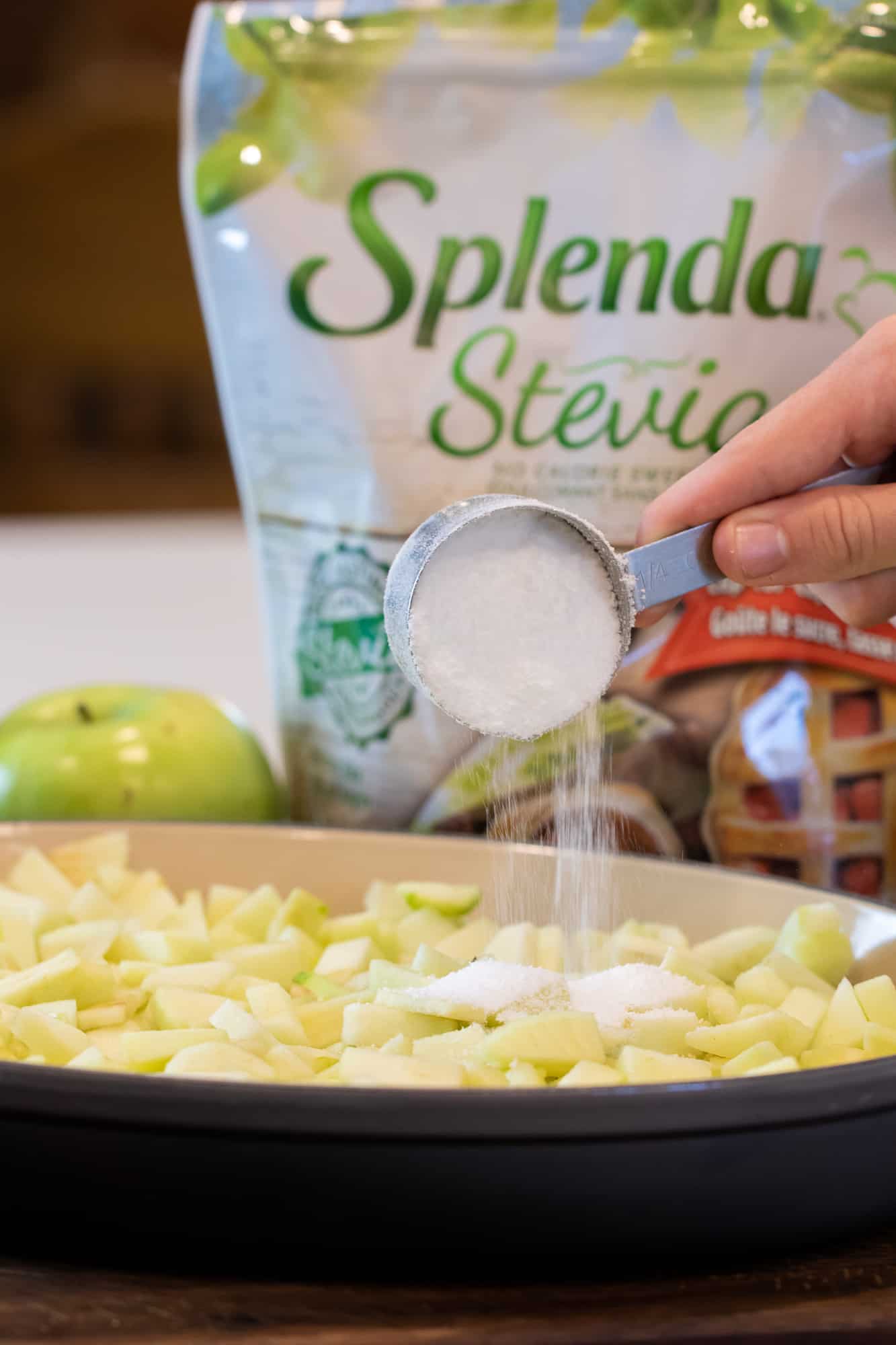 How to Make Apple Crumble Filling
Peel, core and dice the apples into chunks that are about a half inch in size. Spread the diced apples in a medium sized casserole dish.
Add the Splenda Stevia, flour and cinnamon. Stir throughout all the apples so that the apples are all coated.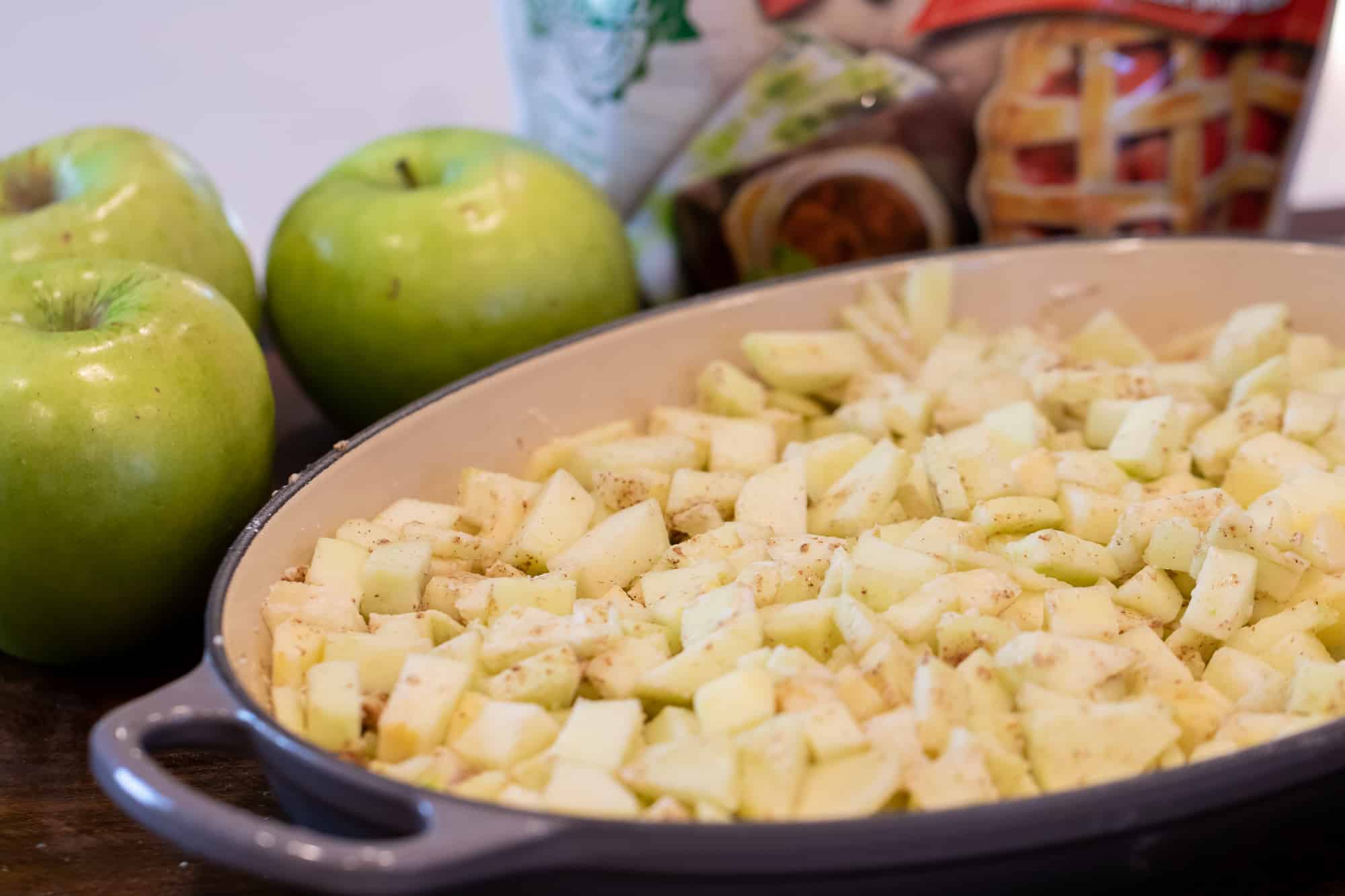 For the apple crumble, I used Splenda® Stevia Sweetener, Granulated. I just love this package of Splenda®. It does not require any conversion chart and you measure the very same amount of this as you would for sugar, cup for cup. It makes using this sugar substitute super easy for baked desserts.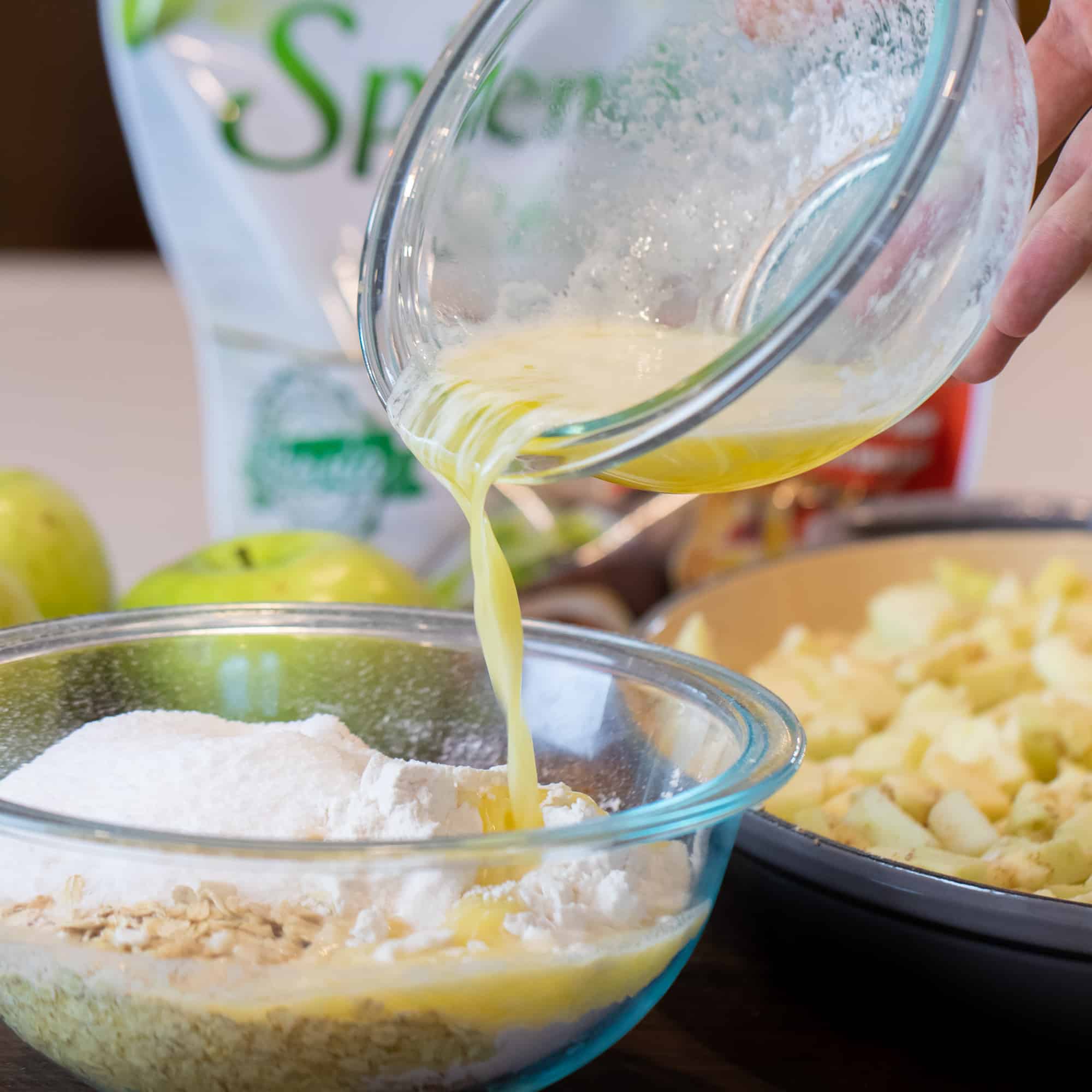 My favourite part of this recipe is the crumble topping. Crunchy, sweet and full of oats, I always make sure that the crumble is a nice and thick layer. Pour the melted butter in a bowl with all the dry ingredients and mix until well combined.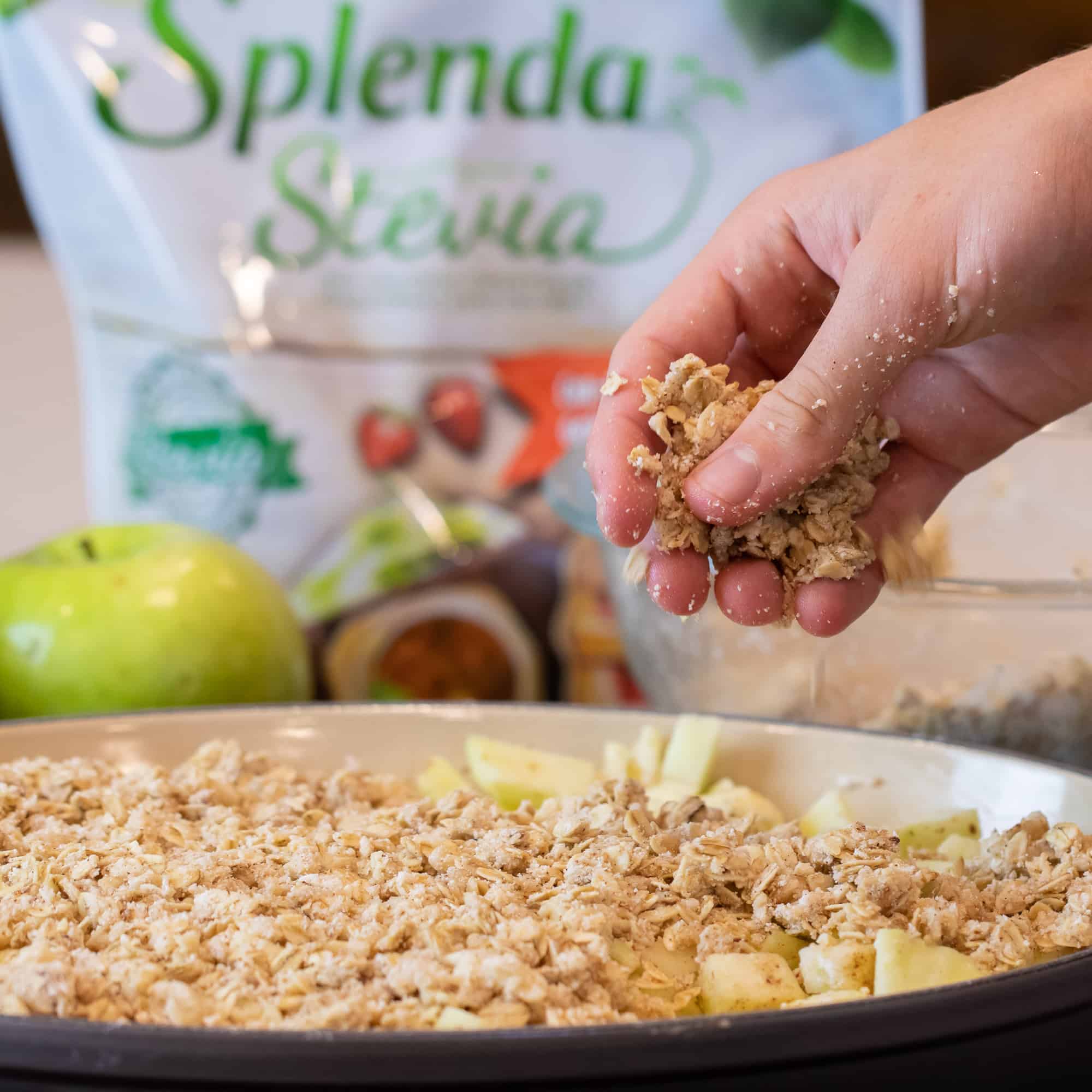 Evenly spread the crumble topping across the diced apples. I like the crumble to still be fairly loose, so I don't pack it down, but instead just sprinkle it all over.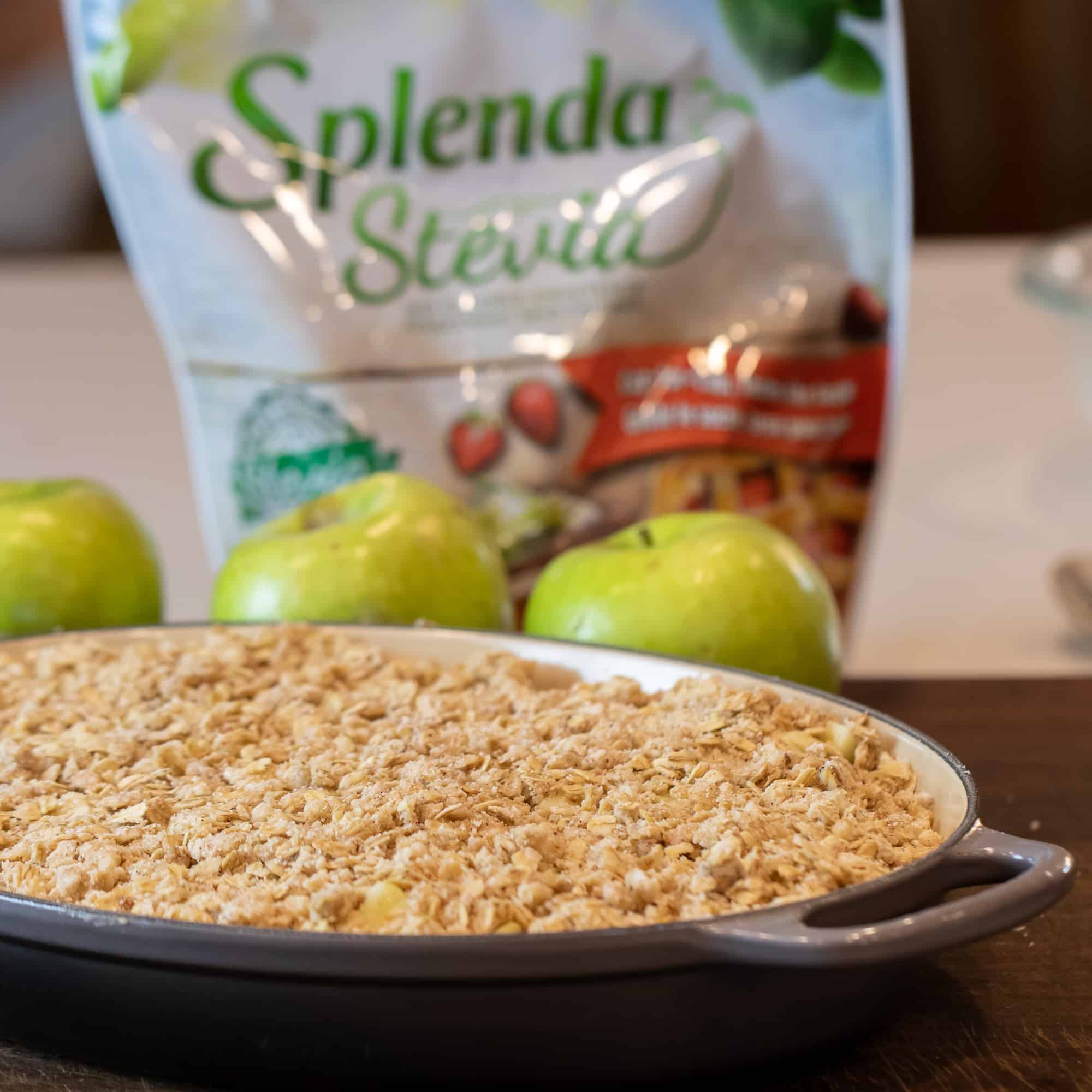 The apple crumble is now ready to go into the oven to be baked. It takes 45 minutes at 350°F for the apples to soften and the crumble topping to get nice and crispy. It is just delicious.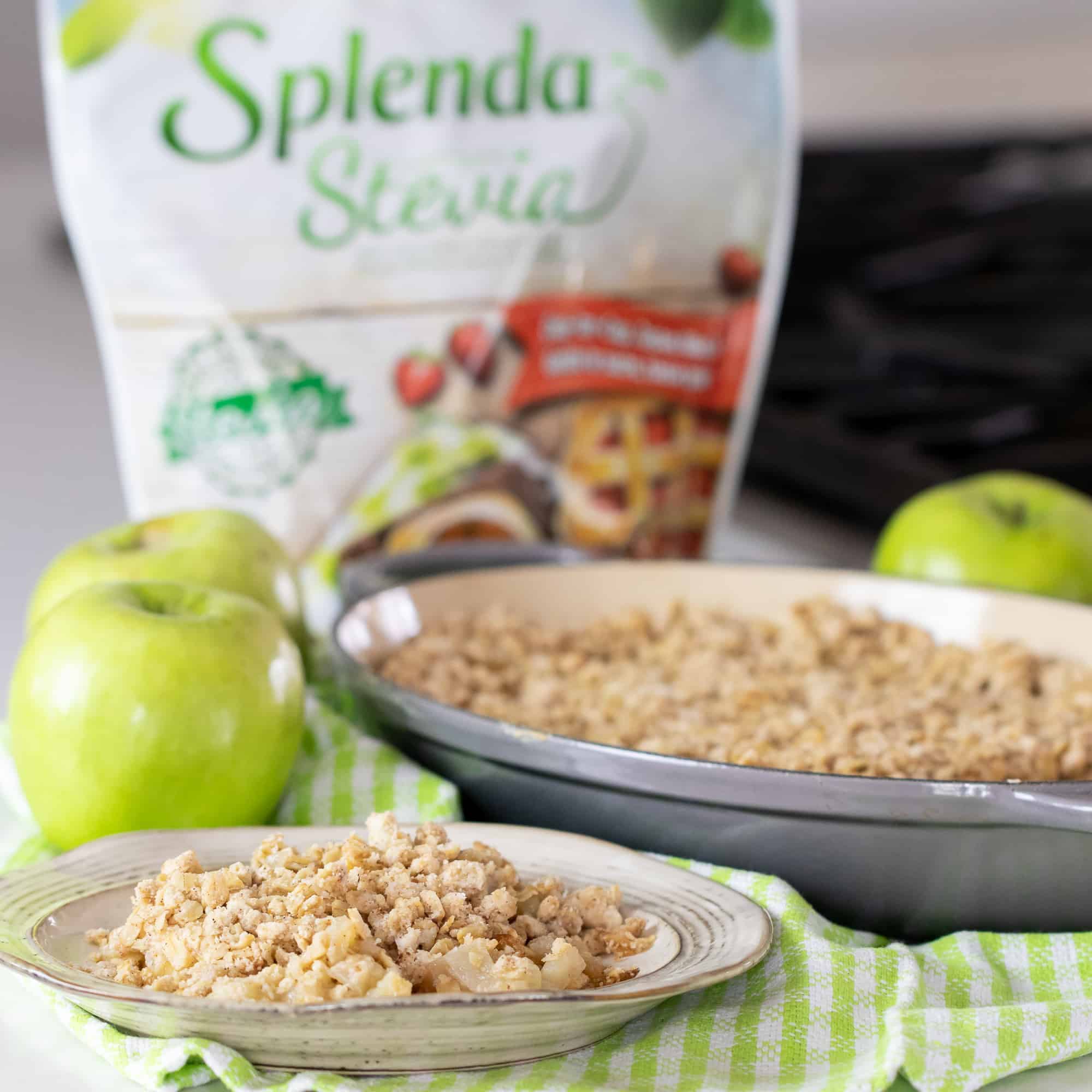 A 'Make-Ahead' Dessert!
This apple crumble is a great 'make-ahead' dessert. You can easily prepare this dessert, cover it with foil and place it in the fridge. Then, while everyone is eating and enjoying the Thanksgiving meal, pop this in the oven. After dinner, you have a delicious warm dessert that comes right out of the oven.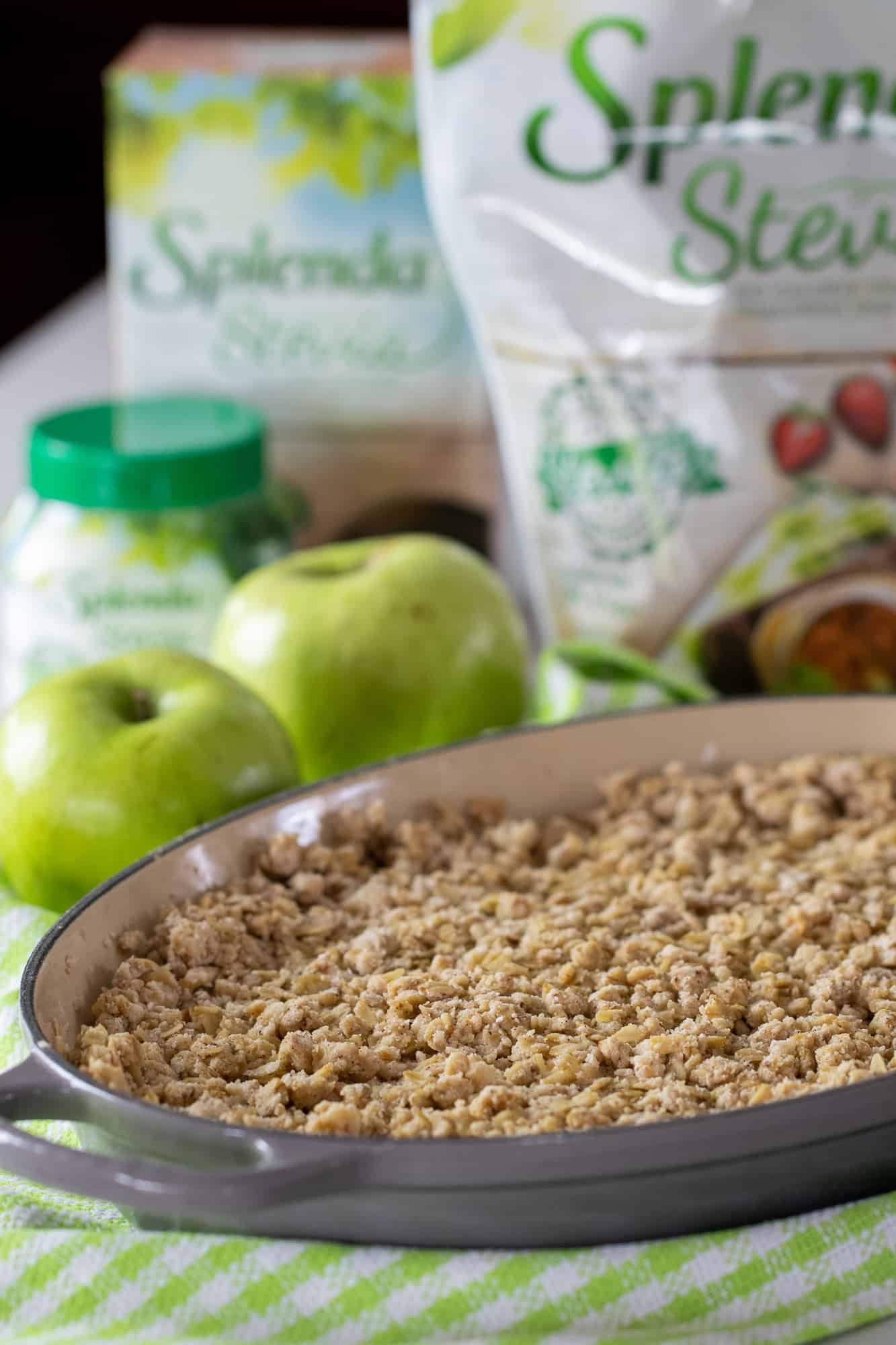 This apple crumble is a great dessert and the perfect way to end a Thanksgiving dinner. It is great on its own, or you can add a scoop of low calorie frozen yogurt or whipped cream as a nice topping. The use of Splenda Stevia in this dish is great because it provides the perfect level of sweetness without any aftertaste.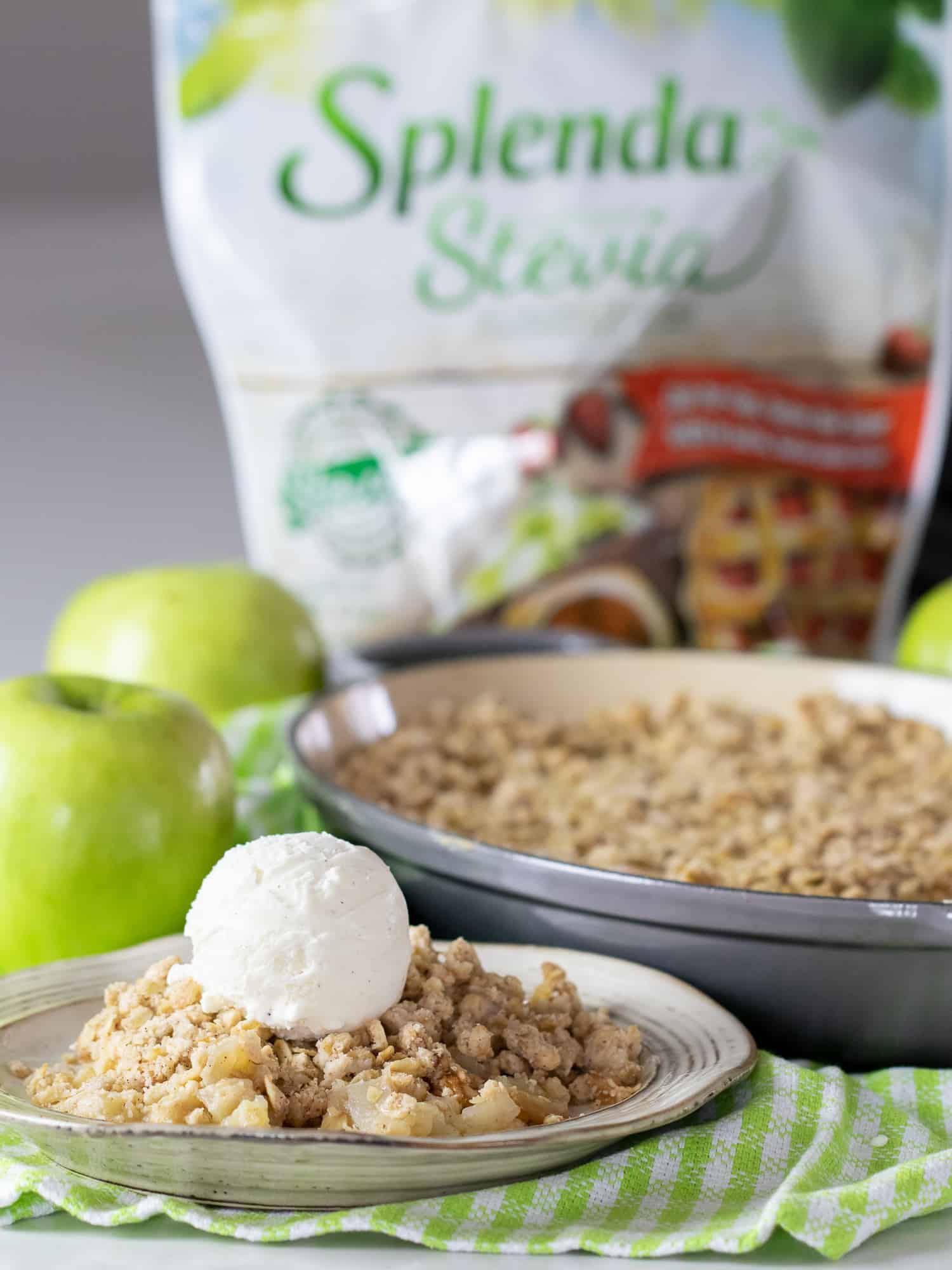 Apple Crumble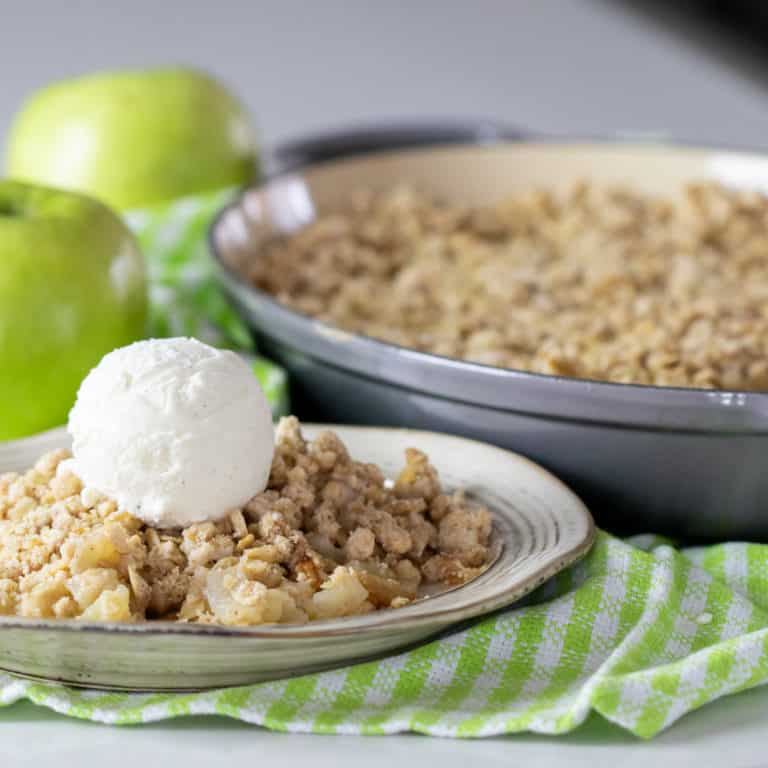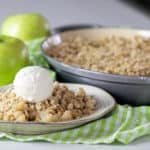 Print
How to make apple crumble recipe with granny smith and Splenda® Stevia as a sugar alternative. Perfect dessert for a fall holiday like Canadian Thanksgiving.
Servings: 6 people
Ingredients
Apple Base
6 cups diced granny smith apples peeled and cored
1/4 cup Splenda® Stevia Sweetener, Granulated
2 tbsp flour
1/2 tsp ground cinnamon
Crumble Topping
1 1/4 cups rolled oats
2/3 cup flour
2/3 cup Splenda® Stevia Sweetener, Granulated
1 tsp cinnamon
1/2 tsp salt
2/3 cup melted butter
Instructions
Toss the diced granny smith apples with 1/4 cup Splenda® Stevia Sweetener, Granulated, 2 tbsp flour and 1/2 tsp cinnamon. Spread in a medium sized casserole dish.

In a separate bowl, mix together all the dry ingredients for the crumble topping with the melted butter. Stir until all the dry ingredients are damp and crumbly.

Spread the crumble topping evenly on top of the apples.

Bake in a 350F oven for 45 minutes.