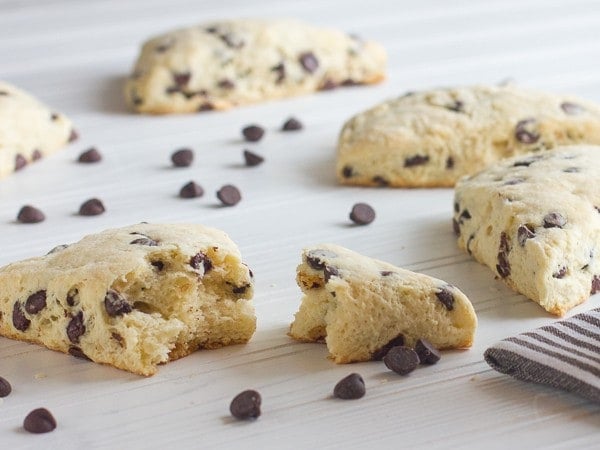 There are some mornings when I want something more fancy than our standard breakfast. In our home, we are cereal and toast people for breakfast. Once in a while, we mix it up with English muffins or oatmeal, but on the whole, breakfast is pretty simple. I think it is because we view breakfast as a time to quickly have a bite to eat so that we have energy to start the day. There are some days though, when I wake up a little earlier than normal, and decide to bake something fresh. It is in those times that breakfast becomes special and out of the ordinary.
These chocolate chip scones will make you love breakfast and put a huge smile on your face as you start the day. Scones, also referred to as biscuits in some demographics, are supposed to be buttery and flakey and these definitely hit that mark. They basically melt in your mouth and crumble as you handle them. There is no doubt they are the best when eaten right out of the oven with a tall glass of cold milk, but they are still delicious at room temperature.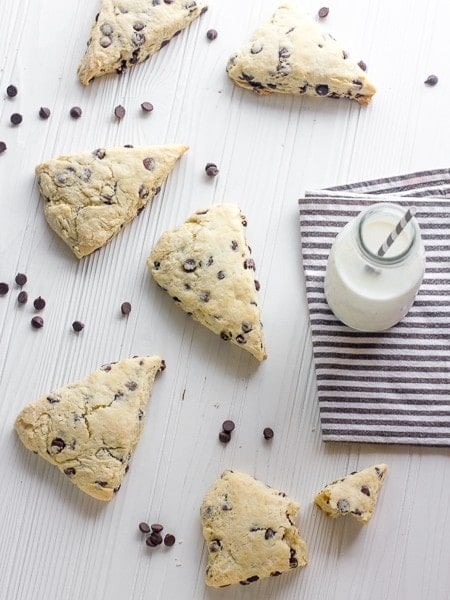 Some people are nervous baking scones, thinking that it is far too difficult, when nothing could be further from the truth. Here are a few tips when making scones/biscuits:
Have all your tools and ingredients set out before you start.
Make sure that the butter is cold – take it out of the fridge right before making the scones.
A pastry cutter is an invaluable tool for making scones. They are not expensive and work great at working the butter into the flour. Two knives works as well, it just takes longer.
Do not overwork the dough when folding in the milk/egg mixture. Just fold it enough to get the flour wet and there is not much loose flour. This helps to ensure the scones are light and flakey.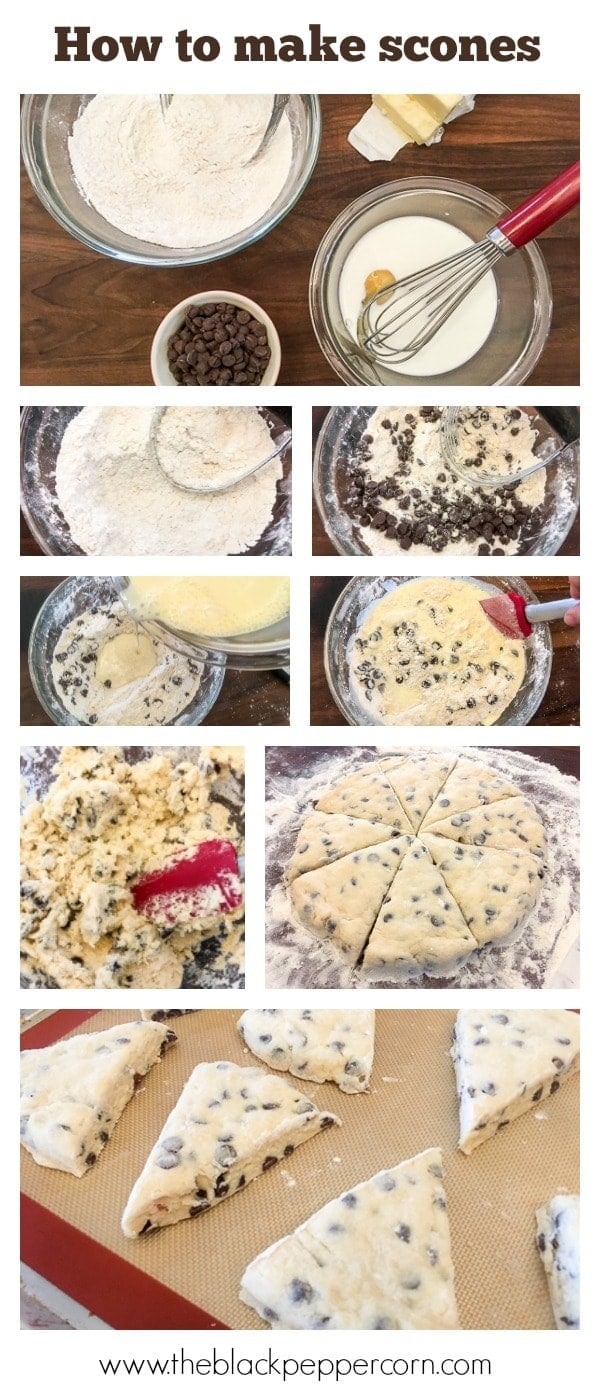 Making scones is not a difficult task. In fact, I find it one of the most simple things to bake. The ingredients are items that you usually have in your fridge and pantry and it does not take long for them to get thrown in the oven. There are also many ways to vary this recipe. Instead of chocolate chips, you could add cranberries with some orange zest. Lemon zest and poppy seeds is another delicious scone and even better brushes with a lemon glaze. Yum!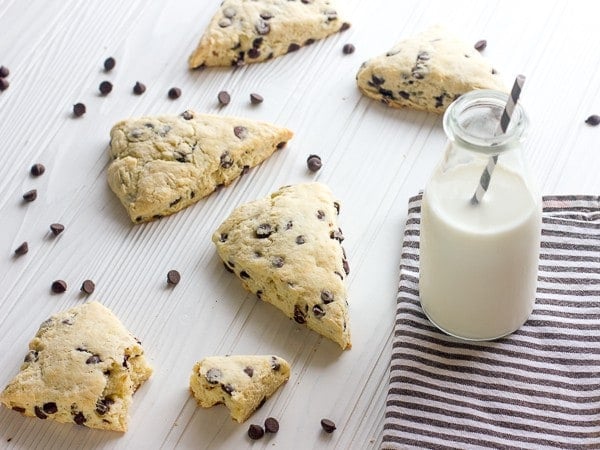 These scones were incredible. I made them one day and then they disappeared way too fast. A couple days later, my boys had a couple friends over, so I decided to make two batches of these. They all loved them and they are especially delicious right out of the oven with a tall glass of milk. One thing I love about these, is how quick it is to make scones. While the first batch was in the oven, I made the second batch. I was finished and they were all cut into wedges on a second baking sheet while the first ones were still in the oven.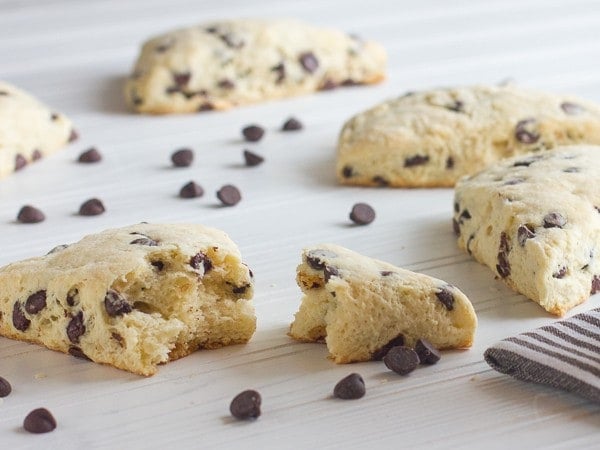 Chocolate Chip Scones
Print
Buttery and flakey scones that melt in you mouth. These biscuits have loads of chocolate chips and are decadent when eaten right out of the oven.
Servings: 8 scones
Ingredients
2 1/4 cups all purpose flour
1/3 cup white sugar
3 tsp baking powder
1/2 tsp salt
1/2 cup cold butter , cut into small cubes
1 cup chocolate chips
3/4 cup milk
1 egg
Instructions
Preheat oven to 400F.

In a bowl, whisk together the flour, sugar, baking powder and salt.

Add the cold butter to the bowl and using a pastry blender, cut the butter into the flour. Continue until a crumbly consistency is produced. Stir in the chocolate chips.

In a separate bowl, whisk the egg into the milk. Pour the milk mixture into the flour and stir together with your hands with a baking spatula until combined. Work gently and be careful to not over-mix the batter.

Spread a little flour on a flat work surface. Dump the batter onto the floured work surface and pat down to make a 8 inch disc. Cut into 8 equal wedges.

Place wedges on a baking sheet lined with parchment paper or a silicone baking mat.

Bake for 16-18 minutes. The scones should be just starting to brown on top.

They are the best served right away although the are very tasty served at room temperature.