Grilled Buffalo Chicken Twice Baked Potatoes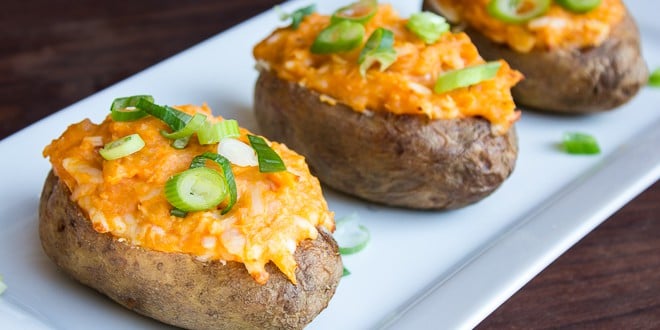 I am a huge fan of twice baked potatoes! The crispy potato skin on the outside holding gooey soft mashed potatoes. The great thing about twice baked potatoes, is that there are so many options to tweak it by adding new and different ingredients. Always welcome, is the classic Bacon and Cheddar Twice Baked Potatoes. Bacon is a beautiful thing and it helps to make one awesome side dish.
For today's recipe, I decided to mash-up two of my favourite things: Twice Baked Potatoes and Buffalo Chicken!!!
It does not matter if it is on wings or not – buffalo flavour is something awesome. I mixed the hot sauce right in with the mashed potato filling. Along with it, I mixed in some cubed cooked chicken breast and grated cheese. The result was extraordinary and this will not be the last time I make this. It is a side dish but has everything that could almost turn it into a main dish.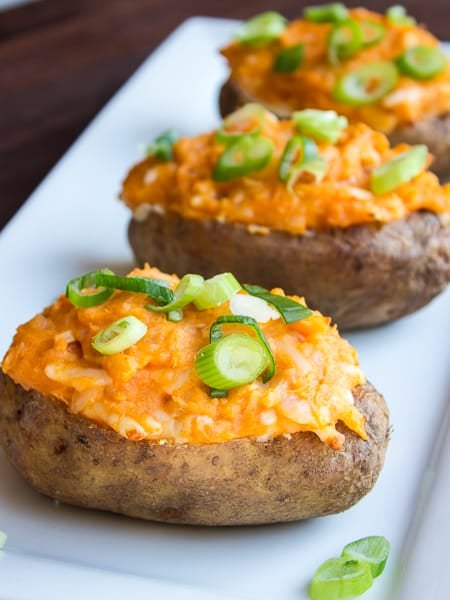 Grilled Buffalo Chicken Twice Baked Potatoes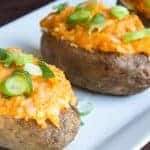 Print
Servings: 4
Ingredients
4 large baking potatoes
1/4 cup butter
1/3 cup 10% cream
2/3 cup sour cream
salt and pepper to taste
1/4 cup Louisiana style hot sauce
1 cup grated mozzarella cheese
1 1/2 cup cooked chicken breast , diced finely
2 green onions , sliced finely
Instructions
Wrap potatoes with aluminum foil.

Preheat grill to 400F. Place foil wrapped potatoes on upper grill grate/rack and close lid. Bake the potatoes in the grill for about 75 minutes or until soft when poked with a toothpick.

While the potatoes are baking, cook the bacon until crispy. Drain on a paper towel and crumble into small pieces.

Let the potatoes cool slightly. With a sharp knife, cut the top off each potato. Scoop out the inside of the potato and spoon into a large bowl. Using a fork, or hand mixer, mix the scooped out potato with butter, cream, sour cream, hot sauce, diced chicken, grated cheese, salt and pepper. Mix until smooth. Spoon the mixture into the potato skins.

With the grill still at 400F, place the potatoes directly on grill grates and close lid. Bake on the grill until cheese is melted and bubbly, about 15-20 minutes.

Sprinkle with sliced green onions and serve.