Grilled Chicken Eggplant and Zucchini on a Bun
Grilling vegetables is so good and works great on this sandwich! This post is sponsored by Windsor Salt.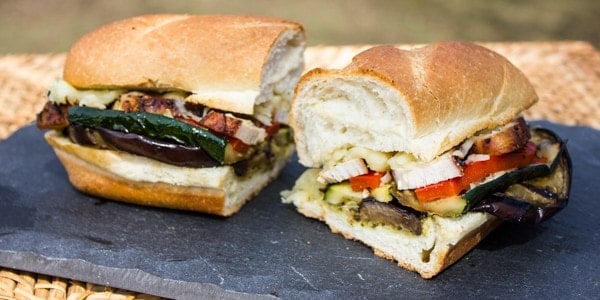 With grilling season in full force, I look for anything that I can grill. While meat is most common, I do really enjoy grilling vegetables. Zucchini, eggplant and peppers are ideal vegetables to be grilled, and they are excellent tossed into pasta salad with feta cheese, as toppings for a pizza or eaten just on their own. One other option is to use them for a sandwich or on a bun like this recipe.
I made a marinade that is used both for the chicken and brushed on the vegetables while they are grilling. Marinades are a great way to boost the flavour of food and there are key elements to any marinade, including oil, acidic ingredients like vinegar or lemon juice, spices, herbs and more. Salt is also a key component of any marinade and I used some table salt from Windsor Salt. Since I was born in Windsor, Ontario, I have always been partial to purchasing salt from Windsor Salt! Windsor Salt has just recently had a brand refresh with a new logo and packaging. While it is a new look, it is still the same great salt product!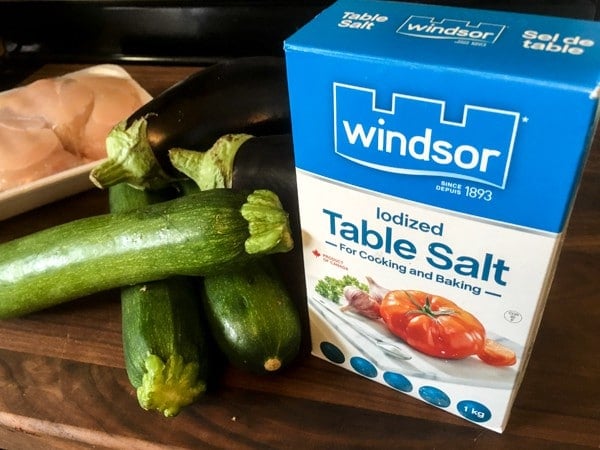 This marinade is essentially an herb and garlic marinade and that works very well with both the chicken and veggies. On top of that, some pesto is spread on the bun to further add a depth of flavour.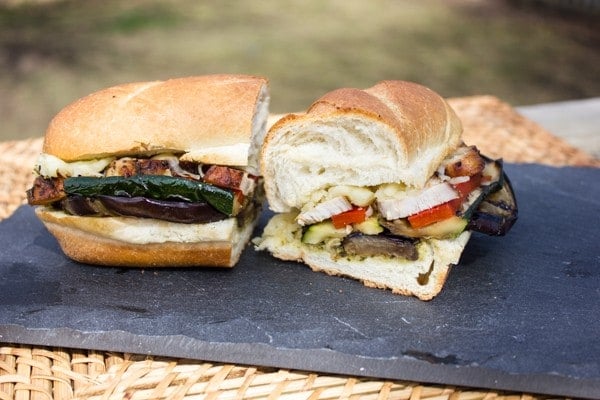 Grilled Chicken Eggplant and Zucchini on a Bun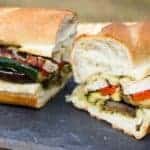 Print
Ingredients
4 tbsp olive oil
1 tsp thyme
1 tbsp oregano
1 1/2 tsp salt
1/2 tsp black pepper
2 garlic cloves , minced
2 boneless skinless chicken breasts
2 zucchini
1 large eggplant
1 red pepper
4 tbsp pesto
8 slices provolone cheese
4 sandwich buns (kaiser, baguette, hero, etc.), sliced horizontally
Instructions
Mix together the oil, spices, salt and garlic in a small bowl.

Place the two chicken breasts in a dish with sides. Pour half the mixed marinade over the chicken. Flip so all sides are coated in the marinade. Cover with plastic wrap and place in the fridge for a couple hours.

Slice the zucchini lengthwise to make 1/4 inch strips. Cut the eggplant to make 1/4 inch rounds. Core and halve the red pepper.

Fire up the grill and bring it to a medium high heat.

Place the chicken breasts on the grill and cook till they reach an internal temperature of 165F.

Place the veggies on the grill and flip after the cook for a few minutes. While they are on the grill, brush the veggies with remaining marinade.

Bring the chicken and veggies to room temperature. Slice the red pepper and chicken into strips.

Spread one tablespoon of pesto on the cut portion of each bun. Assemble, by adding some grilled eggplant, zucchini, pepper, chicken and provolone slices to each bun.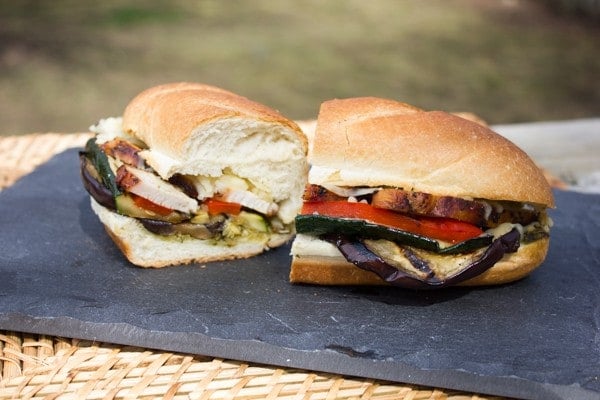 Disclaimer – This post is sponsored by Windsor Salt. While I received compensation for this post, all the thoughts are my own.