Grilled Vegetable Stack with Goat Cheese Stuffing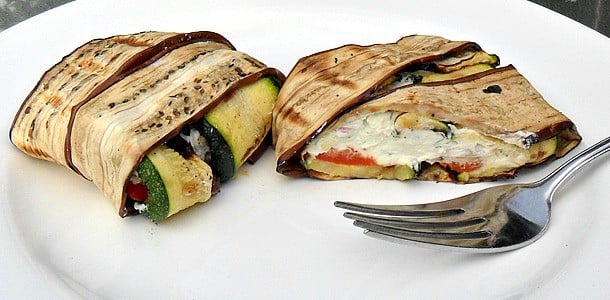 Yesterday was my 15th wedding anniversary. It was a wonderful day. It was great to be able to spend the evening with my wife and talk about the last 15 years. For dinner, I made Coffee and Cocoa Crusted Beef Tenderloin with a Raspberry Reduction Sauce.
If you want the recipe for that, it will actually be posted on a friends blog – Eat Yourself Skinny. Next Wednesday she will be posting it as a guest post.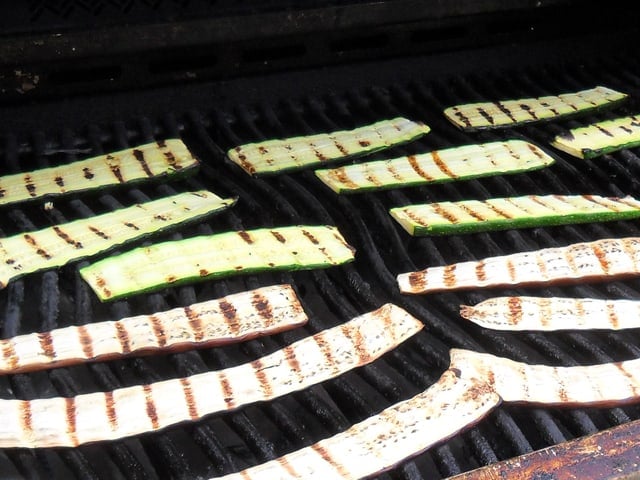 To go alongside that I made a Grilled Vegetable Stack. I figured that since I had the grill on, I might as well grill the veggies.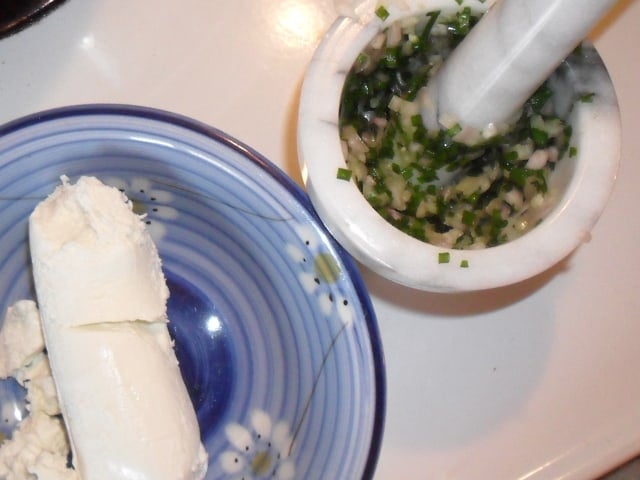 I know that stacks are the go to dish when grilling vegetables, but this time I tried to make something a little fancier by putting a goat cheese stuffing inside. In the end it turned out really well and my wife loved it.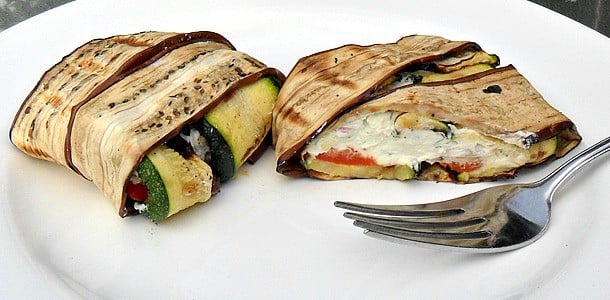 Grilled Vegetable Stack with Goat Cheese Stuffing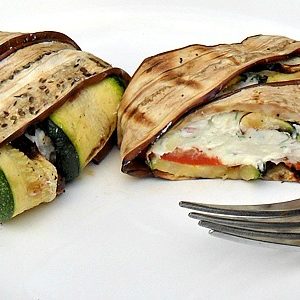 Print
Grilled vegetables with a goat cheese stuffing containing garlic, shallots and chives.
Servings: 4
Ingredients
2 zucchini
2 asian eggplants
2 roasted red peppers
1 tube goat cheese
1 clove garlic , minced
1 shallot , minced
2 tbsp minced chives
Instructions
Make the goat cheese stuffing by mixing the goat cheese, garlic clove, shallot and chives together well. Goat cheese is very creamy when it is at room temperature and it should allow you to mix this cheese stuffing so that it is fairly smooth. Put in the fridge until needed again.

Thinly slice the eggplant and zucchini lengthwise. Discard the outer strip on both sides. You should have 8 strips of eggplant and 8 strips of zucchini.

Place the eggplant and zucchini on a grill set to high. Grill for about 4-6 minutes per side. They should get grill marks and soften to the point where they are bendable. Remove from the grill and let cool.

To make the stacks, lay 2 pieces of zucchini together on a plate. Place a 1 1/2 inch square peice of roasted red pepper in the middle of the 2 zucchini pieces.

Put about 2 tbsp of goat cheese stuffing on top of the red pepper.

Take the ends of the zucchini and fold it over the cheese. Press down lightly, and they should stay.

Take 2 pieces of eggplant and lay on top of the zucchini, but going the opposite way. Fold them down and tuck under the stack.

Serve at room temperature.