Halloween Graveyard Dessert
An easy to make dessert that is the perfect spooky way to celebrate Halloween!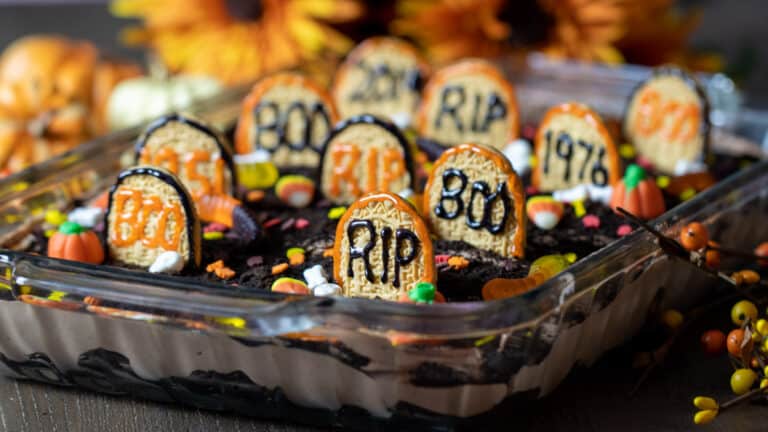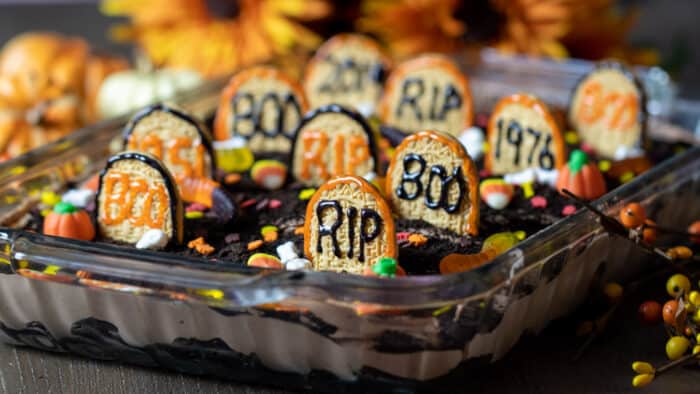 I look for any excuse to make a sweet treat, and this Halloween pudding graveyard is the perfect way to celebrate October 31st.
This dessert looks just like a spooky graveyard, filled with tombstones, pumpkins, bones, skulls, worms and even dirt. But, everything is edible and sweet, making this the most creepy Halloween snack!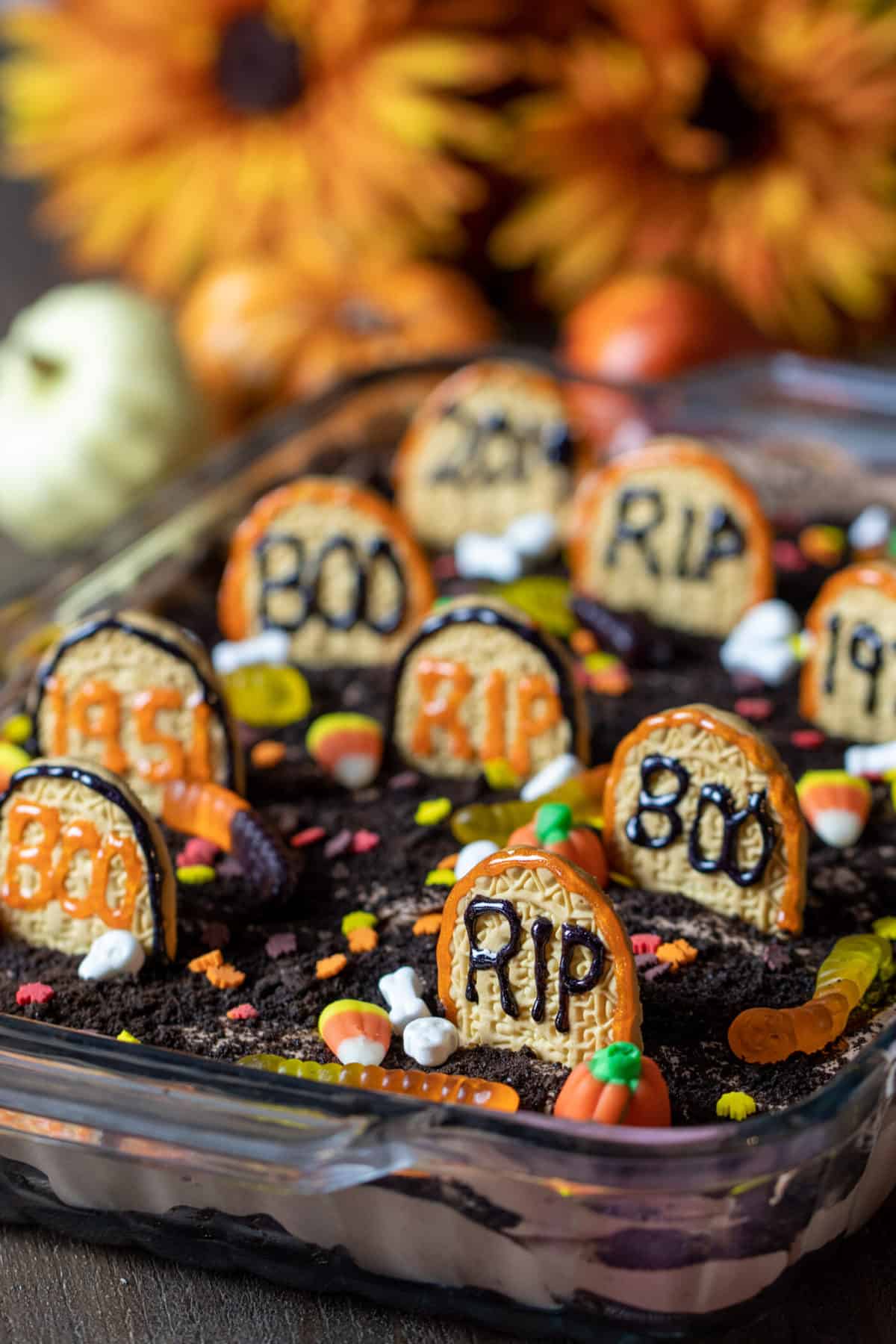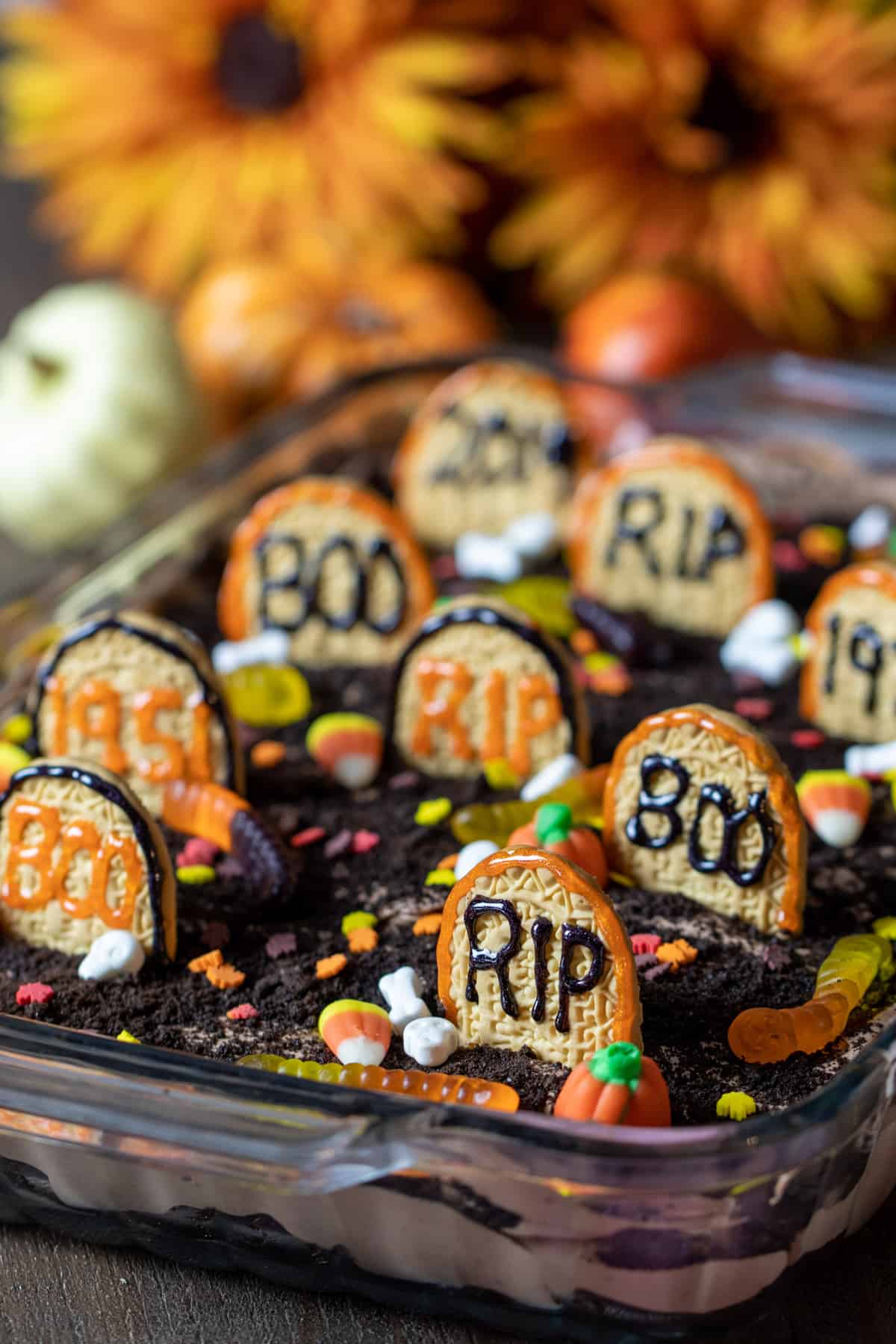 Looking for More Recipes?
Here are some other fun Halloween snacks!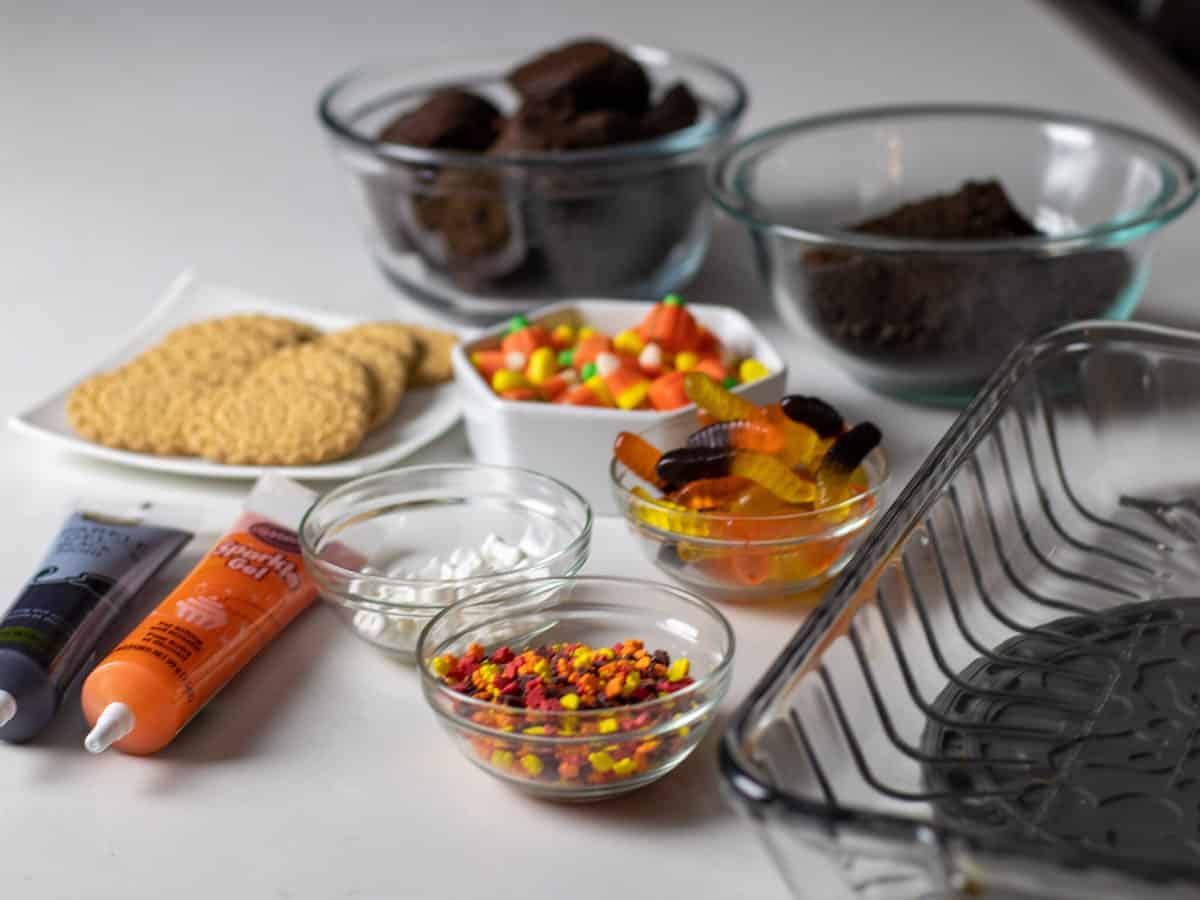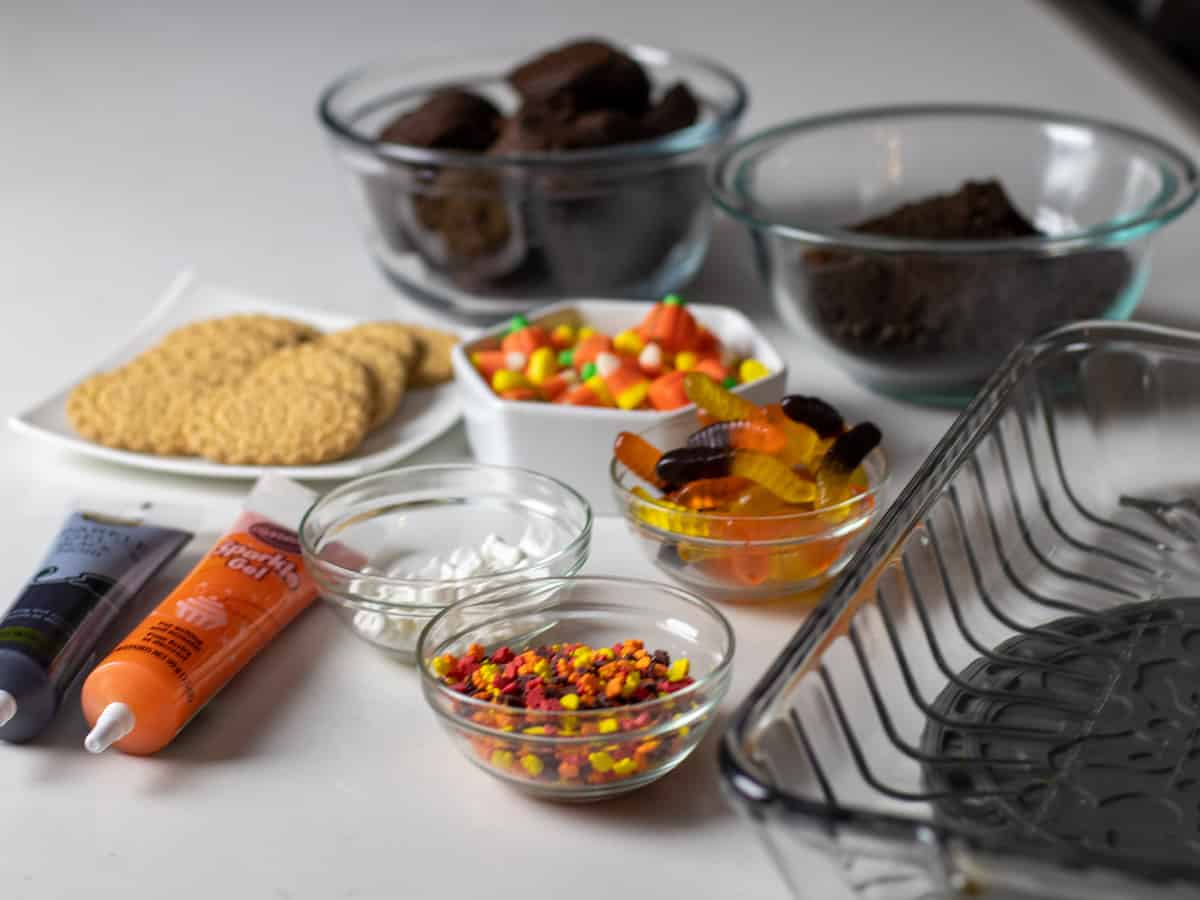 Ingredients You Will Need
Get all the ingredients set up and ready to assemble the dessert. Here are the ingredients needed:
Two bite brownies
Chocolate instant pudding
Dream whip or other instant whipped dessert
Milk
Vanilla
Oreo cookie crumbs
Arrowroot cookies
Gel icing
Halloween candy (candy corn pumpkins, bones, gummy worms, leaf quins etc.)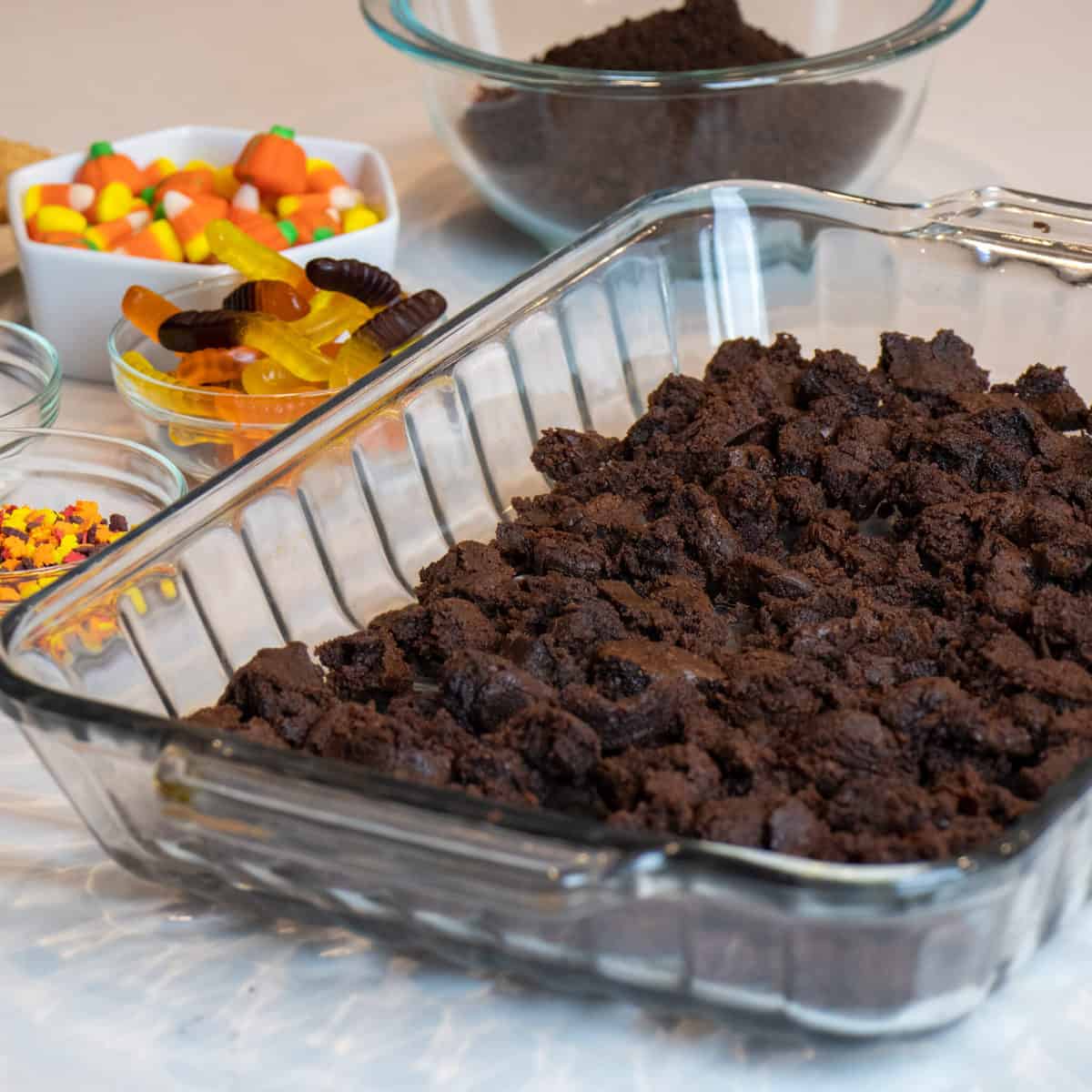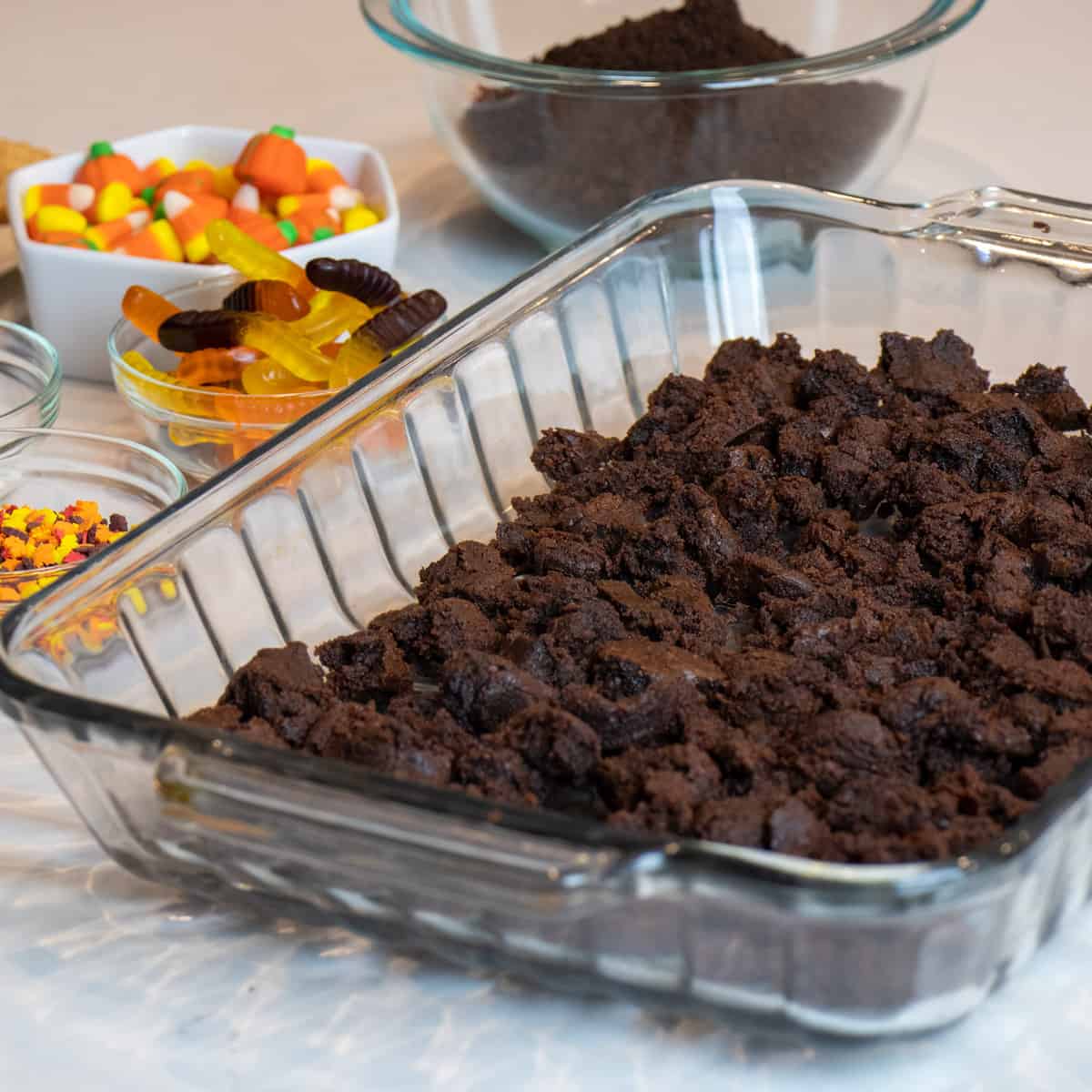 Layer One: Crumbled Brownies
Making this Halloween Pudding Graveyard is super simple. First, crumble the brownies and spread them evenly across the bottom of a 13×9 baking dish. I use two bite mini brownies which are very moist and perfect for this recipe. These can be substituted with any kind of brownie: homemade or store-bought.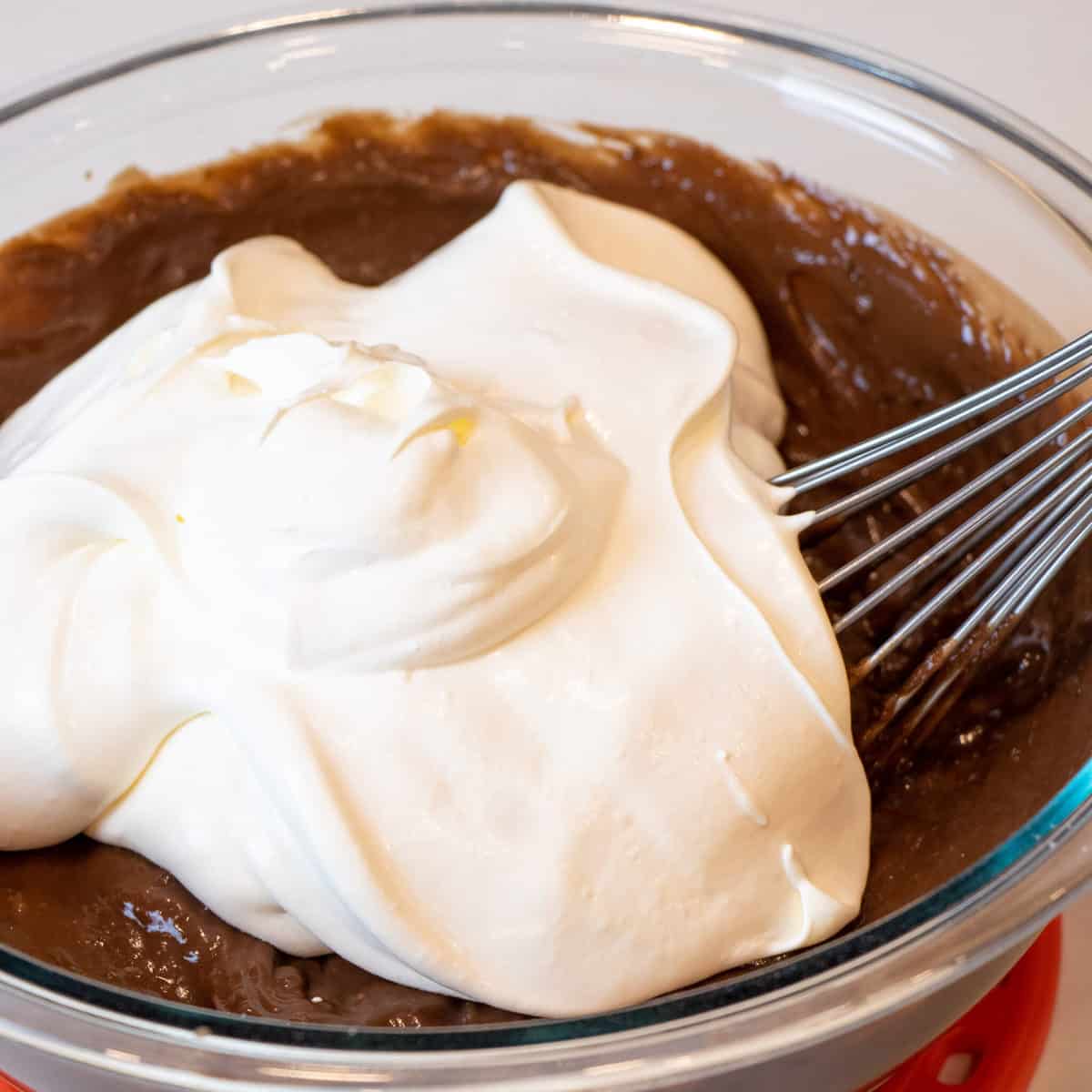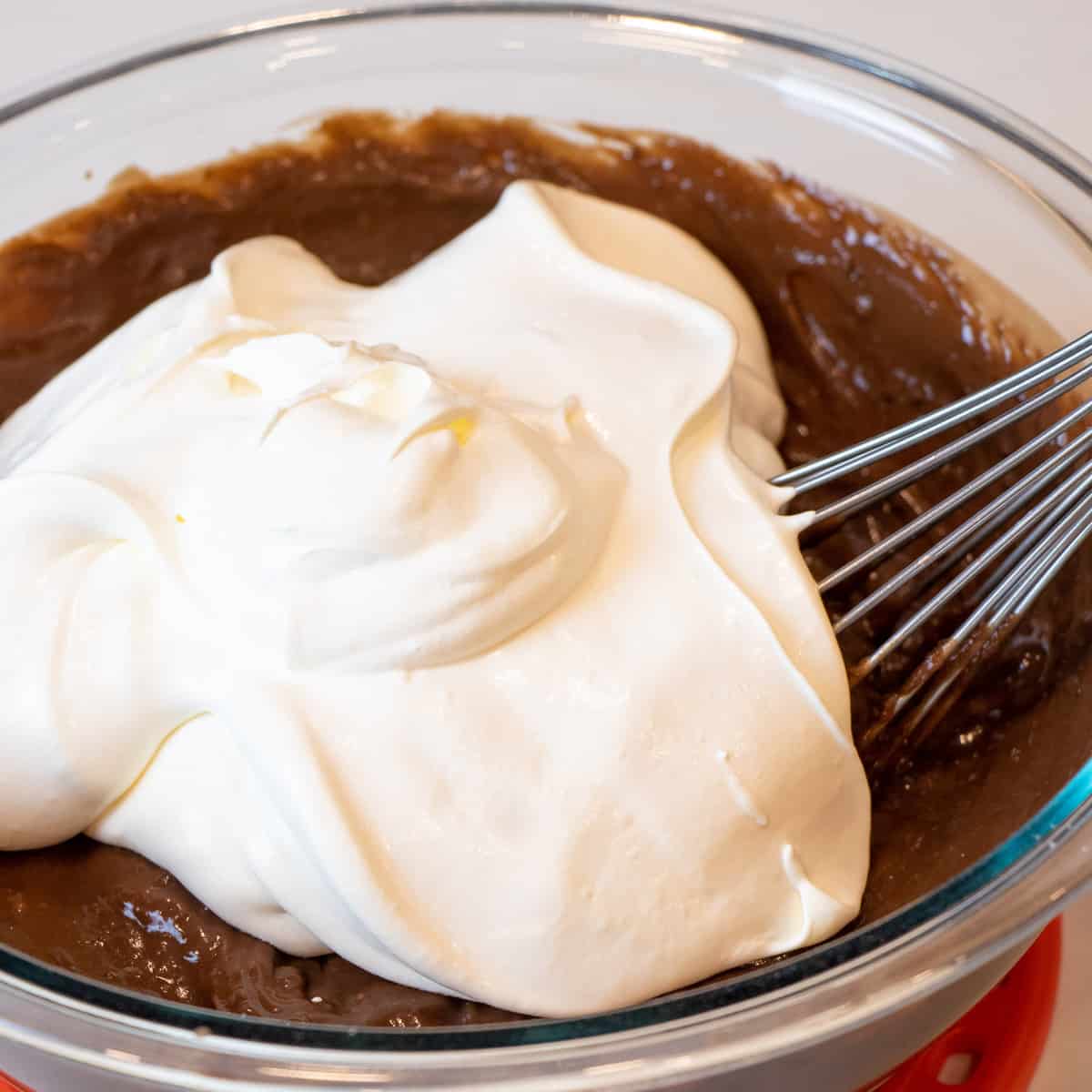 Making the Chocolate Mousse
The second layer is a mousse that is simply chocolate pudding and whipped cream mixed together. To make things very easy, I use instant pudding mix and an envelope of dream whip. Make each separately and then stir them together.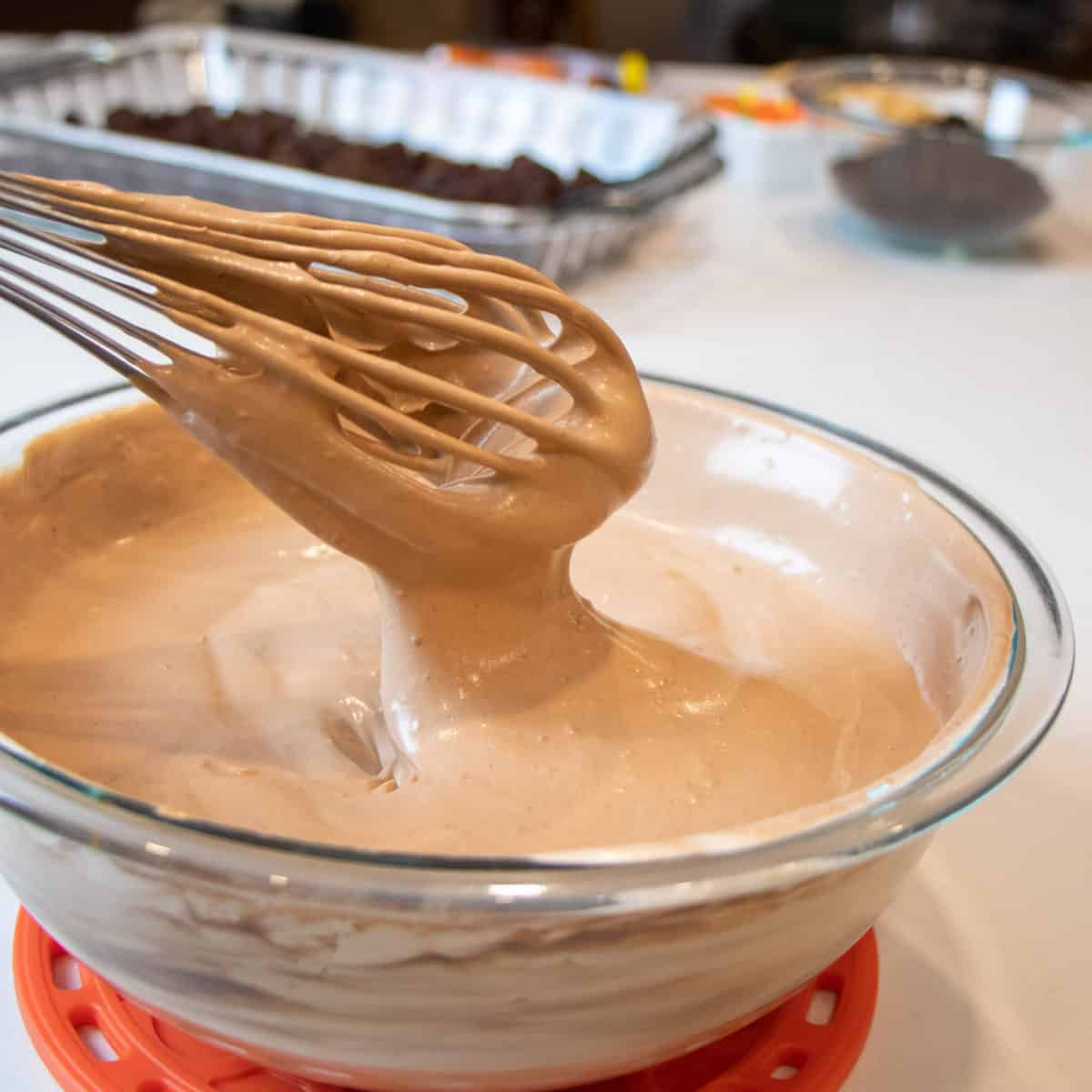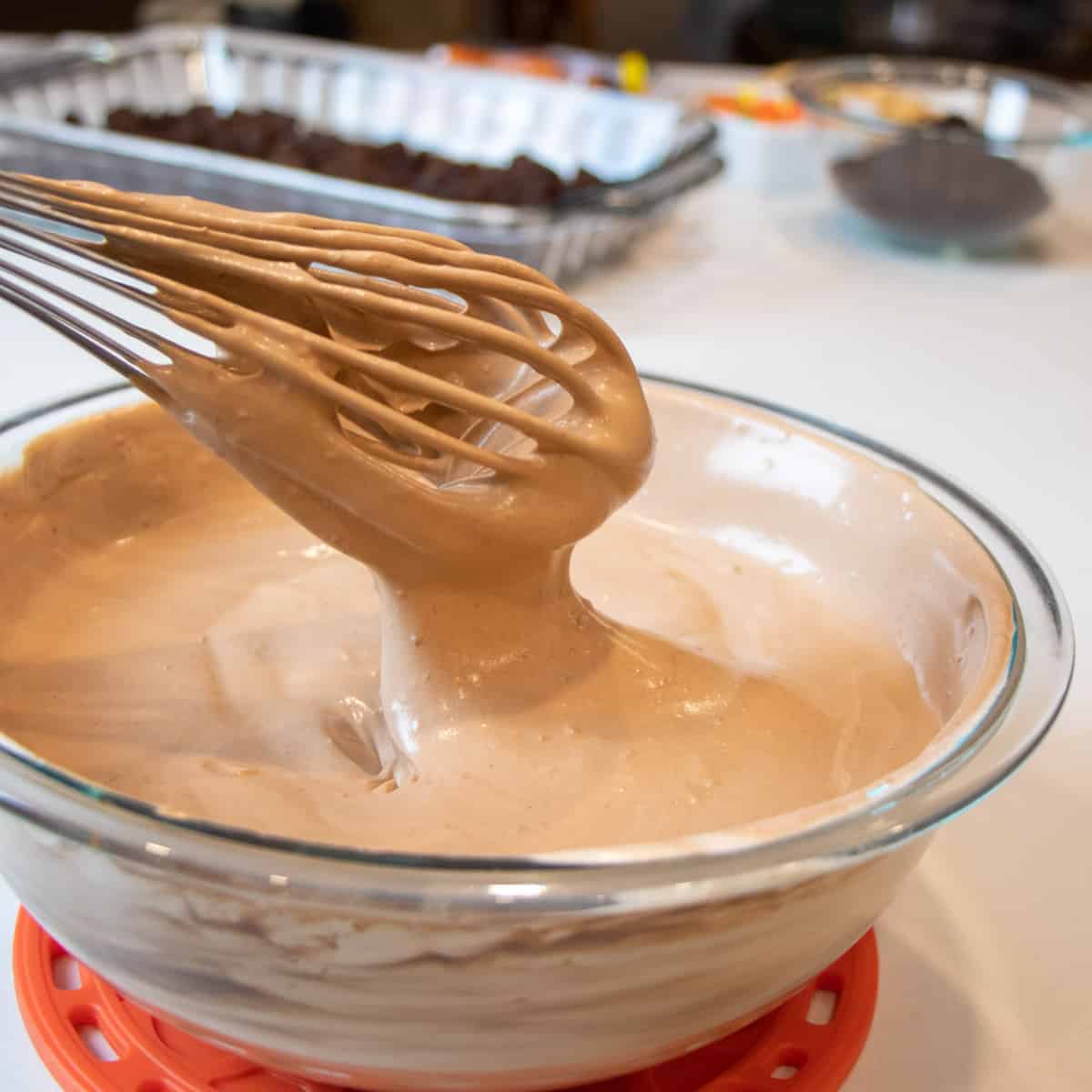 Use a whisk and mix it together to make a nice a fluffy mousse.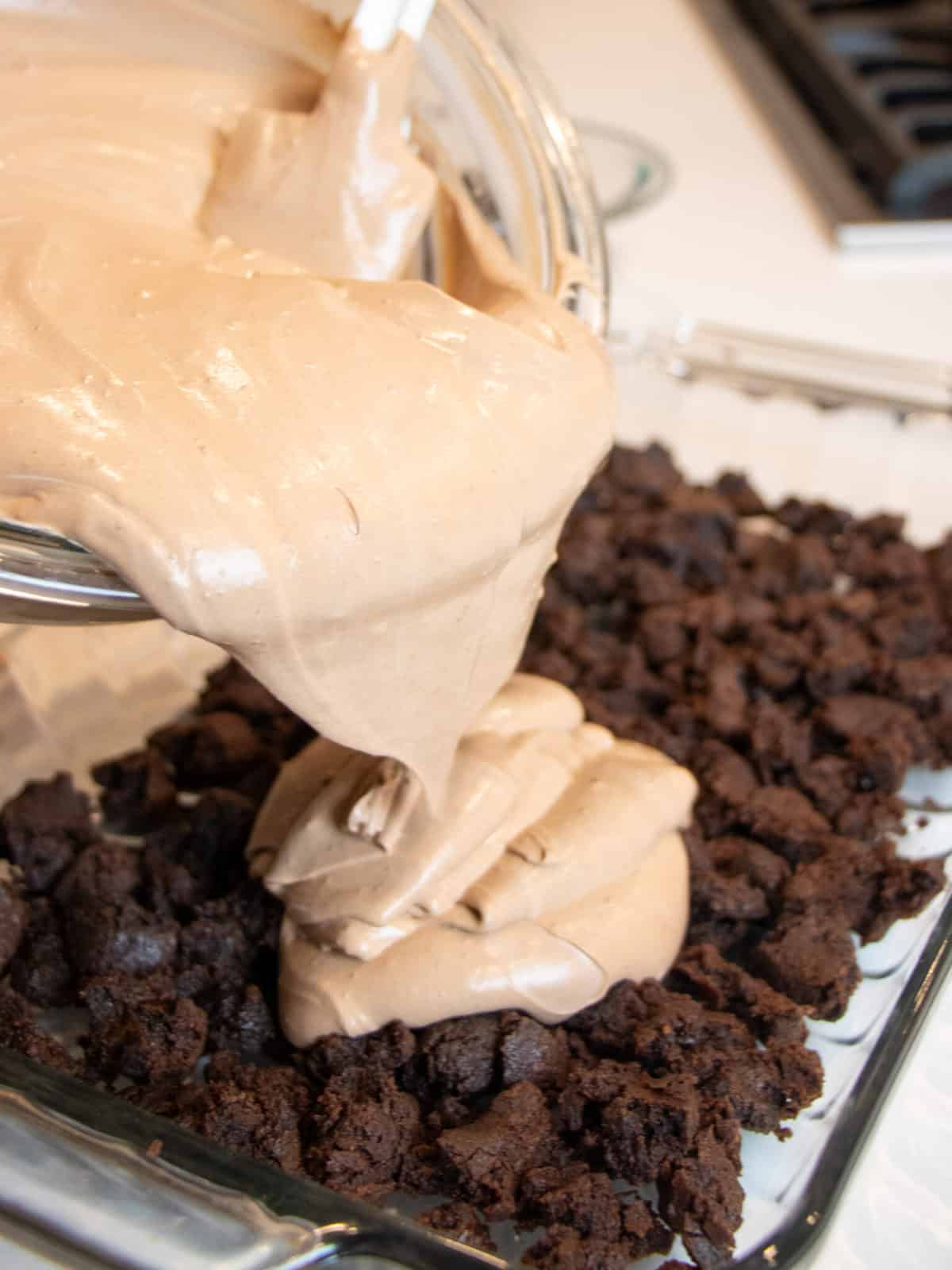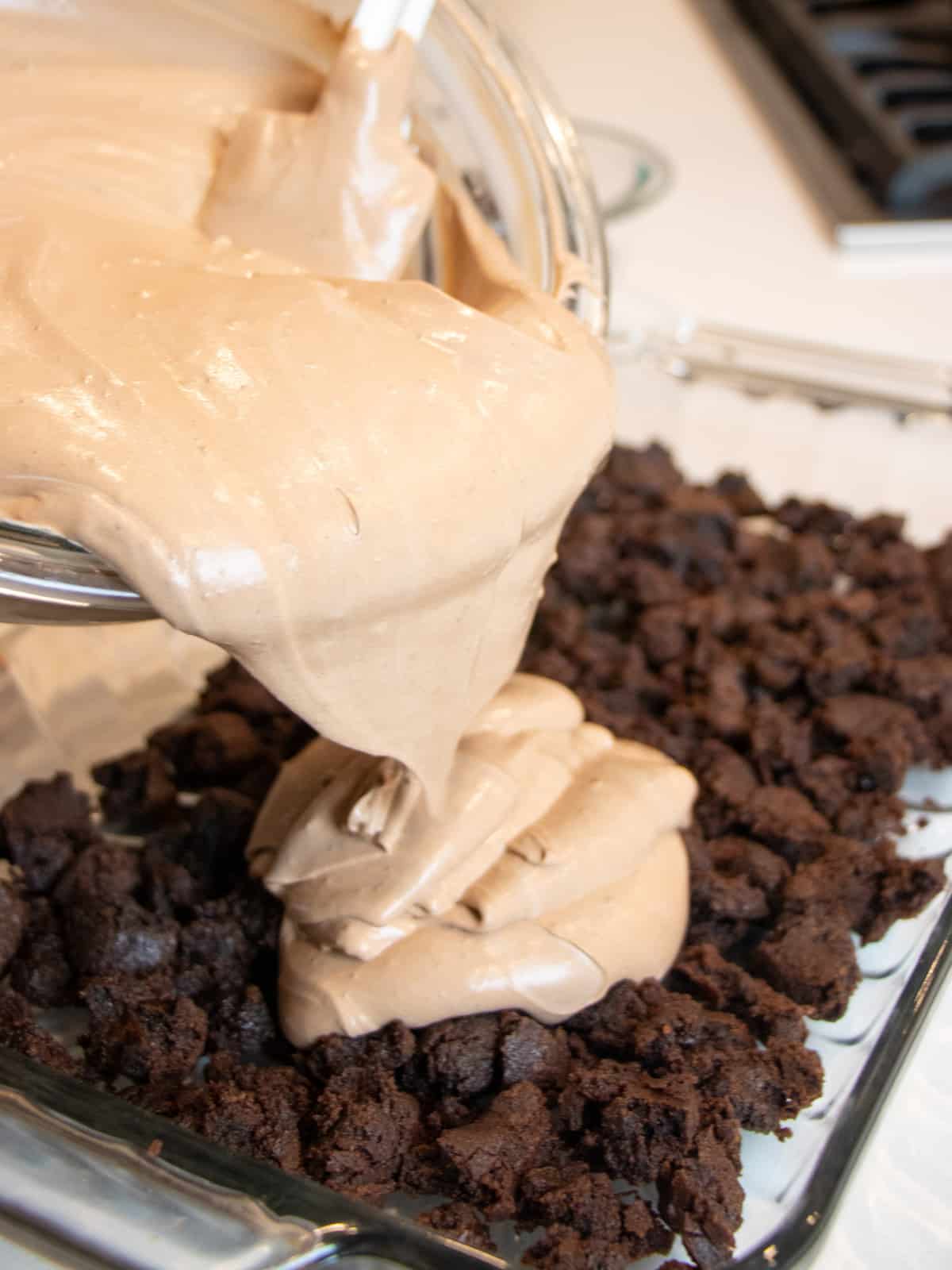 Layer Two: Chocolate Mousse
Pour the mousse evenly across the crumbled brownies with a rubber spatula. This layer of the dessert is light and creamy and a perfect compliment to the brownies.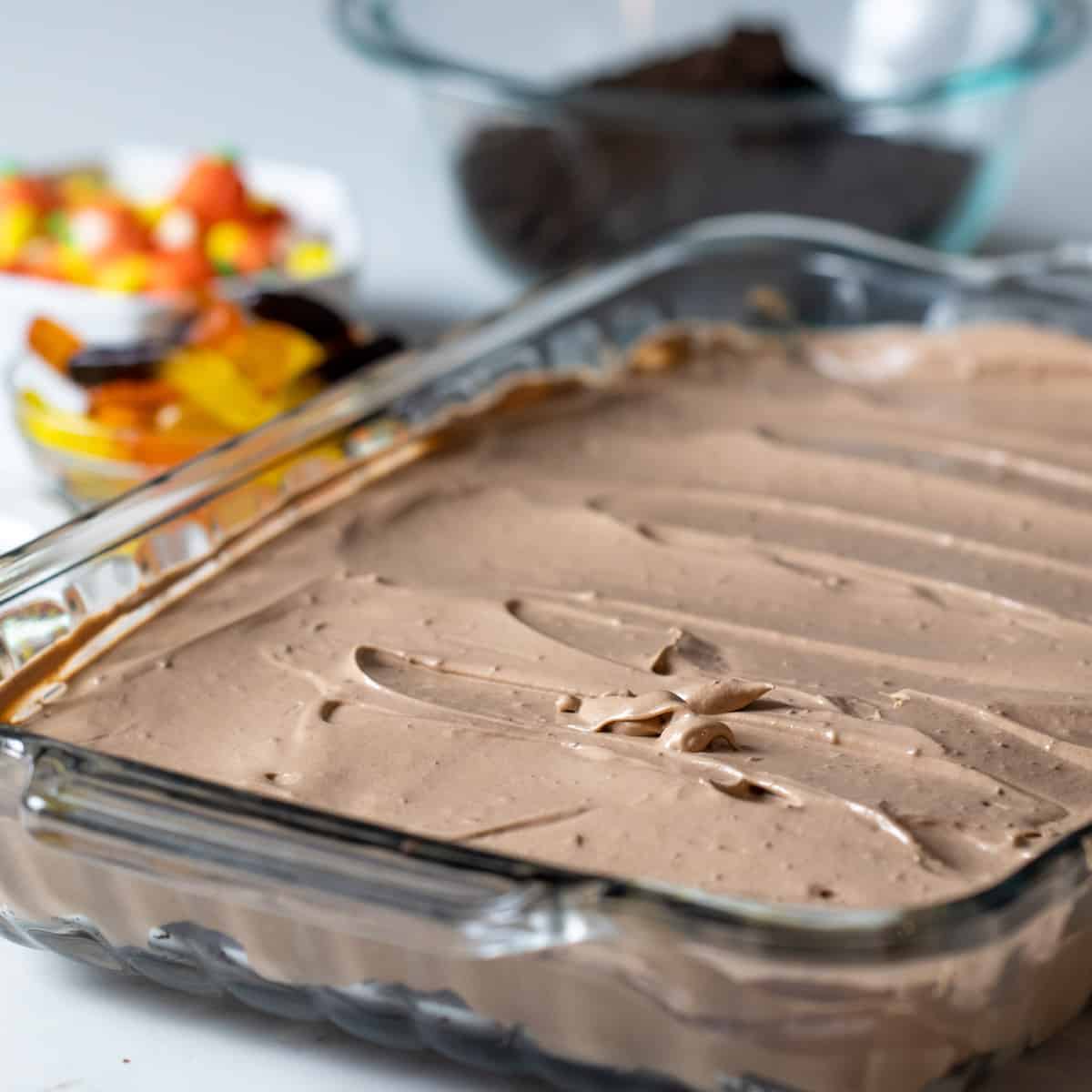 Spread the mousse so that it is a flat and even layer. If desired, you could mix some extra Oreo cookie crumbs into the mousse for some extra crunch.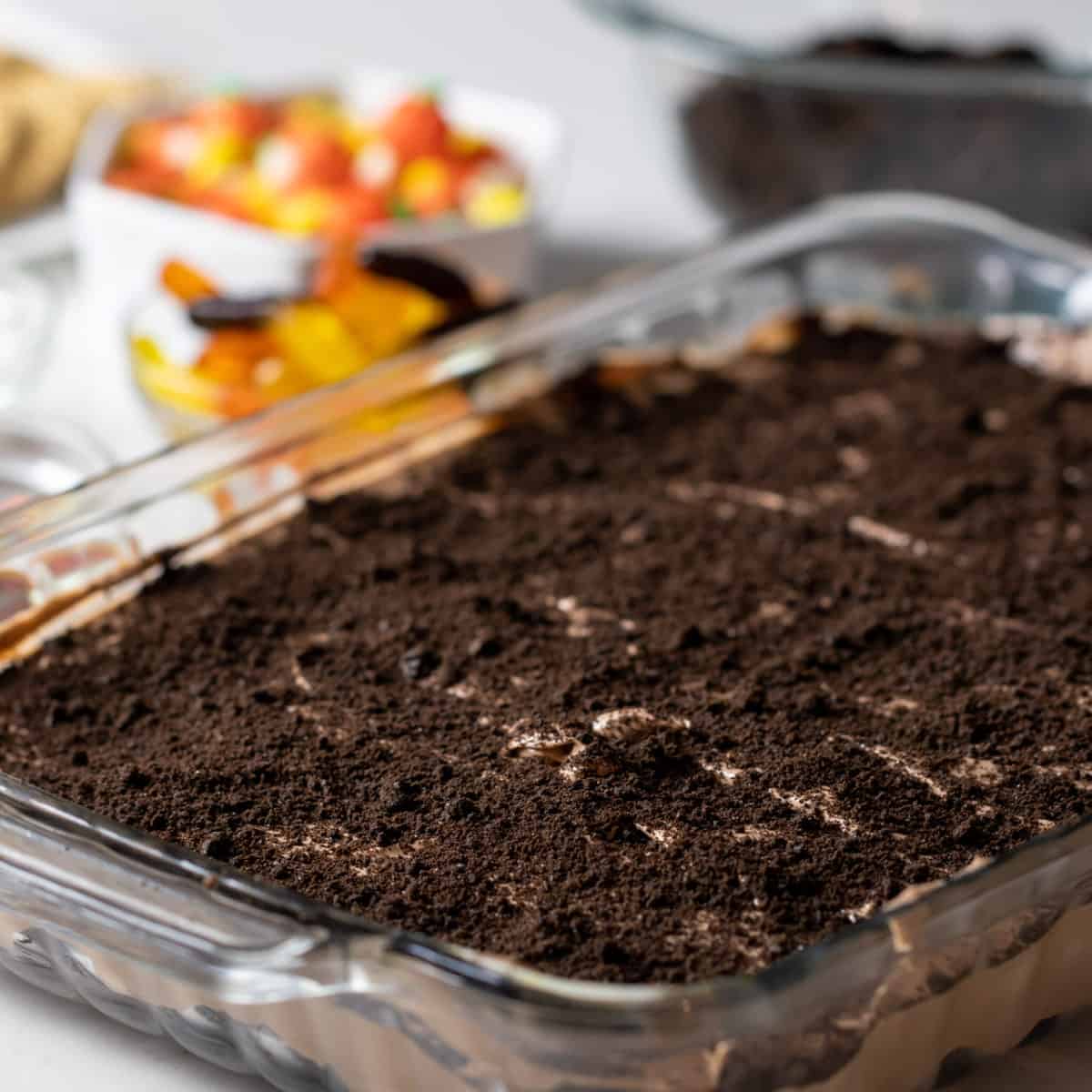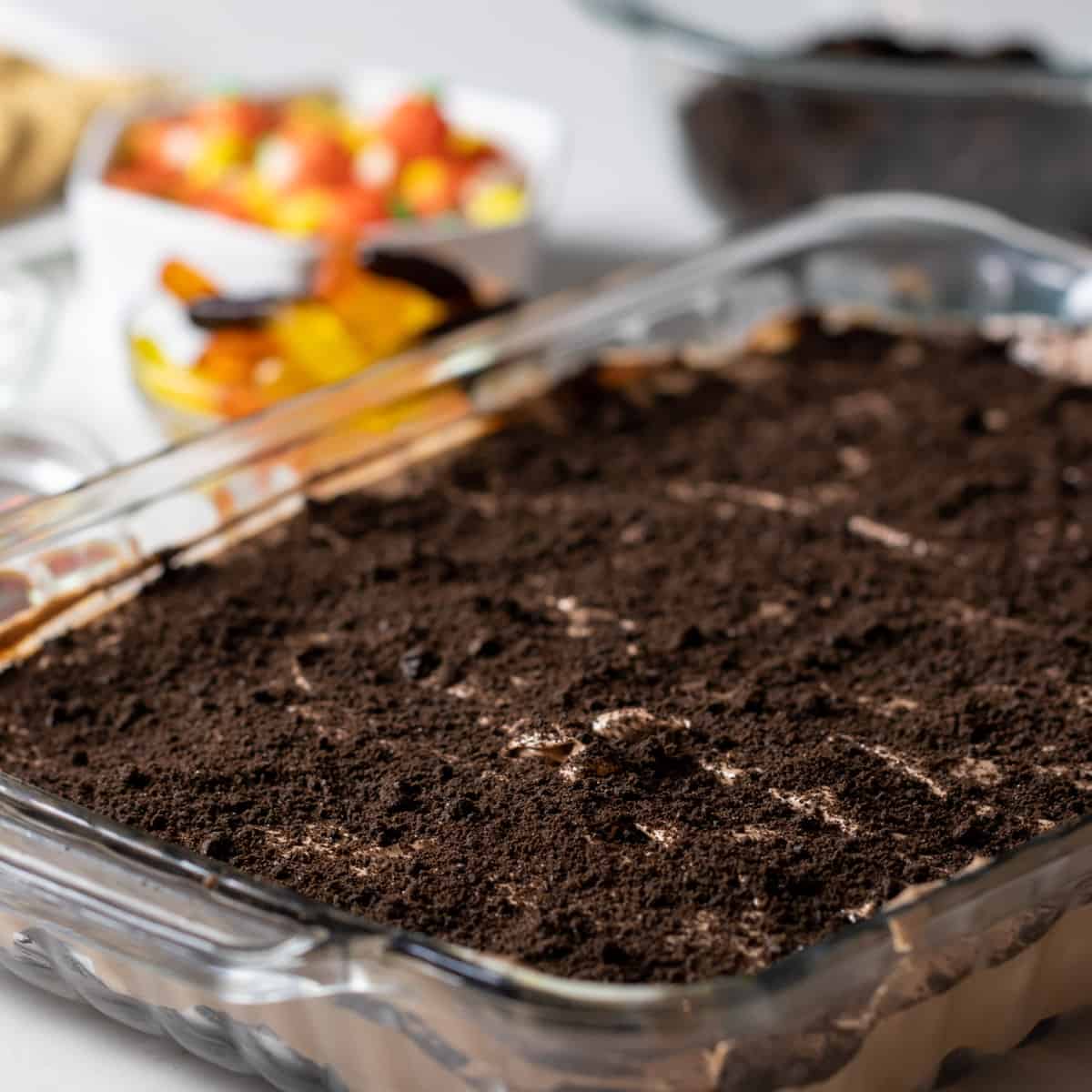 Layer Three: Oreo Crumbs
Sprinkle some Oreo cookie crumbs all over the pudding mixture. This resembles dirt, but it also tastes great and gives the dessert a crunchy texture as well.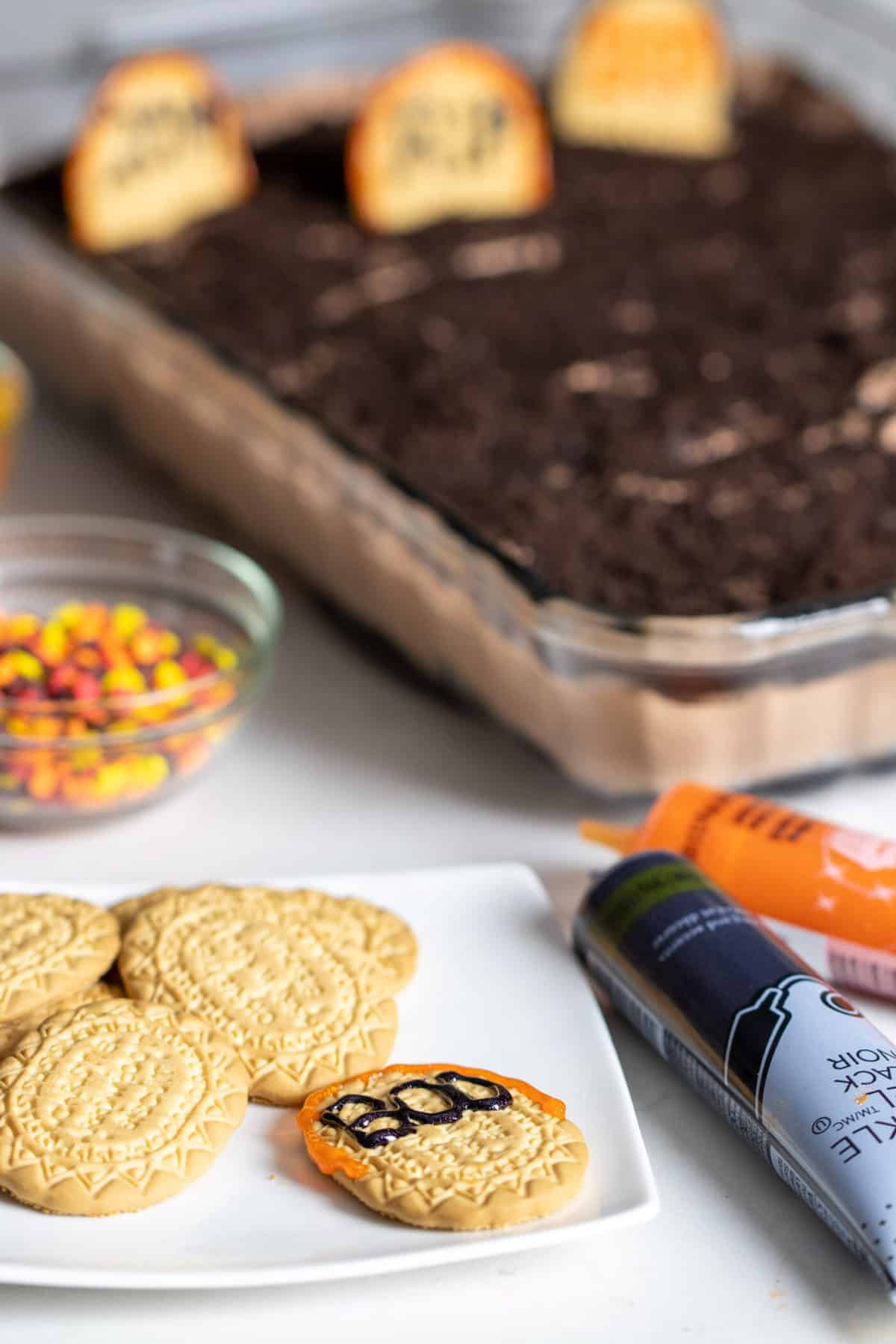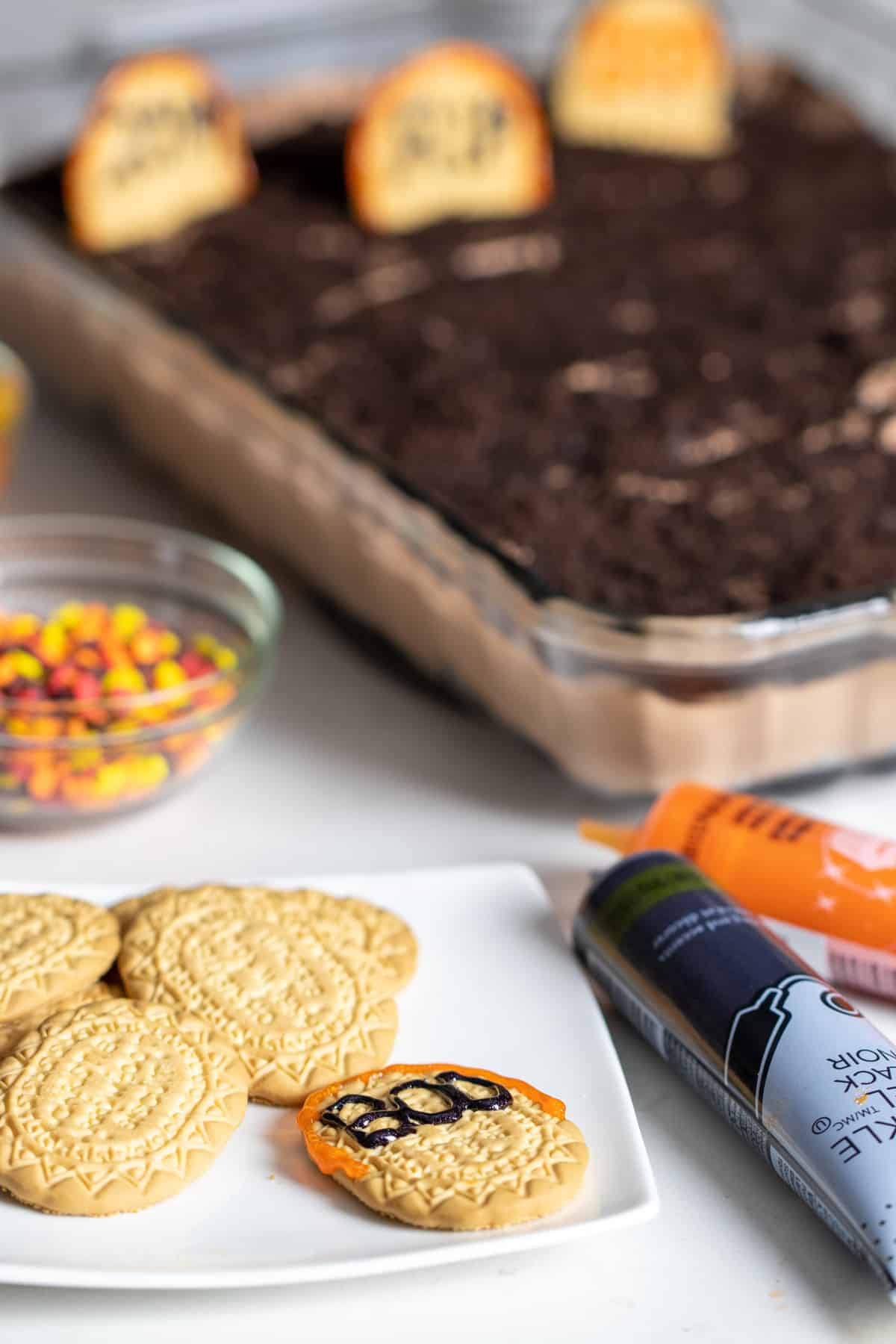 Designing the Tombstones
Arrowroot cookies make awesome tombstones. I use some orange and black gel icing to write some designs on the cookies.
Once you have written some labels, years, or other designs on the cookies, stick them into the pudding about halfway. They should be in far enough, so that the cookies are able to stand up straight and not fall over.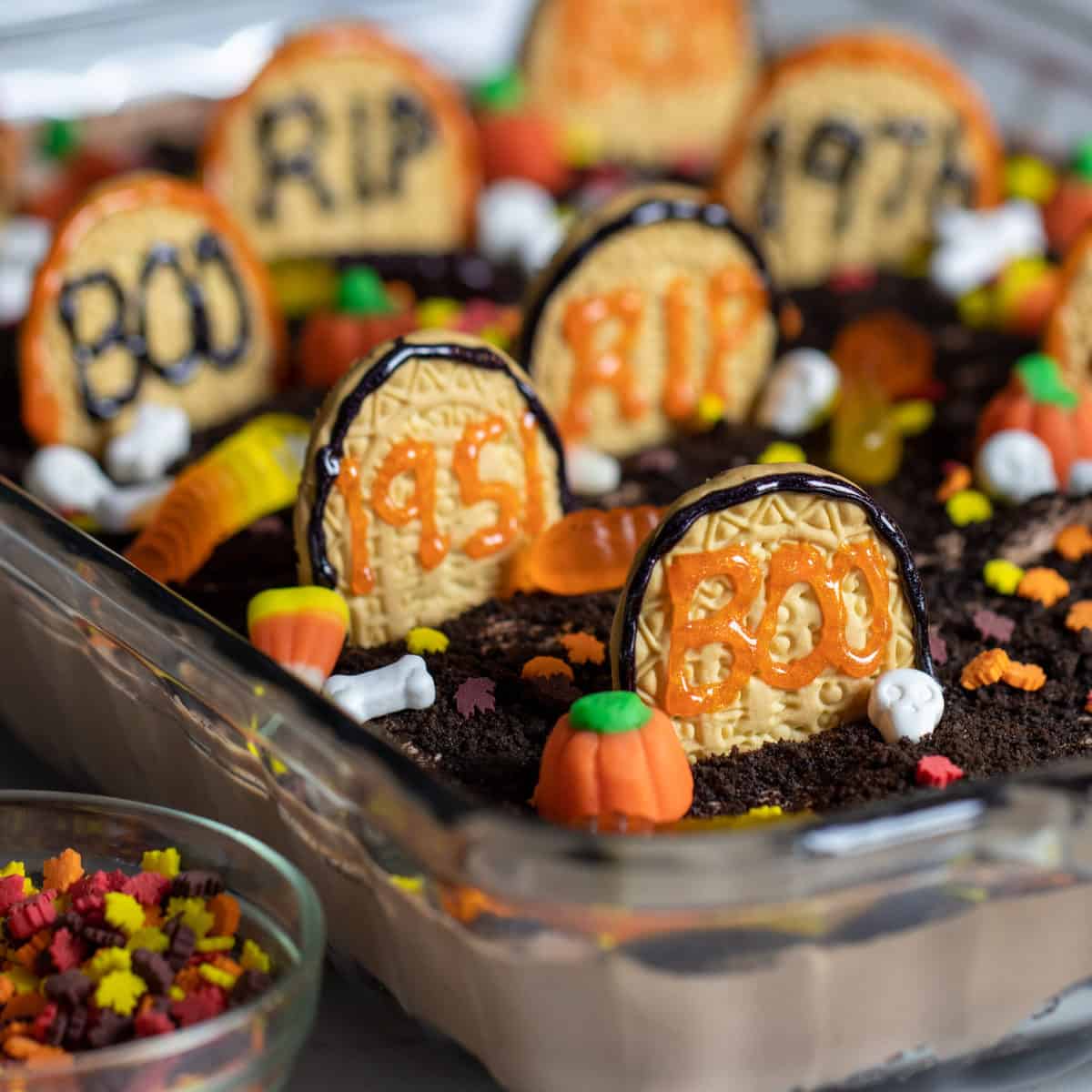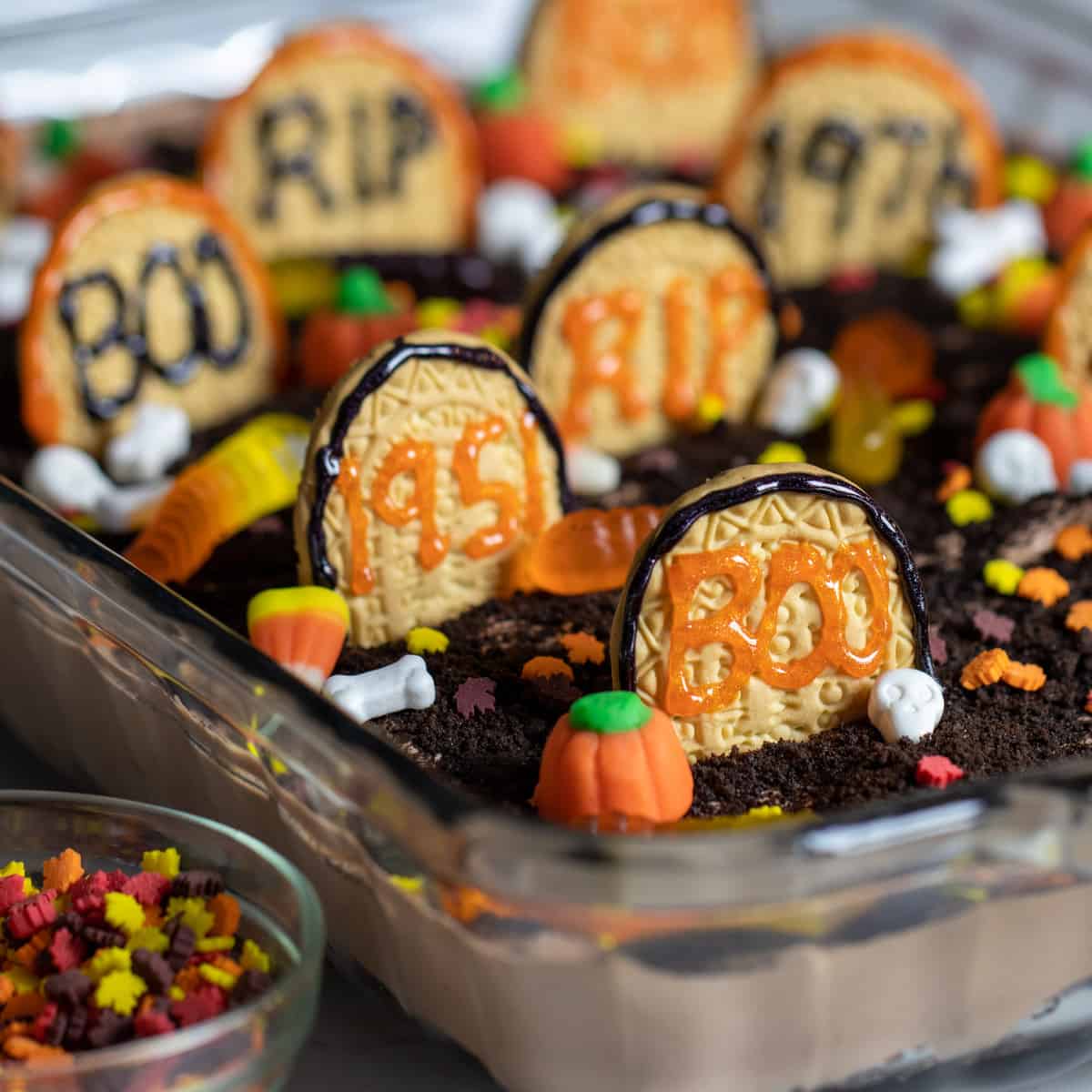 Finally, decorate the Halloween pudding graveyard with some candy that fits the theme. I used candy corn, pumpkins, bones, skulls, gummy worms and autumn leaf quins. This really finishes the dessert off nicely!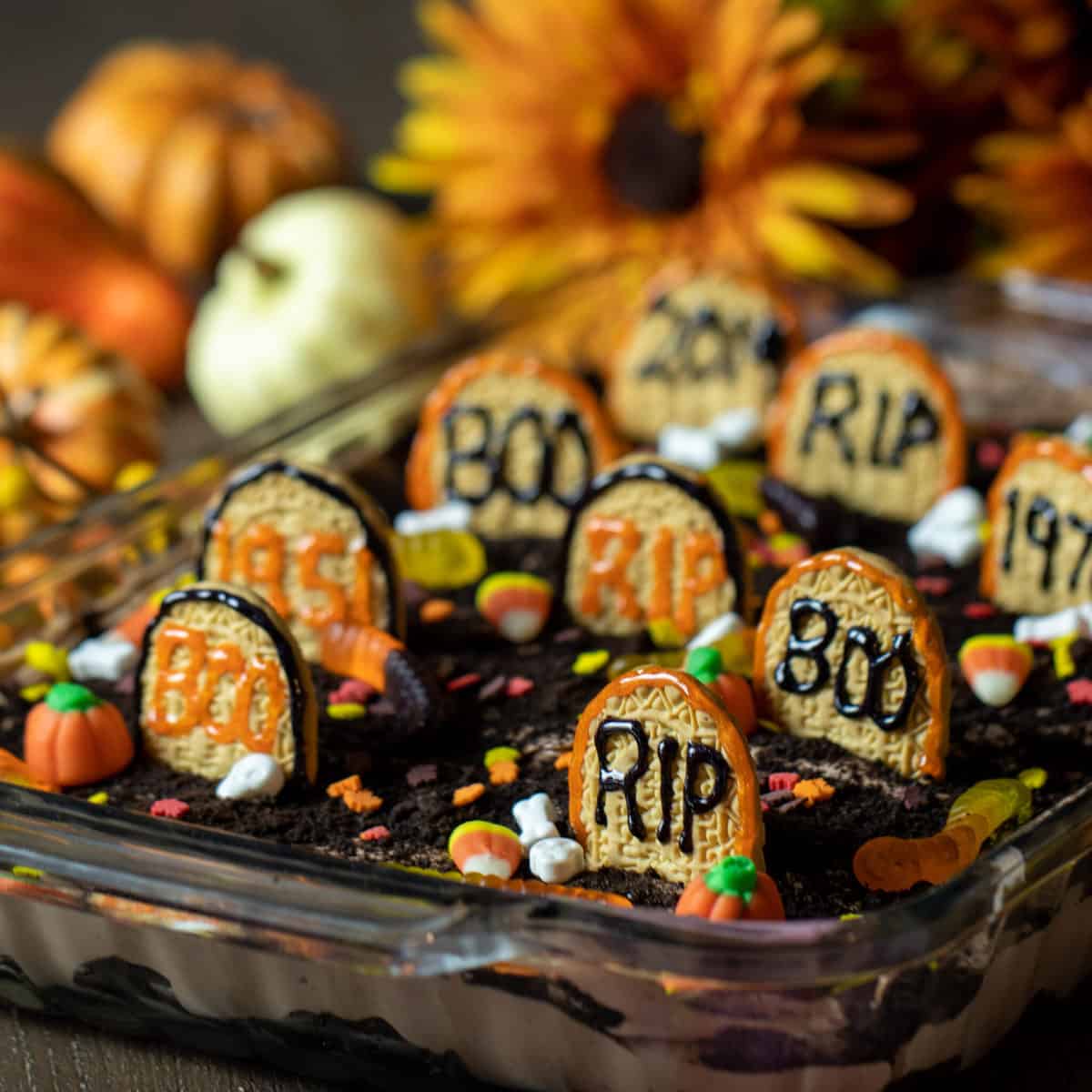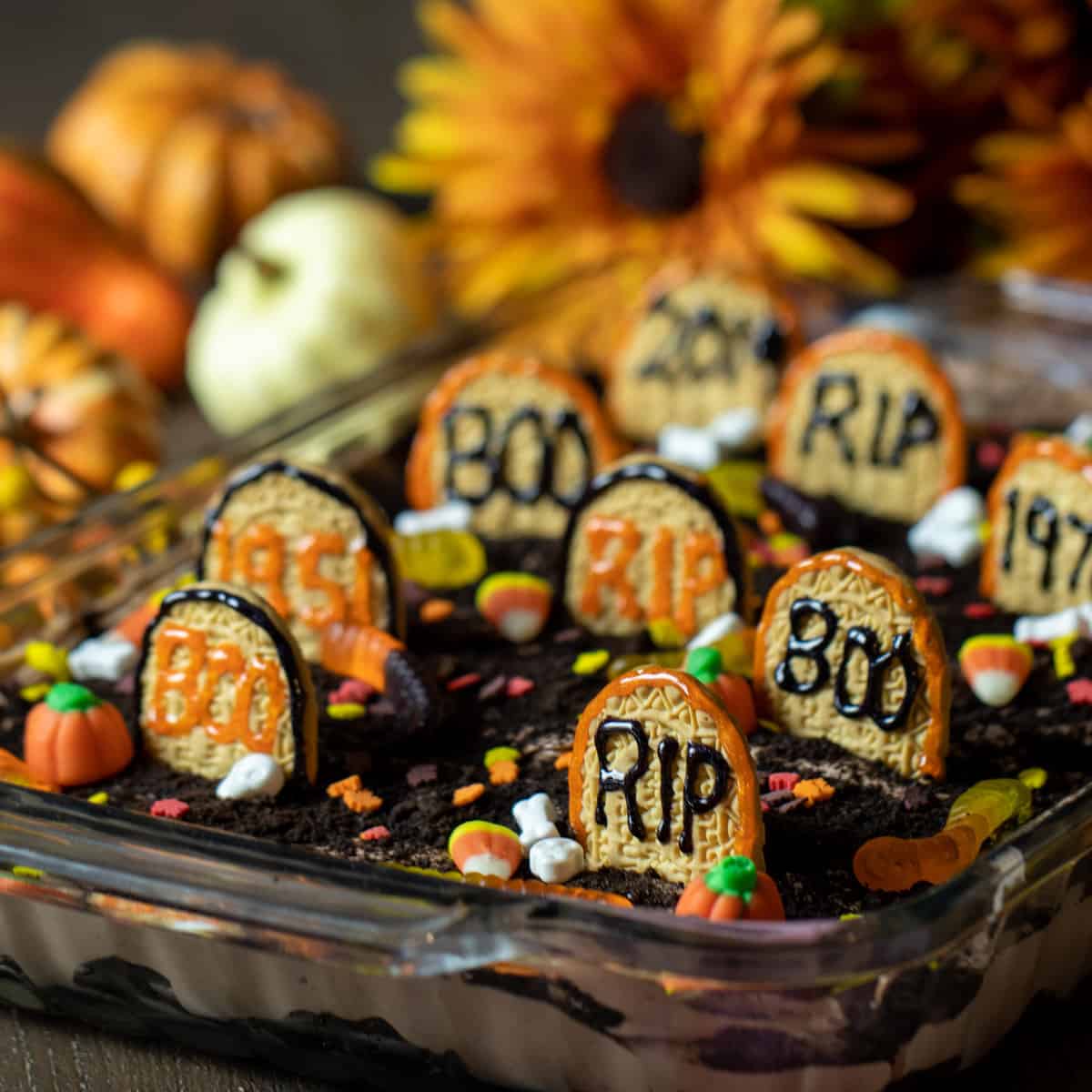 Chill in the Fridge
Once the dessert is assembled, place it in the fridge for about 90 minutes to chill. This will help to firm the pudding mixture up.
Once chilled, it is ready to serve by spooning some of this dessert into a bowl or plate.
Halloween Graveyard Dessert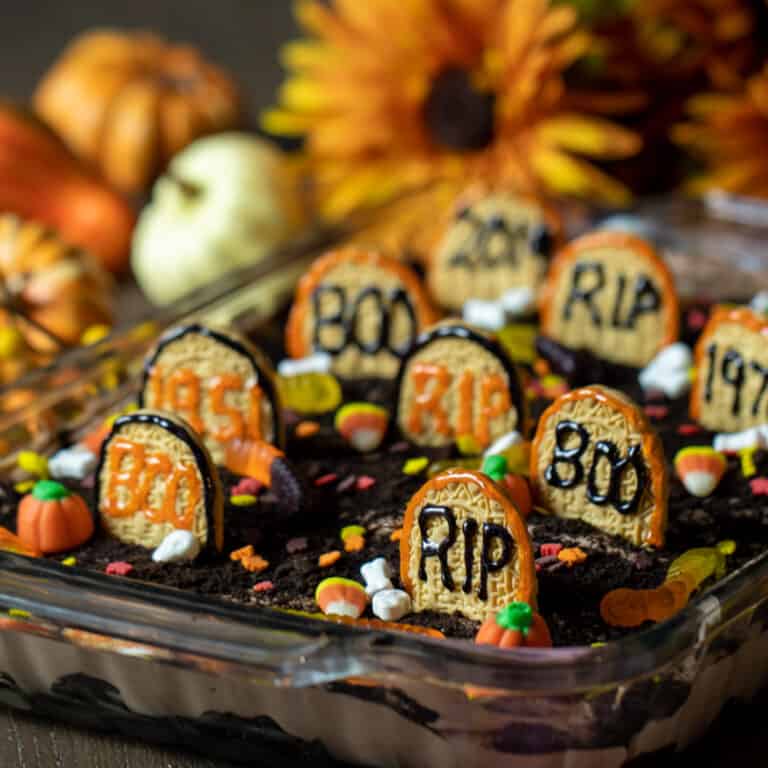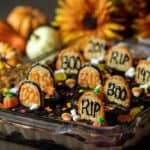 Print
A fun and delicious dessert that is perfect for a Halloween party, after school snack or when you want a spooky treat! Made with mini brownies, chocolate pudding, cookies and halloween candy.
Servings: 10
Ingredients
15 two bite mini brownies , crumbled
2 packages chocolate instant pudding , (4 servings) 113g size
3 1/2 cups milk
1 envelope dream whip or other instant whipped cream
1/2 tsp vanilla
1 cup Oreo baking cookie crumbs
10 arrowroot cookies
gel icing , orange, black or other colours
1/2 cup various Halloween candy , bones, pumpkins, candy corn etc.
Instructions
Spread the crumbled brownies evenly across the bottom of a 13x9 baking dish.

In a large bowl, dump the chocolate instant pudding powder from both packages with 3 cups of milk. Whisk quickly until smooth and creamy.

In another bowl, use an electric mixer to beat the dream whip powder, 1/2 cup milk and vanilla, until it is smooth, thickens and soft peaks form.

Dump the dream whip into the chocolate pudding and whisk until well combined.

Spread the pudding mixture evenly across the crumbled brownies. Sprinkle the Oreo cookie crumbs on top.

Use the gel icing to design the tombstones on the arrowroot cookies. Stick them halfway into the pudding mixture so they stand up.

Decorate with Halloween themed candy like candy corn, pumpkins, bones, gummy worms and more.

Place in the fridge to chill for about 90 minutes.
Notes
Instead of beating a package of Dream Whip, you could also use a tub of Cool Whip instead. Just make sure it is fully thawed and smooth before mixing it with the chocolate pudding.