Halloween Pudding Cup Graveyard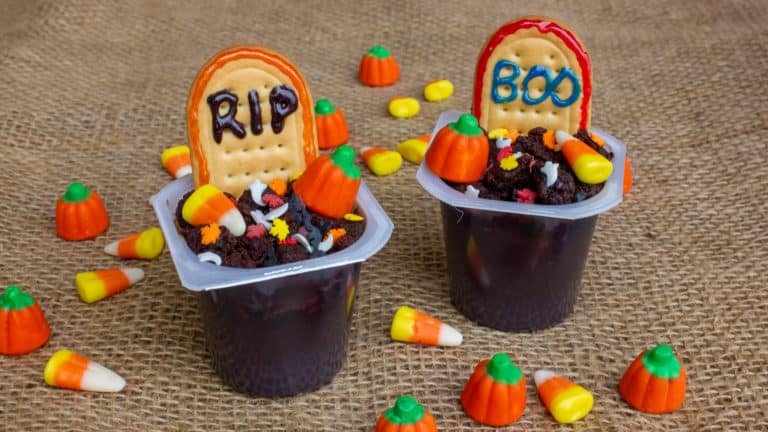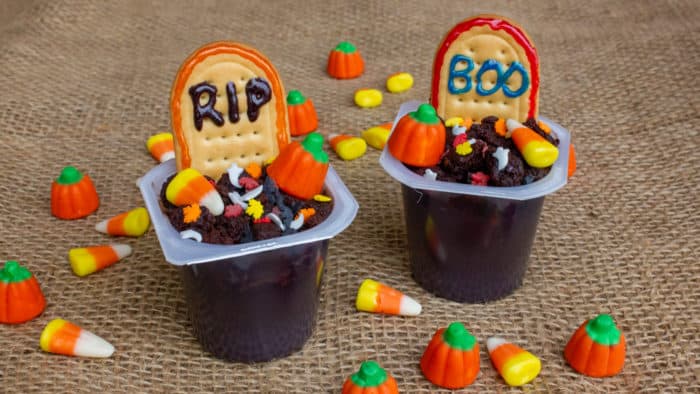 These Halloween Pudding Cup Graveyard treats are so scary fun and always a hit every time we make them. The colours, design and everything about this sweet snack are a blast and 'on point' with Halloween.
Fun for both kids and even adults, these cups are as frighteningly fun to make as they are to eat.
I am able to buy all these ingredients at my local supermarket. Some of the special holiday quin sprinkles and fancy gel icing are easy to find at bulk food stores. Feel free to get creative with different types of Halloween themed candy and treats.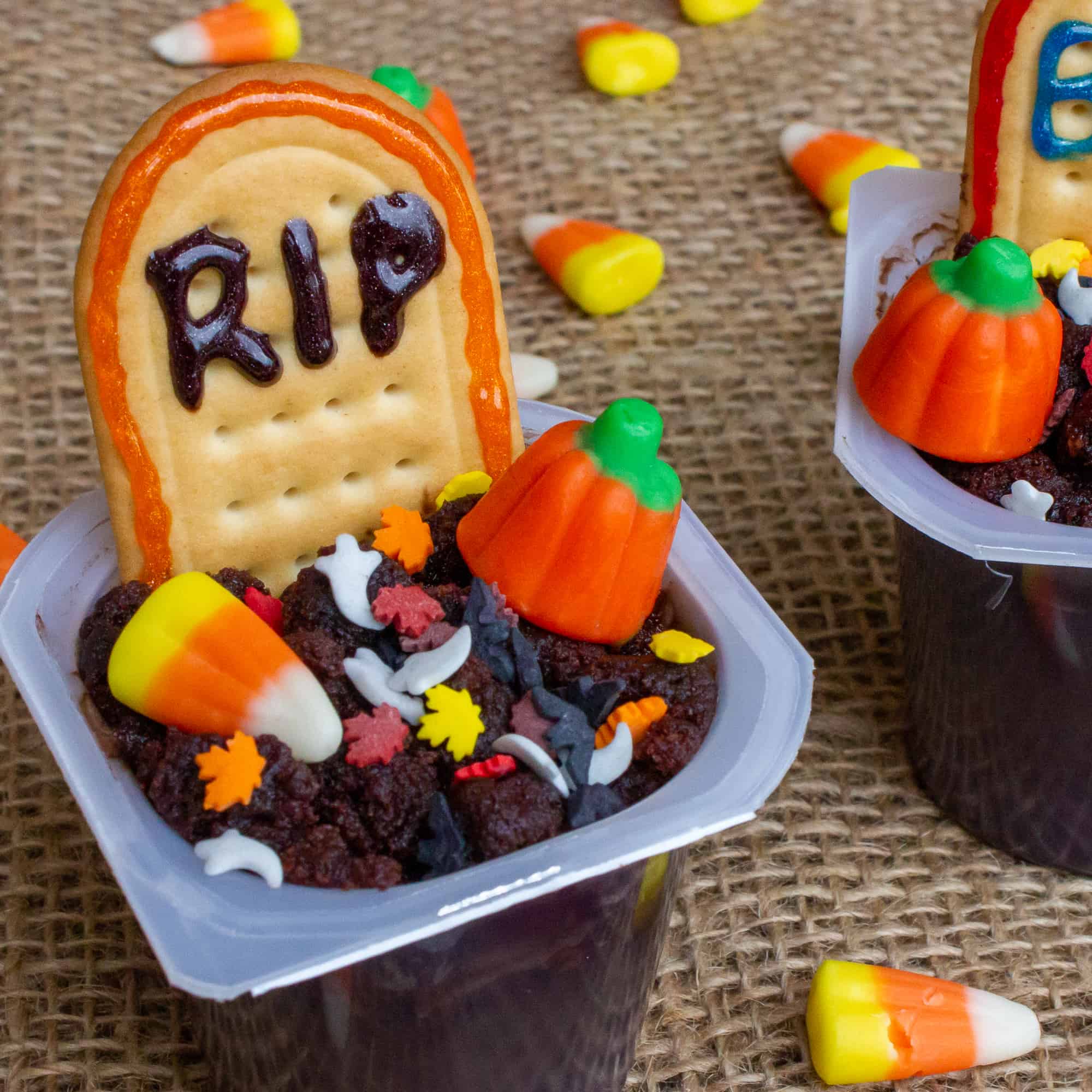 Years ago, I volunteered in one of my kids classes and brought enough of these ingredients for all the kids in the class to make these graveyard cups.
It was a MASSIVE hit and everyone had a blast. On top of that, they taste so good!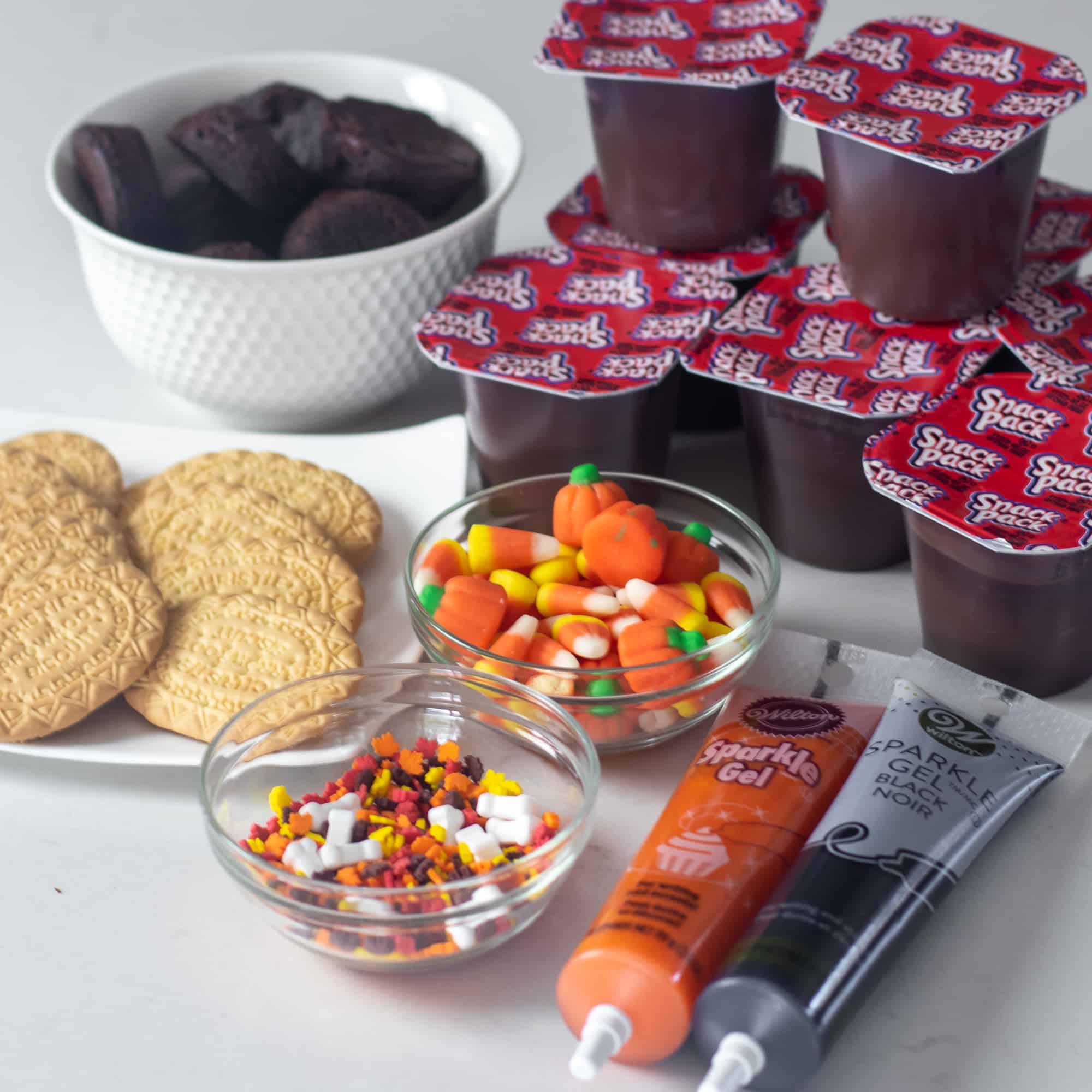 Making these Halloween pudding cups are very easy to do and great for the kids. They love making their own. Everything from designing the tombstone to putting on the sprinkles is a lot of fun. This is a great idea for a Halloween themed party.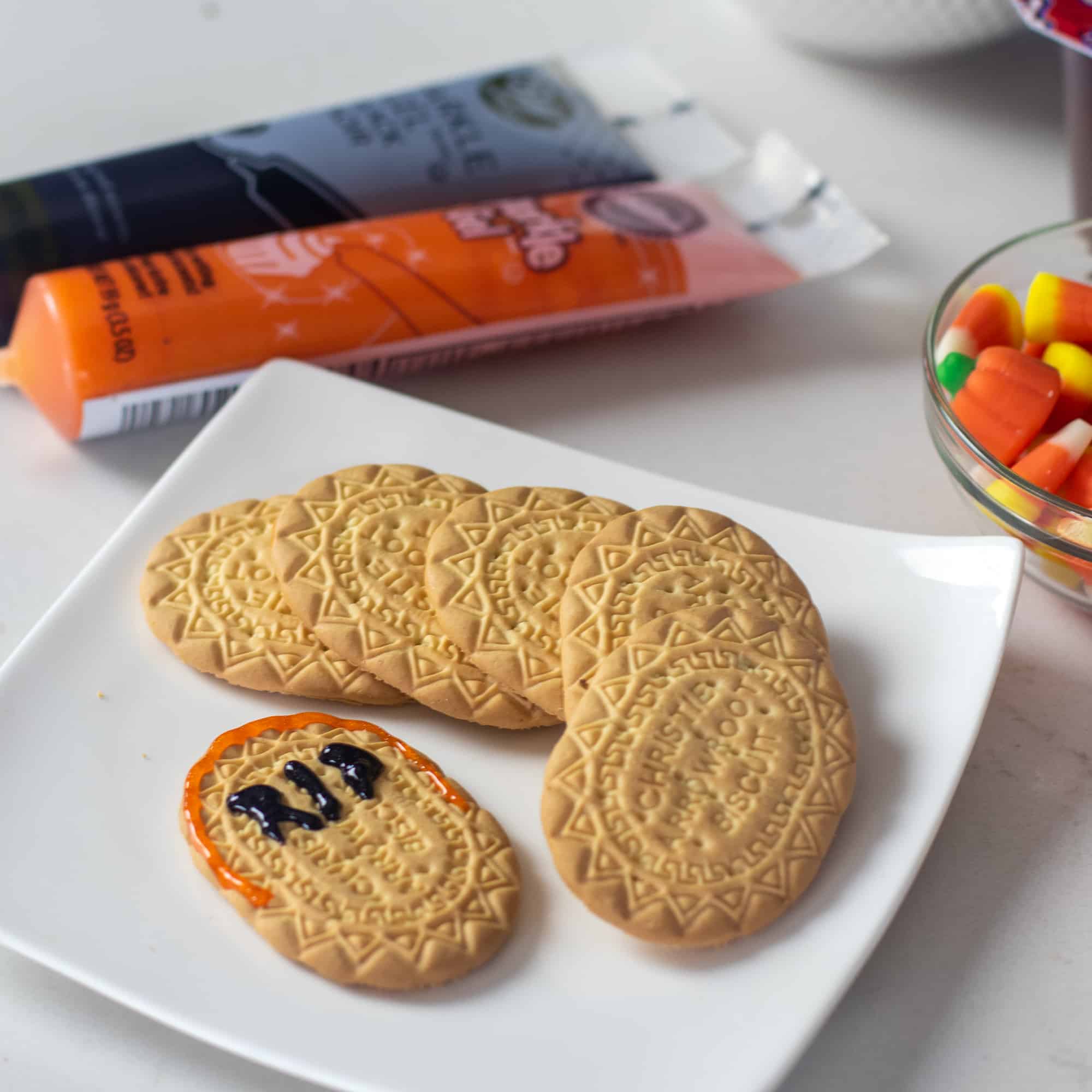 Design the Tombstones
Use the gel icing to design the tombstones. Write on on half of each arrowroot cookie. The other half will be stuck in the pudding and not seen.
There are many different things that you can write. Here are a few ideas:
RIP
BOO
Draw a skull
2019 or some other year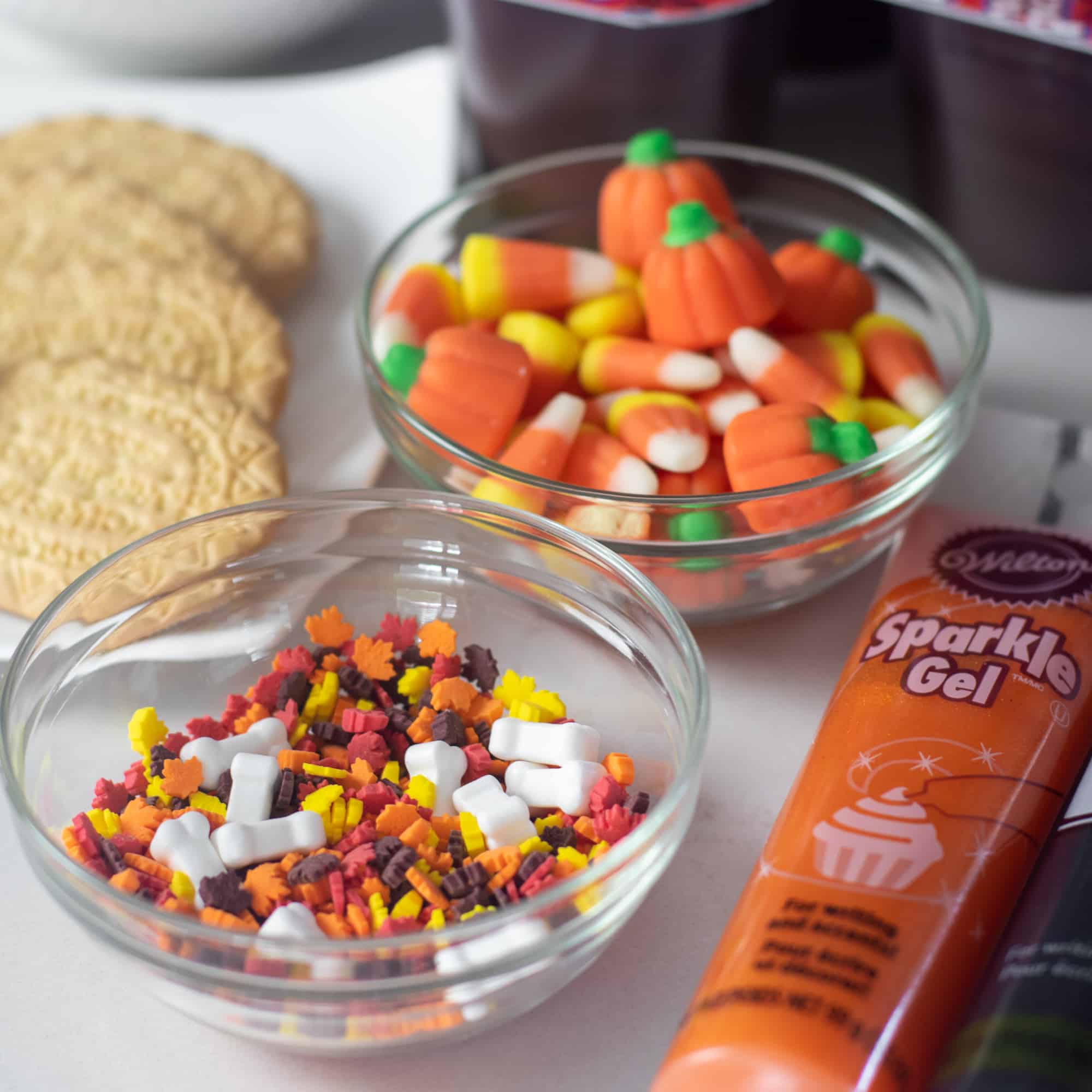 The Candy Toppings are so Much Fun!
The sprinkles, candy corn and pumpkins add a lot of colour and fun to these graveyard treats. For the sprinkles, make sure you get the halloween/fall theme kind. Quin sprinkles are a special type of sprinkle that has a special shape. You can get some that look like leaves, ghosts, bats and more. Plan to have about 1/4 cup of these for the 8 pudding cups.
You will not need as many candy corn or pumpkins. They are much larger, so I only used one of each for every cup.
You can also get creative with all sorts of other types of candies like gummy worms, skulls, bones, eyeballs, monster hands and more!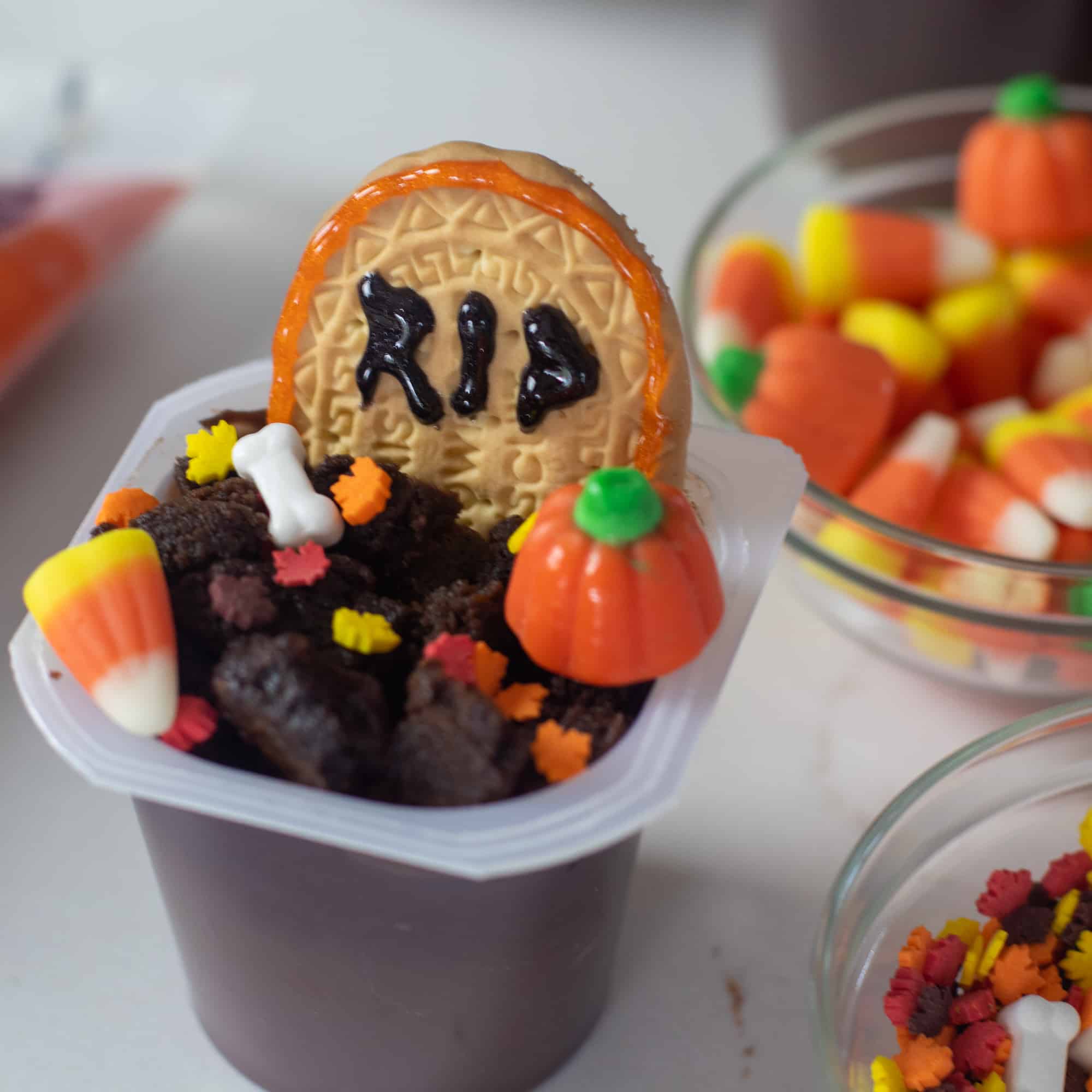 How to Assemble the Halloween Pudding Cup Graveyard
Putting it all together is very simple. Stick the tombstone halfway into the pudding cup. I like to stick it in the back of the cup.
Take a two bite brownie and crumble it on top of the pudding, in front of the tombstone.
Place a candy corn and pumpkin on top and sprinkle some of the seasonal quins on top.
Do the same with all 8 pudding cups.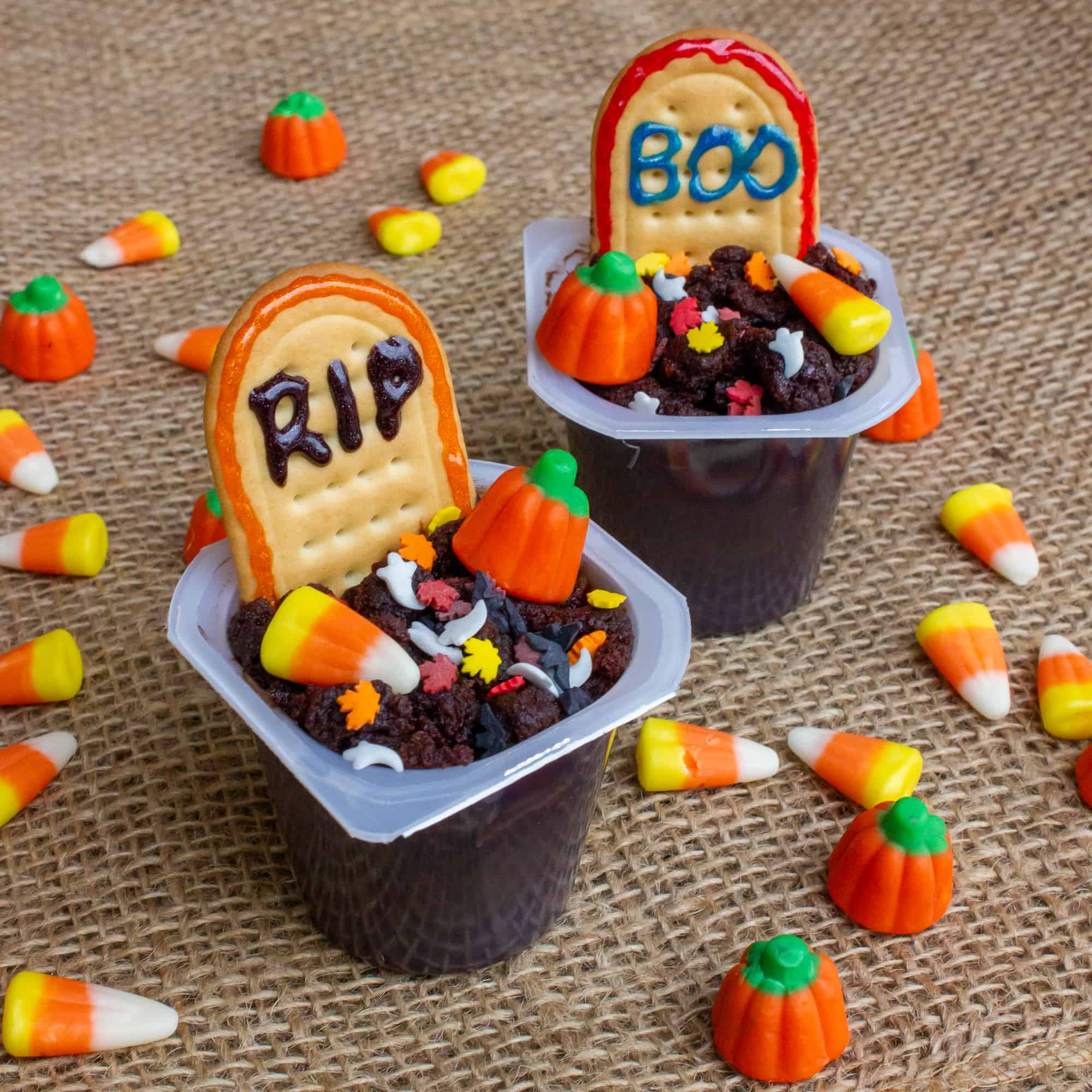 These are great for the time leading up to Halloween. They are great for an after school treat. You will be a super popular parent if your kids bring some friends home after school and you let them all make this treat.
They are perfect for October birthday parties, Halloween or school events.
Halloween Pudding Cup Graveyard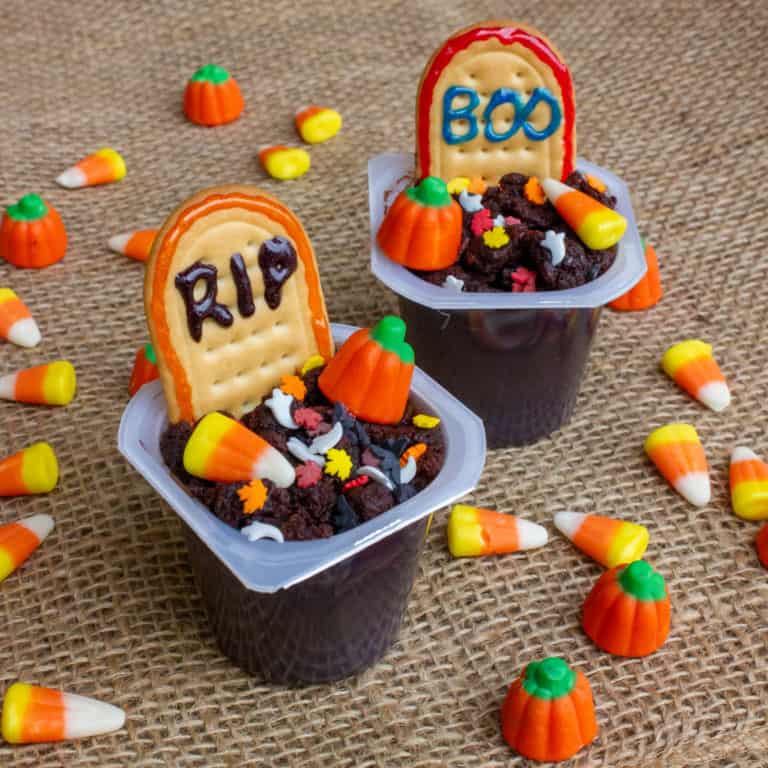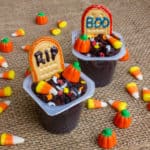 Print
These Halloween pudding cup graveyard treats are the perfect single serving dessert for Halloween. This recipe is very easy to make with Jello Pudding cups.
Servings: 8
Ingredients
8 chocolate pudding cups
8 two bite brownies
8 arrowroot cookies
8 candy pumpkins
8 candy corns
1/4 cup Halloween quin sprinkles
gel icing
Instructions
Use the gel icing to write on the arrowroot cookies to design the tombstones.

Lift the lid off a pudding cups. Stick one arrowroot cookie halfway in each pudding up.

Crumble a two bit brownie in each pudding cup to resemble dirt.

Top with a acndy pumpkin, candy corn and quin sprinkles.