How to Make Cold Brew Coffee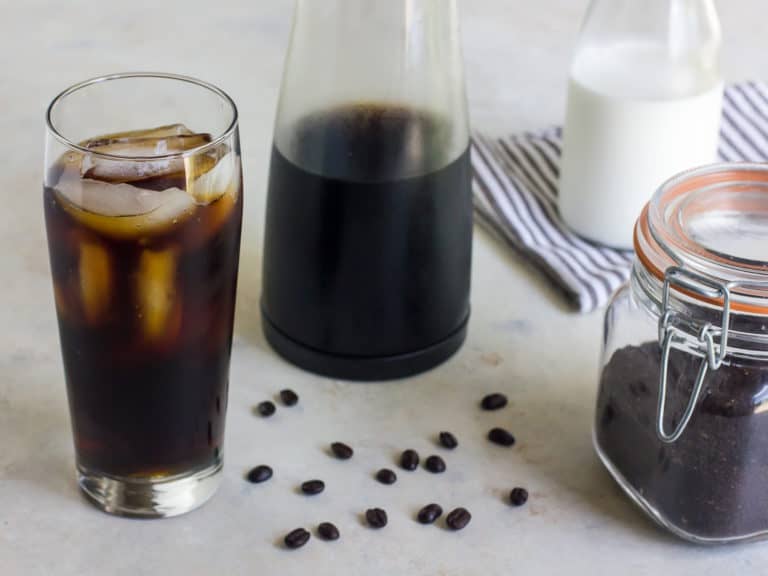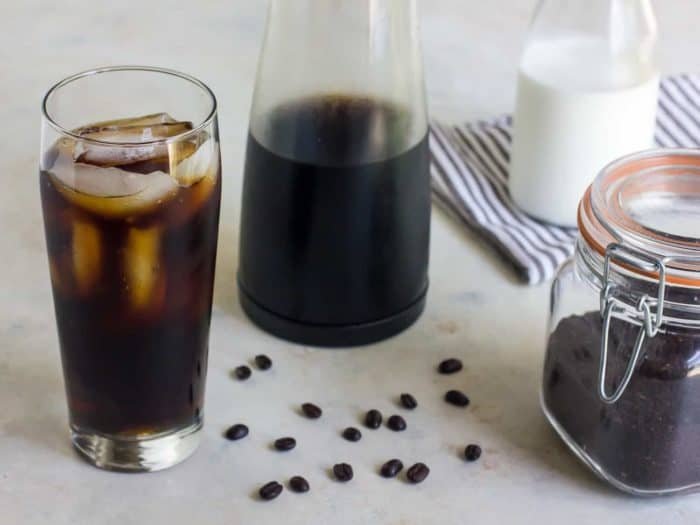 Cold brew coffee is my new favourite summer drink. I first had it a few years ago when I found a bottle of cold brew in a grocery store. I had never heard of it then, but since then, it has really grown in popularity!
Smooth in flavour, cold brew coffee has no bitterness, but natural hints of sweetness. For years, I had enjoyed iced coffee, but since tasting cold brew, it is by far, my preference.
Cold brew coffee is easy to make and done without a coffee machine. All you need to do is mix the coffee grounds with water and let it steep in the fridge overnight. Yep, it's that simple!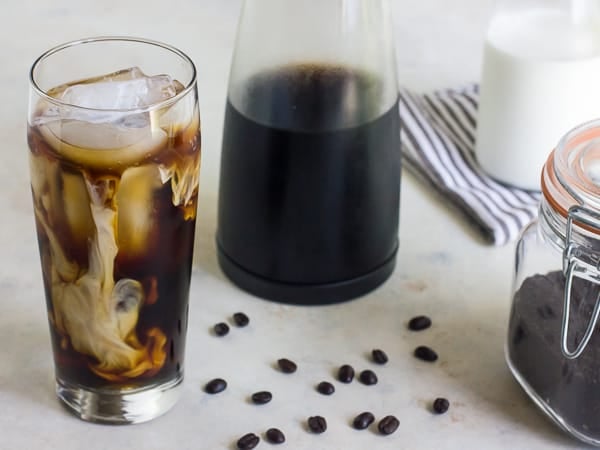 The coffee beans used to make cold brew has a massive impact on the final taste of the coffee. I like to use medium roast coffee beans that are coarsely ground. If possible, grind it just before you make the cold brew, but if you do not have a coffee grinder, you can get the coffee shop to grind the beans for you.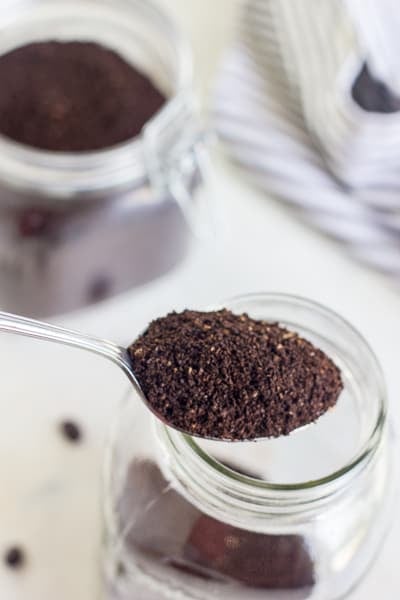 I use a mason jar to make cold brew. A 1 litre (1 quart) jar is large enough for 3 cups of cold brew coffee. First, you need to scoop 3 ounces of coffee grounds into the mason jar.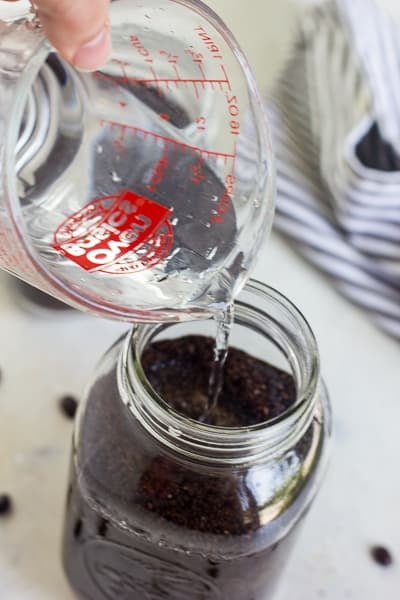 Then, pour the water into the mason jar. For 3 ounces of coffee grounds, you should add 3 cups of water.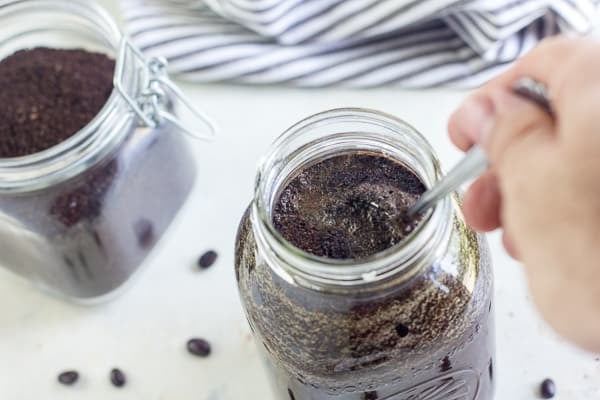 Give it a good stir, then, put the lid on the mason jar and place it in the fridge. Cold brew coffee takes 24 hours to brew in the fridge. I know some people who let it brew at room temperature which does not take as long, but I have always done it in the fridge and love the results.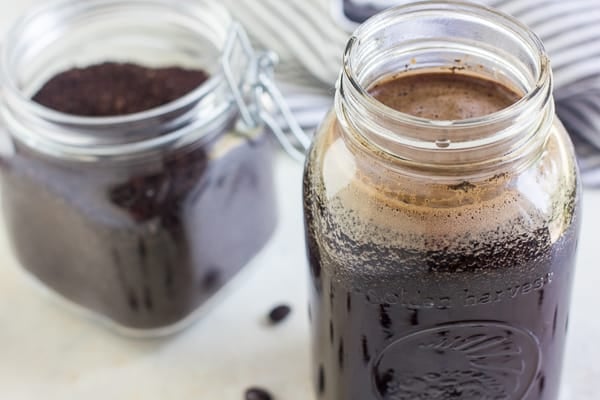 After 24 hours of cold brewing, this is what the coffee looks like (above photo). Now the coffee is ready to be strained.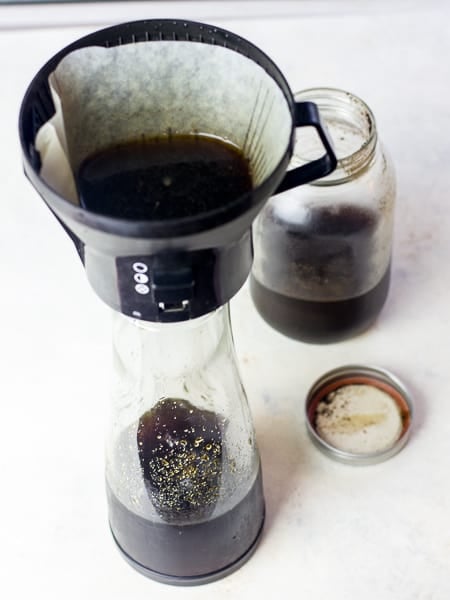 I have a Technivorm Moccomaster coffee machine and use that filter basket. This basket uses a cone filter and fits perfectly on the pitcher for my cold brew coffee. Straining the grounds from the coffee takes a bit of time, probably around 10 minutes.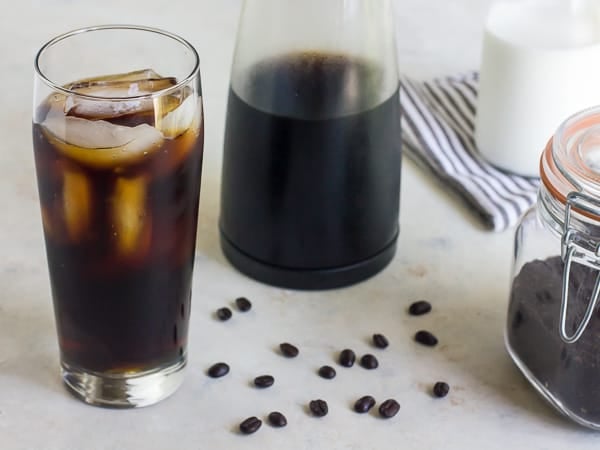 Once strained, the cold brew coffee is ready to drink. Pour some in a glass filled with a few ice cubes. Cold brew coffee is actually fairly strong and concentrated, so you may want to add a little extra water to the glass. For 1 cup to cold brew, I find that 1/2 cup of water makes the perfect taste of coffee.
If you like your cold brew coffee sweet, you will probably want to use simple syrup. Sugar granules do not dissolve well in iced coffee, so simple syrup is a great way to add some sweet!
To make simple syrup, add 1 cup of sugar and 1 cup of water to a small saucepan. Heat on medium low, stirring often, until the sugar completely dissolves. Remove from heat and cool. Store in the fridge in a small squeeze bottle or other container. Pour some of this into your cold brew to your desired level of sweetness.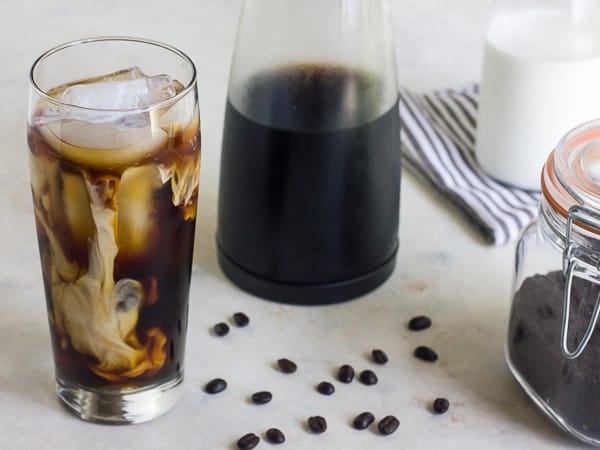 If desired, pour in some coffee cream. I love watching the cream slowly streak through the cold brew coffee!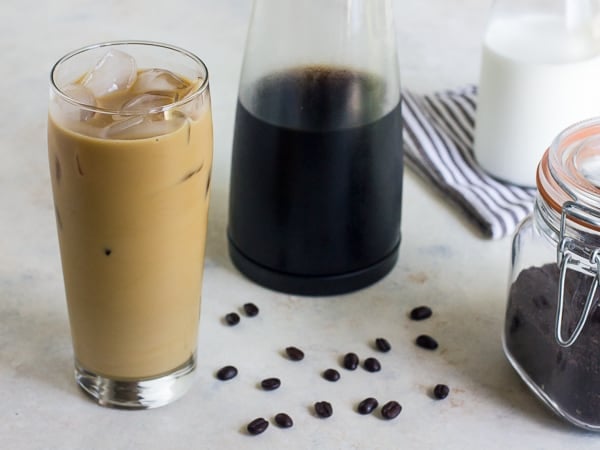 During the warm months of the year I find that I drink cold brew coffee way more than hot coffee. I seem to always have a pitcher full of cold brew and a mason jar brewing a new batch in the fridge.
How to Make Cold Brew Coffee Recipe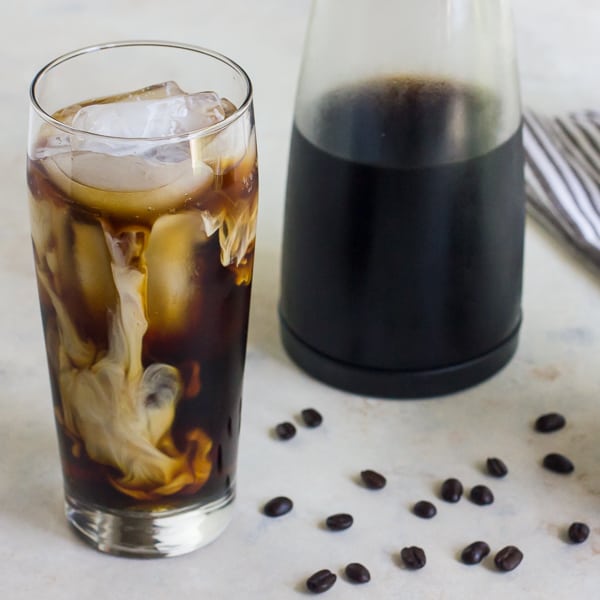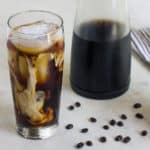 Print
Cold brew coffee maker recipe that is simple to prepare. Refreshing summer drink of iced coffee. Smooth with no bitterness. Serve with simple syrup, cream or milk.
Servings: 3 cups
Ingredients
3 ounces coarse coffee grounds
3 cups water
Instructions
Scoop coffee grounds into a 1 litre mason jar. Pour in water and stir.

Seal with mason jar lid and place in the fridge for 24 hours.

Strain cold brew coffee through a paper coffee filter.

Pour cold brew coffee in a glass with ice cubes. Add a little more water to dilute coffee to your preference. For 1 cup of coffee, I add about 1/2 cup more water.

If desired, stir in some simple syrup (or sugar), cream or milk.

Enjoy!