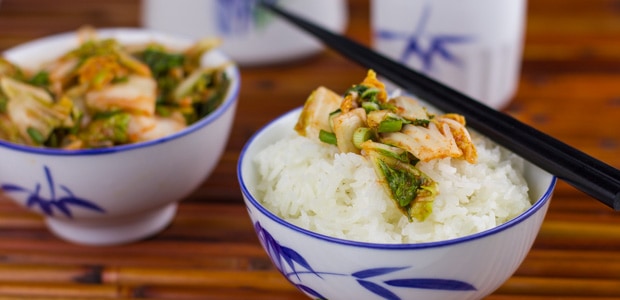 Have you ever tried kimchi before? If you have not, then you need to try it. Kimchi is a condiment and is traditionally part of Korean cuisine. Well, saying condiment is not really fair, as it is much more than that. Kimchi is actually Korea's national dish. Dating back more than 3,000 years, kimchi is such a major part of Korean culture, that when people pose for a photo, they say "kimchi" instead of "cheese". Kimchi has been around for centuries and like any other popular dish, there are countless varieties. Versions can vary depending on the region, season or family, as everyone has their own way to make kimchi. Kimchi is also used as an ingredient in many other Korean dishes like soup, stew, pancakes, salad and more.
One thing I learned recently about kimchi is that, in Korea, you can purchase a kimchi fridge. Yes, there is a fridge devoted to kimchi and this should tell you how significant this dish is to the people of Korea. In 2004 there was a survey done by a major Korean media agency and the kimchi fridge was voted as the number one most important appliance in the Korean kitchen.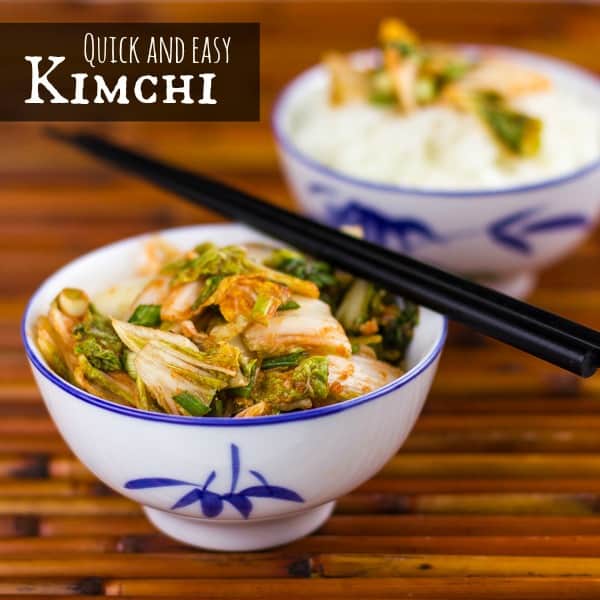 The main ingredients of kimchi are napa cabbage, scallions (green onions), chili peppers and garlic. The process of making kimchi is thorough and time consuming. Kimchi, like sauerkraut, is fermented. Napa leaves are soaked in a salt water mixture for a couple of hours. They are then rinsed and mixed with a spicy chili paste and left out, at room temperature, for a couple of days. It is not hard or difficult work, but it takes time as you wait for the kimchi to ferment. After the kimchi has been out and fermented, it is sealed in a jar and placed in a fridge for up to a month. Most people say that kimchi is best when it is left for a long time.
Since kimchi is such a long and thorough process many will not even try to make it. I am in that camp as well. Sometimes I am in the mood for the taste of kimchi but did not think of that days ago to start making it. Therefore, I have made this quick and easy kimchi recipe. Now, I must confess that this does not taste exactly like kimchi. Since it is not fermented, it is missing that sharp sour taste. But, that aside, this is a pretty amazing version that can be made a couple hours before meal time and still tastes awesome.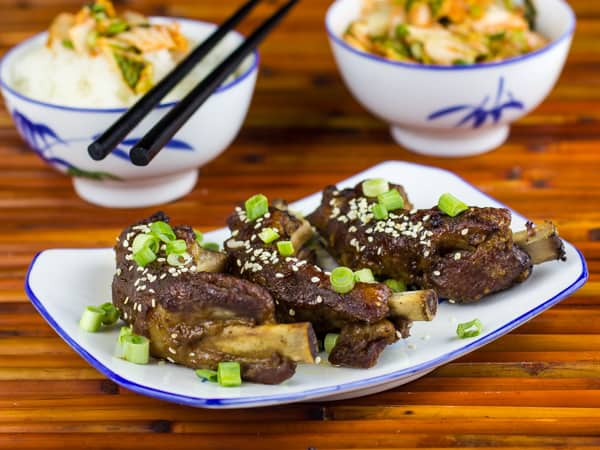 Quick and Easy Kimchi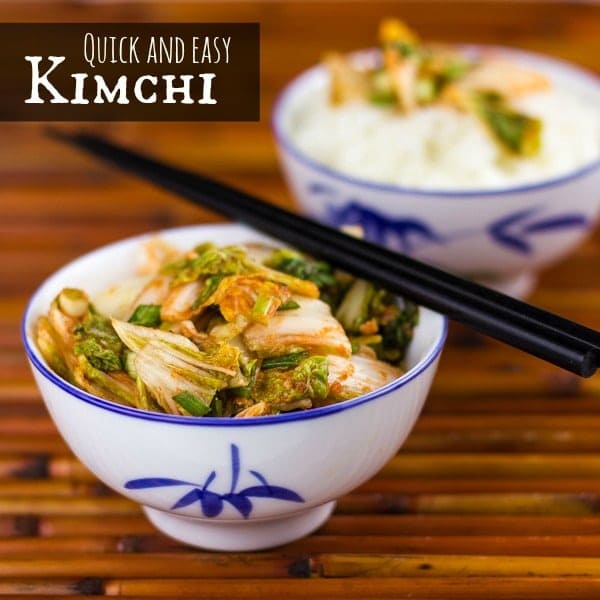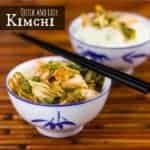 Print
Servings: 4
Ingredients
1 head of napa cabbage
8 cups water
1 cup salt
6-8 scallions (green onions), sliced
1/2 cup sriracha sauce (use less if you don't want it too spicy)
1 tbsp fish sauce
3 tbsp rice vinegar
4 garlic cloves , minced
Instructions
Separate all the leaves of the napa cabbage and rinse. Cut into small 1-2 inch pieces.

Stir salt in the water until dissolved. Place cut napa in a large bowl and pour in the salt water. Stir so all the leaves are coated. Place a plate on top of the napa so all the leaves are in the water. Let them soak for about 2 hours.

After the napa leaves have been in the salt water for 2 hours, they should be wilted and very bendable. Rinse thoroughly under cold water to get all the salt off the leaves. Shake to remove excess water.

In a separate bowl, stir the sriracha, fish sauce, vinegar and garlic. Mix with the napa cabbage and sliced scallions. Place the kimchi in the fridge for at about an hour before serving.