Refrigerator Dill Pickles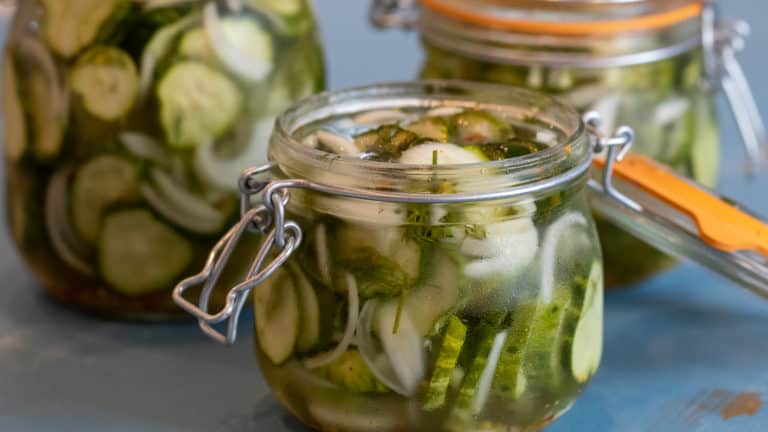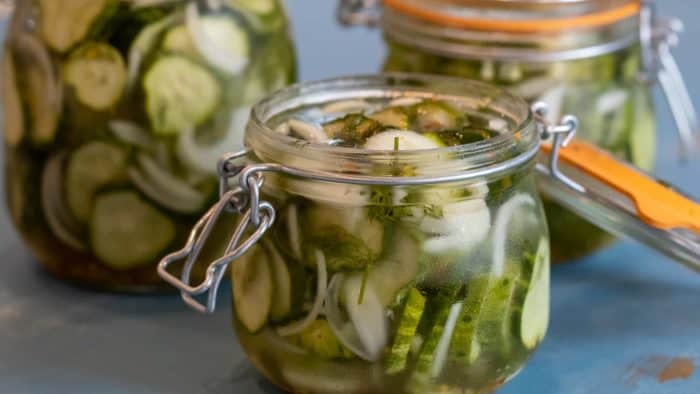 Years ago, when I was a kid, I remember first having fridge pickles. Both my aunt, and a friend of my mom, used to make refrigerator pickles. Anytime we would go to their houses, and they would put out a bowl of these pickles, I had to force myself refrain from eating the whole bowl.
Refrigerator pickles are sweet, tangy, and much crunchier than standard store-bought pickles.
Not only do these pickles taste amazing, but they are very simple to make. There is no need to seal the jars in a canning water jar. Just pack the cucumbers and spices in a jar. Pour in the brine and pop the jar in a fridge. Let them pickle for a few days and there you go – super addictive pickles!
I also love that these are great made in small batches. This recipe makes four 500ml (16oz) jars, but you can adjust this recipe to make more or less. To adjust the recipe, hover the cursor over the serving size number. Then you can adjust the bar to the number of jars you want to make. The ingredient quantities will change automatically.
I like to use these canning jars with the rubber seal and wire snap clip. These are great for fridge pickles. But, if you have standard mason jars, they work great as well. Even Rubbermaid, Tupperware or other food storage containers will work great.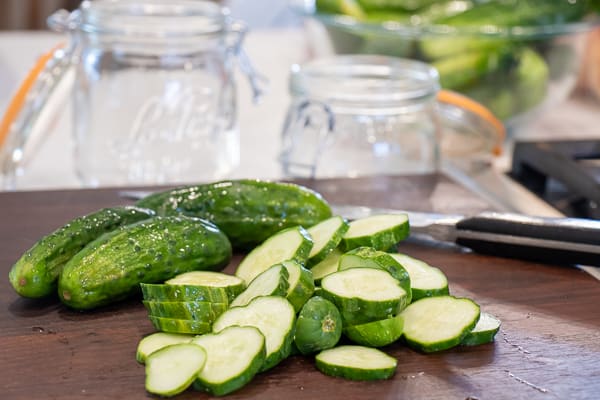 The best cucumbers to use for pickles are these small cucumbers with bumps. Many stores just call them pickling cucumbers. Other places call them kirby cucumbers. These kind are ideal for pickling because they result in a crispy and crunchy pickle.
Slice the cucumbers to the slices are about 1/4 inch. If you want them a little thicker, you could slice them 1/2 inch thick. But, if you slice them thicker, you will need to let them pickle in the fridge an extra day or two before eating them.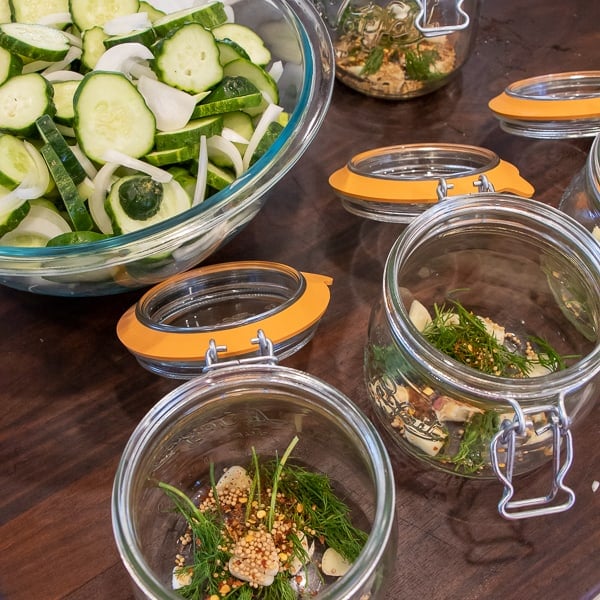 I like to add a sliced sweet onion as well and it tastes amazing pickled. Toss the sliced cucumbers and onion in a large bowl. Dump the spices at the bottom of each jar. I use fresh dill, sliced garlic, mustard seeds and dried chilies.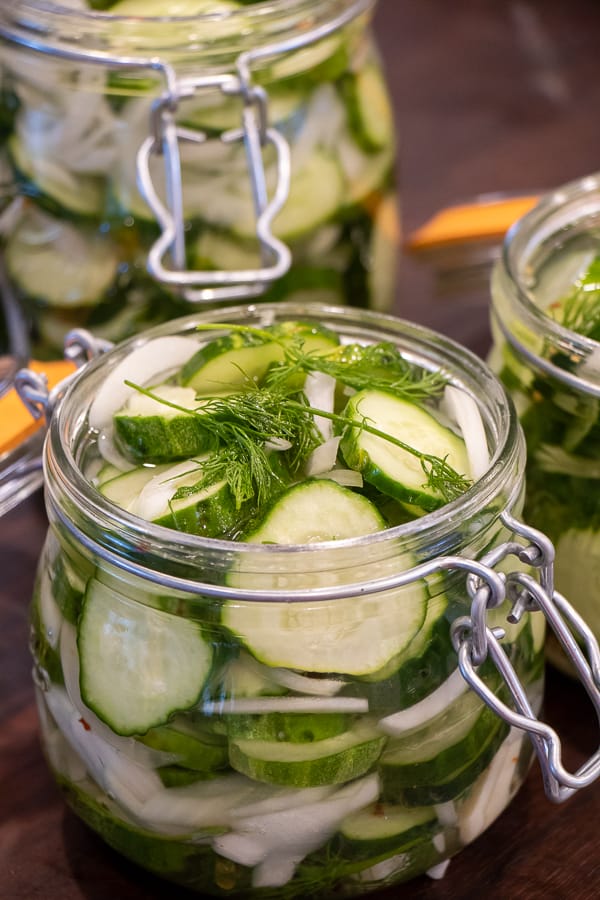 Add the cucumbers and onion to the jars. I use the back side of a spoon to press the cucumbers and onions down so that they are well packed in the jars. If desired, add an extra sprig of fresh dill on top with each jar.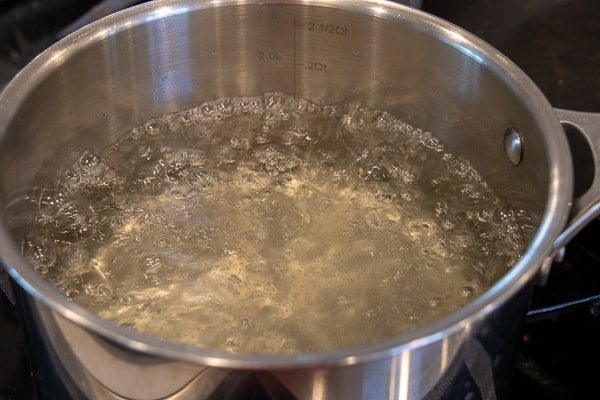 Bring the vinegar, water, sugar and salt to a boil. Stir until the sugar and salt have dissolved, then turn off the heat. Let the brine cool slightly before adding to the jars. The brine does not need to come to room temperature, but I let it cool for around 10 minutes.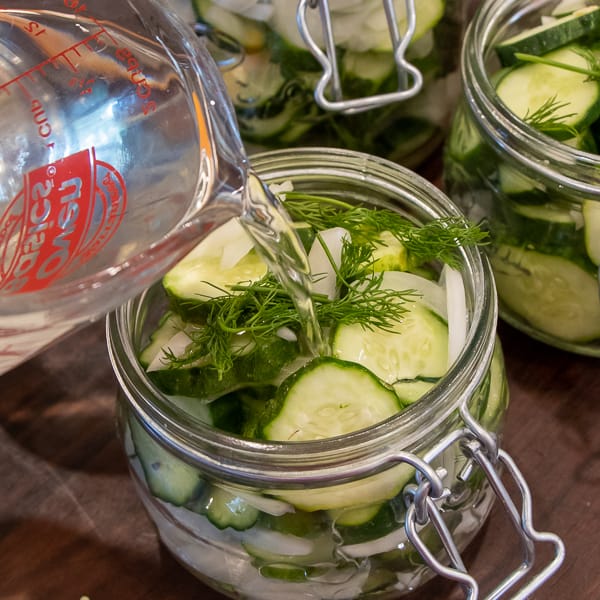 Pour the brine into each jar up to about 1/2 inch from the top. You want to be able to pretty much cover the all the cucumbers.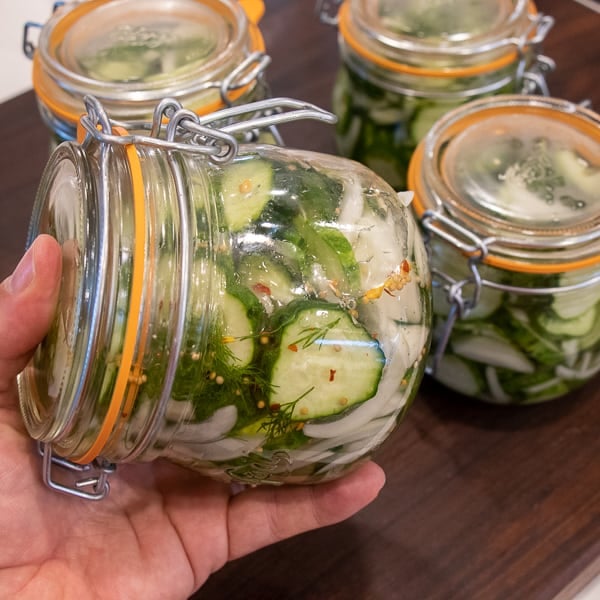 Close the lids and give the jars a good shake to mix the spices all throughout the jar and then place them in the fridge. I usually let the jars stay in the fridge for 3 days before opening and serving. I find it takes a good 2-3 days for the brine to penetrate all through the cucumber.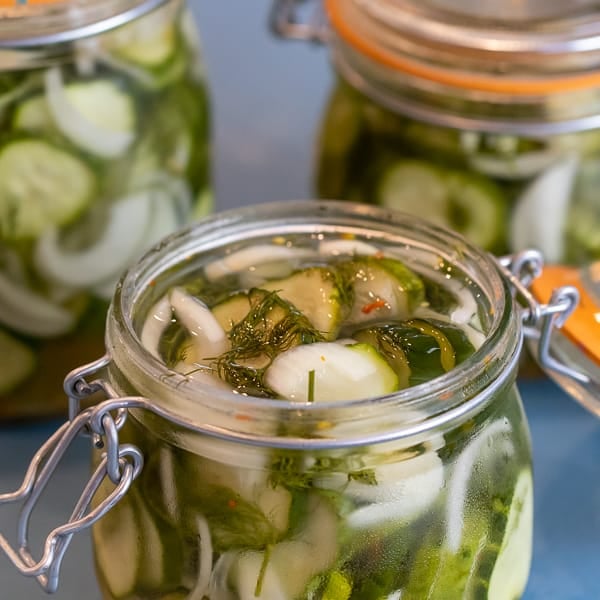 These pickles are totally addictive. They are sweet, tangy with the bright dill flavour. They are great just eaten like this, but are also amazing on burgers, pickles and submarine sandwiches.
If you enjoy jalapeños, you could also slice one or two jalapeño peppers and add them with the cucumbers and onions. I usually add jalapeños to one or two of the jars.
Refrigerator Dill Pickles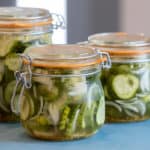 Print
How to make refrigerator pickles with this simple recipe. Sweet and tangy, these dills have a crispy crunch with each bite.
Servings: 4 jars (500ml/16oz)
Ingredients
8 cups sliced pickling cucumbers
1 large sweet onion sliced thinly
6 cloves garlic sliced thinly
2 tsp mustard seeds
1 tsp dried chilies
bunch fresh dill
2 cups vinegar
2 cups water
3 cups sugar
2 tbsp salt
Instructions
Equally divide the garlic, mustard seeds, dried chilies and fresh dill in each of the 4 jars.

In a separate bowl, stir the sliced cucumbers and onions so they are well mixed.

Put the cucumbers and onions in each of the jars and press them down with a round side of a spoon to ensure the jars are well packed.

In a saucepan, bring the vinegar, water, sugar and salt to a bowl. Stir to ensure that the sugar and salt is completley dissolved. Turn off the heat and let cool slightly.

Pour the brine the jars and fill close to the rim, so that the cucumbers and onions are covered in brine. If desired, add a little extra fresh dill on top.

Close the lids and shake so that the spices are mixed throughout.

Place in the fridge for 3 days before serving.