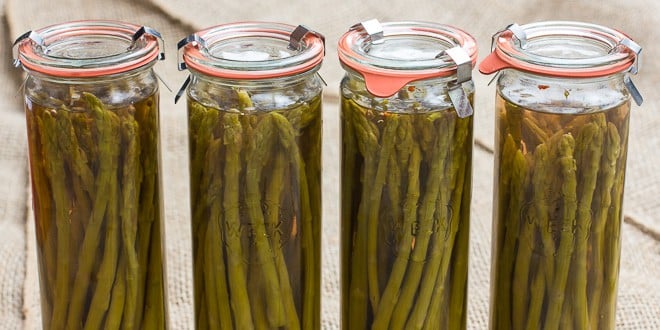 I remember the first time I made pickles. I was apprehensive, thinking it was going to be difficult. Pickling vegetables is surprisingly easy and can be done quite quickly. Asparagus is a vegetable that works really well pickled. Perfect for a snack, they have a nice crunch and soak up the great pickling flavor of vinegar, dill and aromatics.
My kids flipped out when they saw me pickling asparagus. They love cucumber pickles but were leery about trying these. Once the asparagus was pickled and allowed to rest for a couple weeks, the kids tried them and were blown away at how tasty they were. I fear that these pickled asparagus are not going to last long. I will probably need to make another batch again soon.
You can either use smaller pint jars or tall jars like the picture above. These jars are great for asparagus because they fit without much trimming. If using shorter jars, it may be necessary to cut the asparagus in half so they will fit.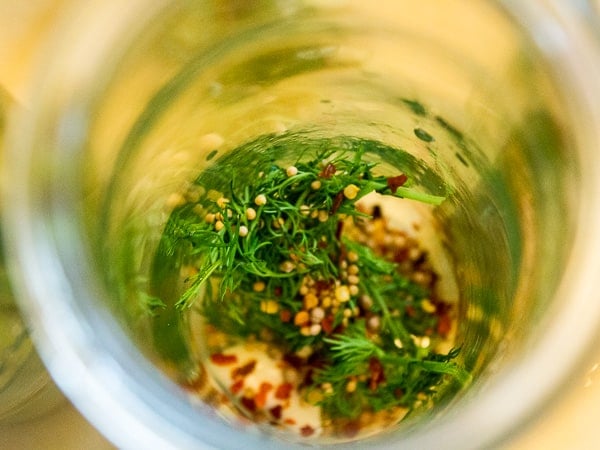 Dump the aromatics in the empty jar before packing with the asparagus. I used garlic cloves, mustard and coriander seeds, chili flakes and fresh dill. It gave a nice spicy dill flavor and not too much heat for the kids to enjoy, although I would have liked it spicier.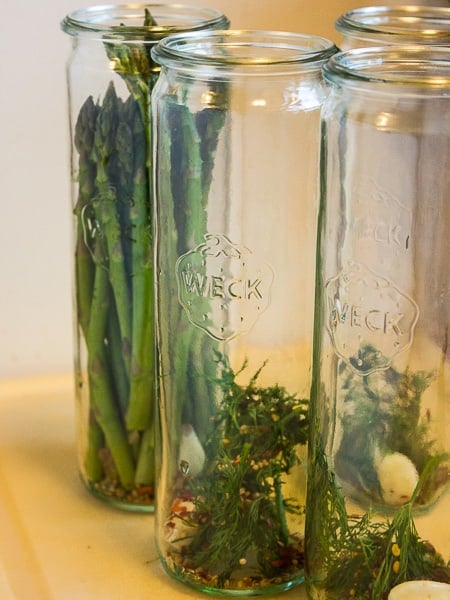 Cut off the woody bottoms and make sure that they will fit in the jar. You need at least a 1/4 inch headspace from the lid.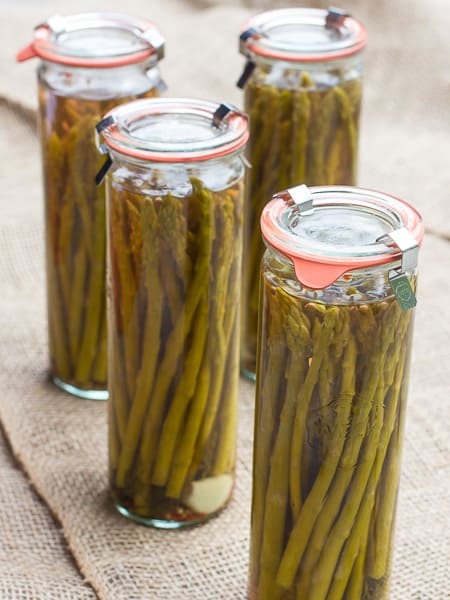 Bring the vinegar, water, salt and sugar to a boil and pour it into the jars and seal with the lids. These need to be processed in a pressure cooker.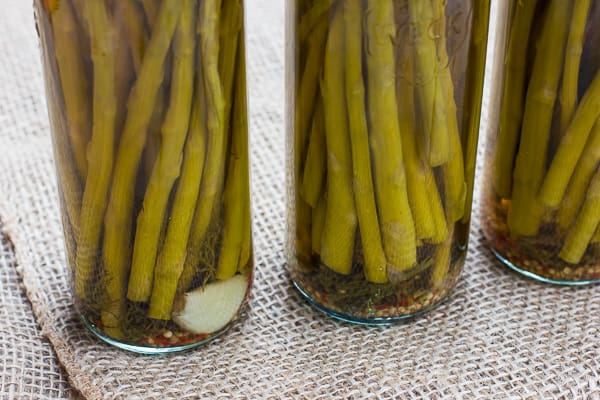 One of the most difficult things to do with pickles is wait. Place the jars in a cool dark place and wait for at least a couple weeks. This allows the asparagus to marinate in the vinegar and aromatics for a better flavor.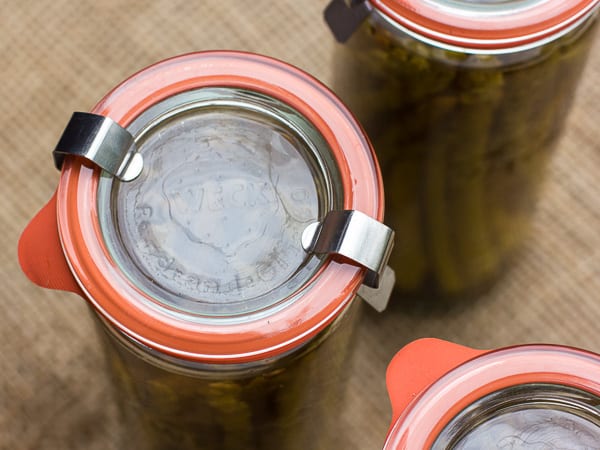 Some people asked what kind of jars I used and where I got them. They are a brand called Weck and the jars and can be seen here. They can be contacted for a list of retailers. I love the old style that these jars have with the rubber ring and glass lids. There are steel clips that hold the rings and lids tightly on the jar.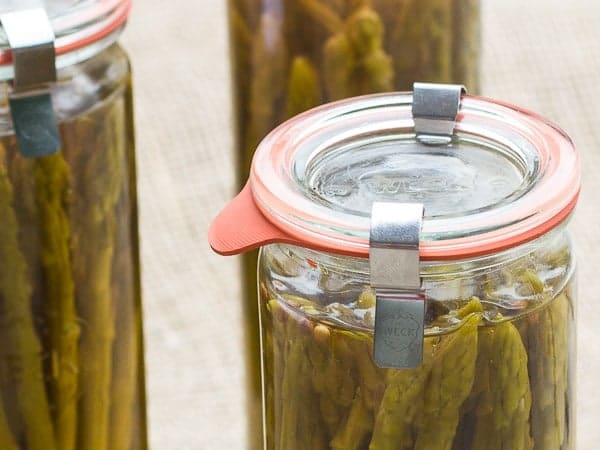 Pickled Asparagus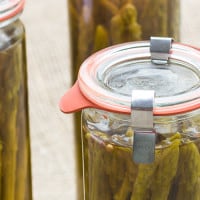 Print
Servings: 4 pints (500ml jars)
Ingredients
2-3 bunches of asparagus
4 1/2 cups vinegar
1 1/3 cup water
4 tbsp salt
2 tbsp sugar
4 garlic cloves
2 tsp mustard seeds
1 tsp coriander seeds
1-2 tsp dried chili flakes (depending on how spicy you want it)
4 small sprigs of fresh dill
Instructions
Trim the woody ends off the asparagus and cut them so they will fit in the jars.

In the bottom of each jar place 1 sprig of dill, 1 garlic clove, 1/2 tsp mustard seeds, 1/4 tsp coriander seeds, 1/4 - 1/2 tsp chili flakes.

Pack the asparagus in the jars, ensuring there is 1/4 - 1/2 inch headspace.

Bring vinegar, water, salt and sugar to a boil. Ladle into the jars leaving 1/4 inch headspace. Seal the lids on the jars.

Process the jars in a pressure canner following required time for low acid food and altitude.