Asian Style Pickled Green Chillies
These pickles chilli peppers are an amazing addition to rice, noodles and so many other Asian style dishes.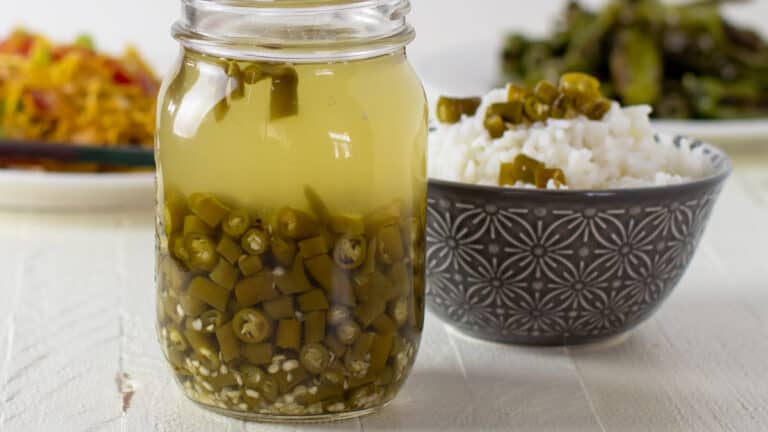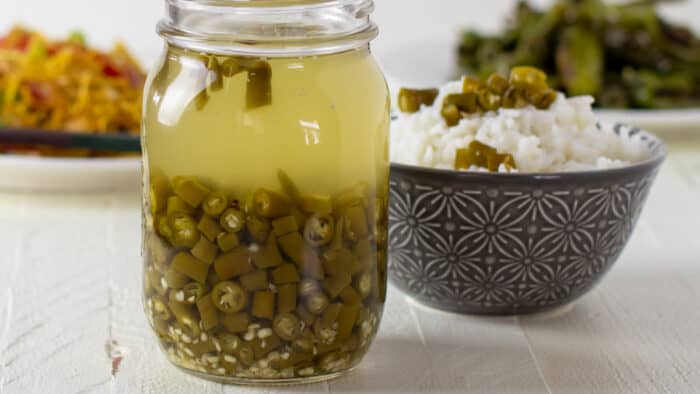 I love condiments and there are shelves in my fridge packed with jars and bottles of my favourite sauces, relish, pickles, chutneys and more! This pickled green chilli is just amazing because it has this spicy zing, along with a hint of sweetness from the sugar.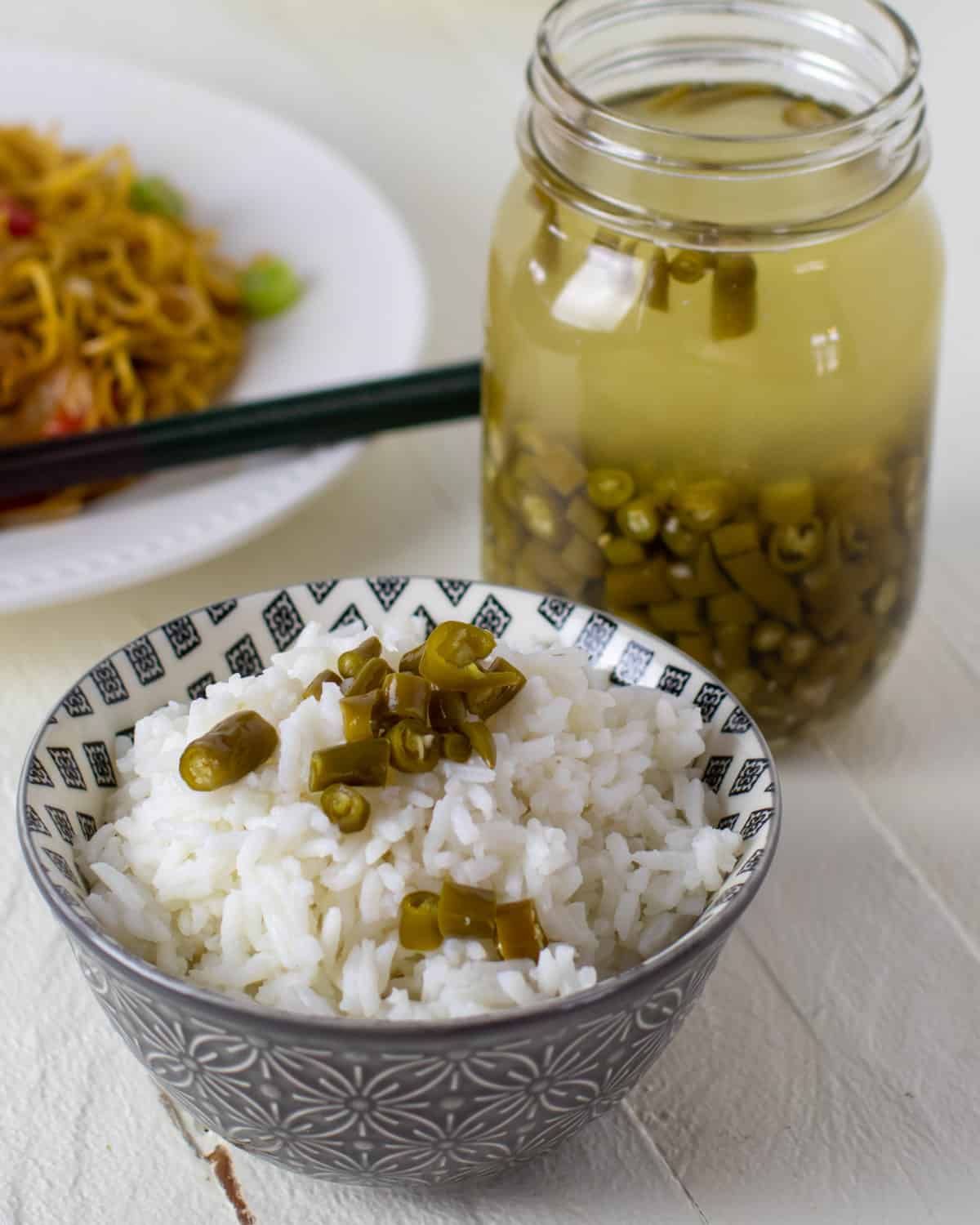 I don't just add the chillies to a dish, but I also love to spoon some of the vinegar on as well. Adding some to a bowl of rice might just be the way I use this condiment the most. It is so good. My favourite Hakka restaurant closed recently, and they provided a container of pickled chillies with every take out order.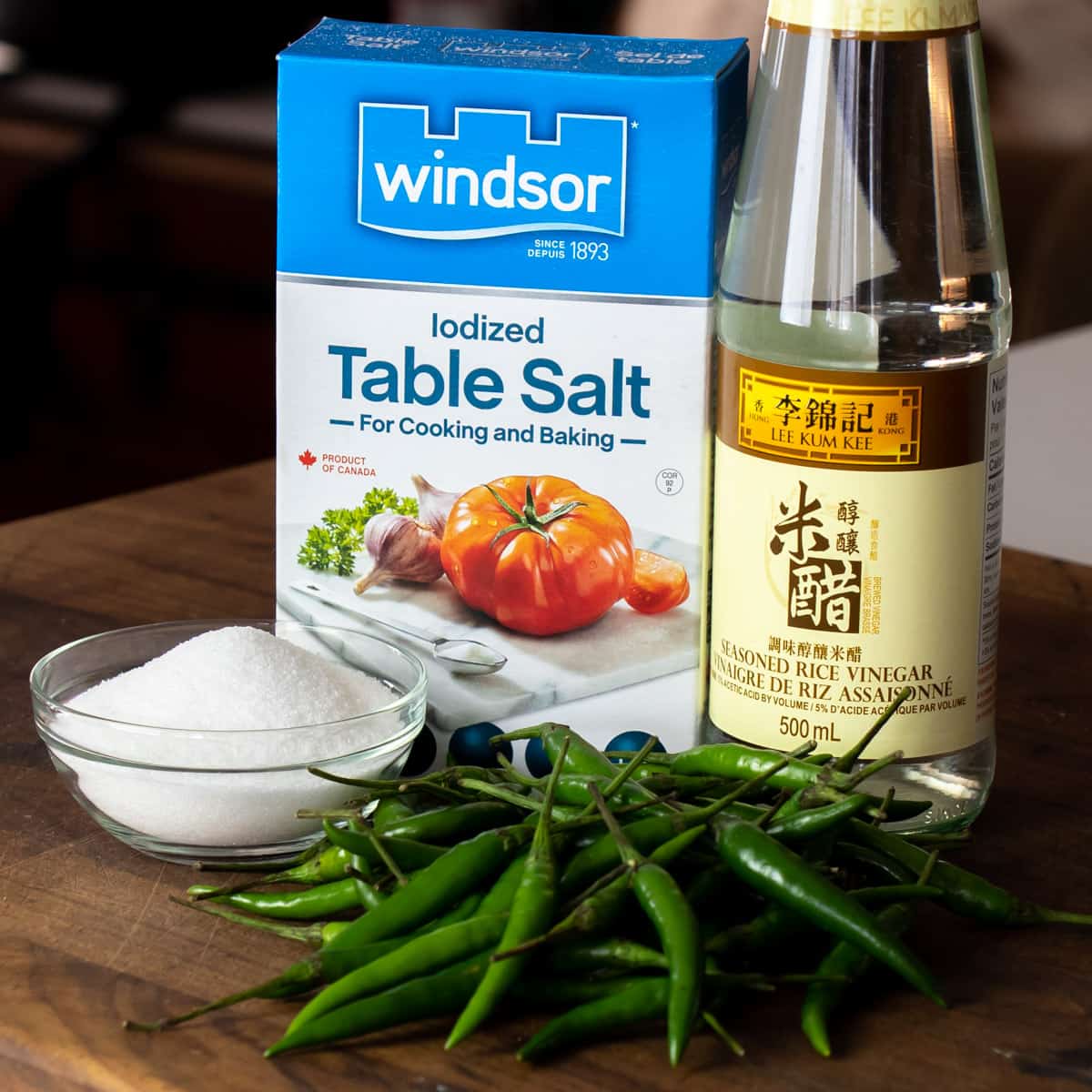 What Ingredients Do You Need
Making this pickled chillies is very simple and uses just a handful of ingredients!
Green chillies
Rice vinegar
Salt
Sugar
Water
Expert Tip! There are different green chillies and my preference for this pickled recipe is Thai green chillies. They are spicy and perfect as a pickled condiment. They are common in Asian supermarkets and even available at most local supermarkets. Green cayenne peppers will also work just fine for this recipe.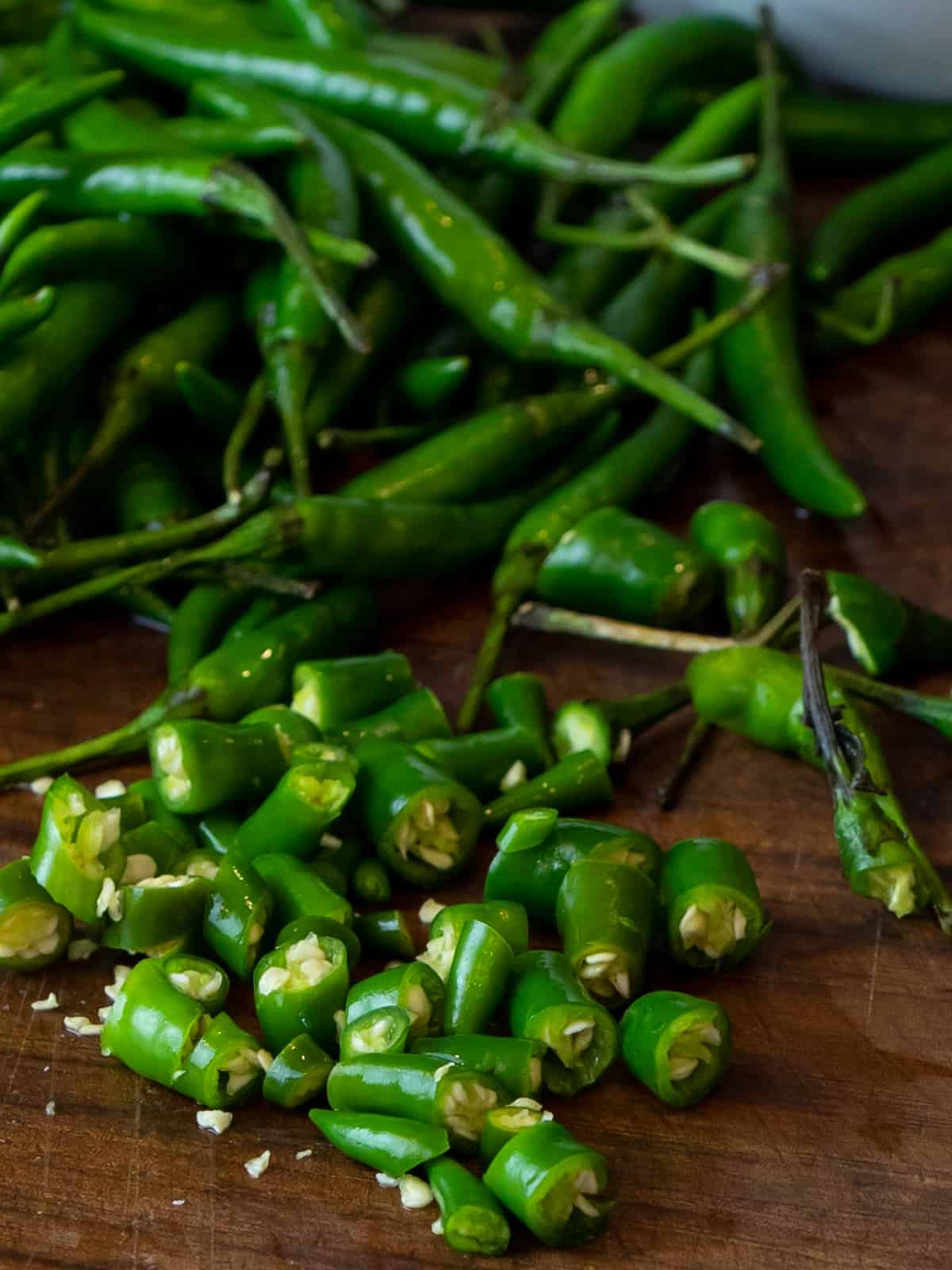 How To Cut Green Chillies
To prep the Thai green chillies, make sure to wash and rinse them to ensure that the chillies are clean. Then, chop them up into slices that are about 1/2 inch wide. There is no need be super precise with the width of the slices. Make sure to discard the stems.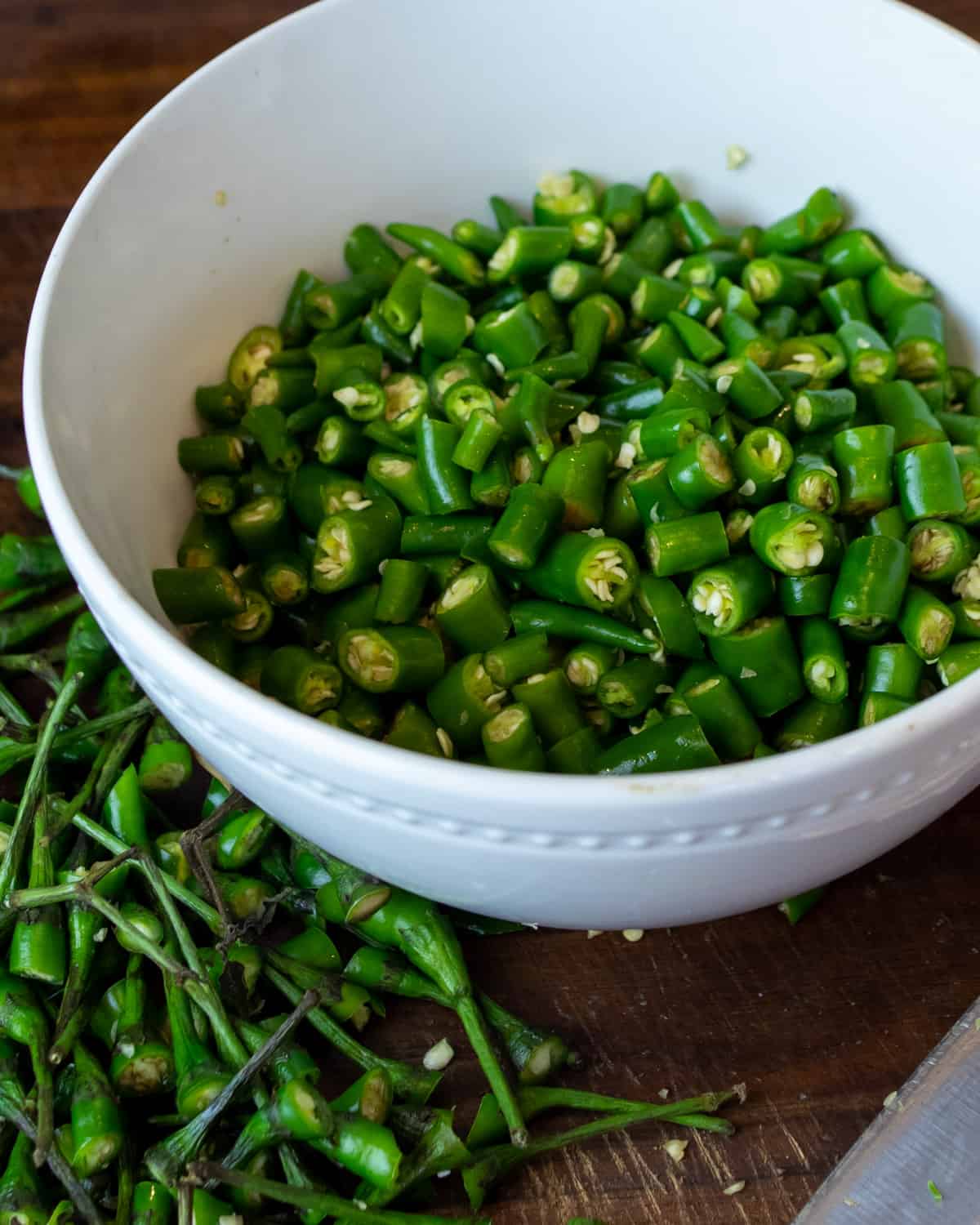 Once the chillies are all cut, they are ready to be pickled. Just looking at that bowl filled with the green chillies and seeds I can imagine the level of heat that will be in this tangy condiment. It is so good!
Expert Tip! There are other ingredients that could added to give some extra flavour depth. Try sliced garlic or ginger for some added zing.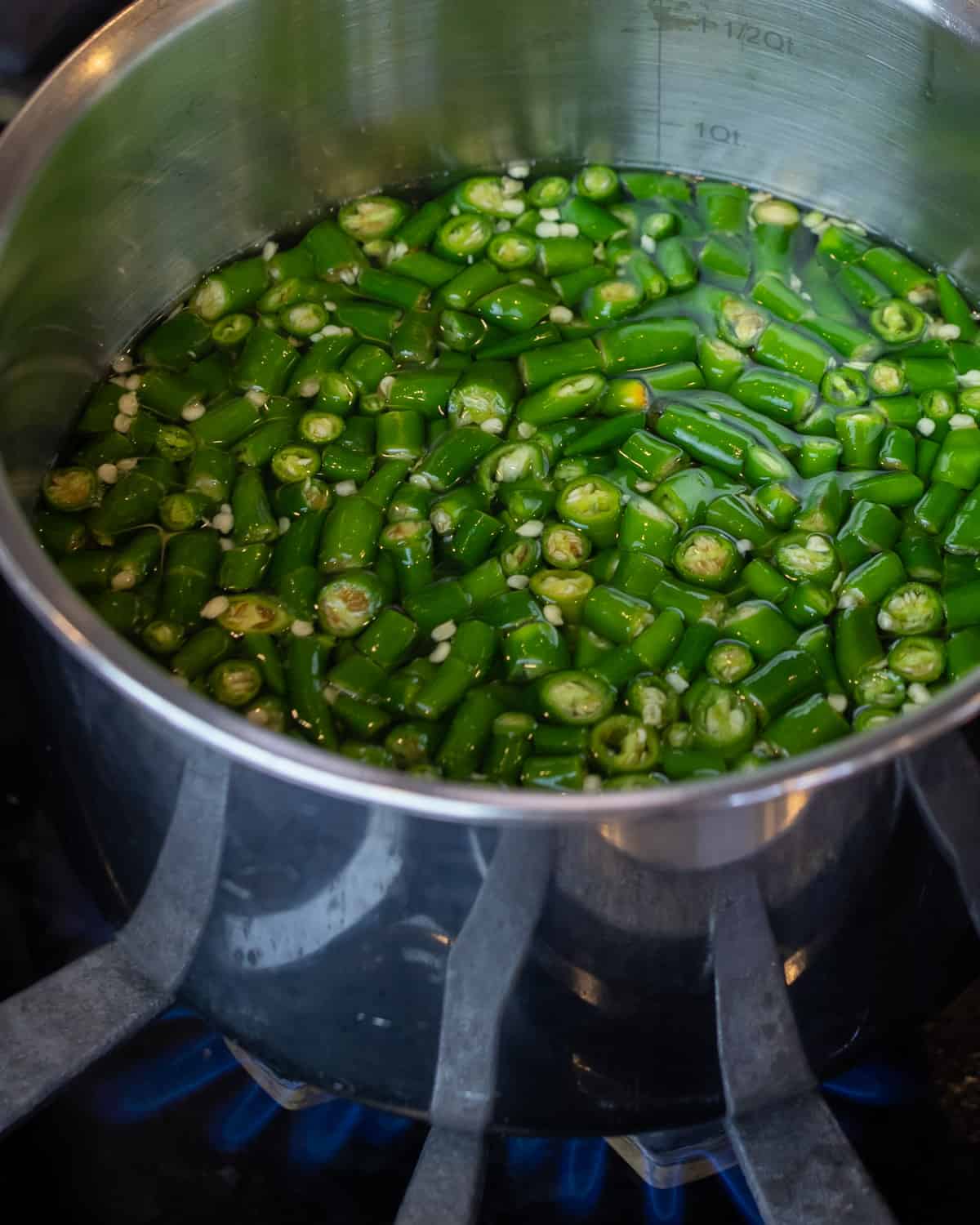 How To Pickle Green Chillies
Add the chopped chillies, vinegar, salt, sugar and water to a pot. Bring to a boil and then lower to medium heat. Give it a good stir to make sure that the salt and sugar has fulled dissolved.
Expert Tip! Ensure that the pot is large enough so that it does not overflow while liquid is boiling.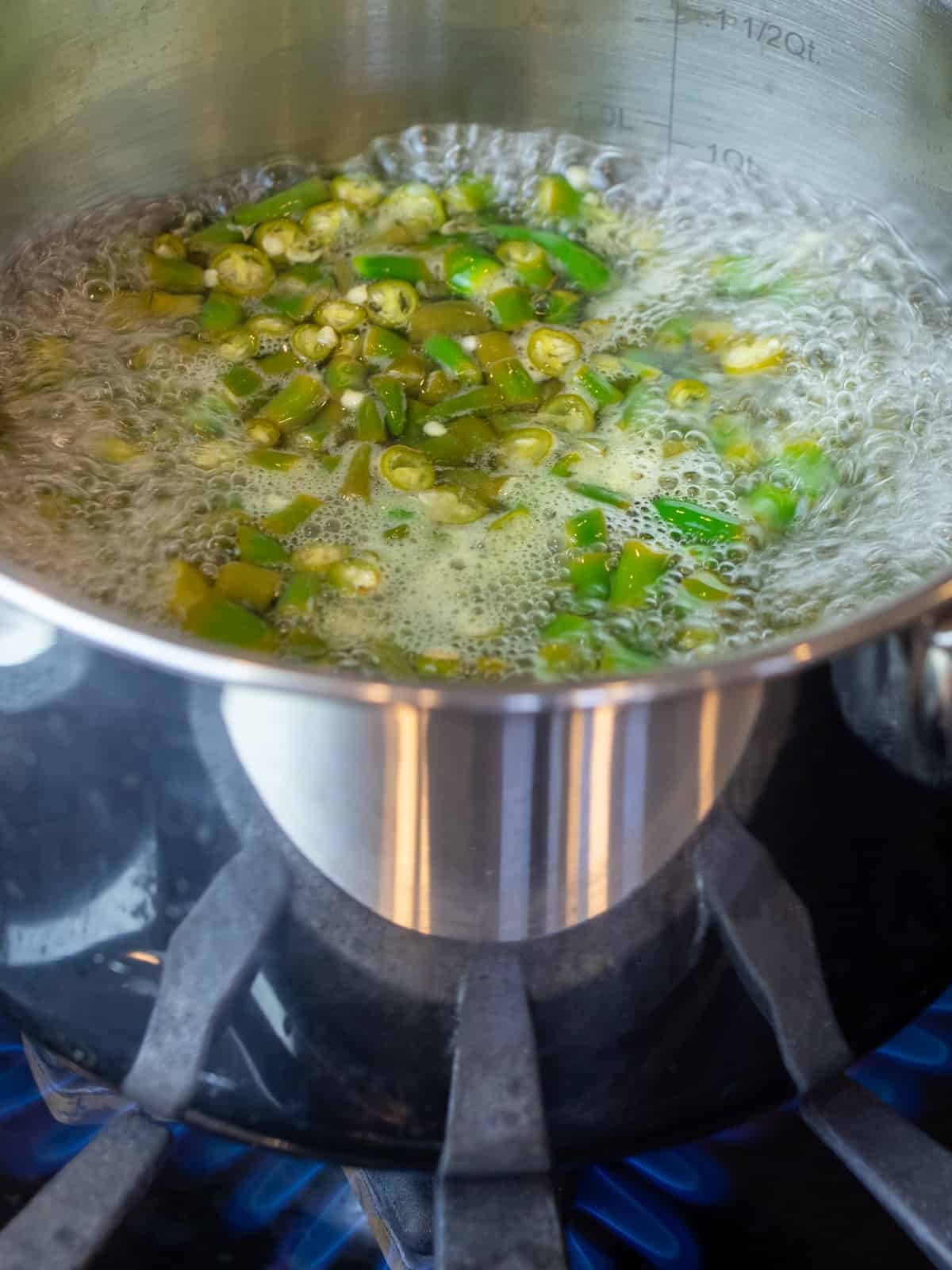 How Long To Cook The Chillies
As it continues to boil, the colour of the chillies will change from a bright green to a more yellowish green. I stop once I see that all the chillies have changed colour to that yellowish green. This should take around 5 minutes. Remove from heat and let cool.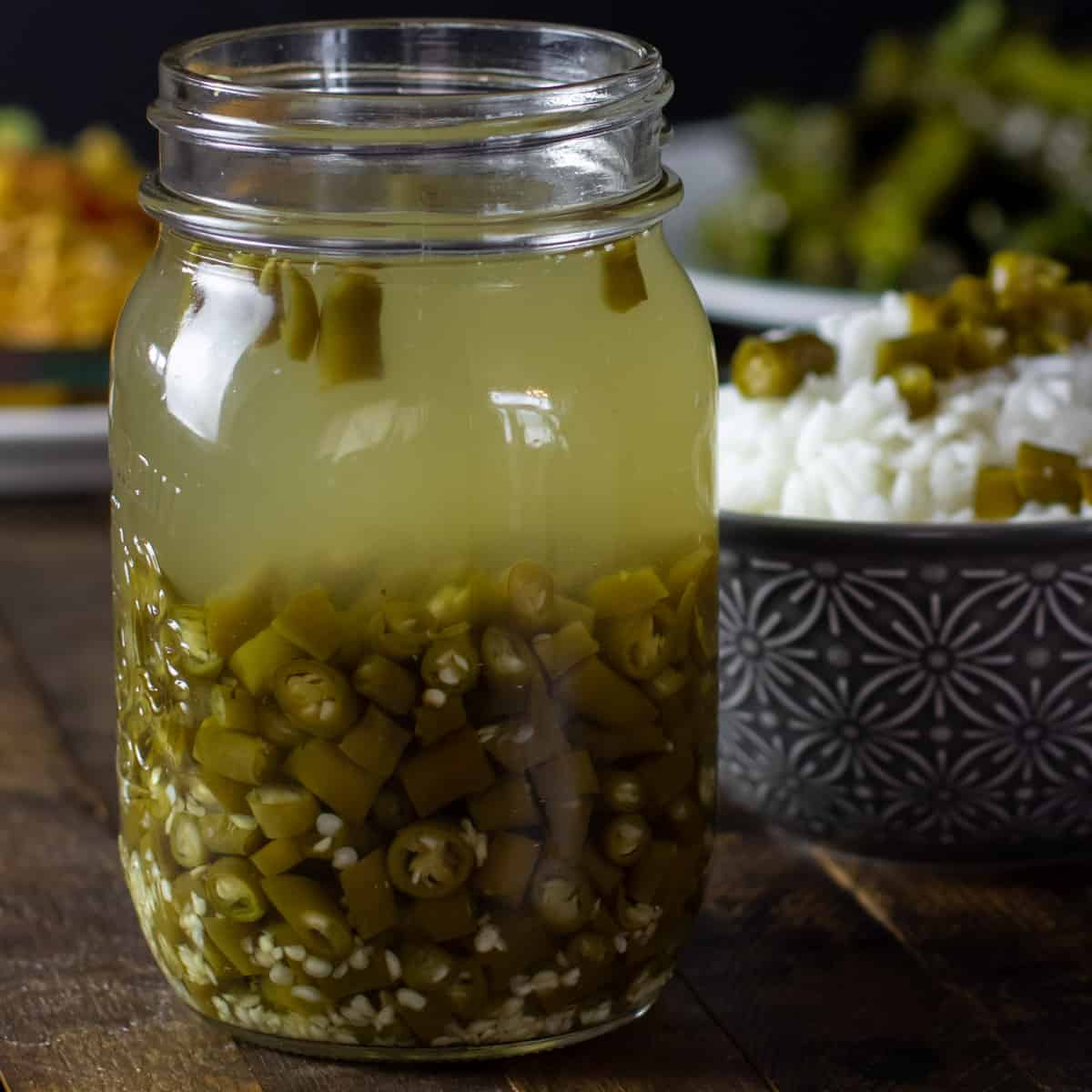 How To Store Pickled Green Chillies
Dump it in a canning jar or other container and seal with lid. Place the pickles chillies in the fridge. These are ready to serve the same day and are good for 2-3 weeks if stored in the fridge.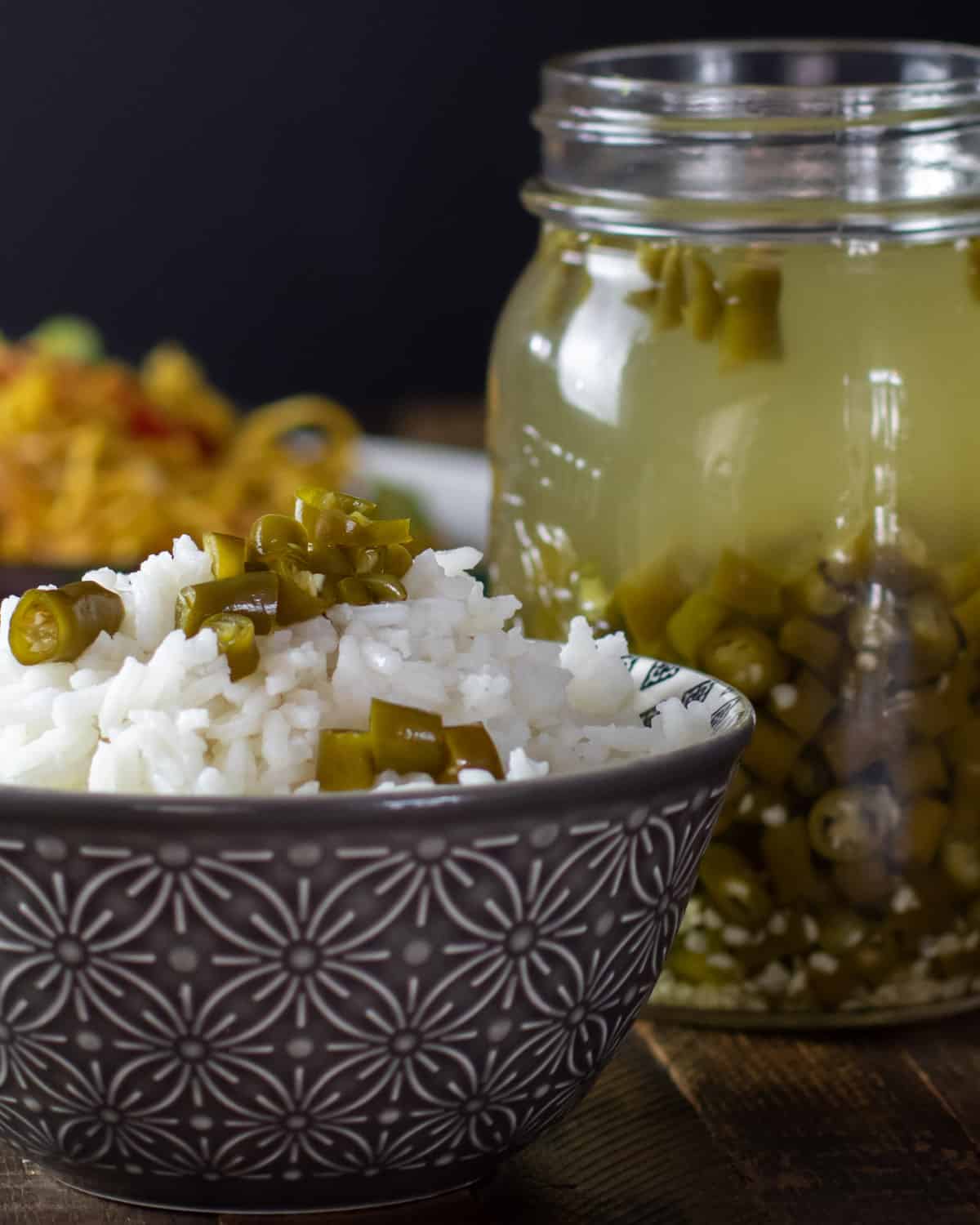 Recipes To Serve With This Recipe
These pickled green chillies are an awesome condiment to add to so many dishes. Here are some of my favourites to serve along side the chillies.
Asian Style Pickled Green Chillies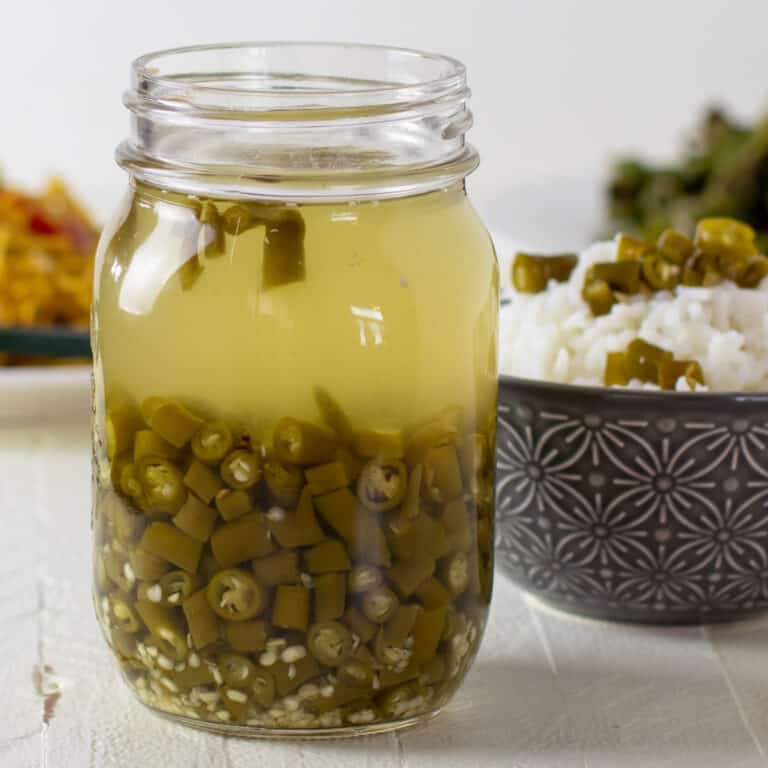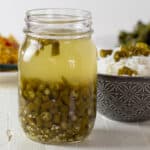 Print
Asian style pickled green Thai chillies. Popular at Hakka restaurants, this is great on rice, noodles and more!
Servings: 12
Ingredients
1/2 pound Thai green chillies
1 1/4 cup vinegar
1 cup water
1 1/2 tbsp salt
3 tbsp sugar
Instructions
Cut green chillies into 1/2 inch slices. Discard the stems.

Add chopped chillies, vinegar, salt, sugar and water to a large pot.

Bring to a boil and stir to make sure the sugar and salt is fully dissolved in the liquid.

Reduce heat to medium and let it continue to cook at a low boil for about 5 minutes.

Remove from heat. Cool completely and package in a mason jar or other container.

Store in the fridge.
Nutrition
Per serving:
Calories: 21kcalCarbohydrates: 4gFat: 0.01gSodium: 937mgFiber: 1gSugar: 4g