A spicy and flavourful condiment that is great alongside rice, noodles and many other Asian dishes.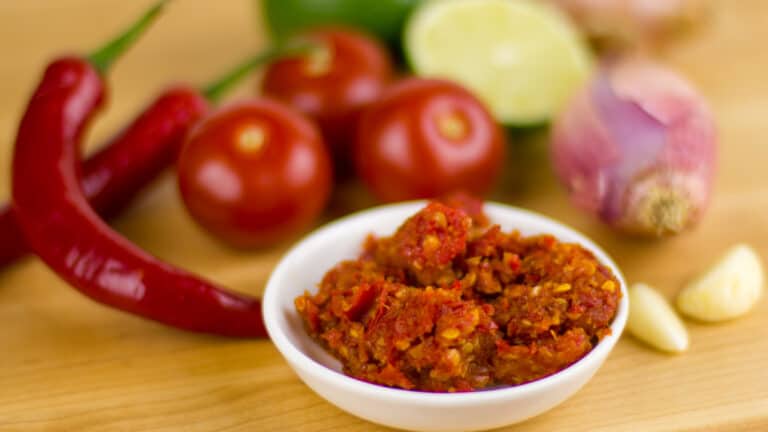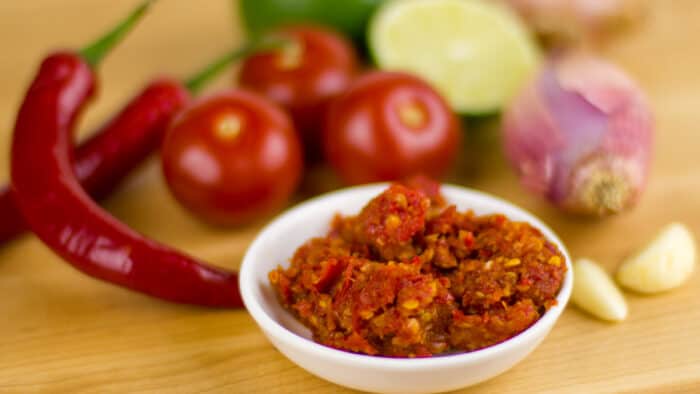 Sambal may not be all that well known over here in North America, but this condiment is extremely popular in Indonesia, Malaysia, Singapore and more. There are many different variations on sambal and a number of weeks ago I shared Sambal Oelek. That version of sambal is easily the most popular version here in Canada and I have bought it many times in local grocery stores.
Very simple to make, sambal oelek highlights red chili peppers by pounding them in a mortar and pestle. Today, I want to share another version, called sambal tomat. This type of sambal is both, more complicated, and has more ingredients.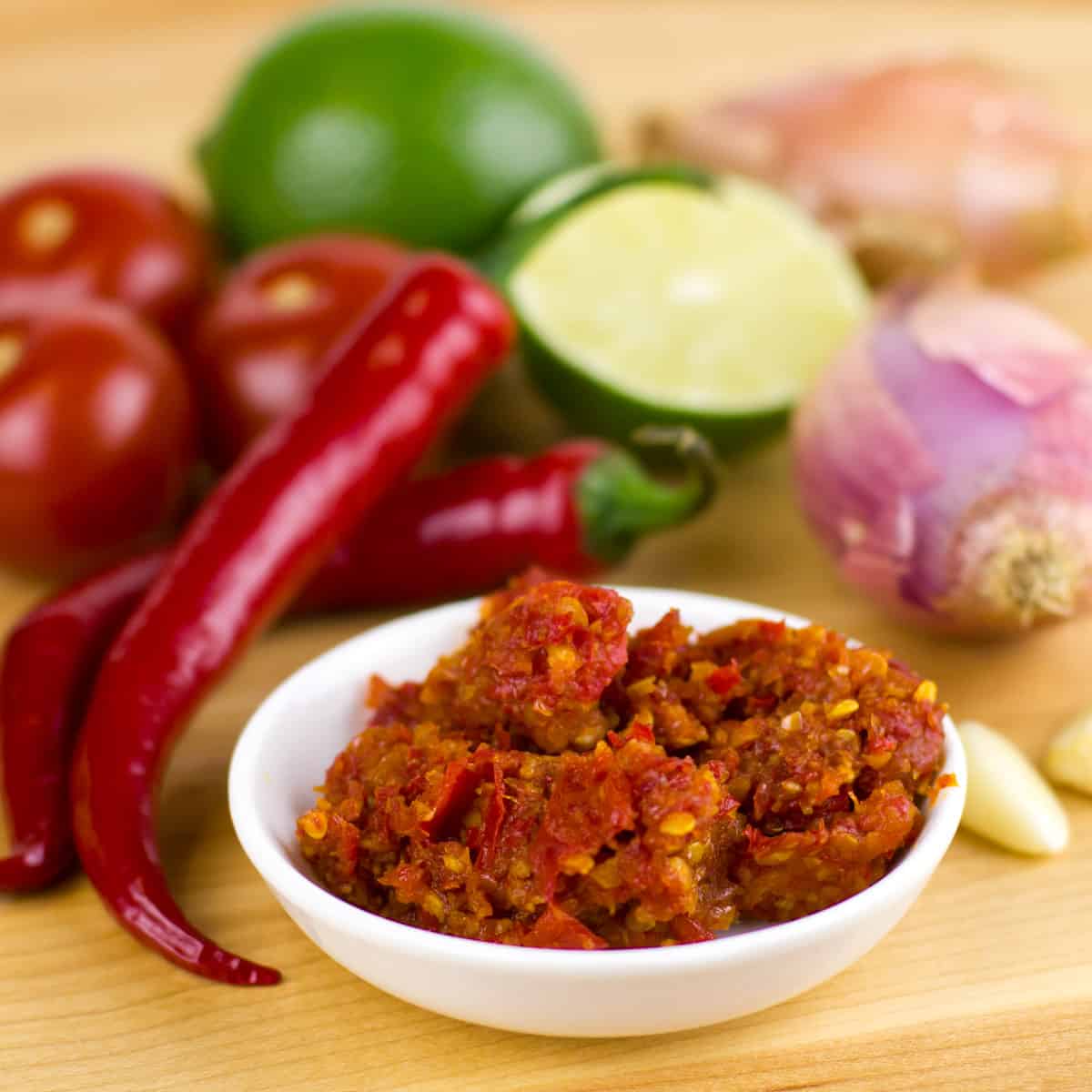 What Is Sambal Tomat?
Sambal tomat, as the name would suggest, has tomatoes. there are a handful of ingredients, including:
Cherry or Campari Tomatoes – Make sure that they are fully ripe and nice and red.
Red Chili Peppers – These chili peppers provide some nice heat to this sambal.
Shallots – Providing plenty of depth to the sambal, shallots have a flavour that is like a combination of onions and garlic.
Garlic – Sambal typically has plenty of garlic. You can either use whole cloves or a jar of minced garlic.
Lime juice – The tang that comes from the lime
Brown Sugar – Just a little bit of sugar to provide a slight bit of sweetness to this condiment.
Salt – You could also use fish sauce instead of the salt.
Oil – this is used as the paste is cooked in a wok or skillet.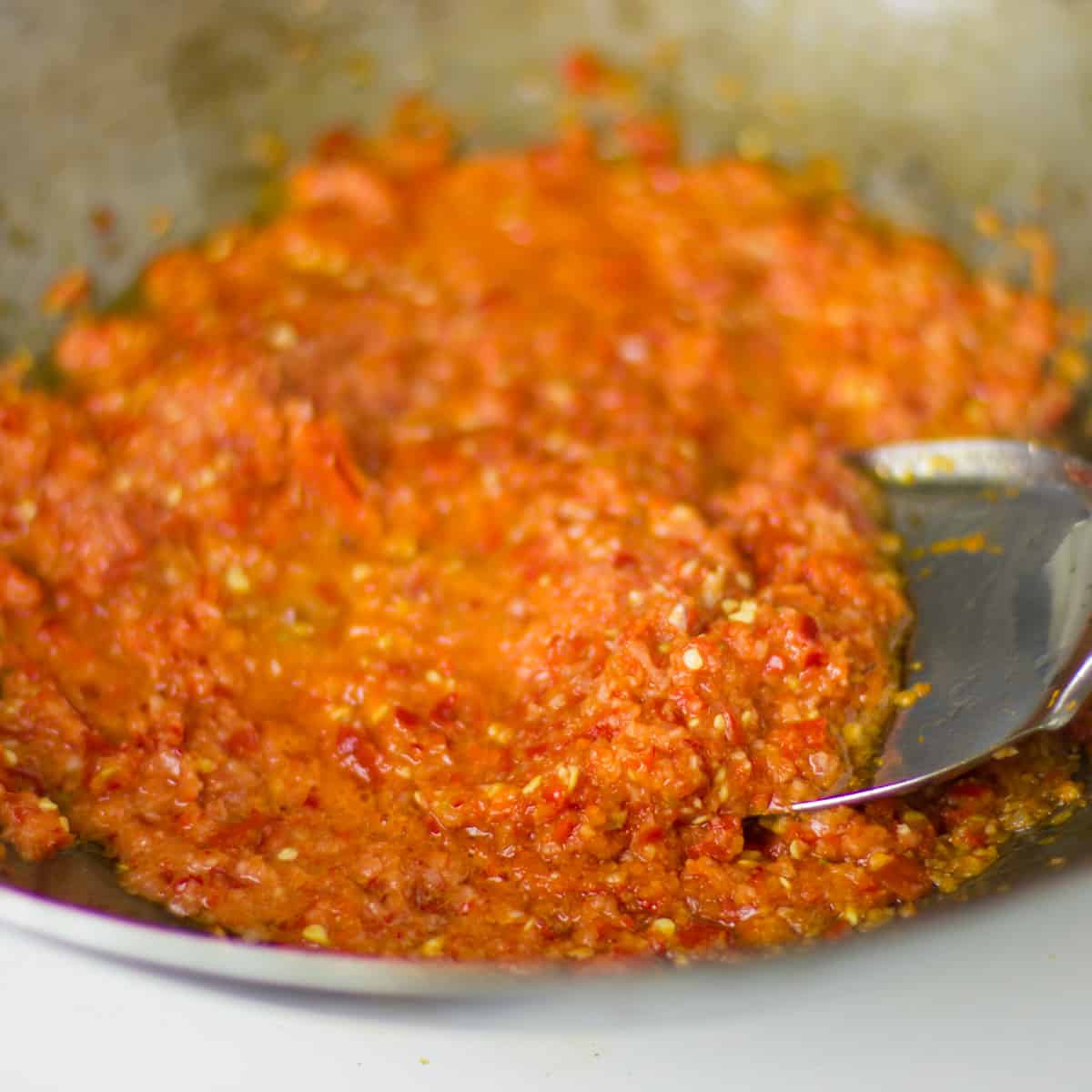 Step One: Make The Paste
The first step to making sambal tomat, is to take all the ingredients, except for the oil, and turn it into a paste. I pulse all the ingredients in a food processor to get an even, paste like consistency. It is not necessary to have it fully pureed, just broken down fairly fine.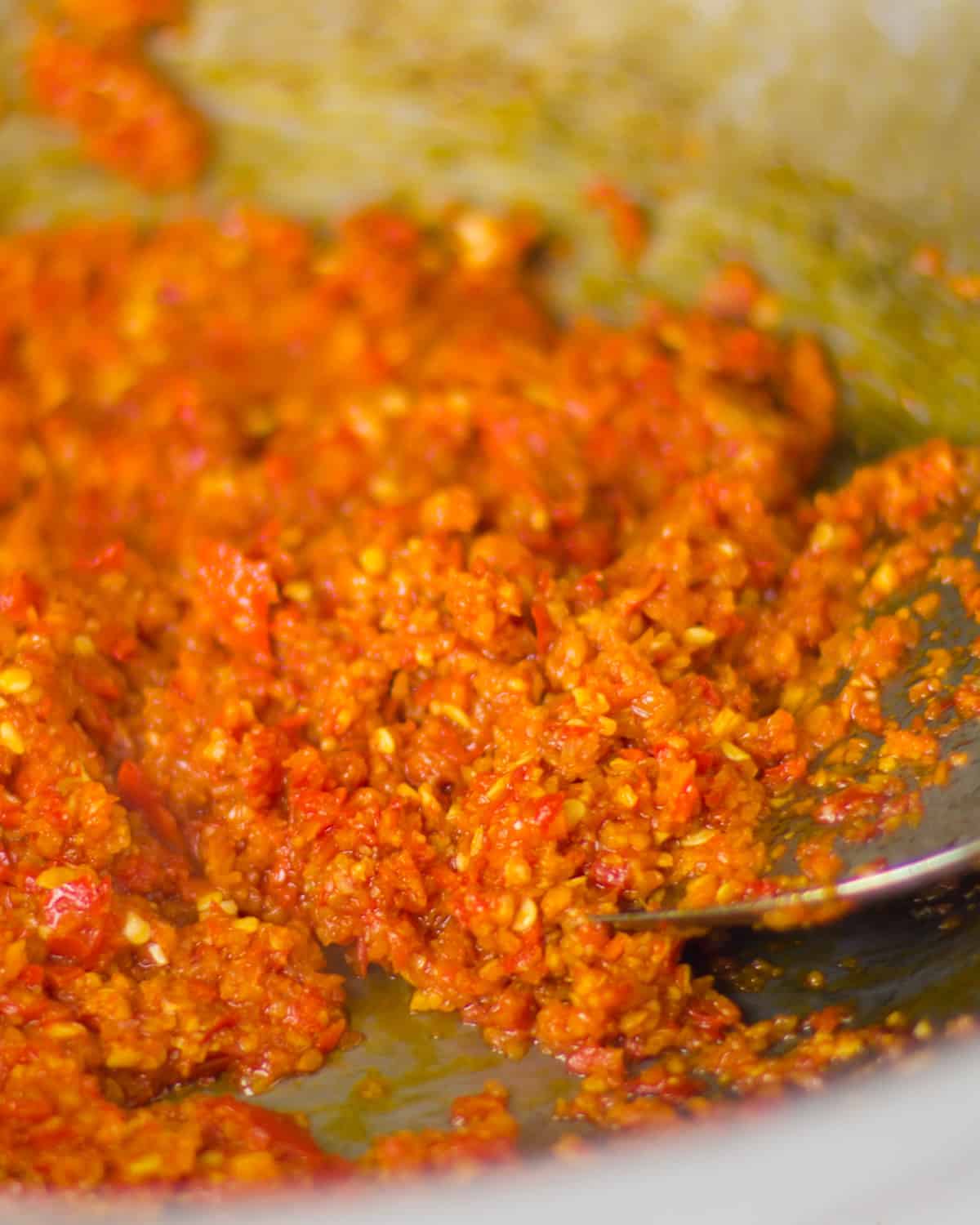 Step Two: Saute
Heat the oil in a wok or skillet over medium heat. Add the processed ingredient paste to the wok and saute. Make sure to stir often, so that it doesn't stick to the bottom of the wok.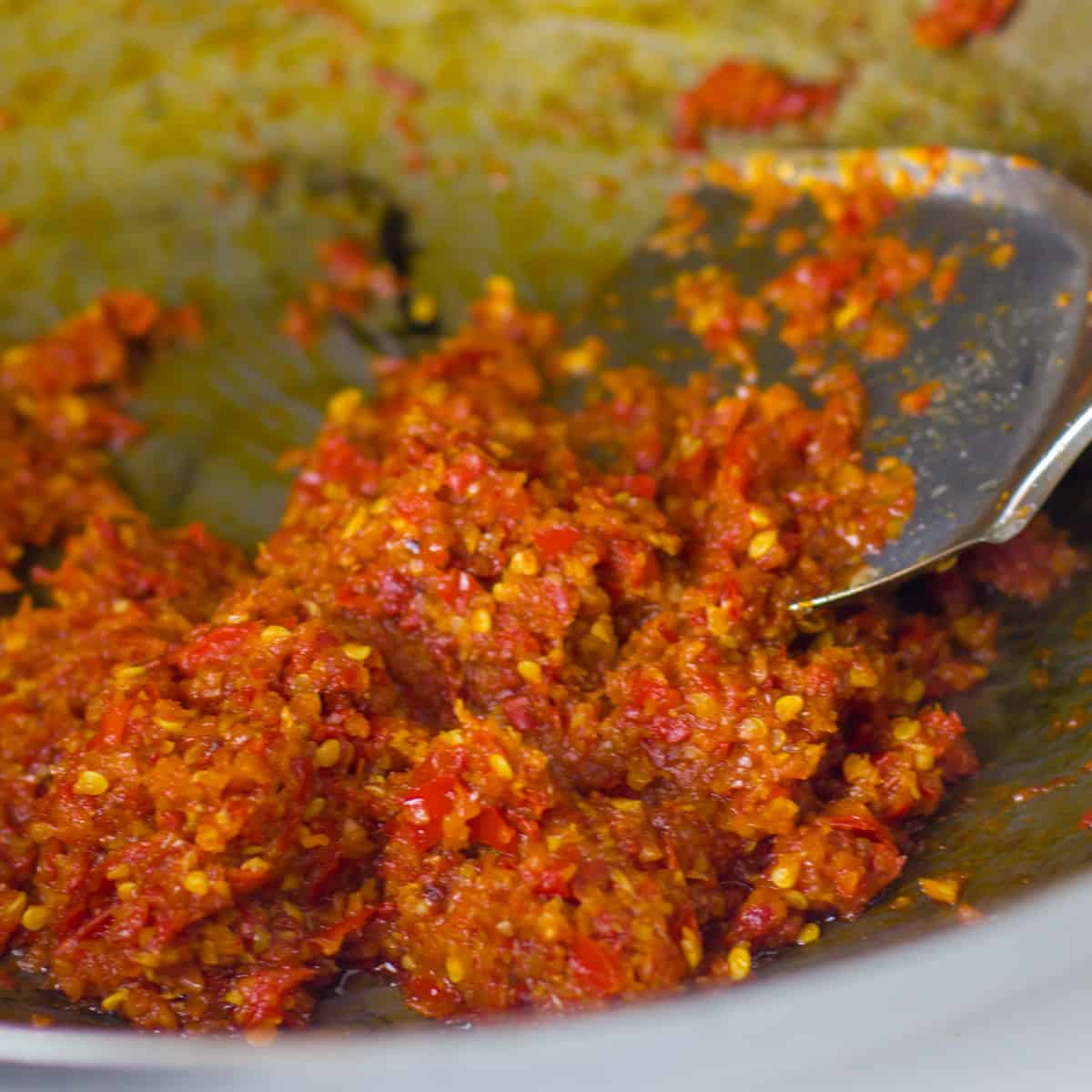 How Long To Sauté Chili Paste
Cook the mixture in a stir fry pan or skillet for close to 30 minutes. This draws all the flavors together and creates a wonderful sweet heat in the sambal. Be careful it does not stick to the bottom of the pan, so it will be necessary to stir it often.
What To Serve With Sambal?
Sambal tomat is a condiment that has a deep robust flavour. It is great with many different rice and noodle dishes. A few of my favourite dishes to spoon a little bit of this sambal onto are, Vegetable Chow Mein, Sweet Chili Thai Noodles, Chili Garlic Baby Bok Choy, and Glass Noodles With Pork.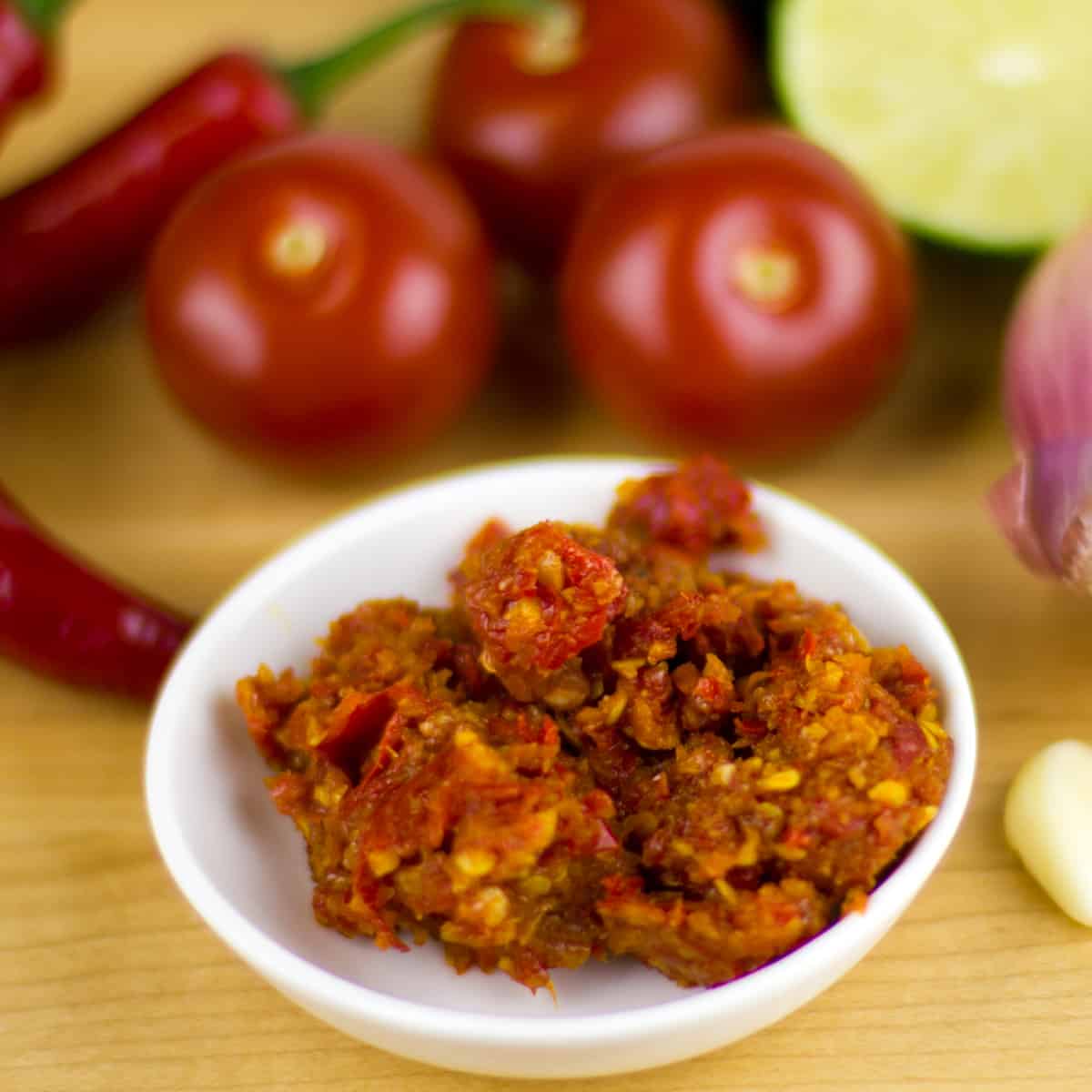 How To Store Condiment
Once the Sambal tomat has cooled to room temperature, store them in a small canning jar or plastic container with lid. Place in the fridge for up to one week.
More Condiment Recipes
I love to make condiments. Whether it is a sauce, dressing or paste, it is fun getting creative and trying some new things to add to the dishes you cook!
Sambal Tomat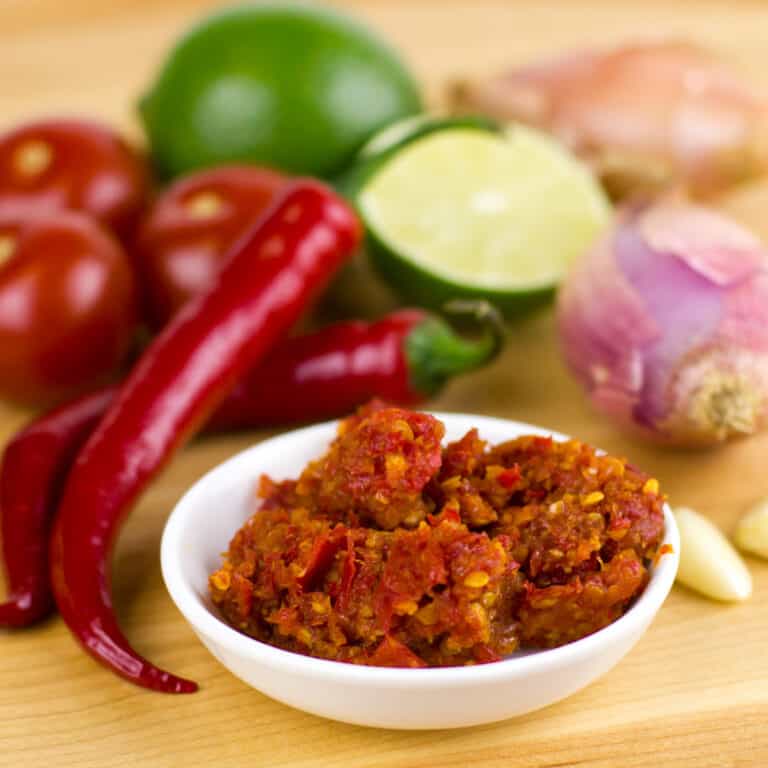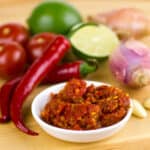 Print
Recipe for how to make sambal tomat a Javanese condiment from Indonesia, Malaysia and Singapore! Chili peppers, tomatoes, shallots, garlic.
Servings: 8
Ingredients
10 cherry tomatoes
3 chili peppers
2 shallots , peeled
3 garlic cloves
2 tbsp brown sugar
1/4 cup lime juice
2 tbsp oil
Instructions
Add all ingredients except the oil to a food processor. Pulse until the vegetables are finely chopped.

Heat oil in a stir fry pan or skillet on medium heat.

Add the sambal mixture and cook for 20-30 minutes stirring often. The mixture will begin to caramelize and will deepen red in color. If desired, you can add some water with you prefer a thinner consistency.

Remove from heat and store in the fridge for up to a week.
Nutrition
Per serving:
Calories: 55kcalCarbohydrates: 6gProtein: 0.5gFat: 4gSaturated Fat: 0.3gSodium: 4mgFiber: 0.5gSugar: 4g