King Oyster Mushroom Stir Fry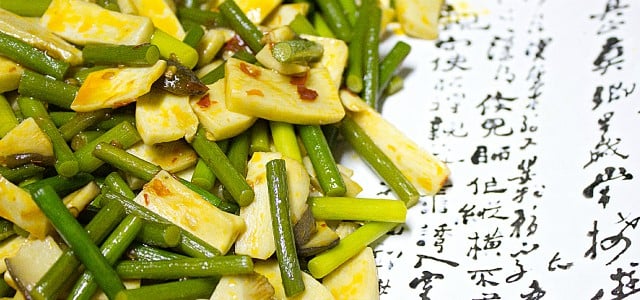 I mentioned a few posts ago that my family is in the middle of birthday season. All three of my kids have their birthdays within 5 weeks of each other. That was either good planning or sheer stupidity! It is always hectic but also a lot of fun as we celebrate their special days.
My parents make a trip up every year, somewhere in the middle of the birthdays, to give presents and to wish their grandchildren a happy birthday. They just left from their visit and it was a lot of fun. The kids always love it and they brought one of my nieces up to spend time with her cousins. Fun times all around.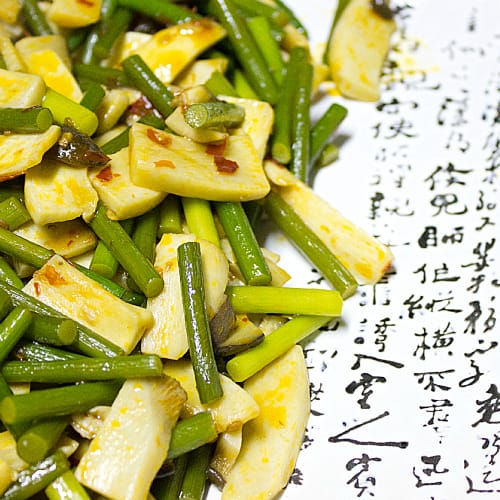 I love to make something unique whenever my dad is over. He loves international cuisine so it is great to make something he or I may have never had befor. This trip, I knew exactly what I was going to cook because there are some ingredients that I wanted to prepare and post on the blog. Today's dish uses two Asian ingredients and one Asian sauce that are close to never used in North American cooking. This stir fry is incredibly simple to make, is healthy, fresh and has bags of flavour!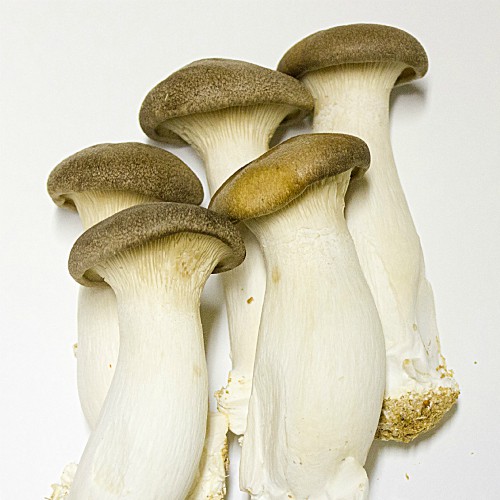 The two main ingredients in this stir fry are king mushrooms and garlic stems. King mushrooms, also known as king oyster mushrooms or royal trumpet mushrooms are the largest in the oyster mushroom family. They are readily available at Asian grocery stores. Where the portobello or crimini mushroom has a large cap and small stem, the king oyster mushroom has a massive stem and a smaller cap on top. They are excellent in a stir fry and cook at a similar rate to other mushrooms.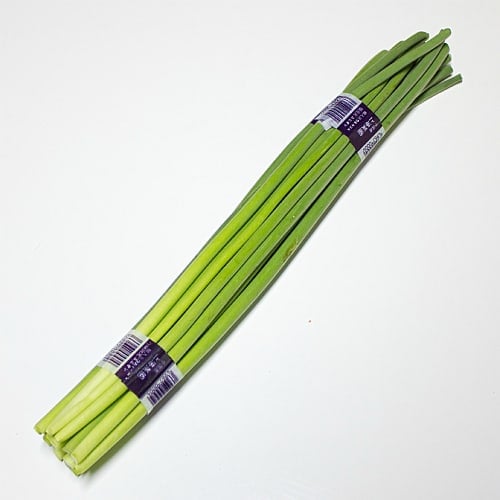 Garlic stems are the other main ingredient in this stir fry. These are the stalks of the garlic plant and they have a much milder garlic flavour than the stronger cloves. I was introduced to garlic stems a few years ago when I was in a local Asian grocery store. On this particular day, garlic stems were on sale and people were grabbing them up. I asked someone taking a few bundles of the garlic stems what they were and how to cook them. I decided to buy a couple bundles myself and tried them that night. I loved them and have used them in Asian cooking regularly from then on.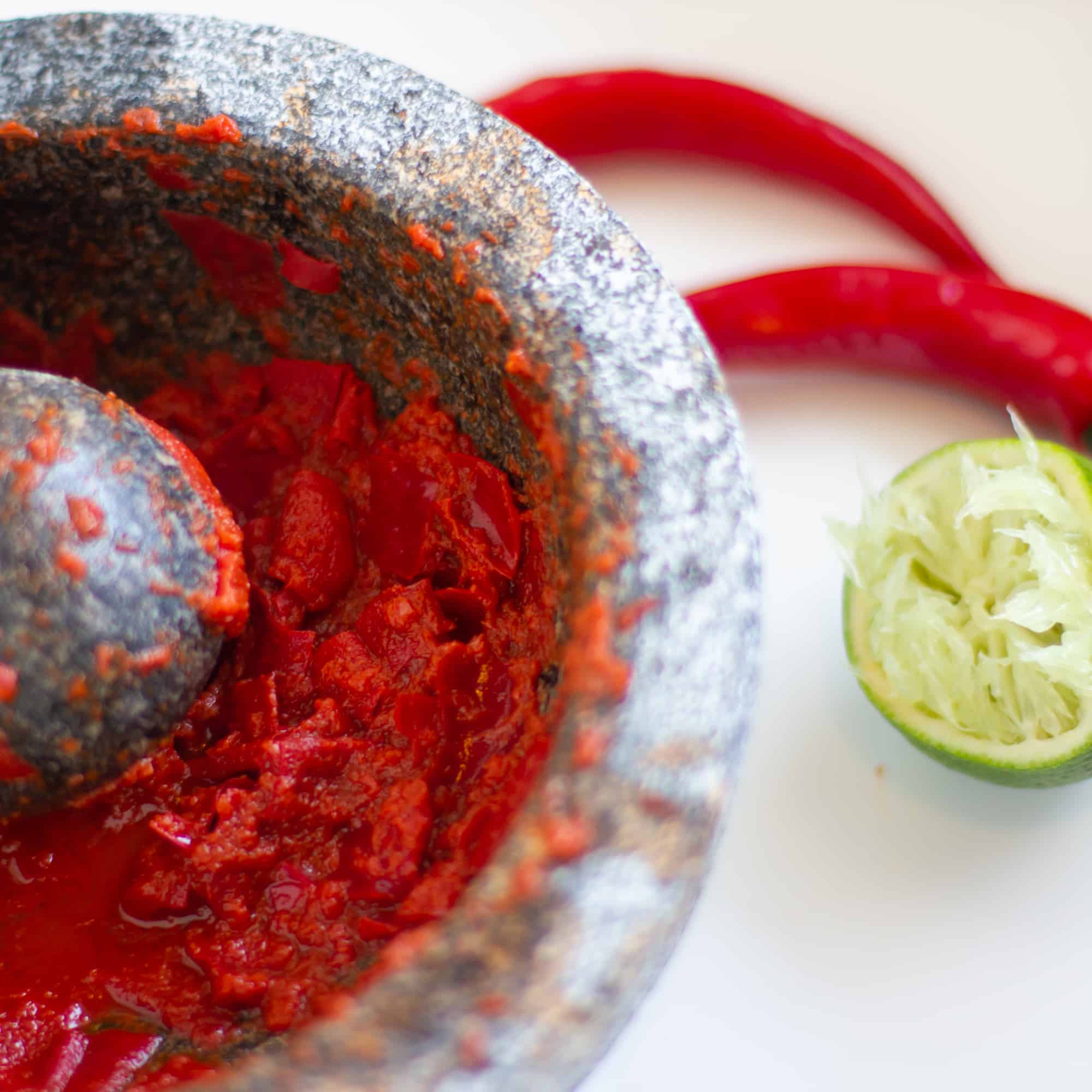 The sauce that is used in this stir fry is called Sambal Oelek. Sriracha sauce is all the rage in North America right now with foodies, myself included, discovering new ways to incorporate this great spicy sauce in our cooking adventures. Sambal Oelek is a sister sauce to Sriracha. If you look in Asian stores you will likely see the two sauces next to each other as most companies make both. Where Sriracha is a smoother pureed sauce with chilies and garlic, Sambal Oelek is chunkier and mostly just chilies. That results in a sauce with maximum heat and intensity! I absolutely love the stuff. You will often see this sauce in Chinese restaurants.
I also have a recipe for Sambal Oelek.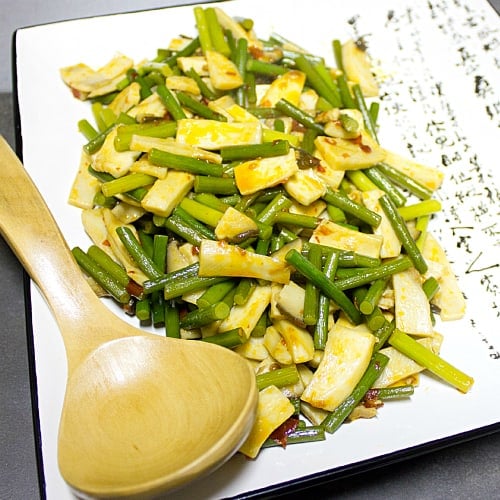 King Oyster Mushroom Stir Fry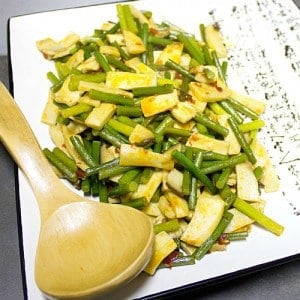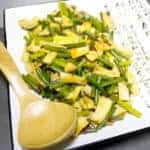 Print
This spicy stir fry recipe uses two common Asian ingredients. King Oyster Mushrooms and garlic stems are fried in a chili Sambal Oelek sauce (similar to Sriracha).
Servings: 4
Ingredients
2 tbsp oil
5 king oyster mushrooms
1 package of garlic stems (10-12 stems)
1/2 tsp salt
1 tbsp Sambal Oelek
Instructions
Wash and dry the king oyster mushrooms and garlic stems. Cut them into 1 1/2 inch sticks.

Heat oil in a wok or stir fry pan under medium/high heat. Toss in the mushrooms and garlic stems. Stir so they do not stick to the bottom of the pan. Add 2-3 tablespoons of water and cover with a lid. This causes the vegetables to steam as they cook.

After a few minutes, stir in the salt and Sambal Oelek. Cover again with the lid and let it cook for a 2 or 3 more minutes.

Lift the lid, stir, and let any liquid evaporate for a minute or two. There should be a nice coating of sauce on the vegetables.

Remove from the heat and serve hot. The total cooking time for this dish should only be 10-12 minutes. The garlic stems should be bright green and still a little crisp when you bite them.