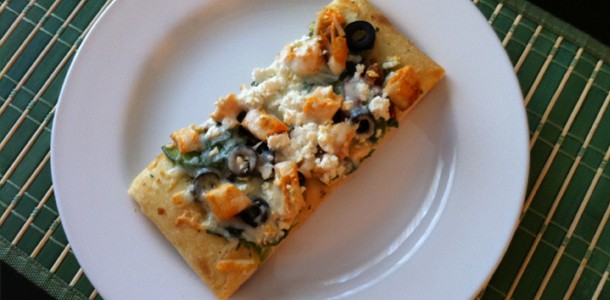 This pizza has a unique medley of flavours that come together to form a wonderful dish. The chicken breast is diced and coated with the hot sauce and the fresh sliced jalapeno help to provide some heat. At the same time the black olives and sundried tomatoes give the pizza a rich and deep flavour. I used a thin foccacia bread that was lightly coated with herbs and olive oil.
Santa Fe Pizza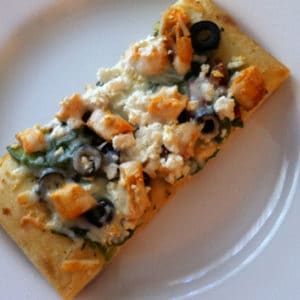 Print
Servings: 4
Ingredients
1 pizza crust or foccacia bread
1/4 cup sundried tomatoes
1/4 cup olive oil
1 boneless skinless chicken breast
1/2 cup louisiana hot sauce
1 jalapeno sliced
1/4 cup sliced black olives
1/2 cup spinach
1/4 cup grated mozzarella
1/2 cup feta , crumbled
Instructions
Cook the chicken on either the grill on stove top. Once cooked let it cool. Then diced it and in a bowl toss it with the hot sauce. Set aside.

Soak the sun dried tomatoes in the olive oil. Once they have softened and tenderized, drain most of the oil and thinly slice the tomatoes.

Assemble the pizza with the toppings. The recommended order is spinach, jalapeno peppers, sun dried tomatoes, black olives, chicken, mozzarella cheese and feta cheese.

Bake in an oven preheated at 375 for 20-30 minutes or until the cheese looks melted and beginning to brown.