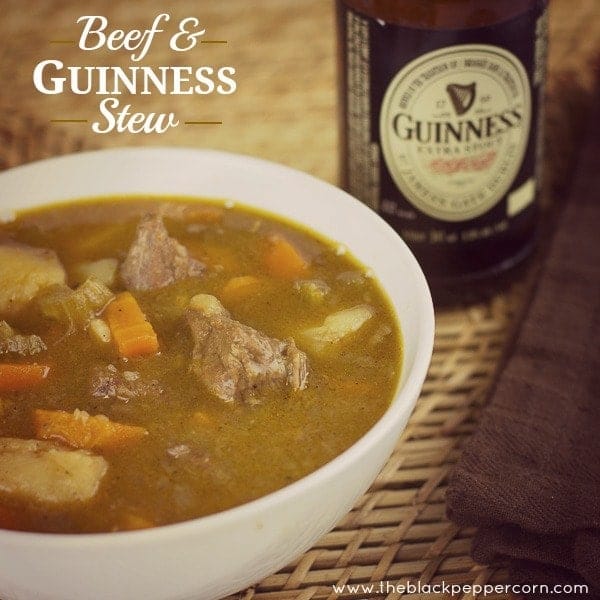 Beef and Guinness Stew
Now that it is officially fall, I am totally into making soups and stews. Stewing beef was on sale at our local grocery store, so that determined what kind of stew I was going to make. I guess I just love good old comfort food and nothing screams that more than a classic beef stew. Guinness beer is the perfect addition for this stew as it adds such a wonderful depth to the broth and a hint of sweetness as well.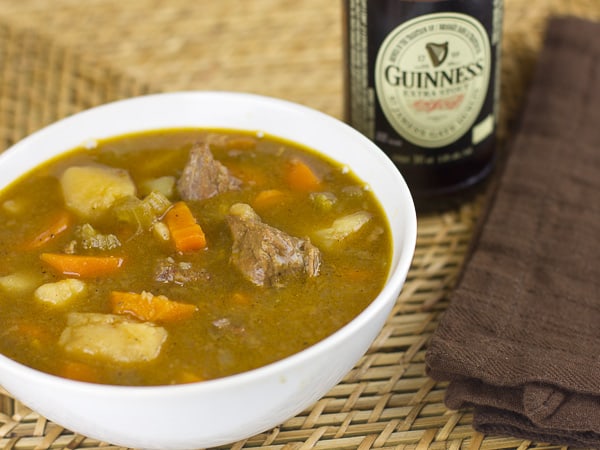 I am a huge fan of using Guinness in my food and have already posted a couple recipes:
This stew is rich, hearty and has the subtle flavor of the classic Irish dry stout. There is a lot of broth and that is actually really good because my favorite part was sopping it up with a slice of fresh crusty bread! The stew can be made in the oven, pressure cooker, slow cooker or even on the stove top.
I personally prefer the oven or pressure cooker as the stove top can too easily cause the bottom of the pot to scorch. The slow cooker is also fine but I found the meat was not as tender as with the pressure cooker or the oven. I just recently got a pressure cooker and was thrilled with how amazing the stew turned out in it.
And if you are wondering, yes, I have tried this recipe with all these methods of cooking – I have made this dish many many times! It is THAT good.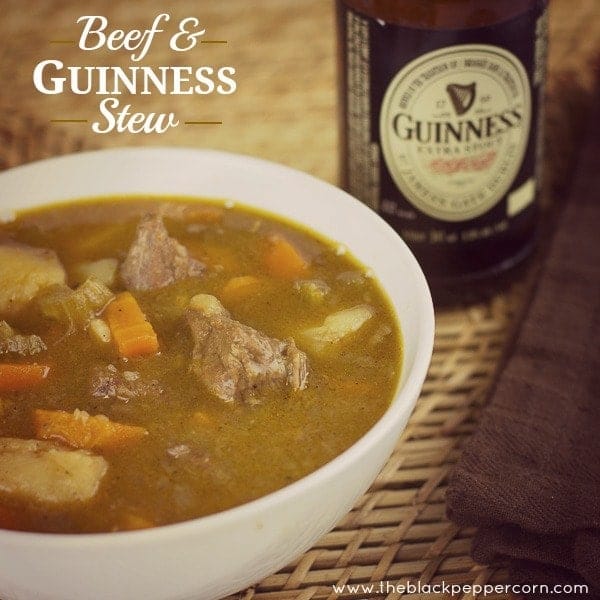 Beef and Guinness Stew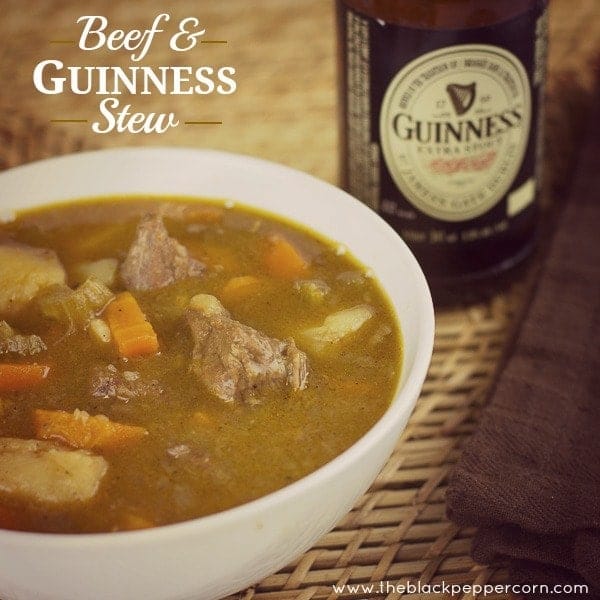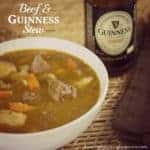 Print
Total Time:
4
hours
20
minutes
Ingredients
2 1/2

pounds

(about 1 kg) stewing beef

1

cup

flour

1

tbsp

paprika

2

tsp

garlic powder

2

tsp

black pepper

2

tsp

salt

1

tsp

oregano

1/4

cup

oil

2

onions

, minced

3

garlic cloves

, minced

3

carrots

, peeled and sliced

3

celery stalks

, sliced

3-4

medium potatoes

, peeled and cubed

1

bottle or can of Guinness beer

900

ml

beef broth

1-2

tbsp

corn starch for thickening
Instructions
Preheat oven to 350F.

Whisk together the flour, paprika, garlic powder, black pepper, salt and oregano. Toss stewing beef in the four and spices until coated. Dust off any excess flour.

Heat oil in a skillet or dutch oven on medium heat. Add beef and brown the meat flipping every minute or two.

If the meat is in a skillet, transfer to a large roasting pot. Add remaining ingredients (except the corn starch). Cook in the oven for 3 hours.

Remove from the oven. Whisk together corn starch with a few tablespoons of water. Stir into the stew to thicken the broth.
Notes
Pressure Cooker Option
Follow the directions above, but in step 4 place all the ingredients (except the corn starch) in a pressure cooker and cook on high pressure for one hour. After the hour, whisk together corn starch with a few tablespoons of water. Stir into the stew to thicken the broth.