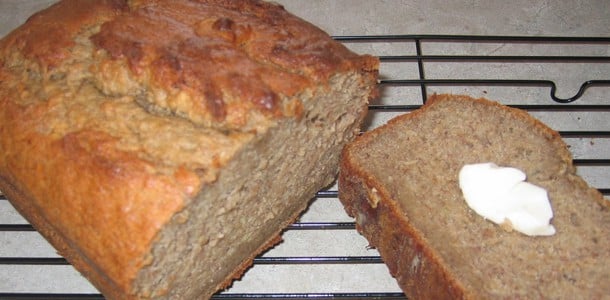 If your family is like ours, occasionally you have some bananas that are overripe. Here is a great recipe for banana bread. It is great toasted with butter!! Try it with the optional chocolate chips for the chocoholic in the family!
Banana Bread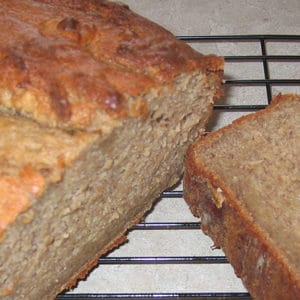 Print
Servings: 1 loaf
Ingredients
2 cups all-purpose flour
1 teaspoon baking soda
1/4 teaspoon salt
1/2 cup oil
3/4 cup brown sugar
2 eggs , beaten
2 cups mashed bananas
2/3 cup pecan or walnut pieces (optional)
2/3 cup chocolate chips (optional)
Instructions
Preheat oven to 350 F.

Grease a loaf pan then shake 1 tbsp of flour around the loaf pan to coat the grease with flour (this technique allows breads or cakes to be removed from the pan with ease).

Sift flour, baking soda and salt in a bowl. Set aside.

Mix remaining ingredients until mixed well. Fold flour (and optional nuts or chocolate chips) into wet mixture until flour is just moist (do not mix with mixer or bread can become too dense).

Pour into loaf pan and bake for 65-75 minutes or until a toothpick inserted in the centre comes out clean.

Cool on wire rack.