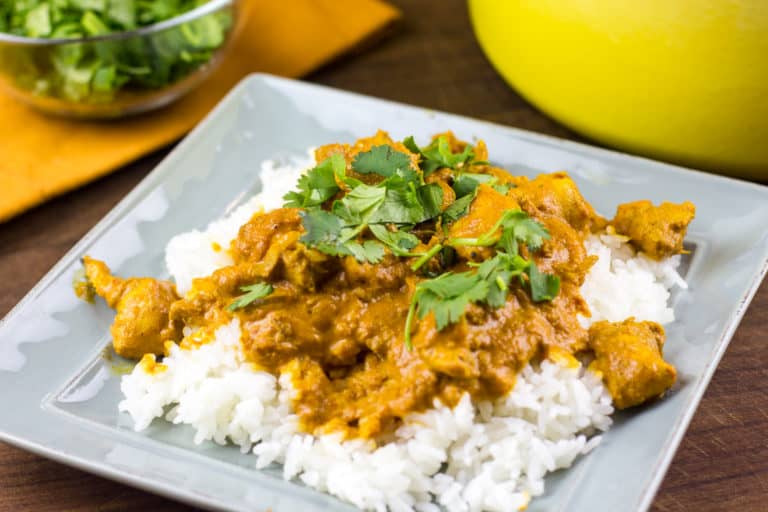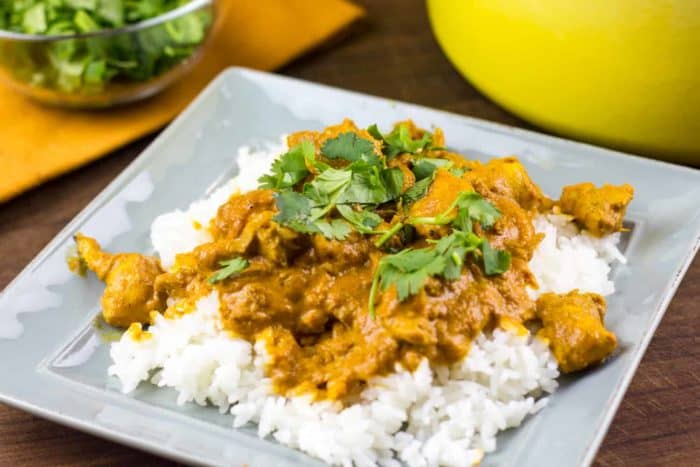 Butter chicken – oh yeah!
If I had to choose my top 5 dishes – there is no doubt in my mind that butter chicken, also known as Murgh Makhani, would make the list. I love Indian curry dishes, and while I am a big fan of spicy dishes, the mild and almost sweetness of this butter chicken curry makes it a huge fan favourite.
Butter chicken is a dish I have made regularly for probably around 15 years. I have made it for many family and friends throughout that time and I regularly get requests to make it.
One thing I love about butter chicken is that my wife and kids love this meal. My three kids flip out any time I make it. In fact, this time, when they walked in the house after school, they could smell it and screamed "Yes, butter chicken!" – I mean, who does not love that kind of response from their kids.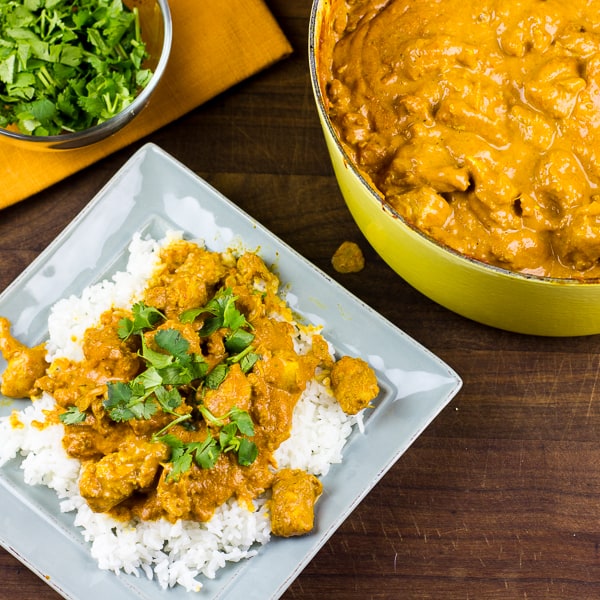 The first ingredient in this recipe is ghee. If you have never heard of that, do not let it scare you away from this recipe. Ghee is just clarified butter and if you cannot find it, standard butter will work just fine as well.
While I use cubed chicken breast, you could also use chicken thighs as well. There have been a few times that chicken thighs were on sale and I used them for the butter chicken and it turned out just awesome. Either one works.
One thing about this recipe is that you will find it results in a lot of sauce. Personally, I find people love the sauce and spoon a little extra on the rice. Along with the spices, the sauce is made up of a can of crushed tomatoes and some heavy cream. Over the years, I have tried yogurt (which I believe is the more traditional choice), 10% cream and heavy cream. I find that the taste and texture is best with the heavy cream. It is rich and creamy with a mild and sweet curry flavour.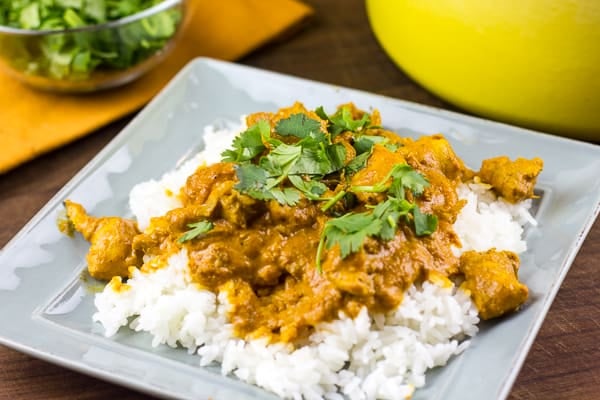 Anytime I make butter chicken, there are a couple other super tasty Indian dishes I also cook, so that we have an nice Indian dinner. Masoor dal and Bhindi Sabzi are a couple dishes that I make and go quite well with the butter chicken. Those recipes will be posted in the next week!
Check out the video to see how to make this delicious dish!
Butter Chicken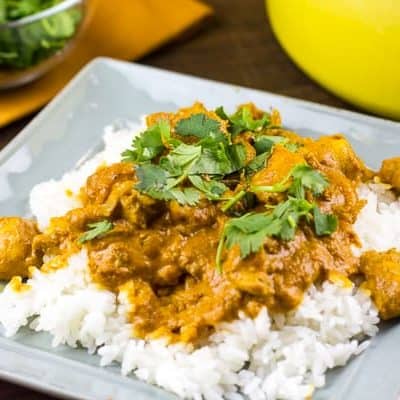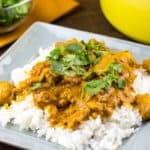 Print
How to make Butter Chicken with this simple recipe. This mild Indian curry dish uses chicken breasts or thighs with a curry sauce made with tomatoes, cream and spices.
Servings: 6
Ingredients
1/3 cup ghee or butter
1 onion thinly sliced
3 garlic cloves minced
2 tbsp grated fresh ginger
1 1/2 tbsp cumin
1 tbsp ground coriander
1 tbsp turmeric
1 tbsp paprika
1/2 tsp cinnamon
1/4 tsp cayenne pepper
1 1/2 tsp salt
2 pounds boneless chicken breast cubed
1 can (28oz) crushed tomatoes
1 1/2 tbsp honey
1 1/2 cup heavy cream
Instructions
Melt ghee in a large dutch oven or pot, over medium heat

Add onion, garlic, ginger and all the spices.

Cook, stirring often, until the onions are soft, about 5 minutes.

Add the cubed chicken and sauté stirring constantly until the chicken has turned white. If you find that the spices are starting to stick to the bottom of the pot, you can add a little water (around a 1/2 cup).

Pour in the crushed tomatoes and honey.

Cook for 5 minutes and lower heat.

Pour in the cream and simmer for about 30 minutes.

Serve over rice and garnish with fresh cilantro.
Nutrition
Per serving:
Calories: 551kcalCarbohydrates: 21gProtein: 37gFat: 37gSaturated Fat: 21gCholesterol: 204mgSodium: 960mgFiber: 4gSugar: 11g