A delicious Indian dish made with green peas and paneer cheese in a curry sauce. Great as the full meal or as part of an Indian feast.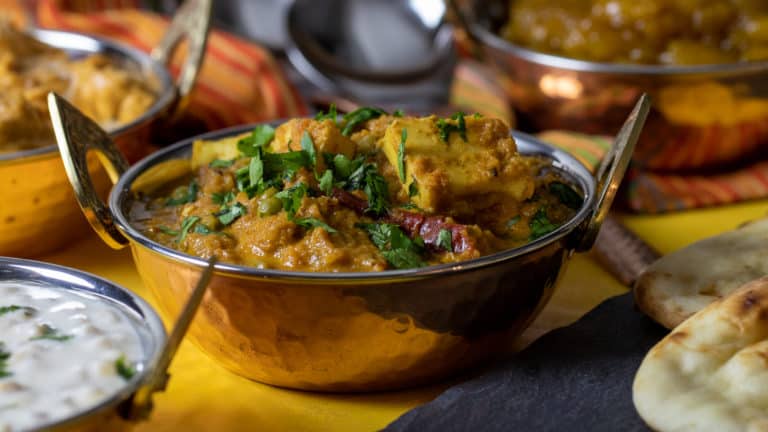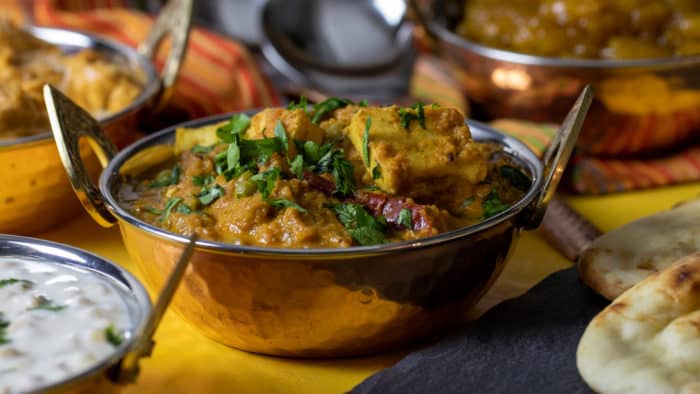 I love Indian food so much over the years and one of my favourite dishes is matar paneer. It is a spicy curry that is full of flavour, but also light, since it is made with cheese and green peas, instead of meat.
There have been so many times that my wife and I have gone to Indian restaurants and we love to order different curries. Matar paneer is one of them. It is creamy, spicy and packed with tonnes of flavour.
We have Indian friends who are such good cooks and I have been lucky to learn some of the intricacies of Indian cuisine from them. It is extremely special to invite them to my kitchen and watch them cook dishes they have grown up with. It is truly like my own personal masterclass.
Matar paneer is the newest dish in my Indian food repertoire. I love how it has so much flavour but does not take as long as some of the other Indian curries that I make. It is quickly becoming one of my favourite Indian recipes.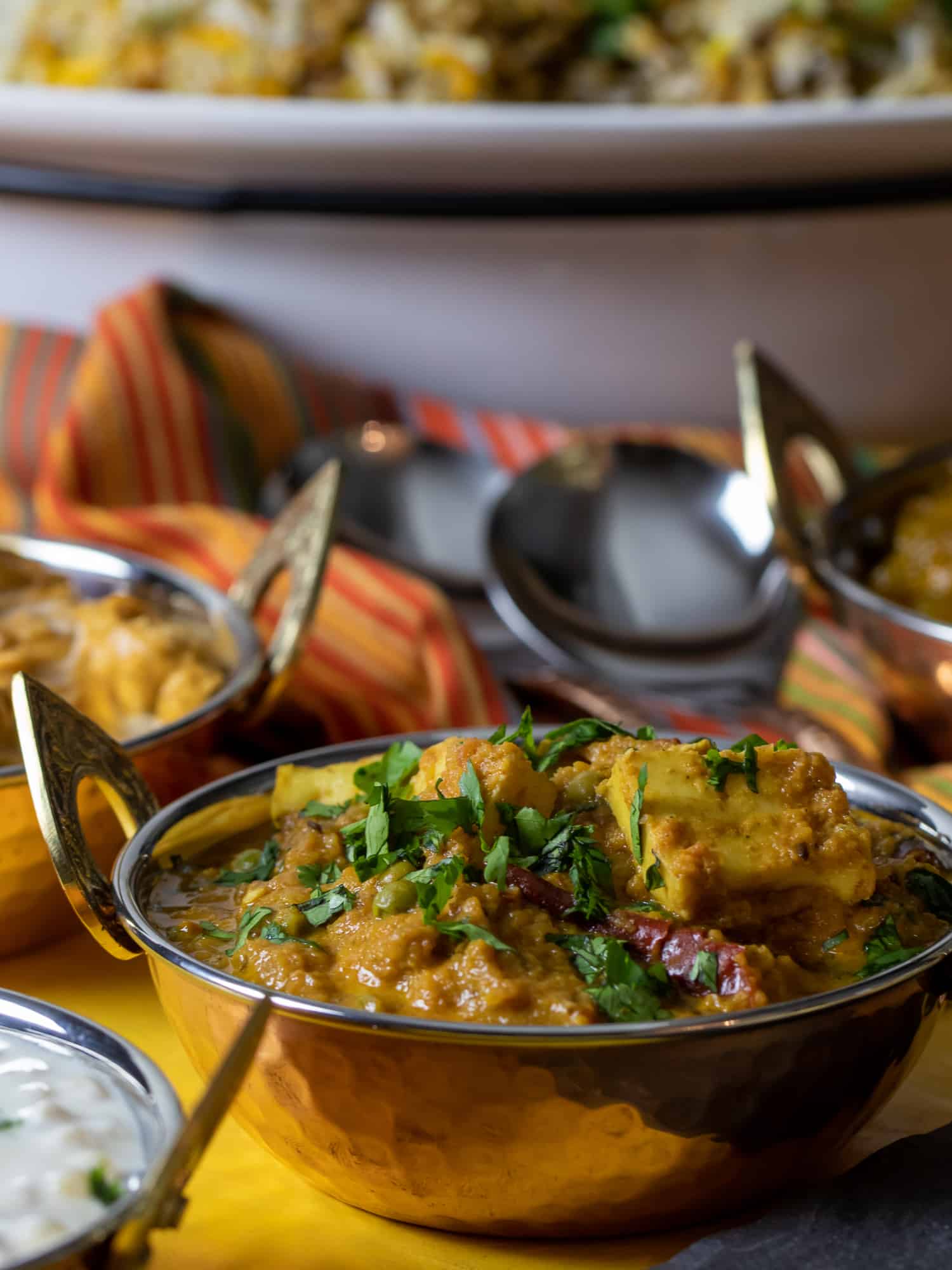 Sometimes called mutter paneer, this recipe is amazing alongside other Indian dishes like biryani, butter chicken, naan bread and so much more! Many Indian dishes are named based on the main ingredients in the recipe. Matar paneer is no exception. Matar is the green peas and paneer is an Indian cheese that is amazing for cooking.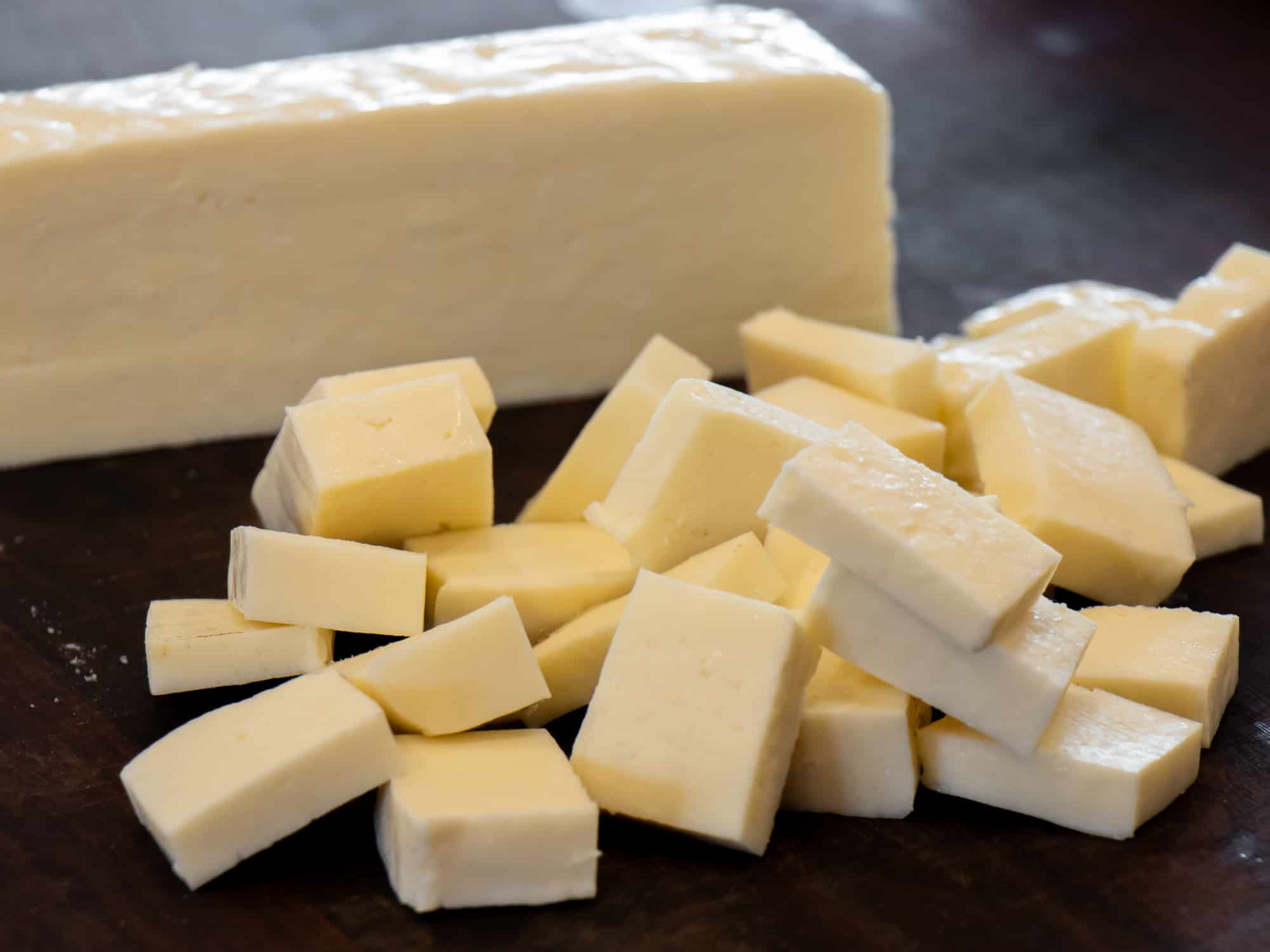 What is Paneer?
Paneer is a type of cheese popular in India. Made from either buffalo or cow's milk, this kind of cheese is unique since it does not melt. This makes it ideal for Indian curries, especially people looking for vegetarian dishes. It is not vegan, since it comes from an animal, but it is vegetarian, because it is obviously not a meat.
Purchasing paneer is easier now than ever before and I am able to get a brick of this cheese at most local supermarkets. It looks very similar to a brick of firm tofu.
Paneer is sometimes called a cottage cheese and the texture is similar. To prepare this cheese for matar paneer, cut it into pieces or cubes that are about 1/2 inch to an inch in size.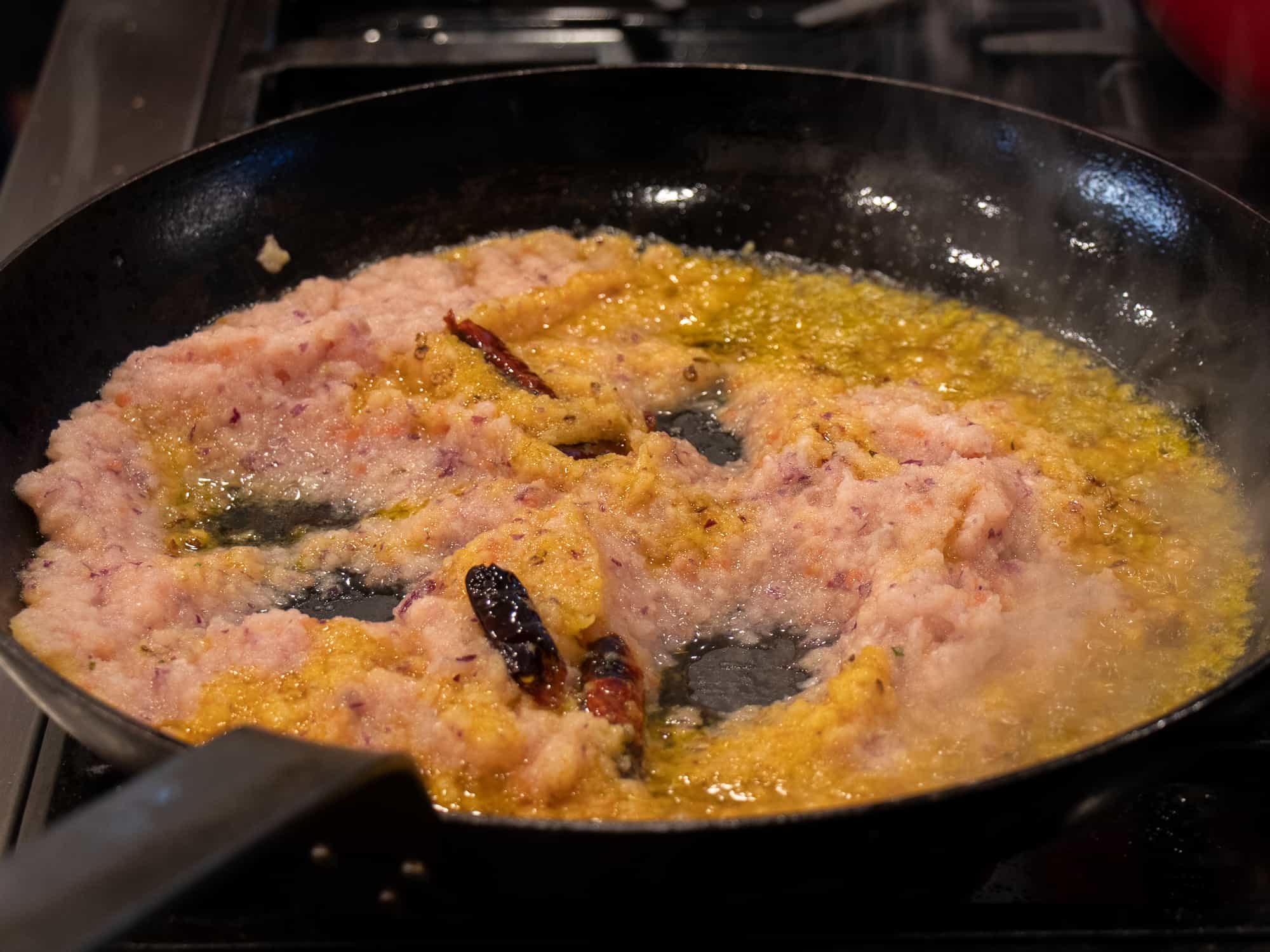 The first step for how to make matar paneer is to blend together a large red onion, a medium tomato, some ginger and garlic. You could either use a blender or food processor. I add one cup of water as the mixture is blending to help make the paste smooth and creamy.
Heat the oil in a skillet over medium high heat. Add the blended paste along with the spices. Cook stirring often for 10-15 minutes.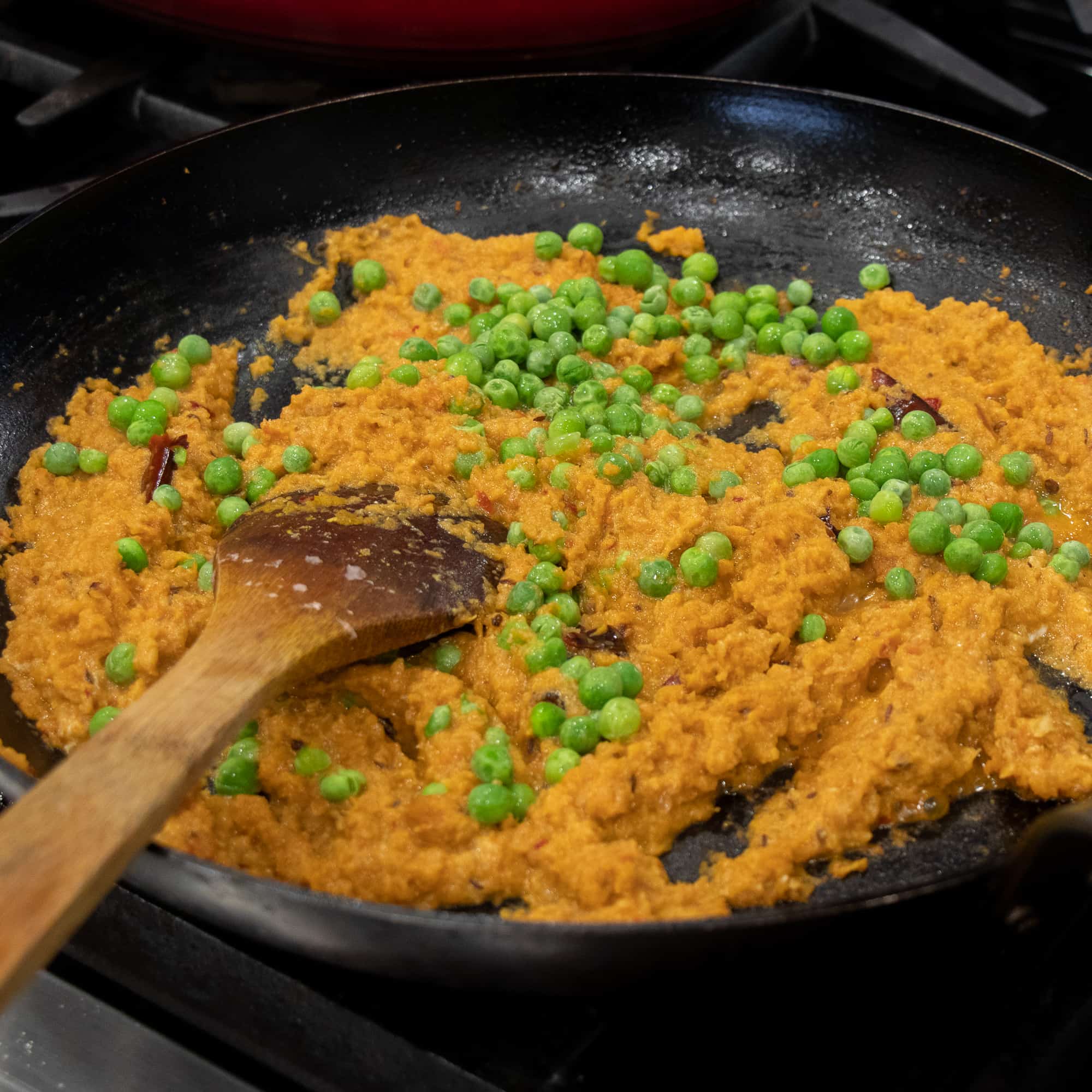 Eventually, most of the liquid will evaporate. Stir in a cup of water, reduce the heat to medium, and continue cooking for another 10-15 minutes. Do not rush this process as the lengthy simmering is what creates a sauce in this matar panner that is full of rich flavours.
Stir in the thawed frozen peas along and cook for another 10 minutes.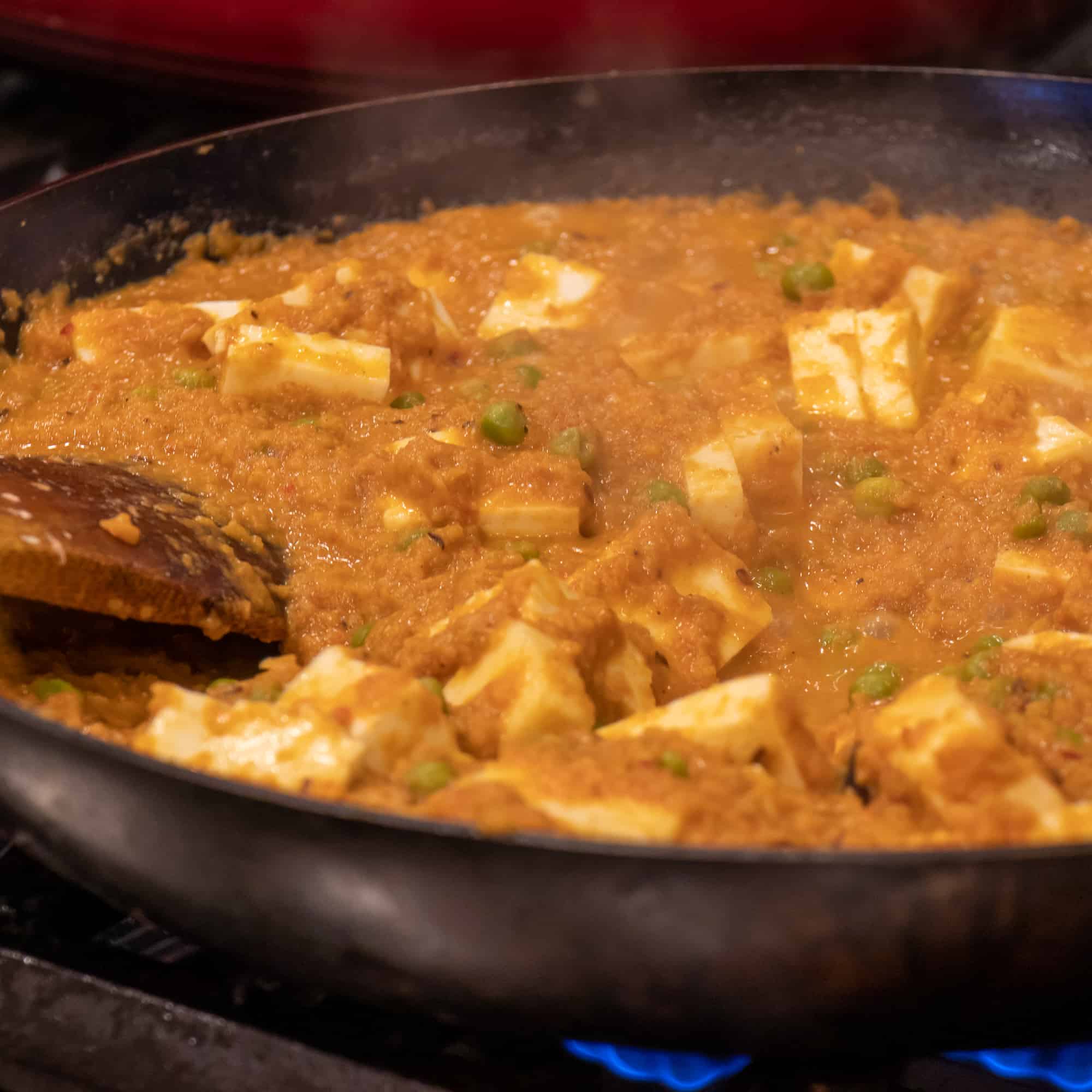 The final step to cooking the matar paneer is to stir in the crushed tomatoes, yogurt, cut up pieces of paneer and one more cup of water. Stir often and let cook for another 10-15 minutes. Watch for the consistency of the sauce. It should not be too thick, so if needed, add a little water at the end until it is a creamy consistency.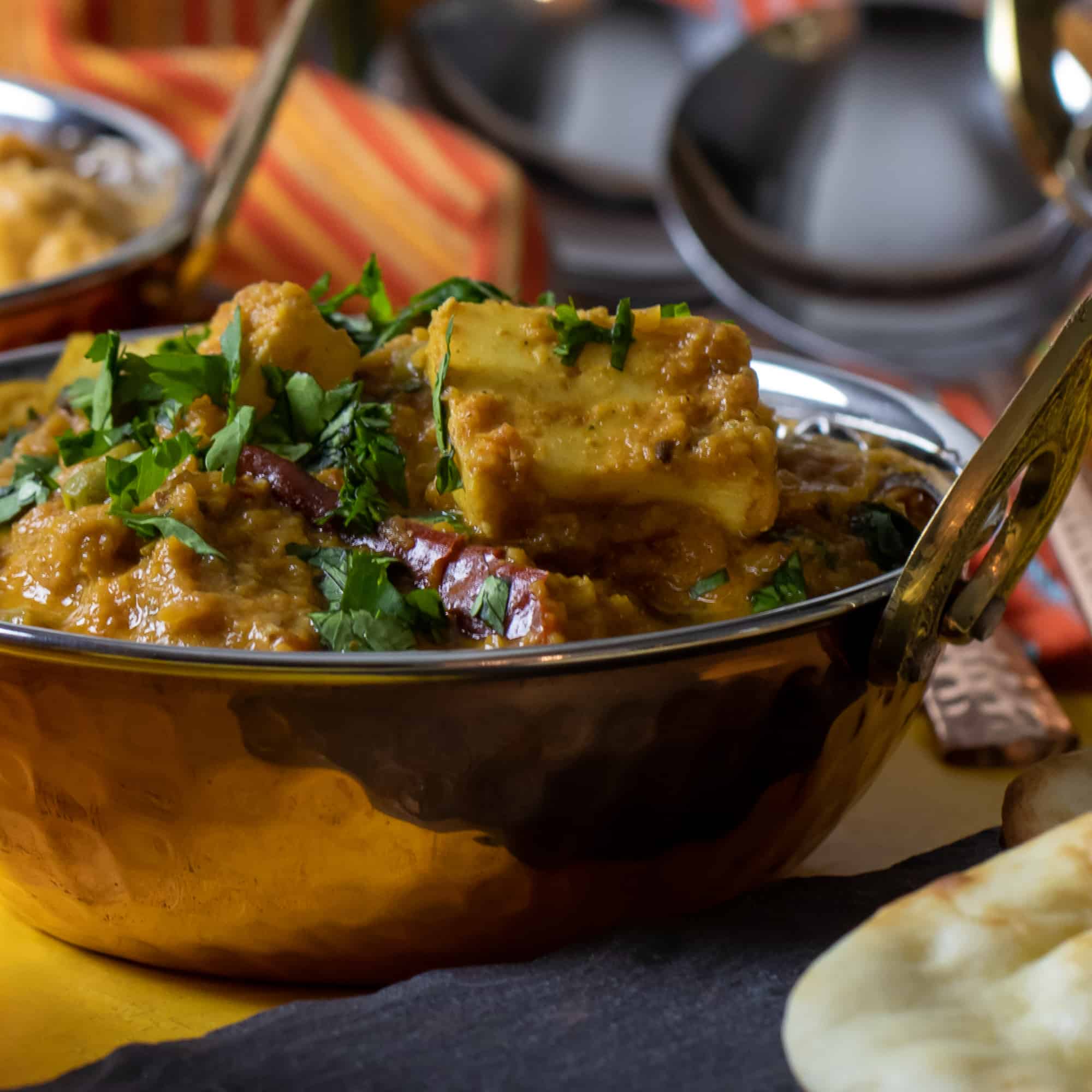 This matar paneer recipe is so delicious and full of rich bold flavours. This recipe is not overly spicy, but if you like your Indian food hotter, feel free to add more chilies.
To serve, scoop into a bowl or other dish. Garnish with some minced fresh cilantro.
Other recipes for a full Indian dinner!
Matar paneer is an amazing dish all on its own, but also incredible as part of an Indian meal. Here are some other recipes that go great with this vegetarian side dish.
Matar Paneer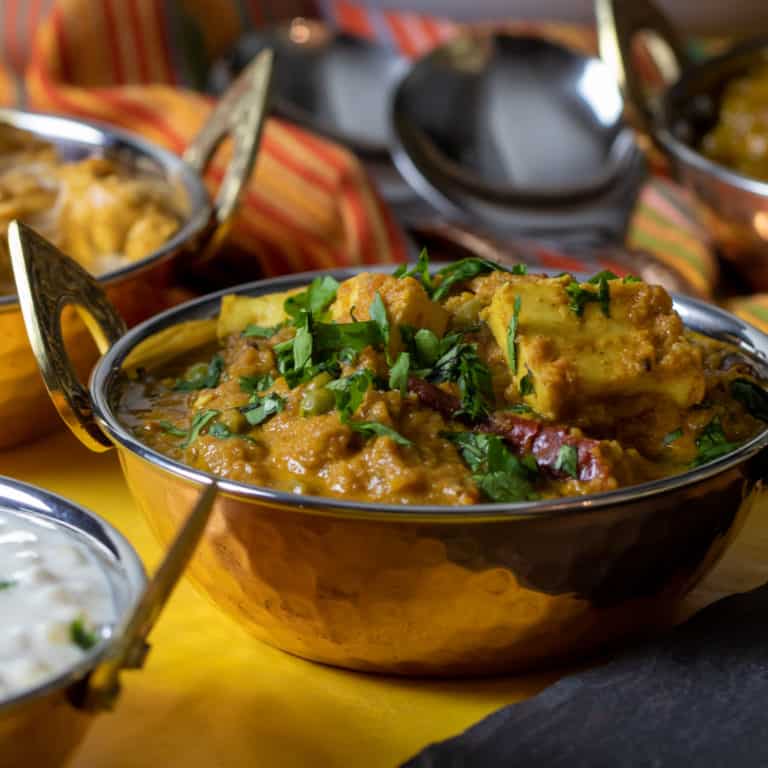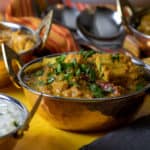 Print
Easy recipe for Indian matar paneer. A delicious curry dish made of peas and paneer cheese. Perfect alongside biryani, butter chicken and more!
Servings: 6
Ingredients
1 large red onion , peeled and roughly chopped
1 medium tomato , quartered
3 cloves garlic
1 inch ginger , peeled
3 cup water , divided (or more, if needed)
1/4 cup oil (mustard, vegetable or other oil)
1 tsp cumin seeds
2 dried chili peppers, broken in half (or 2 tsp dried chili flakes)
1 tbsp paprika
1/2 tsp turmeric
2 tsp garam masala
1 1/2 tsp coriander powder
1 tsp salt
1/2 cup frozen peas , thawed
1/4 cup plain 3% yogurt
1/2 cup crushed tomatoes
1 pound paneer cheese , cut into equal sized chunks
1/4 cup fresh cilantro , minced
Instructions
Using a food processor or blender, pulse the onion, tomato, garlic cloves, ginger and 1 cup water until it is a smooth consitency.

Heat oil in a skillet over medium high heat and add the processed onion mixture with cumin seeds, dried chilies, paprika, turmeric, ground coriander, garam masala and salt. Cook, stirring often, for about 30 mintues. During the cooking, most of the liquid will evaporate. Feel free to add a little bit extra water to ensure that nothing burns.

Reduce the heat to medium. Stir in the thawed peas, and one more cup of water. Cook, stirring regularly for another 10-15 minutes.

Stir in the yogurt, crushed tomatoes, chopped paneer, and last cup of water. simmer for 10-15 more minutes.

Serve with minced fresh cilantro as a garnish.
Nutrition
Per serving:
Calories: 348kcalCarbohydrates: 10gProtein: 13gFat: 29gSaturated Fat: 12gCholesterol: 51mgSodium: 449mgFiber: 3gSugar: 4g