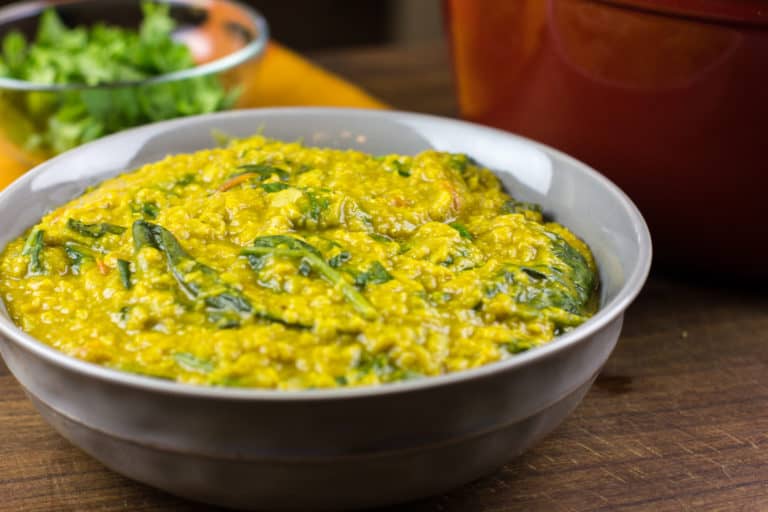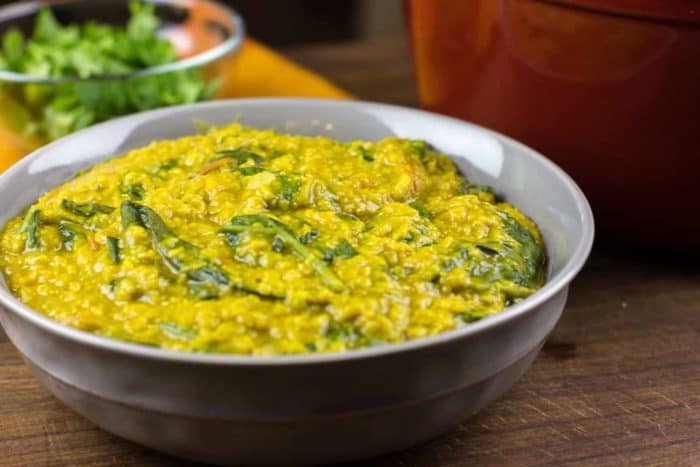 Dal Palak is an Indian dish made with red lentils and spinach. Dal is a regular part of Indian cuisine and quite simple to make. As a side dish, dal goes very well with lots of different meat curries, like butter chicken, tandoori chicken, beef vindaloo and more.
For the longest time I was intimidated to try and cook Indian dishes. I thought that it was going to be too difficult to replicate some of my favourite dishes we would order at Indian restaurants. Once I tried though, I discovered that cooking Indian food is not hard at all.
One of my favourite aspects of cooking Indian food at home is that I can control the heat level. While I love very spicy food, others in my family prefer things much more on the mild side. Cooking it at home, allows you to set the heat level to your preference.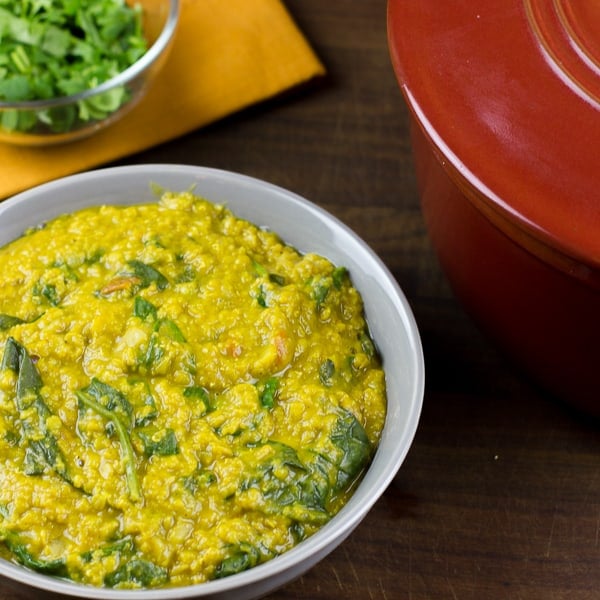 I know that many people first cook the lentils in the pressure cooker. That was how I first learned to cook this dish from an Indian friend who makes dal a lot. For the longest time, I did not have a pressure cooker, so I just simmered the dal in a saucepan until they softened. It does take a good hour or so of simmering, and you may need to keep adding water. But, if you don't have a pressure cooker, it is just as good of a way to make masoor dal.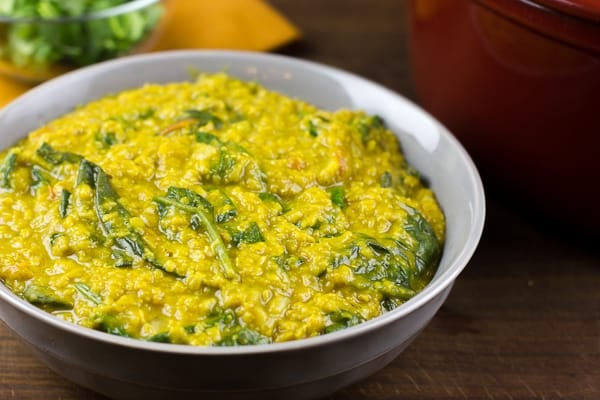 Anytime I decide to cook Indian food, I usually make two or three different dishes. Here are some of my other Indian recipes that go very well with this Masoor Dal with Spinach.
Masoor Dal with Spinach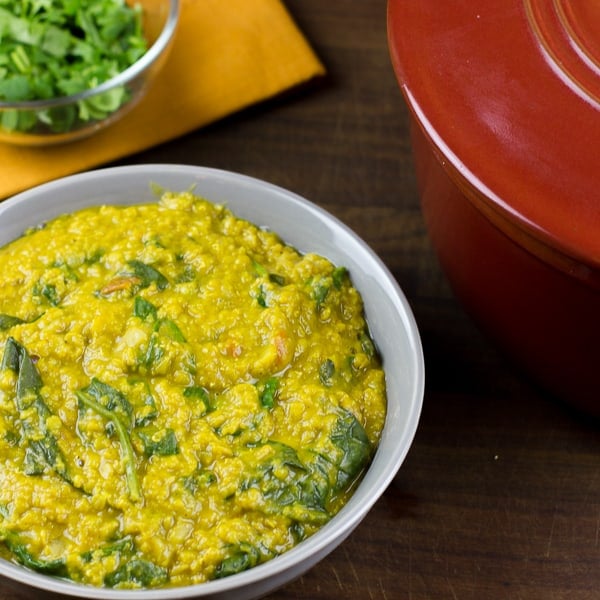 Print
Dal Palak is an easy Indian side dish made with red lentils, spinach and lots of spices.
Servings: 6 people
Ingredients
1 tbsp oil
1 onion , diced
1 tomato , diced
2 tsp tumeric
1 tsp chili powder
1 tsp ground cumin
1 tsp ground coriander
1 tsp ground cardamom
2 cloves garlic , minced
2 tsp grated fresh ginger
1 1/2 cups dried red lentils
3 cups water
2 cups fresh spinach leaves , packed
Instructions
In a saucepan add oil and, at a medium high heat, fry the onion and tomatoes.

When onions are transparent, about 5 minutes, add spices, garlic and ginger.

Cook for 3 minutes to bring out the flavours of the spices.

Add lentils and water.

Bring to a boil and then lower heat.

Cover and simmer for about an hour.

If the water is completely soaked up by the lentils add more, a little at a time.

Once the dal is all softened and the water mostly soaked up, stir in the spinach. Cook for another 5 minutes or until all spinach is wilted and cooked, about 5 minutes.

Serve with pappadums or naan bread.
Nutrition
Per serving:
Calories: 202kcalCarbohydrates: 32gProtein: 13gFat: 3gSaturated Fat: 1gSodium: 27mgFiber: 15gSugar: 2g