Chana Masala – Chickpea Curry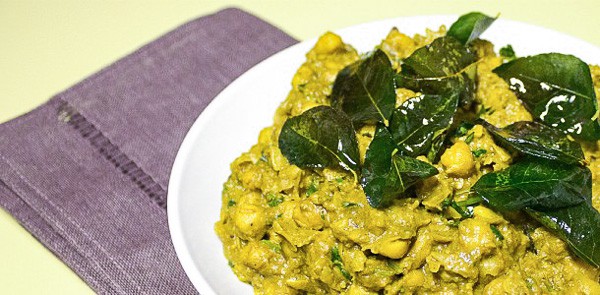 I was shopping in my local Walmart, walking through the local produce section when I spotted something that caused me to have a double-take. In the fresh herb section there were large bunches of fresh curry leaves. I have NEVER seen them before in Walmart. I buy curry leaves often but usually at a great little market called Bombay Bazaar on Lawrence Avenue in Toronto. This was the first time I have ever seen them in a Walmart. It amazed me and reinforced how much international food ingredientss are becoming more and more available. I LOVE IT!
So, since I saw the fresh curry leaves, I had to buy them and it dictated what dinner would be – we were going Indian! I love Indian food and look for any opportunity to stretch and learn new Indian dishes.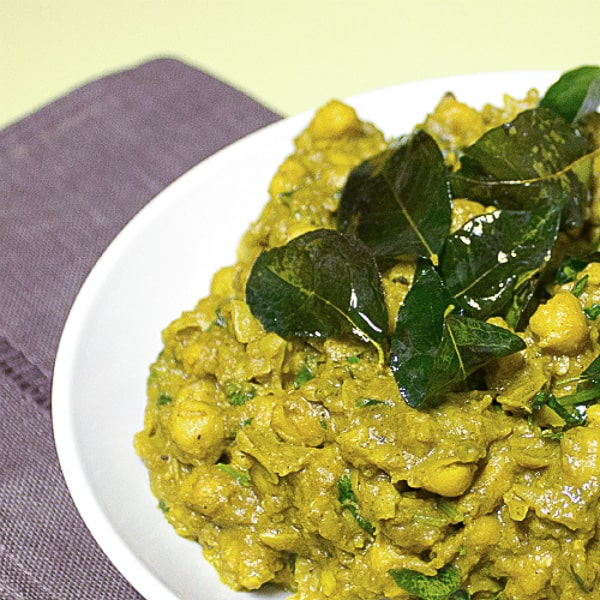 I was looking over my Indian dishes I have posted on the blog and was surprised to see that there are many dishes I regularly make which have not made it to the Black Peppercorn. So, this week, I will start to remedy that with 3 Indian dishes:
Each of these are traditional Indian dishes and the three go wonderfully well together! Today's recipe is chana masala and I make it all the time. Some people use tomatoes in their chana masala. I have tried it with tomatoes and without and, since many of my other curry dishes include tomatoes, I often leave them out of my chickpea curry. I love to top the chana masala with fried curry leaves. If you have never had fresh curry leaves that are fried in oil let me tell you how fabulous they are! Wow – the crisp leaves are packed with flavour and enhance so many curry dishes! You have got to try it.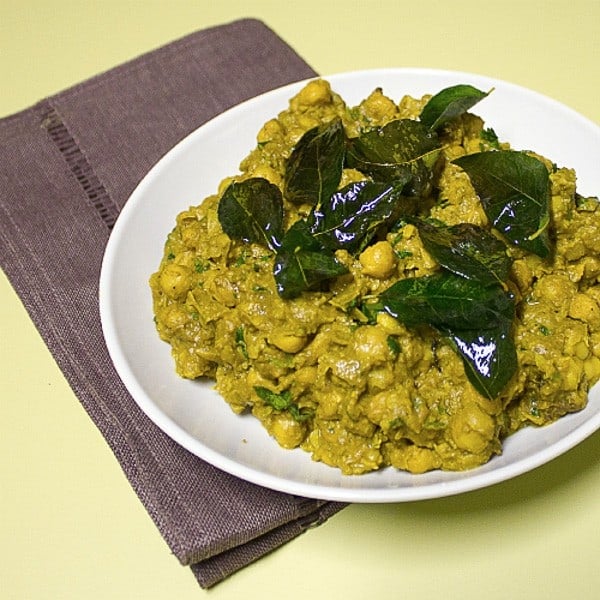 Chana Masala - Chickpea Curry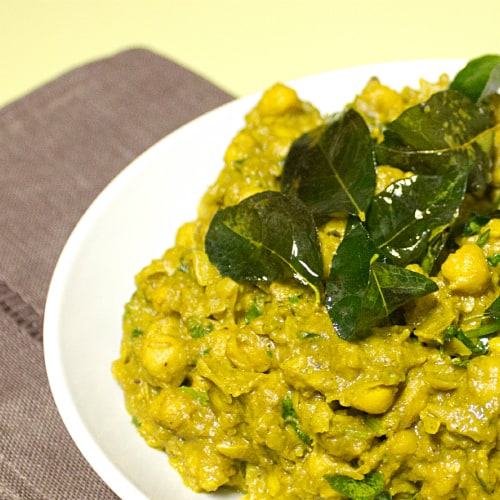 Print
A classic Indian curry dish, chana masala is packed with flavour and a traditional side dish to many Indian meals. Topped with fried curry leaves for a wonderful flavour.
Servings: 6
Ingredients
3 cups soaked or 2 cans of chickpeas
3 tbsp olive oil
3 inch of fresh ginger peeled
5 garlic cloves
2 tbsp tamarind paste
3 tbsp garam masala
1 tbsp ground cumin
1 tbsp coriander
2 tsp turmeric
1/2 tsp chili pepper or cayenne
2 onion minced
1 cup water
1/4 cup fresh cilantro chopped
12 fresh curry leaves
3 tbsp olive oil
Instructions
In a food processor, blend the ginger and garlic until it is a pulpy paste. Add all the spices and the tamarind paste to the ginger and garlic mixture and puree until smooth.

Heat 3 tbsp oil in a large saucepan on medium heat and add the curry paste. Stir constantly so that nothing sticks to the bottom of the pot.

After the curry paste has cooked for about 3-5 minutes, stir in the onions and cook for a few more minutes until the onions are soft.

Add the chick peas and continue to stir and cook for another 3-5 minutes. There is not much liquid, so watch that nothing sticks to the bottom of the pot.

Add the water, lower the heat to a simmer and cook for an hour. If the water evaporates, add a little more. Continue to do that over the course of the hour. Do not let the sauce dry up too much.

After the chana masala has been on a simmer for an hour, stir in the chopped cilantro and cook for just another 5 minutes.

In a separate pan, heat the last 3 tbsp of oil. Throw in the fresh curry leaves. They will pop and sizzle! Stir them around in the pan and let them cook for about 45 seconds to a minute.

Scoop the chana masala onto a serving dish and top with the fried curry leaves.