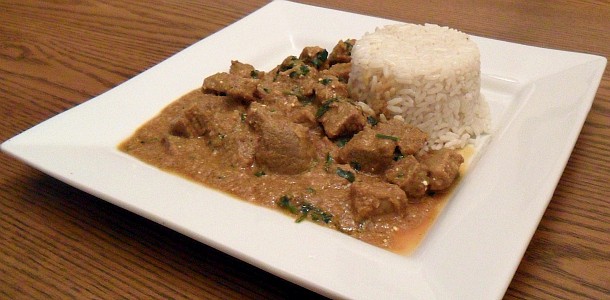 If you have never made curry at home, I encourage you to try it, as the aroma in the house is amazing. The day I made this, the kids were outside and when they walked in, the freaked out cause they love the smell. On a side note, I love that my kids enjoy food as much as they do. They will eat most anything I put on the table, and that includes some pretty exotic and spicy dishes. The one exception, is that most of them reject some seafood like squid, mussels, oysters, etc. Otherwise, they are game to try anything and I love that!
OK, back to the curry. I have made curry many times now. Early on, I used store bought paste or premade curry blends. Now, I find that I get better results if I blend the spices myself. When I make curry, I use the whole spices, toasting them and grinding them into a paste. I find that the flavours are richer and fresher this way. Since I cook curry so frequently, I rarely use exact measurements, but instead grab a bit of each, throwing it into a pan. The ingredients in this post provide a medium spice level which is a good starting point for a first time attempt at homemade curry. You could also use chicken or another meat in place of the beef if you wish.
Indian Beef Curry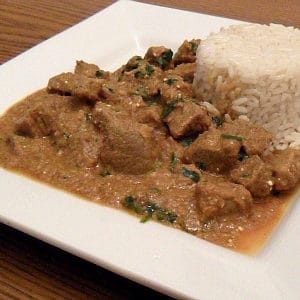 Print
Servings: 4
Ingredients
4 tbsp oil
2 onions , sliced
6 cardamom pods
3 cloves
2 tbsp cumin seeds
2 tbsp fennel seeds
1/2 cinnamon stick
1 tbsp turmeric
3 tbsp chopped ginger
4 cloves garlic
1 tbsp dried chilies
2 pounds beef , cubed
2 tbsp tomato paste
1 cup fresh cilantro , chopped
1 cup yogurt
Instructions
Heat 2 tbsp oil in a large pan. Add the sliced onion, ginger, garlic and remaining spices. Cook, stirring often, to ensure that nothing sticks to the pan. The onions will become transparent and the spices will bloom giving off a wonderful aroma.

Once the onion is cooked, scrape the onion and spice mixture into a food processor. blend until a smooth paste is formed.

In the same pan, add the remaining 2 tbsp of oil and fry the beef until browned on all sides. Stir in the curry paste from the food processor along with the tomato paste and cook for 40 minutes on medium low heat, stirring often.

Add the chopped cilantro and cook another 5 minutes.

Stir in the yogurt, cook 5 minutes and serve with rice or naan bread.